---
Crew
Director – Sam Raimi, Screenplay – Ivan Raimi & Sam Raimi, Producers – Grant Curtis & Rob Tapert, Photography – Peter Deming, Music – Christopher Young, Visual Effects Supervisor – Bruce Jones, Visual Effects – Amalgamated Pixels, Cinesoup, Ghost VFX (Supervisor – Jeppe Nygard Christensen), Howey Digital (Supervisor – Jason Howey), I.E. Effects, Michael Kaelin & Associates, Tippett Studio (Supervisors – Matt Jacobs & Thomas Schelesney), Special Effects Supervisor – James D. Schwalm, Makeup Effects – KNB EFX Group, Inc. (Supervisors – Howard Berger & Greg Nicotero), Production Design – Steve Saklad. Production Company – Universal/Ghost House Pictures.
Cast
Alison Lohman (Christine Brown), Justin Long (Dr Clayton Dalton), Lorna Raver (Sylvia Ganush), Dileep Rao (Rham Jas), David Paymer (Jim Jacks), Reggie Lee (Stu Rubin), Adriana Barraza (Shaun San Dena), Molly Cheek (Trudy Dalton), Chelcie Ross (Leonard Dalton), Bojana Novakovic (Ilenka Ganush), Kevin Foster (Milos)
---
Plot
Christine Brown, a loans officer at the Wiltshirepacific bank, is up for a promotion. An elderly Gypsy woman Sylvia Ganush comes in asking for an extension on her mortgage. In attempting to show that she is more assertive, Christine declines Mrs Ganush, even though she could have given her an extension. However, this means that Mrs Ganush will be thrown out of her home. The old woman erupts in anger and has to be dragged away by security. Later that night, she returns and attacks Christine in the carpark. During the attack, she tears off one of Christine's buttons and curses it. Soon Christine is spooked by various happenings and apparent accidents. A fortune-teller tells Christine that a curse has been placed on her, meaning that within three days a Lamia will come to drag her down to Hell. Christine tries to make things up to Mrs Ganush, only to find that she has died. She then seeks to do everything she can to find a way to stop the Lamia before she becomes its victim.
---
Sam Raimi is a genre name with a strong, at one point even cult, presence. Raimi first appeared with The Evil Dead (1981), a fierce no-budget splatter comedy that had a huge influence on the 80s horror film. Raimi went onto the bizarrely cartoonish but unsuccessful Crimewave (1985) and then the hysterically funny The Evil Dead II (1987), followed by the superhero film Darkman (1990) and a further, lesser Evil Dead sequel Army of Darkness (1992) by which time the fierceness of the original had toppled over into slapstick comedy routines. Raimi then appeared to abandon his cult genre niche and turned to making mainstream films, ones filled with often surprisingly traditional values, with the likes of The Quick and the Dead (1995), A Simple Plan (1998), For the Love of the Game (1999) and The Gift (2000). In the 00s, Sam Raimi has been almost exclusively associated with Marvel's Spider-Man franchise, having made three films in a row – Spider-Man (2002), Spider-Man 2 (2004) and Spider-Man 3 (2007). Elsewhere, Raimi has been involved with two companies that have maintained high genre profiles with Renaissance Pictures who made Timecop (1994) and tv series such as Hercules: The Legendary Journeys (1994-9), Xena: Warrior Princess (1995-2001), Jack of All Trades (2000-1) and Cleopatra 2525 (2000-1), and the theatrical horror-producing company Ghost House Pictures (under which label Drag Me to Hell is made) who in recent years have put out The Grudge (2004), Boogeyman (2005), The Messengers (2007), Rise (2007), 30 Days of Night (2007), The Possession (2012), Don't Breathe (2016), The Unholy (2021) and the remakes of Evil Dead (2013) and Poltergeist (2015), as well as the tv series Legend of the Seeker (2008-10) and 13: Fear is Real (2009).
I made the comment at the time of writing up Spider-Man that with the increasingly respectable and winsome turn that his films of the 1990s had taken, it was well time that Sam Raimi went back to the days of the Evil Dead films to rediscover something again. Drag Me to Hell has the feel of Raimi trying to return his roots to make a fast and go-for-broke horror film. The script has the feel of a work that belonged back as a direct-to-video horror film in the mid-80s – you could easily imagine it in the company of films like House (1986), Night of the Demons (1987) or Street Trash (1987) (ironically films that were riding on the inspiration of Raimi's own The Evil Dead).
The measure of difference might be that did Drag Me to Hell not come with the pedigree of Sam Raimi's name attached, there is precious little about it that would have made it anything other than another direct-to-dvd horror film, let alone a cinematic release. The script is a disappointingly lightweight one. The Gypsy curse plot is strongly reminiscent of the one conducted in the Stephen King adaptation Thinner (1996). Both films deal with appalling racial caricatures – the portrayal of the old woman surely only exists one step from the satirical caricatures of Gypsies that we had in Borat: Cultural Learnings of America for Make Benefit Glorious Nation of Kazakhstan (2006).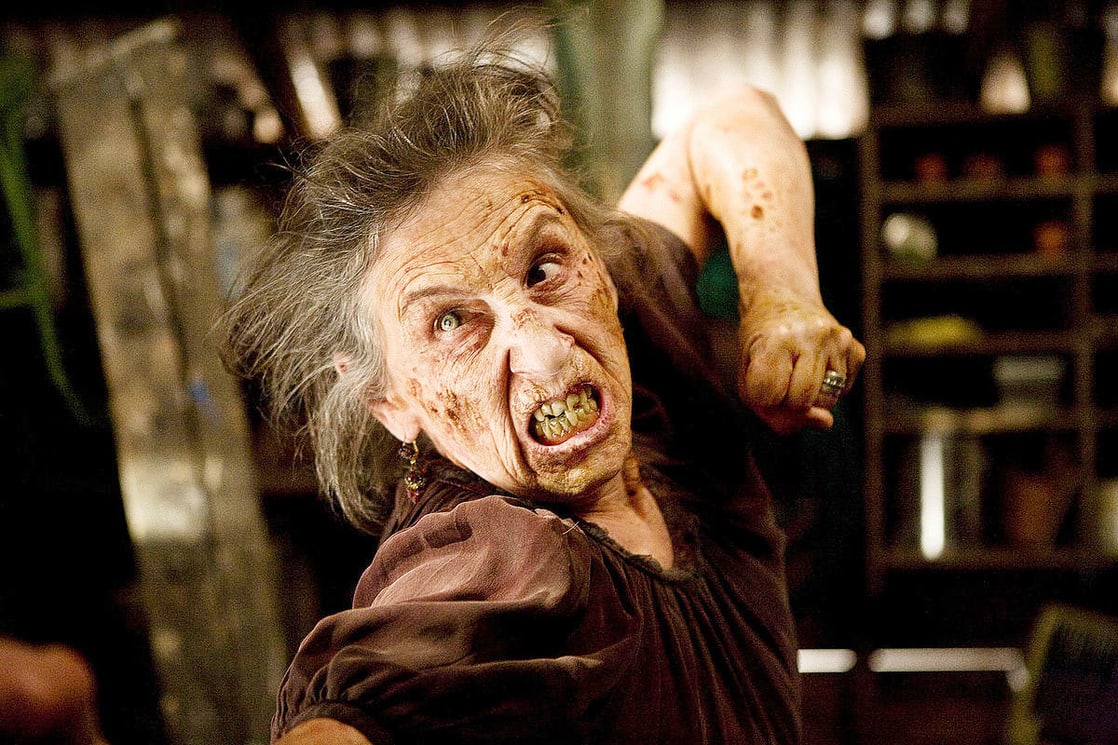 Raimi also homages the classic Night of the Demon/The Curse of the Demon (1957), especially during the climactic scenes where Alison Lohman suddenly discovers that she can get rid of the curse by gifting the cursed object to someone else. Scenes like the recipient (almost) being creamed by a train and others with the appearance of a devil figure that is only suggested by shadows make the homage overt. The irony that seems to have escaped Sam Raimi is that Night of the Demon was a classic that achieved its effect by what it only ever suggested; on the other hand, Drag Me to Hell is a film that constantly tries to get all of its effect by throwing everything it has in its' audience's faces.
If perhaps aware of the lightweight script he is working with, Raimi leaps in with a bag of tricks that frequently goes so absurdly over the top as to arrive somewhere in orbit. The first attack on Alison Lohman in the carpark involves the old woman being stapled in her eyelid, dropping her false teeth and trying to gum Lohman, Lohman shoving a ruler down the old woman's throat and then somehow having peace of mind to slip on a seatbelt and apply the brakes to send the woman flying through the windscreen.
There is a constant profusion of pop-up effects – dreams of the old woman appearing as a desiccated corpse in Alison Lohman's bed; a fly that buzzes up Lohman's nostril and out the other before forcing its way into her mouth; fantasies of clawed fingernails tapping on Alison Lohman's desk; Lohman developing a nosebleed that sprays boss David Paymer in blood; Lohman visiting the funeral where the old woman's corpse falls out of the coffin on top of her and somehow engages her in a French kiss that fills her mouth with putrescent goo; a dream with the old lady shoving her wrist down Lohman's throat before being brained by a falling anvil, causing her eyeballs to go flying out (a gag that Sam Raimi first played in The Evil Dead II); Lohman fighting off a handkerchief that is trying to force itself down her throat. There is a snobbish dinner party, possibly inspired by the similar scene in Eraserhead (1977), where Alison Lohman imagines eyeballs looking back at her from her piece of cake, followed by the cake bleeding all over her plate. There is also the silliest seance scene ever filmed involving, amid all the usual levitations and shock theatrics, a talking goat and a possessed man (Kevin Foster) vomiting up a dead cat.
Sam Raimi seems to like making these absurdly over-the-top films. They worked when he was making The Evil Dead films because they were cartoon horror films. Drag Me to Hell feels like The Evil Dead II replayed but as a serious film – and the results are completely preposterous. The entire effect of the film is like a carnival haunted house ride with skeletons and old hags popping out into people's faces every step of the way. The soundtrack seems to go into overdrive trying to make unscary images like a handkerchief blowing across a car windscreen into something threatening and scary.
Aided by an already lightweight plot, the constant profusion of effect becomes so silly that the film collapses under their weight. It becomes a highly disappointing a throwback for a director like Sam Raimi who has ascended from B-budget genius to being able to handle massive A-budget hits with considerable élan. The Spider-Man films showed Raimi as a director in full command of the filmmaking process; Drag Me to Hell feels more like one of the horror films made by the inept Mick Garris – see Sleepwalkers (1992), Riding the Bullet (2004) – who has never yet found an effect he has not enjoyed throwing into an audience's face.
If nothing else, Drag Me to Hell emerges as perhaps the first horror film of the 2008 recession. It does after all have a plot about a loans officer at a bank (which everybody blames for the recession) being made to pay because someone has their home repossessed (the recession was started by the subprime mortgage crisis, which saw a huge number of US homes repossessed after banks collapsed due to being unable to sustain high-risk loan strategies). Drag Me to Hell never pushes the metaphor/social allegory any further than that and certainly leaves a mixed message – the loans officer is seen as the innocent, who at most is guilty of making the wrong choice when she could have saved the woman's home, while the hordes of angry ex-home owners are aligned with the very forces of Hell itself.
Sam Raimi's other genre films include:- the horror film The Evil Dead (1981) and its sequels The Evil Dead II (1987) and Army of Darkness (1992); the bizarre cartoonish crime drama Crimewave (1985); the superhero film Darkman (1990); the psychic thriller The Gift (2000); the trilogy of Marvel Comics adaptations Spider-Man (2002), Spider-Man 2 (2004), Spider-Man 3 (2007); Oz: The Great and Powerful (2013); and Doctor Strange in the Multiverse of Madness (2022). Raimi also co-wrote the Coen Brothers fantasy film The Hudsucker Proxy (1994) and produces the zombie film The Dead Next Door (1989) under the pseudonym The Master Cylinder. Sam Raimi has also had some success with his Renaissance Pictures production company, who have been particularly enterprising in the field of television fantasy. Theatrically, Renaissance have produced the bizarre Lunatics: A Love Story (1991), John Woo's American debut Hard Target (1993) and the Van Damme time-travelling action film Timecop (1993). On television, Renaissance have produced such genre works as the superhero series M.A.N.T.I.S. (1994-6), the smalltown Deviltry show American Gothic (1995) and then had enormous hits with the dual successes of the tongue-in-cheek revisitings of Greek myth and sword and sorcery with Hercules: The Legendary Journeys (1994-9) and Xena: Warrior Princess (1995-2001). These were followed by similar tongue-in-cheek series as Young Hercules (1998-2000), the futuristic Cleopatra 2525 (2000-2), the historical romp Jack of All Trades (2000-1) and the Evil Dead tv spinoff Ash vs Evil Dead (2015-8) and film reboot Evil Dead Rise (2023). Raimi also formed the Ghost House Pictures production company and co-produced the likes of the American remake of The Grudge (2004), Boogeyman (2005), The Messengers (2007), Rise (2007), 30 Days of Night (2007), The Possession (2012), Evil Dead (2013), Poltergeist (2015), Don't Breathe (2016), The Unholy (2021) and the tv series Legend of the Seeker (2008-10) and 13: Fear is Real (2009) as well as Raimi Pictures that produced Crawl (2019), Umma (2022) and 65 (2023).
(Nominee for Best Makeup Effects at this site's Best of 2009 Awards).
---
---