---
Crew
Director – Monte Hellman, Screenplay – Carlos Laszlo, Story – Arthur H. Gorson, Monte Hellman & Carlos Laszlo, Producer – Arthur H. Gorson, Photography – Josep M. Civit, Music – Steven Soles, Makeup Effects – Nina Kraft, Production Design – Philip Thomas. Production Company – Quiet Films.
Cast
Samantha Scully (Laura Anderson), Bill Moseley (Ricky Caldwell), Richard Beymer (Dr Newbury), Eric Da Re (Chris Anderson), Laura Herring [Harring] (Jerri), Robert Culp (Lieutenant Connelly), Elizabeth Hoffman (Granny Anderson), Isabel Cooley (Hospital Receptionist)
---
Plot
The neurologist Dr Newbury has been using experimental techniques to restore the brain of the serial killer Ricky Caldwell. To this extent, he been employing the psychic abilities of the blind Laura Anderson in an effort to awaken Ricky. Laura now departs with her brother Chris and his girlfriend Jerri to join their grandmother in Piru for Christmas. Ricky breaks out of the hospital and comes in pursuit, drawn by his psychic connection to Laura and killing everyone in his way.
---
Silent Night, Deadly Night (1984) was the most famous of several Christmas-themed slasher films. Its image of a psycho Santa clearly dug a nerve and the film was greeted by protest groups outraged at it daring to trash the sanctity of such a venerated institution. In the horror genre, such an outcry was naturally responded to with several sequels, beginning with the hilariously bad Silent Night, Deadly Night Part 2 (1987), which featured the killer's brother; followed by this, which sees the brother revived from his apparent death; Brian Yuzna's unrelated, entertainingly gonzo Silent Night, Deadly Night 4: The Initiation (1990) featuring the activity of an Egyptian witch cult; and Silent Night, Deadly Night 5: The Toy Maker (1992) with Mickey Rooney as a toymaker who creates living toys. Silent Night (2012) was a very loose remake/reworking of the original.
The interestingly different choice of director for this sequel is Monte Hellman. Hellman is not exactly a well-known name. A decade earlier, he was known primarily for the cult road movie Vanishing Point (1971), as well as one or two strange Westerns. In genre material, Hellman's first film had been the monster movie Beast from Haunted Cave (1959) and he later contributed a segment of the horror anthology Trapped Ashes (2006).
The surprise about Silent Night, Deadly Night III; You Better Watch Out! is the fact that all involved take a film that in every other respect is something completely ridiculous and play it in straight face. The central premise involves the killer from the previous film revived from a coma via miraculous handwave medical techniques that have something to do with a blind girl sharing dreams. This leads to an Eyes of Laura Mars (1978)-type set-up where the two develop a psychic link. Thereafter the killer stumbles around like a Frankenstein monster accompanied by the absurd effect of him wearing a glass dome on his head through which his exposed brain is seen sloshing around in red liquid. You would normally expect the cast and director to tip their hand that they regard the goings-on as beneath them but the film oddly does not.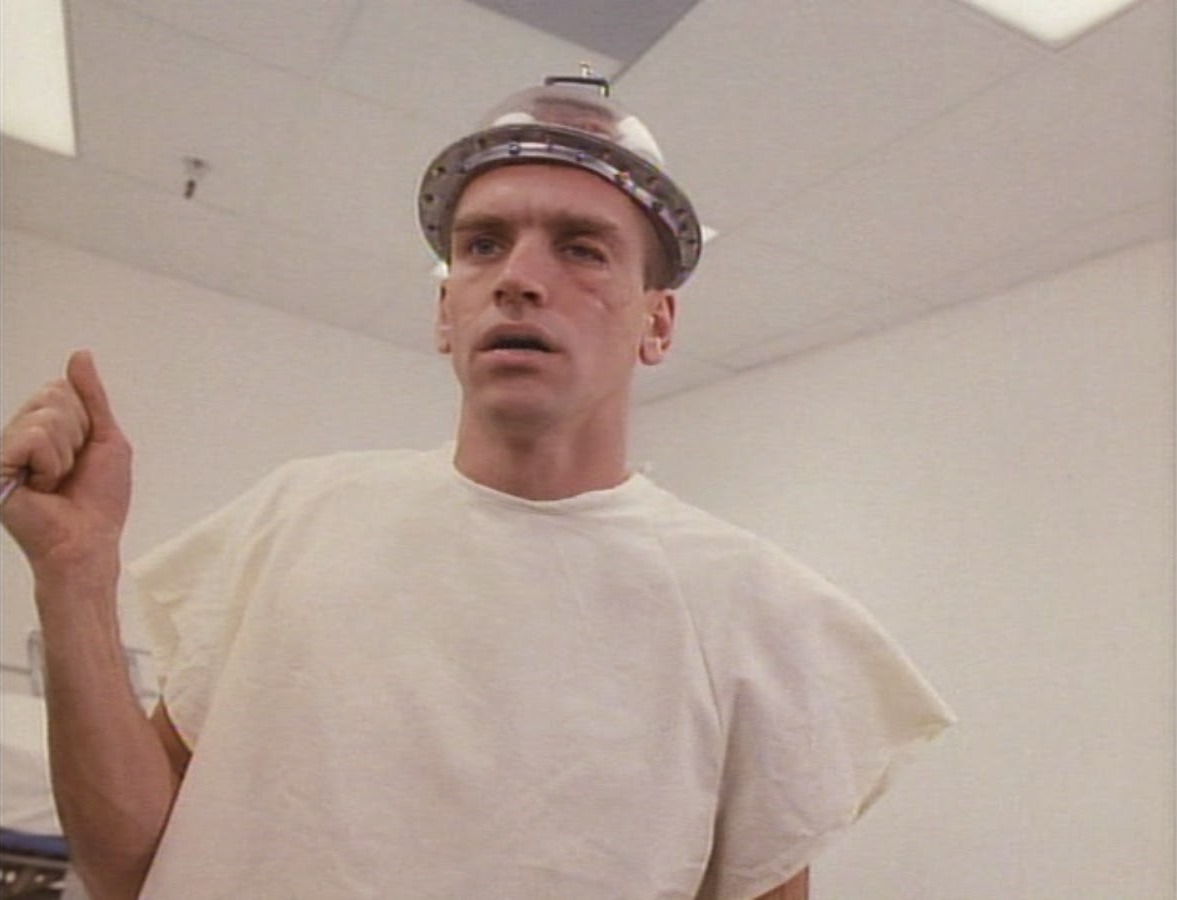 Monte Hellman gets into the spirit of everything. The most entertaining set-up is the scene where the killer attacks a gas station attendant and then leaves their severed head on the desk of the booth talking into a phone receiver. There is the absurdity of the scene where the killer smashes their hands through the panel of the front door to grab Laura Herring and instead of actually doing anything, Eric Da Re stands going "Holy Shit" before running and grabbing a kitchen knife and trying to stab the killer's wrist, while Samantha Scully stands about shaking her head "He won't be stopped."
What is interesting about the film is the cast, most of whom went on to star in the works of David Lynch in some way. Not long after this, Richard Beymer, who plays the neurologist, became businessman Benjamin Horne in Lynch's Twin Peaks (1990-1, 2017). Eric Da Re, who plays the handsome boyfriend here, also took up the role of the abusive husband Leo Johnson in the show. Furthermore, supporting actress Laura Harring (billed here as Laura Herring) went on to become the lead alongside Naomi Watts in Lynch's subsequent film Mulholland Dr. (2001). Bill Moseley, who plays the killer, was Chop-Top in The Texas Chainsaw Massacre 2 (1986) and has become a genre regular since, most notedly as Otis Firefly in Rob Zombie's trilogy of films beginning with House of the 1000 Corpses (2003). Robert Culp, who plays the detective, was a veteran actor known in particular for tv shows like I Spy (1965-8) and The Greatest American Hero (1981-3).
---
---