---
Crew
Director – Tinu Suresh Desai, Screenplay – Sukhmani Sadana, Additional Screenplay – Tanya Pathak, Dialogue – Girish Dhamija, Story – Vikram Bhatt, Photography – Prakash Kutty, Music – Shaarib & Toshi, Background Score – Amar Mohile, Visual Effects – Ivana Studioz (Supervisor – Njanasundaran P.T.), Production Design – Jayant Deshmukh & George Morris. Production Company – Reliance Entertainment/1920 London Limited.
Cast
Sharman Joshi (Jai Singh Gujjar), Meera Chopra (Shivangi), Vishal Karwal (Kunwar Veer Singh), Sushmita Mukharji (Kesar Maa), Surender Pal (Shivangi's Father), Siraj Mustufa (Rana Jag Pratap Singh), Charu Rohatagi (Shivangi's Mother), Mansi (Possessed Girl), Arun Bali (Guruji), Tony Goodall (Doctor)
---
Plot
Princess Shivangi has married Kunwar Veer Singh and they now live in London. Veer now suddenly becomes possessed. Shivangi returns to her family in Rajasthan seeking help. They bring in an exorcist but he fails. Shivangi is reluctantly forced to seek the help of Jai Singh Gujjar, the pupil of a famous guru. However, she is hesitant to do because of their past together. Jai was a shepherd and they became attracted after he was called in by her family to conduct an exorcism. The two swore undying love despite their difference in station until her uncle tried to attack Shivangi and Jai fought him off. Jai was dragged into court by her uncle. Brought in as a witness to defend him, Shivangi denied their love and Jai was sentenced to five years in jail. Jai is now bitter and angry but she persuades him to set this aside and come to London and banish the evil forces that are draining Veer's life.
---
The Bollywood horror film is a rare beast. Bollywood cinema (that is to say films produced in India) is a genre very different to Hollywood. Most Bollywood films are made as easy audience-pleasing works of romance and drama, although there have been an increasing number of thrillers and action films in recent years. There are many stylistic differences – the preponderance of song and dance numbers, the requisite romantic element – that makes Bollywood films seem strange to Western audiences coming to them for the first time.
Even though it is a larger-than-life genre, Bollywood cinema has never much embraced fantastical content – there are even fewer examples of Bollywood science-fiction than there are of horror films, for example. That said, there have been an increasing number of Bollywood horror films that have been made since the 1990s. Examples reviewed on this site include Raat (1992), Raaz (2002), Bhoot (2003), Raman Raghav 2.0 (2016), Betaal (2020), Ghost Stories (2020) and a number of others that I will be more than happy to write up as soon as I can find English-subtitled copies.
I did not realise until after I started watching that 1920 London is actually a third film in a trilogy. This began with 1920 (2008) from Vikram Bhatt and was followed by 1920: Evil Returns (2012). All three tell different stories where the only common linking factor is that they are tales of possession (usually of one of a married couple). Vikram Bhatt writes the story for the two sequels but all feature different casts and directors. Subsequent to this, Vikram Bhatt returned to direct a further film in the series with 1921 (2018).
Bollywood horror films are bewildering to people who come to them after being used to Western films. For instance, almost every Bollywood film, no matter the genre, seems to mandatorily require having a strong romantic element and several song and dance numbers, which usually take place in montage sequences with multiple location and costume changes. It seems odd here watching a horror film (that is played as a straight drama rather than a comedy) and having the characters bursting into song and dance numbers.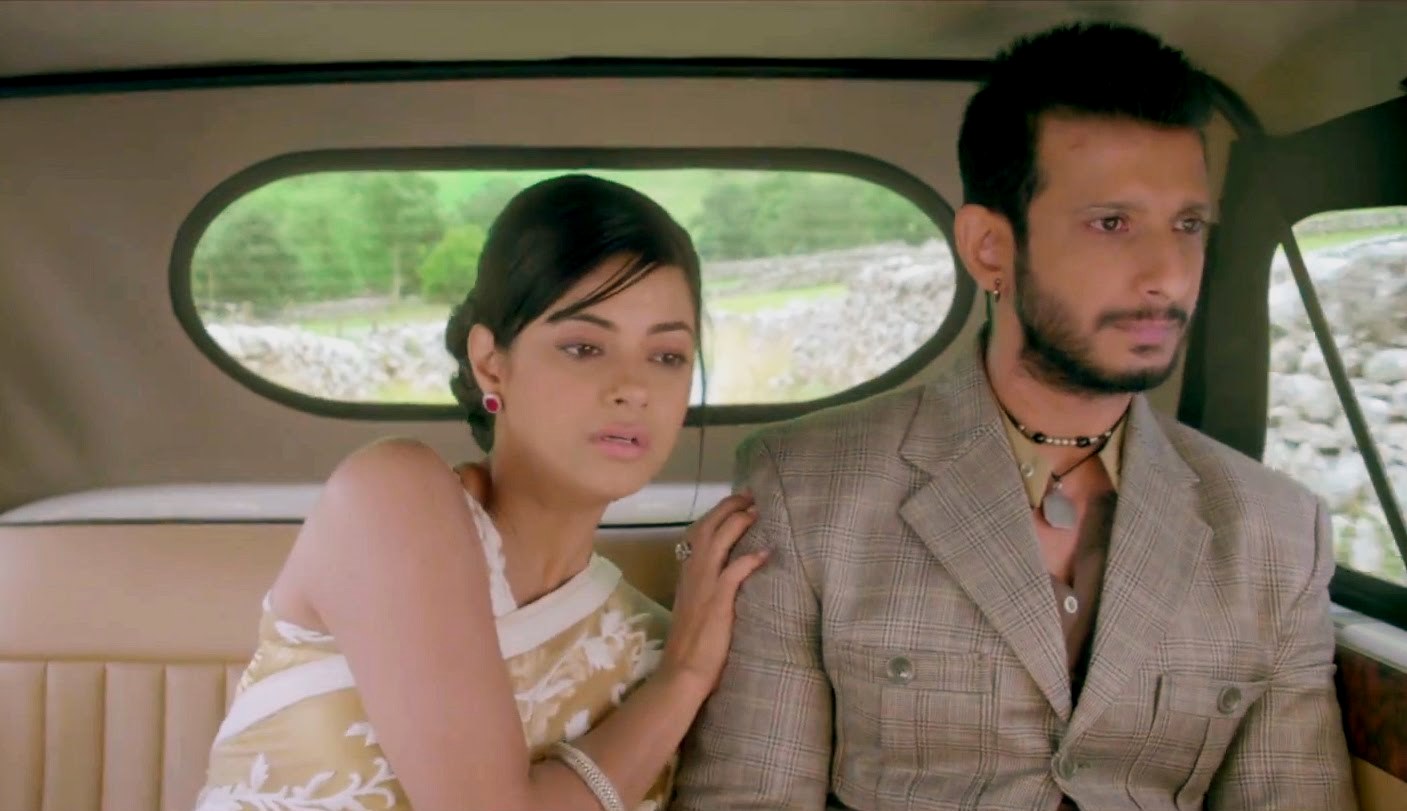 During the early scenes here, there are song montage numbers with Vishal Kariyal romancing Meera Chopra around the gorgeously shot Edwardian exteriors and parks of London (the film seems to have been termed 1920 London solely for the considerable beauty that period English aristocratic houses and estates afford the filmmakers). There is an eyebrow-raising later sequence where Sharman Joshi romances Meera Chopra in a number that involves him swinging a goat about on his shoulders!
This film also features the romance as an integral plot element. Although this is also a romantic element that would never translate to a Western horror film – much of the story centres around Meera Chopra being forced to betray her true love and marry another because Sharman Joshi is considered beneath her caste position. There is even incredulity expressed in court about why she would even be speaking to him.
The film looks great, the English locations and interiors look beautifully lush. However, what lets everything down is newcomer director Tinu Suresh Desai's handling of the horror elements. Certainly, 1920 London adopts the possession theme in ways that are distinctive to Bollywood – the exorcism ceremony notedly makes use of water from the Ganges as opposed to holy water. Yet for all that, the film still draws from the kit and caboodle of cliches created by The Exorcist (1973) – the possessed with physically contorted body and hideously cracked features, levitations, the bed moving. We even get a copy of the spiderwalk sequence. Many of the effects with the bed moving and the possessed girl popping down from the ceiling look campy, with the film's attempt to replicate the spiderwalk sequence being especially laughable.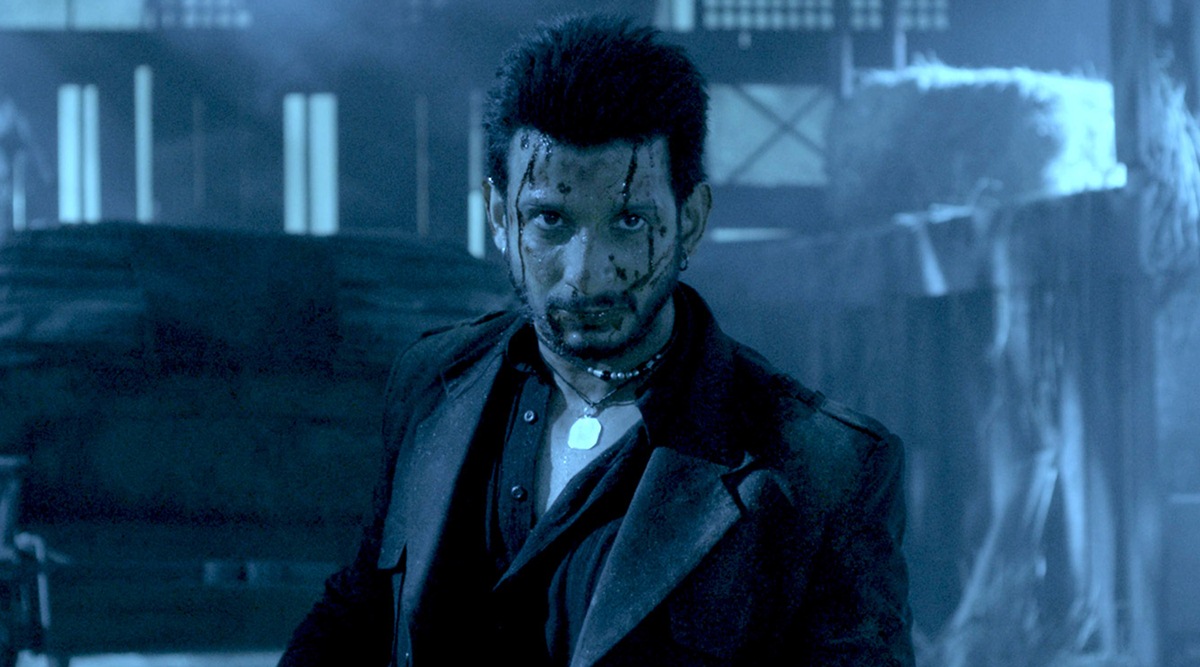 The one thing that did make me sit up and think 1920 London might be worth watching is the mid-film twist. [PLOT SPOILERS HENCEFORTH]. The film spends its first hour dealing with Vishal Kariyal's possession and Meera Chopra having to go and ask Sharman Joshi's help despite the bitter betrayal in their past. This works well enough but then comes the abrupt twist in mid-film where we suddenly discover that the one behind the possession is actually Sharman Joshi and that he has launched all of this in an elaborate revenge scheme.
I could even see this working as a Hollywood horror film up until about the last quarter. There is a great scene at the train station where Meera Chopra confronts Sharman Joshi and he admits he did it in revenge for her betrayal. A good film would have ended there, having delivered a stinging twist that turns everything that has happened on its head. However, the film seems to have an obligatory mandate to write a happy upbeat ending. The scene ends with a flashback explaining that she was forced to betray him to save his life, the two immediately forgiving one another (despite the vast crimes that either have committed) and going off to save the husband.
This does plunge the film into the interesting quandary of a love triangle – where Meera Chopra has just reconciled with her true love and they are setting out together to save the man she subsequently married. The film ends with Meera reunited with husband Vishal Kariyal and Sharman Joshi left trapped in the world on the other side of the mirror after it was broken during the course of the exorcism. This is an ending that goes with the traditional ie. Meera reunited with the man she is married to even though he has not been much of a figure in the film prior to becoming possessed and the man she is emotionally attached to being written out of the picture in what you cannot help but feel is a tragic ending.
---
---