---
USA. 2006.
Crew
Director – Stuart Gillard, Teleplay – Dan Berendsen, Story – Tom Holland & Carol Saraceno, Based on the Teleplay by Kenette Gfeller, Don Ingalls & Carol Saraceno, From a Story by Tom Holland & Carol Saraceno, Producer – Lampton Enochs, Photography – Manfred Guthe, Music – John Van Tongeren, Visual Effects Supervisor – Stephen Lebed, Visual Effects – Mechnology, Special Effects Supervisor – Richard E. Perry, Production Design – Christiaan Wagener. Production Company – ABC Family/MGM.
Cast
Mika Boorem (Sarah Goodwin), Summer Glau (Lindsey Goodwin), JoAnna Garcia (Corinne), Jennifer Tilly (Dr Eugenia Hunter), Ben Zill (Finn), Tessa Thompson (Esme), Morgan Fairchild (Trina Goodwin), Amber Brooke Wallace (Vita), Damien Lipari (Damien)
---
Plot
Sarah Goodwin and her sister Lindsey sign into Temple Hill University. Lindsey is eager to be accepted into the prestigious Alpha Nu Gamma sorority that their mother belonged to when she was a student. Sarah is less interested in such social status and is instead drawn to the Phi Epsilon Delta sorority that everybody else regards as consisting of weird geeks. As Alpha Nu makes great efforts to recruit the two of them, Sarah finds support from Phi Epsilon housemother Dr Eugenia Hunter who helps her understand and control her psychic potential. Sarah learns that an occult war has existed between the two sororities, stretching back to the beginning of time. Phi Epsilon embraces natural magic, whereas Alpha Nu are dependent on spells and sacrifices. Both sides have been seeking The One of great power, whom they believe to be Sarah. However, Alpha Nu want to sacrifice The One to consolidate their power. In order to make Sarah willingly surrender to them, Alpha Nu inveigle Lindsey to join them and then make her a prisoner.
---
The Initiation of Sarah (1978) was a moderately popular genre tv movie of its day. It was clearly made in an effort to imitate Carrie (1976). Carrie's plot of a tormented underdog against using psychic powers to take revenge against her abusers was transferred from a high school to the realm of rival university sororities. Also added to the mix was various occult goings-on after the popular fad for deviltry and witchcraft films following the successes of Rosemary's Baby (1968), The Exorcist (1973) and The Omen (1976).
Here The Initiation of Sarah has been resurrected here as part of the ongoing 00s fad to excavate and remake almost any horror film of the 70s/80s. The remake retains many of the basics – the two sisters going to university, one sister being accepted into the bitchy popular sorority; the other sister Sarah being drawn into the sorority made up of dropouts and social outsiders where she is encouraged by the housemother to discover her psychic potential. Morgan Fairchild who played the leader of the bitchy sorority in the original also has a cameo here, this time playing the two girls' mother. There are about three characters that share the same name but resemblances end there.
The Carrie-copycat plot about Sarah using her psychic powers to take revenge for her humiliations by the bitchy sorority has been dumped. In has come a new plot that now has both sororities engaged in occult rituals and witchcraft; whereas in the original it was only the Phi Epsilon Delta sorority that was doing so. More to the point, the central characters and thrust of the film has changed. In the original, Sarah was a mousy wallflower who was the butt of the Alpha Nu bitcheries; here Alpha Nu are actively seeking to recruit her and she turns them down rather than is rejected by them. Indeed, here it is the sister (Summer Glau) who is the wallflower, while Sarah seems a modern cynically indifferent loner who is less an underdog than someone who has no concern for social pretence.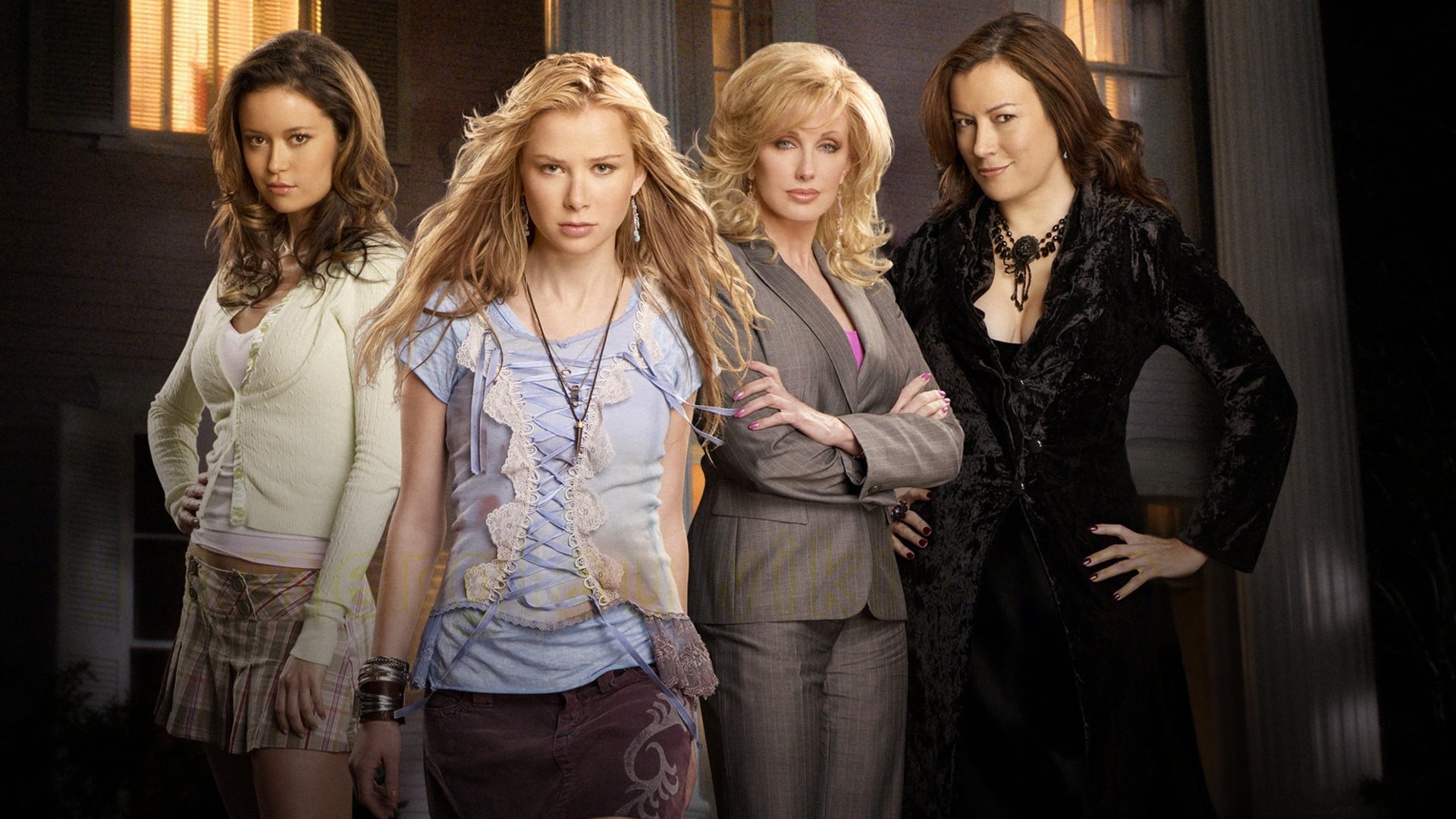 Everything is competently conducted by regular tv and children's movie director Stuart Gillard. However, there is the distinct feeling that The Initiation of Sarah is no more than a commercial assignment in Gillard's hands. He fails to evoke the supernatural with any cinematic magic, tossing up no more than routine digital effects and a few flames. The downside of this is that the magic simply becomes too powerful – a problem that was even worse in Gillard's Twitches films. There is a reversal of expectation that comes towards the end about who The One is but this is gimmicky and fails to make much sense [PLOT SPOILERS] – if Summer Glau was The One all along and so easily capitulates and joins the Alpha Nus then why do they need to make such a big deal about pretending to recruit Mika Boorem?
While the film is played seriously everywhere else, JoAnna Garcia's performance as the Alpha Nu leader topples into campy one-dimensional strutting. This does reveal the decided absurdity of the film's basic premise – the idea of a war that has gone on between two rival university sororities since the beginning of time. (The remake makes an amusing equation here – the side of evil is represented by bitchy, social sophistication where all the girls are impeccably dressed and look like wives who have just come from an exclusive country club, whereas the side of good is represented by Earth mothers, social outsiders, nerds and Goth chicks). There is one amusing scene where Mika Boorem sets off to protect would-be boyfriend Ben Zill from being used as a virgin sacrifice by the Alpha Nu's: "It's the only way I know he'll be safe."
The cast are generally competent. The film features Summer Glau at a point between her two signature roles in Firefly (2002-3) and Terminator: The Sarah Chronicles (2008-9). While these other shows cast her as respectively a mixed up psychic kid and an emotionless killing machine, here she plays a normal girl for about the first time and disappointingly comes across as nerdily square.
Stuart Gillard's other genre films are:- the Disney tv movie Return of the Shaggy Dog (1987), Teenage Mutant Ninja Turtles III (1993), the Mars mission comedy RocketMan (1997), the monster tv mini-series Creature (1998), the Disney Channel film The Scream Team (2002), Twitches (2005) and Twitches Too (2007), WarGames: The Dead Code (2008), the tv mini-series adaptation of Philip Jose Farmer's afterlife books Riverworld (2010), the tv movie Avalon High (2010) and the tv movie Girl vs Monster (2012).
---
---