---
Crew
Director/Screenplay – David Cronenberg, Producer – John Dunning, Photography – Rene Verzier, Music Supervisor – Ivan Reitman, Special Effects – Al Griswold, Makeup – Joe Blasco Make-Up Association (Supervisor – Byrd Holland), Art Direction – Claude Marchand. Production Company – Dunning-Link-Reitman/Dibar Syndicate.
Cast
Marilyn Chambers (Rose), Frank Moore (Hart Read), Joe Silver (Murray Cypher), Howard Ryshpan (Dr Dan Keloid), Patricia Gage (Dr Roxanne Keloid), Susan Roman (Mindy Kent), J. Roger Periard (Lloyd Walsh), Lynne Deragon (Nurse Louise), Terry Schonblum (Judy Glasberg), Victor Desy (Claude Lapointe), Julia Anna (Nurse Rita), Gary McKeehan (Smooth Eddy)
---
Plot
Rose is riding on the back of her boyfriend's motorcycle when they spin off the road. She is found by Dr Dan Keloid who rushes her into surgery at his nearby clinic and is able to save her life using experimental skin graft techniques that make her tissue morphologically neutral. As Rose makes a full recovery, the skin grafts have an unforeseen side effect – that of creating a small needle-like growth under her armpit that needs to consume blood. She is driven to take victims and allow the needle to drink their blood. Each of the victims she drinks from becomes infected with a plague that causes them to become rabid and go berserk. As the epidemic spreads, Montreal authorities are forced to institute martial law.
---
Rabid was the fourth film of David Cronenberg. It is one of Cronenberg's weaker films – nevertheless, even David Cronenberg's lesser films are always fascinating. Here Cronenberg conducts a novel variation on the vampire theme by way of Night of the Living Dead. (1968). Indeed, the thematic road Cronenberg is travelling down seems very similar to the one he took in his previous film Shivers/They Came from Within/The Parasite Murders (1975).
Throughout the film, Cronenberg packs an extraordinary cluster of Freudian imagery around the vaginal-looking parasite – the parasite with its predatory drill-like clitoris can be read as all manner of metaphors for both rampant male and female sexuality; Rose comforts and caresses her victims while she is draining them as though they were lovers; while the rabid spread of the disease hearkens back to Cronenberg's monsters as metaphor for VD in Shivers. However, Cronenberg also swings the symbols so broadly, more for the sake of it than anything else, that they could mean anything and, as a result, Rabid is more diffuse and lacks the shock sting that Shivers had. For all the complexity of the idea, Cronenberg merely leaves it sitting there and never fires it up the way he did in Shivers.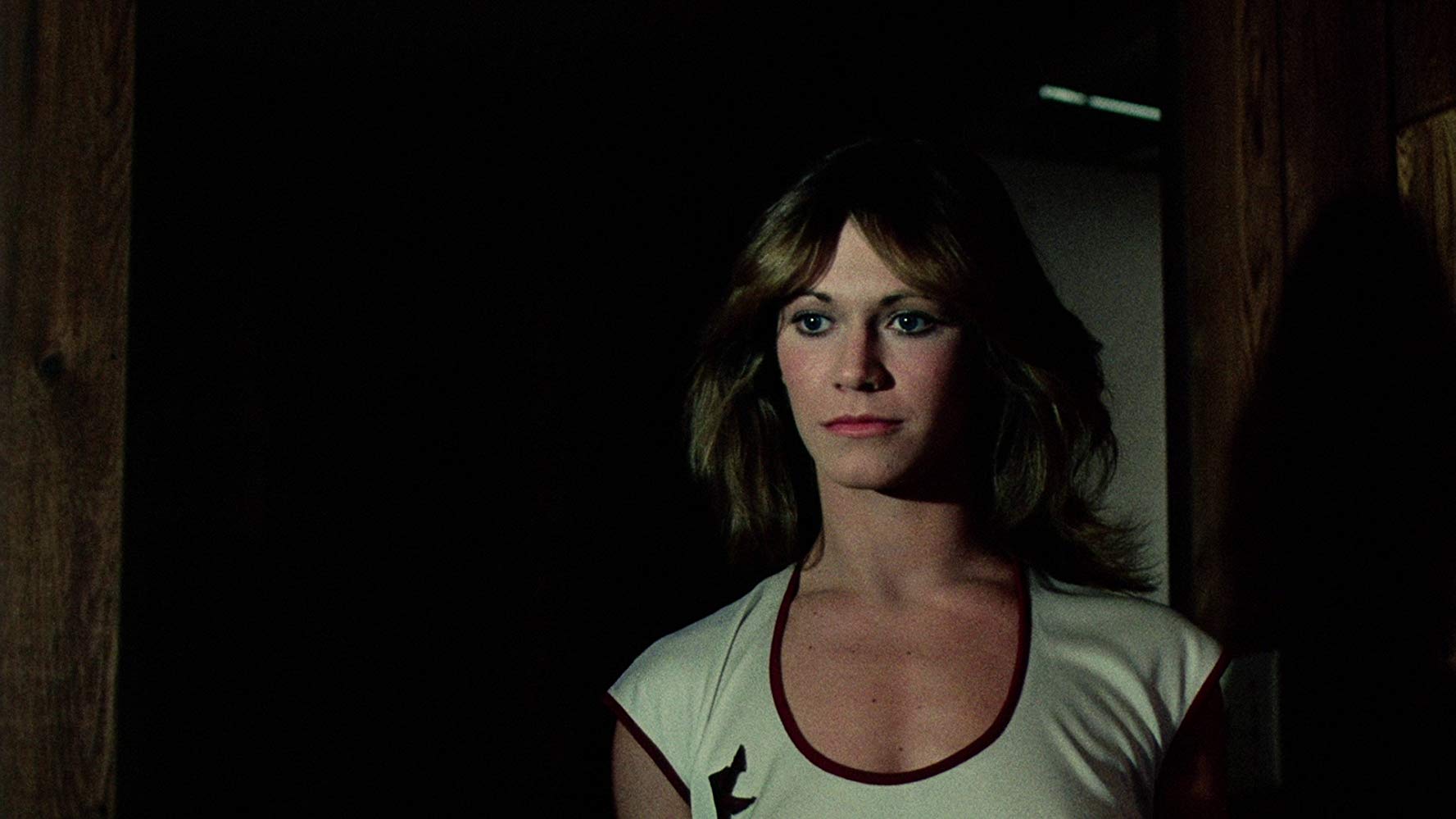 The best scenes are the graphic and often unpleasant images of victims going berserk – a scene where a doctor slices off his nurse's finger and starts trying to suck the stump in the midst of an operation; the image of a department store Santa being gunned down; and the fadeout on the heroine's body being indiscriminately tossed out in the garbage.
In what was prominently noted as being her first non-pornographic role, Marilyn Chambers, who had come to fame in films like Beyond the Green Door (1972) and The Resurrection of Eve (1973), acquits herself quite professionally in the lead.
The film was subsequently remade by the Soska Sisters as Rabid (2019) starring Laura Vandervoort as Rose.
David Cronenberg's other films are:– Stereo (1969), a little-seen film about psychic powers experiments; Crimes of the Future (1970) set a future where people have become sterile and developed strange mutations; Shivers/They Came from Within/The Parasite Murders (1975); The Brood (1979) about experimental psycho-therapies; Fast Company (1979), a non-genre film about car racing; Scanners (1981), a film about psychic powers; Videodrome (1983) about reality-manipulating tv; The Dead Zone (1983), his adaptation of the Stephen King novel about precognition; The Fly (1986), his remake of the 1950s film; Dead Ringers (1988), his greatest film, about two disturbed twin gynaecologists; Naked Lunch (1991), his surreal adaptation of William S. Burroughs' drug-hazed counter-culture novel; M. Butterfly (1993), a non-genre film about a Chinese spy who posed as a woman to seduce a British diplomat; Crash (1996), Cronenberg's adaptation of J.G. Ballard's novel about the eroticism of car crashes; eXistenZ (1999), a disappointing film about Virtual Reality; Spider (2002), a subjective film that takes place inside the mind of a mentally ill man; the thriller A History of Violence (2005) about a hitman who has taken up a new identity; Eastern Promises (2007) about the Russian Mafia; A Dangerous Method (2011) about the early years of psychotherapy; Cosmopolis (2012), a surreal vision of near-future economic collapse; the dark Hollywood film Maps to the Stars (2014); and Crimes of the Future (2022) set in a future world of surgical performance art. Cronenberg has also made acting appearances in other people films including as a serial killer psychologist in Clive Barker's Nightbreed (1990); a Mafia hitman in To Die For (1995); a Mafia head in Blood & Donuts (1995); a member of a hospital board of governors in the medical thriller Extreme Measures (1996); as a gas company exec in Don McKellar's excellent end of the world drama Last Night (1998); as a priest in the serial killer thriller Resurrection (1999); and a victim in the Friday the 13th film Jason X (2001).
The executive producer and music supervisor on the film was Ivan Reitman, who had produced Cronenberg's Shivers and later became a mainstream comedy director with the likes of Ghostbusters (1984), Twins (1988), Kindergarten Cop (1990) and Six Days, Seven Nights (1998). When Rabid was released on video in the mid-80s and David Cronenberg was still a relative unknown, the film went out with the amusingly misleading box cover that announced that it was "from the director of Ghostbusters."
---
---