---
Ireland/UK. 2016.
Crew
Director – Billy O'Brien, Screenplay – Christopher Hyde & Billy O'Brien, Based on the Novel by Dan Wells, Producers – James Harris, Mark Lane & Nick Ryan, Photography – Robbie Ryan, Music – Adrian Johnston, Creature Designer – Toby Froud, Creature Effects – William Todd-Jones, Prosthetics/Special Effects – Ryan Schaddelee, Makeup Design – Carrie Messina, Production Design – Jennifer Klide. Production Company – Bord Scannia na hEireann (The Irish Film Board)/Quickfire Films/The Fyzz Facility Limited/Fantastic Films/Winterland Pictures/Floodland Pictures/The Tea Shop & Film Company.
Cast
Max Records (John Wayne Cleaver), Christopher Lloyd (Bill Crowley), Laura Fraser (April Cleaver), Karl Geary (Dr Grant Neblin), Lucille Lawton (Brooke Watson), Christina Baldwin (Aunt Margaret), Dee Noah (Kay Crowley), Raymond Brandstrom (Max Bowen), Vincent Risso (Rob Anders), Anna Sundberg (Lauren Bacall Cleaver), Jim Gaulke (Principal Layton)
---
Plot
John Cleaver is a teenager at high school in the town of Clayton. He helps out his mother who runs the local mortuary, which has him bullied as being strange at school. He confesses to his therapist that he recognises in himself the three giveaway traits of a serial killer but has developed a code to control himself. John becomes fascinated by a series of killings around the town – the fact that different organs have been removed from each victim and the patch of black oil found at every scene. He then witnesses his aging neighbour Mr Crowley transforming into a creature and killing another victim. Carefully observing and following Mr Crowley, he begins to secretly taunt him that he knows what he is. Upon being found out, a cat and mouse game ensues between the two.
---
Irish director Billy O'Brien first appeared with Isolation (2005) about mutant cattle on a farm, which gained some festival attention. In the decade in between, O'Brien has kept himself employed delivering a series of okay B movies with the likes of Ferocious Planet (2011) and Scintilla/The Hybrid (2014). I Am Not Serial Killer is adapted from a 2009 debut novel by American writer Dan Wells who has spun it out into two entire trilogies. It has been O'Brien's most acclaimed film yet and did the rounds of a number of film festivals.
For a non-American director, Billy O'Brien does a fantastic job in the portrayal of small nowhere town America (in actuality Minnesota) – the banality of life and especially the layout of the town as it becomes covered in snow during the latter half of the film. The pace of the film is slow and laidback, absorbed in this smalltown world and teenager Max Records' everyday problems.
Amidst this, it becomes a jolt that makes you sit when Max Records casually mentions to psychologist Karl Geary how he recognises traits of a serial killer in himself. Or the scene where he calmly compares bully Vincent Risso to no more than a cardboard box and says the only interesting thing about a cardboard box is when you cut it open. Not to mention the sheer novelty of the idea of a teenage serial killer trying to do good by a code – shades of tv's Dexter (2006-13) – then having to combat a far greater evil that he discovers.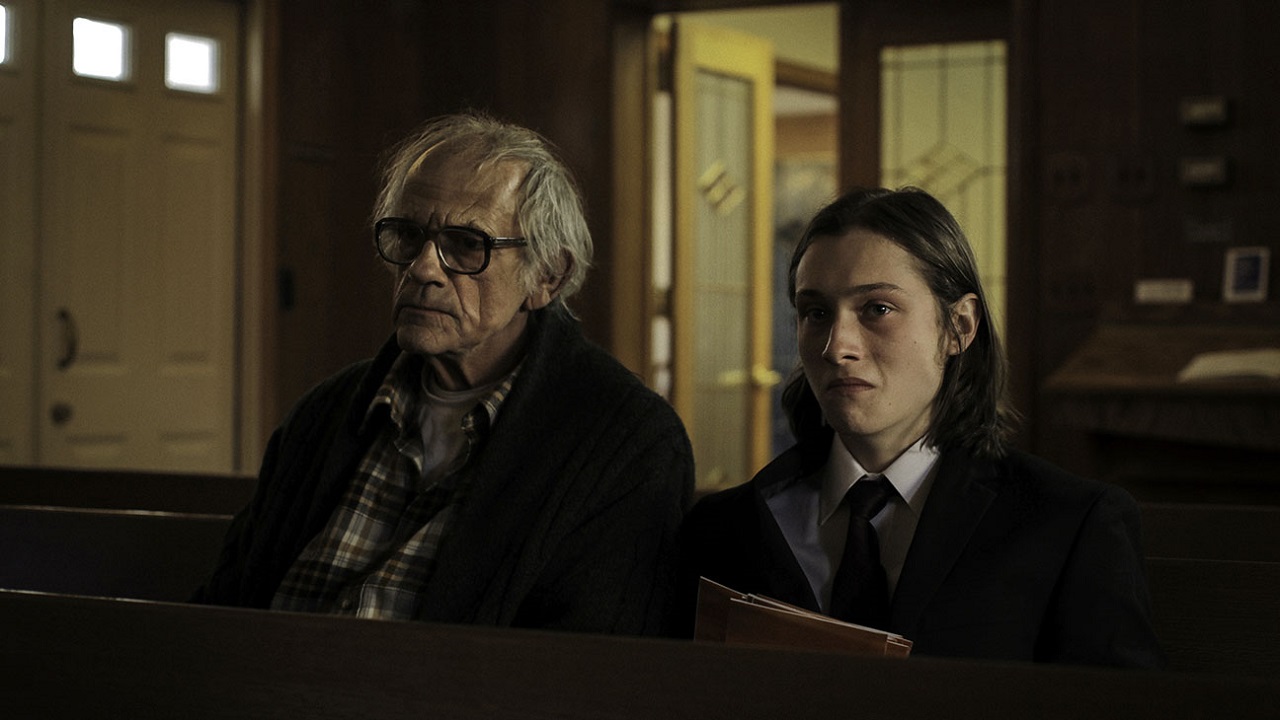 The slowness and ordinariness of the lead-in makes the elements of horror seem completely outlandish when they enter – the jolt that comes after Max Records follows Christopher Lloyd and the drifter as they go ice fishing on the frozen-over river, he watching in long shot as Lloyd abruptly turns, his arm transforms into a claw and he plunges it through the drifter. It has such a bolt out of the blue bizarreness to it that we initially doubt what we saw. There is the same a little later when Max Records follows Christopher Lloyd to the barber in what seems a perfectly ordinary, everyday setting before it becomes apparent that Lloyd is going to kill the barber, followed by the cops that come to investigate after Records sets off the alarm.
The most absorbing sections come during the latter half with Max Records skulking around watching and following Christopher Lloyd. As the cat and mouse game ensues, much of the scenes seem to take place in the middle of the night in the dead of winter, which gives the film an undeniable atmosphere. Some of the risks that Records takes in his game have you considerably on the edge of the seat. The script never details too much about exactly what the creature is but it does lead to an undeniably remarkable climax.
The performances in the film are all top-notch. Christopher Lloyd's role comes as an about-face casting from all of the amiable eccentric comedic roles that we have seen him in. Indeed, much of the reason Lloyd seems to have been cast is that it is initially hard to adjust and see such a likeably cuddly figure as an unearthly monster. Up against Lloyd, Max Records, a few years earlier the young kid in Where the Wild Things Are (2009), does a great job in holding his own.
(Nominee for Best Supporting Actor (Christopher Lloyd) at this site's Best of 2016 Awards).
---
Trailer here
---