---
Crew
Director/Screenplay – Victor Salva, Producer – Tom Luse, Photography – Don E. Fauntleroy, Music – Bennett Salvay, Visual Effects Supervisor – Jonathan Rothbart, Visual Effects – The Orphanage Inc, Special Effects Supervisor – John Gray, Makeup Effects – Makeup and Monsters (Supervisor – Brian Penikas), Production Design – Peter Jamison. Production Company – American Zoetrope Pictures/Myriad Pictures.
Cast
Ray Wise (Jack Taggart), Eric Nenninger (Scott Braddock), Nicki Aycox (Minxie Hayes), Garikayi Mutambirwa (Deaundre 'Double D' Davis), Jonathan Breck (The Creeper), Travis Schiffner (Izzy Bohen), Billy Aaron Brown (Andy 'Bucky' Buck), Marieh Delfino (Rhonda Truitt), Diane Delano (Betty Borman), Thom Gossom Jr (Coach Charlie Hanna), Lena Cardwell (Chelsea Farmer), Tom Tarantini (Coach Dwayne Barnes), Luke Edwards (Jack Taggart Jr), Josh Hammond (Jake Spencer), Al Santos (Dante Belasco), Drew Tyler Bell (Johnny Young), Shaun Fleming (Billy Taggart)
---
Plot
A high school basketball team is returning home from a game when the bus's tire blows out. The tire is found to have been hit by a weapon made of sharpened bone fragments. The driver limps onwards on the remaining wheels but then a further tire is hit by another bone fragment missile. With the bus stalled on a country road in the middle of nowhere, a winged creature appears and snatches up the driver and two coaches within a matter of minutes. The team huddle terrified inside as the creature reappears, marking several of them as its intended victims. One girl Minxie has a dream in which she learns that the creature emerges once every 23 years for only 23 days in order to feed. It is drawn to devour something inside each of the chosen members of the group. As the creature starts picking its intended victims off, they try to find a way to fight back against it, but their survival is also threatened from within by fear and prejudice.
---
Victor Salva has increasingly emerged as one of the genre directors worth watching for in the 2000's and beyond. Salva first appeared with the haunting slasher film Clownhouse (1989), which still remains his best film. He went onto the fine but little-seen road movie psycho-thriller The Nature of the Beast (1995), the gifted teen film Powder (1995) and the non-genre Rites of Passage (1999), a thriller/family drama about father-gay son relationships. Salva's first success with audiences came with Jeepers Creepers (2001), which came backed by Francis Ford Coppola's American Zoetrope Pictures and has been subsequently acclaimed with a modest cult. Jeepers Creepers II was the first of Salva's sequels and one that confirms his name as a major talent. Salva subsequently went onto make the interestingly philosophical Peaceful Warrior (2006), the stalker film Rosewood Lane (2011) and the deviltry film Dark House (2014).
Jeepers Creepers II does what a good sequel does – it takes the basics of the original plot – two teenagers being pursued through the backroads by a mysterious scarecrow-like creature – and recasts them on a larger stage and with greater finesse. For a substantial part of the film, Victor Salva narrows the backroads pursuit of the first film down to a group being menaced by The Creeper as they huddle inside the alarmingly vulnerable shelter of a bus broken down on a back country road.
Salva also uses the availability of a clearly much larger budget to up the scale of the film, including to stage an impressively spectacular action climax. The Creeper goes from a shadowy figure to something that has been given life with an impressively grotesque series of makeup effects, while it has now also obtained the ability to fly.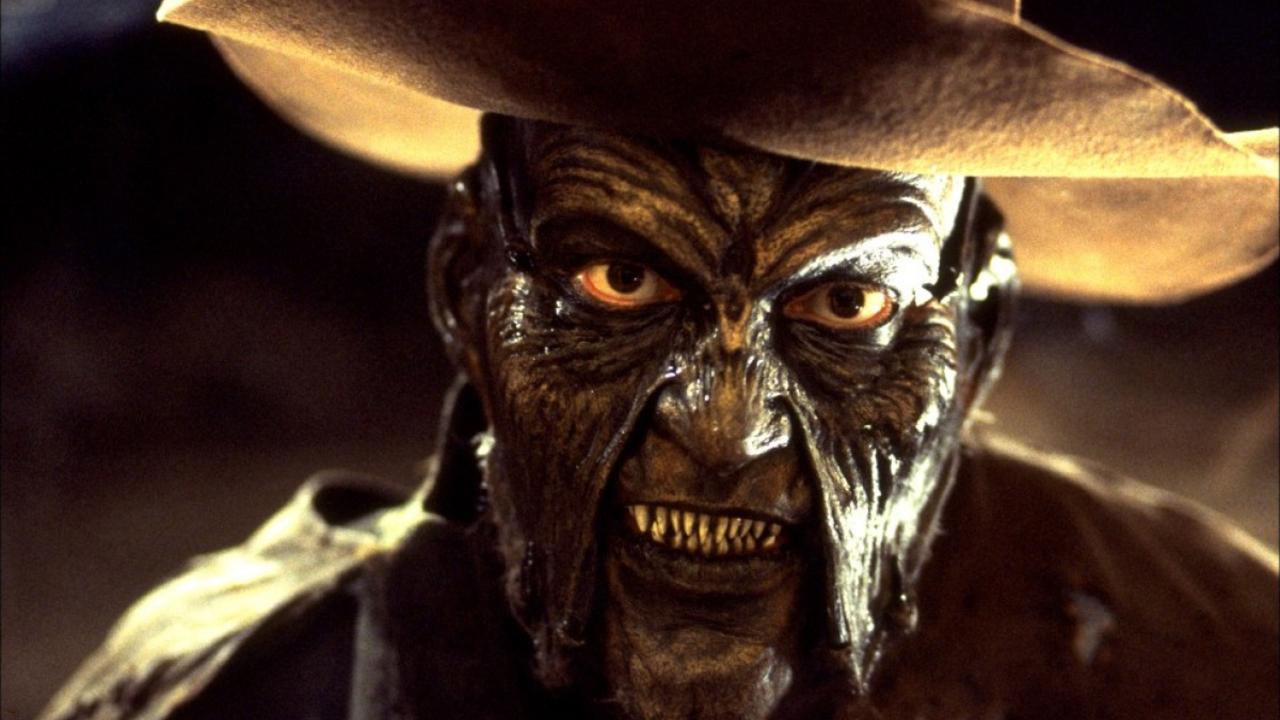 The two pursued teens of the original have been recast with a standard slasher movie complement – a team of players on their way back from a high school basketball game. The characterisations, although a standard slasher movie distribution spread, are well achieved. In his horror films, Victor Salva is fascinated with the notion of fear – there is a haunting line of dialogue here: "Fear is like alcohol – it has a habit of bringing out the real person." There are some absorbing tensions that run through the characterisations – much more so than the usual teen horror film – including the recurrent theme in Victor Salva's films of homophobia and bullying.
One thing about Jeepers Creepers II that I liked (although such more often than not proves an irritation in a film) is Salva's deliberately not telling us much about who or what the Creeper is in either film. The sequel gives us only marginally more information than the first film and we are still no clearer as to what it is, where it comes from, why it chooses some people and why it is bound by the 23 days every 23 years cycle. Salva just leaves it as enigmatically unexplained. That said, the use of a character receiving crucial information in a dream is a forced way of setting up the basic elements of the story. Salva comes to a fine epilogue that does leave potential for a third film, although he would be hard-pressed to do it without messing up the time continuity.
Jeepers Creepers II keeps you on the edge of the seat far more so than the original did. The suspense that Victor Salva creates with the teens inside the bus and the Creeper flapping overhead, not knowing when it is going to strike or even what it is likely to do next, is accomplished with great skill and tension. The casualness of the initial scenes with the bus broken down where the three adults are picked off in a matter of moments, each whisked up into the air in the background while one's attention is distracted in the foreground, is jolting.
There are times that Victor Salva throws genuinely unworldly visions at you that spin your head and make you wonder just what it is that you have seen. Especially spooky are the scenes with the Creeper trying to pull out a javelin that has been embedded all the way through its head, leaving it thrown on the ground with a great chunk of its head attached; the unearthly scene with the Creeper crawling around the outside of the bus, licking its lips and even the window in anticipation as it indicates which of the teens inside it finds juicy; and the scene where it snatches one victim in its wing, tossing back a still-twitching body with no head, while one girl looking up on the roof unnervingly comments "It just pulled its head off and threw it away" and then we see a new head – possibly the one of the victim it just snatched – pop up out of its chest and take the place of the old one.
The climax with Ray Wise taking The Creeper on with a homemade harpoon and a downed Garikayi Mutambirwa trying to get away with a broken leg while it flies in hop-jumps after him are spectacularly intensive. The result is a sequel that is immensely superior to the original in all ways.
Victor Salva subsequently returned with Jeepers Creepers 3 (2017). Jeepers Creepers: Reborn (2022) was a further sequel made without Salva.
(Nominee for Best Director (Victor Salva) and Best Makeup Effects at this site's Best of 2003 Awards).
---
---