---
USA. 2011.
Crew
Director/Screenplay – Victor Salva, Producers – Nadine De Barros, Don E. Fauntleroy, Phillip B. Goldfine & Victor Salva, Photography – Don E. Fauntleroy, Music – Bennett Salvay, Visual Effects – Truck Digital (Supervisor – Michael Morreale), Special Effects Supervisor – Josh Hakian, Makeup Effects – Make-Up and Monsters (Supervisor – Brian Penikas), Production Design – Carmi V. Gallo. Production Company – Hollywood Media Bridge/Voltage Pictures.
Cast
Rose McGowan (Dr Sonny Blake), Daniel Ross Owens (Derek Barber), Sonny Marinelli (Barrett Tanner), Lauren Velez (Paula Crenshaw), Ray Wise (Detective Danny Briggs), Tom Tarantini (Detective Sabatino), Rance Howard (Fred Crumb), Lesley-Anne Down (Dr Cloey Talbot), Bill Fagerbakke (Han Hawthorne), Lin Shaye (Mrs Hawthorne)
---
Plot
Sonny Blake is a successful radio talkback psychologist in the city. She is called to her hometown of Stillwater after her father is found dead, seemingly fallen down the cellar stairs. A year later and Sonny moves into the house. Aging neighbour Fred Crumb warns her of the paperboy Derek Barber who has every resident on the street in a state of fear. Not long after, Derek behaves threateningly and Sonny then finds him having broken into the house. The police are unable to do anything for lack of evidence and the fact that Derek is underage. Fred claims that Derek murdered her father and may not even be human. Derek's actions become increasingly more malicious, including pushing Sonny's ex down the cellar stairs and then possibly even burying him alive.
---
Victor Salva is a name that has constantly registered on this site's radar. Salva first appeared with the incredibly haunting Clownhouse (1989), one of the best of the era's slasher films. He next went onto the fine road movie psycho-thriller The Nature of the Beast (1995), the mentally gifted teenager film Powder (1995) and the non-genre Rites of Passage (1999), before having a breakthrough hit with the horror film Jeepers Creepers (2001). Salva made an even better sequel Jeepers Creepers II (2003) and other works like the non-genre inspirational drama Peaceful Warrior (2006), the deviltry film Dark House (2014) and Jeepers Creepers 3 (2017).
Rosewood Lane did not enjoy a very high profile when it came out. It played a couple of festivals and was then despatched to dvd and cable. The film plays out as an evil child film – one is reminded of Case 39 (2009), albeit with the central figure bumped up in age to their early teens. That maybe and a few doses of the psycho-thriller The Paperboy (1994). You also cannot help but also compare the film to Devil in the Flesh (1998) in which Rose McGowan played a diabolically manipulative and murderous high-school teenager, against her casting here where she plays the other side of the coin as an adult woman at siege from a similar kind of diabolical child.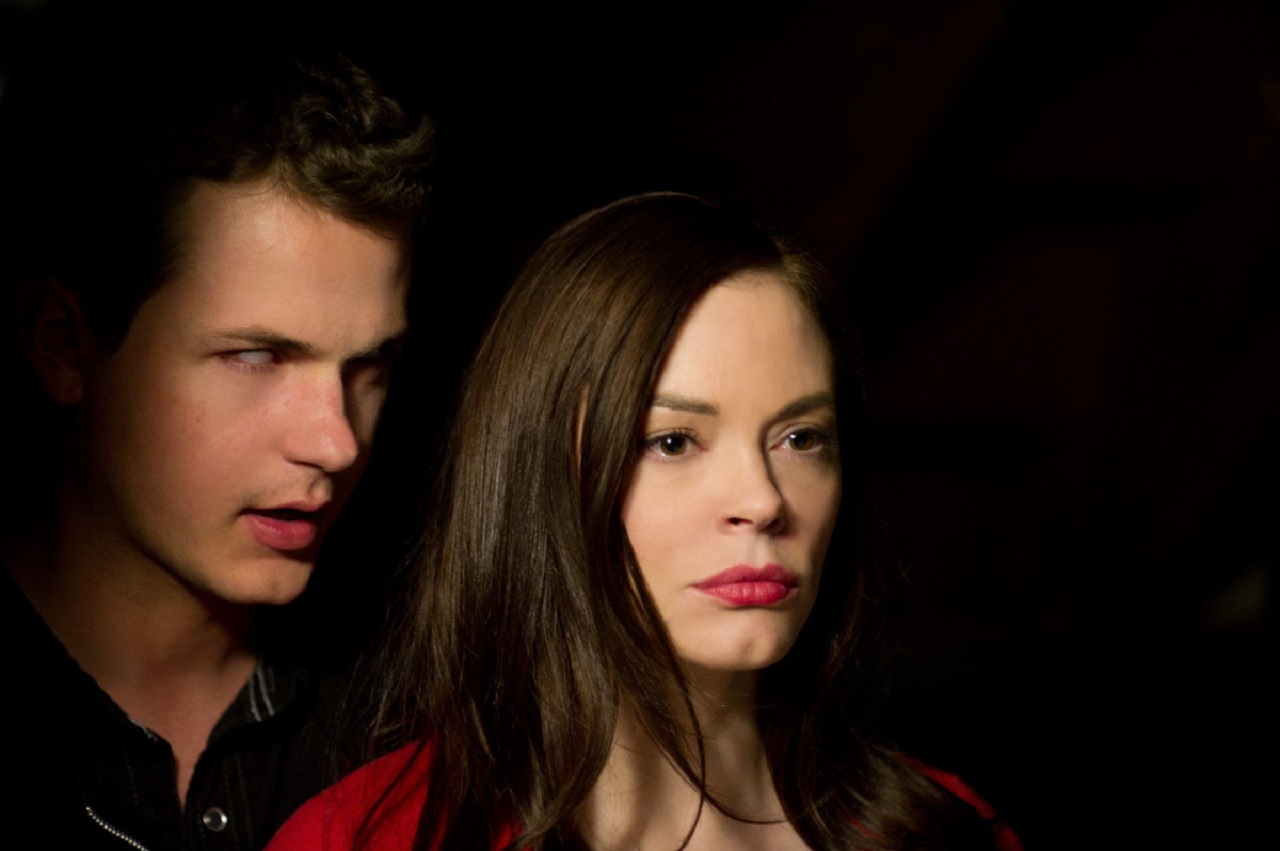 Victor Salva has a habit of peppering his films with eerie jumps but Rosewood Lane is on the quieter side in comparison to some of his other films. Nevertheless, Salva keeps the film at a level of uncanniness and constant tension that offsets an audience. There is the very creepy moment where Rose McGowan goes in search of noises in her cellar and we become aware that Daniel Ross Owens is standing behind her in the shadows, and other similar scenes throughout.
There is one level on which Rosewood Lane plays out as an innocuous thriller about a psychopathic paperboy who terrorises a suburban neighbourhood. Victor Salva however has a fascinating habit of pushing his monsters into the mythic – like the ways the clowns of Clownhouse became representative of the boogeyman hiding in the closet. Here the paperboy is conflated into something seemingly supernatural. Rance Howard has a fascinating stretch of dialogue where he tells Rose McGowan: "He's a trick of the light. Something dark that doesn't always look like one until you look into those eyes. Those reptile eyes that look like two big holes where a person ought to be." The film sits ambiguously about whether Daniel Ross Owens is just a mundane psychopathic child, while the ending definitely pushes the nature of the menace over into something supernatural.
---
Trailer here
---