---
Crew
Director – Renny Harlin, Screenplay – Brian Helgeland & Scott Pierce, Story – Brian Helgeland & William Kotzwinkle, Producers – Robert Shaye & Rachel Talaly, Photography – Steven Fieberg, Music – Craig Safan, Visual Effects – DreamQuest, Special Effects Supervisor – Jim Doyle, Mechanical Effects – Image Engineering, Makeup Effects – Chris Biggs, John Buechler, Peter Chesney, Steve Johnson, Screaming Mad George & Kevin Yagher, Production Design – C.J. & Mick Strawn. Production Company – Heron Communications/New Line Cinema/Smart Egg Pictures.
Cast
Lisa Wilcox (Alice Johnson), Robert Englund (Freddy Krueger), Tuesday Knight (Kristen Parker), Danny Hassel (Dan Jordan), Ken Sagoes (Roland Kincaid), Toy Newkirk (Sheila), Brooke Theiss (Debbie)
---
Plot
Kristen Parker believes that Freddy Krueger is still alive. Soon Freddy is resurrected and proceeds to claim the lives of Kristen and the last three surviving Elm Street children. Before Kristen is killed, she passes on her powers to her school friend Alice Johnson. Freddy then focuses his attentions on Alice, seeing her as his channel in being able to claim new souls.
---
This was the fourth of the A Nightmare on Elm Street films. The first film, Wes Craven's A Nightmare on Elm Street (1984), was weird and genuinely unworldly. By the point of A Nightmare on Elm Street IV: The Dream Master however, the Elm Street films had well and truly been turned into a franchise by New Line Cinema and Wes Craven's eerie atmosphere had become supplanted by effects set-pieces. Freddy Krueger had started to take on the interminability of a Jason Voorhees and became a tongue-in-cheek caricature of what he was originally conceived as.
The director this time out was Finnish-born Renny Harlin. Renny Harlin had made his English-language debut with Empire's Prison (1987) and was quickly snapped up by New Line for The Dream Master. Harlin would next go onto make Die Hard 2 (1990) and the perversely amusing Andrew Dice Clay vehicle The Adventures of Ford Fairlaine (1990), before creating some of the most mindlessly empty action spectaculars of the 1990s with Cliffhanger (1993), CutThroat Island (1995), The Long Kiss Goodnight (1996), the monster movie Deep Blue Sea (1999), which belongs to the so bad it's entertaining category, and Driven (2001). All of Renny Harlin's films derive from creating bigger and bigger action set-pieces and frequently blowing everything in sight up. (See below for Harlin's other genre films).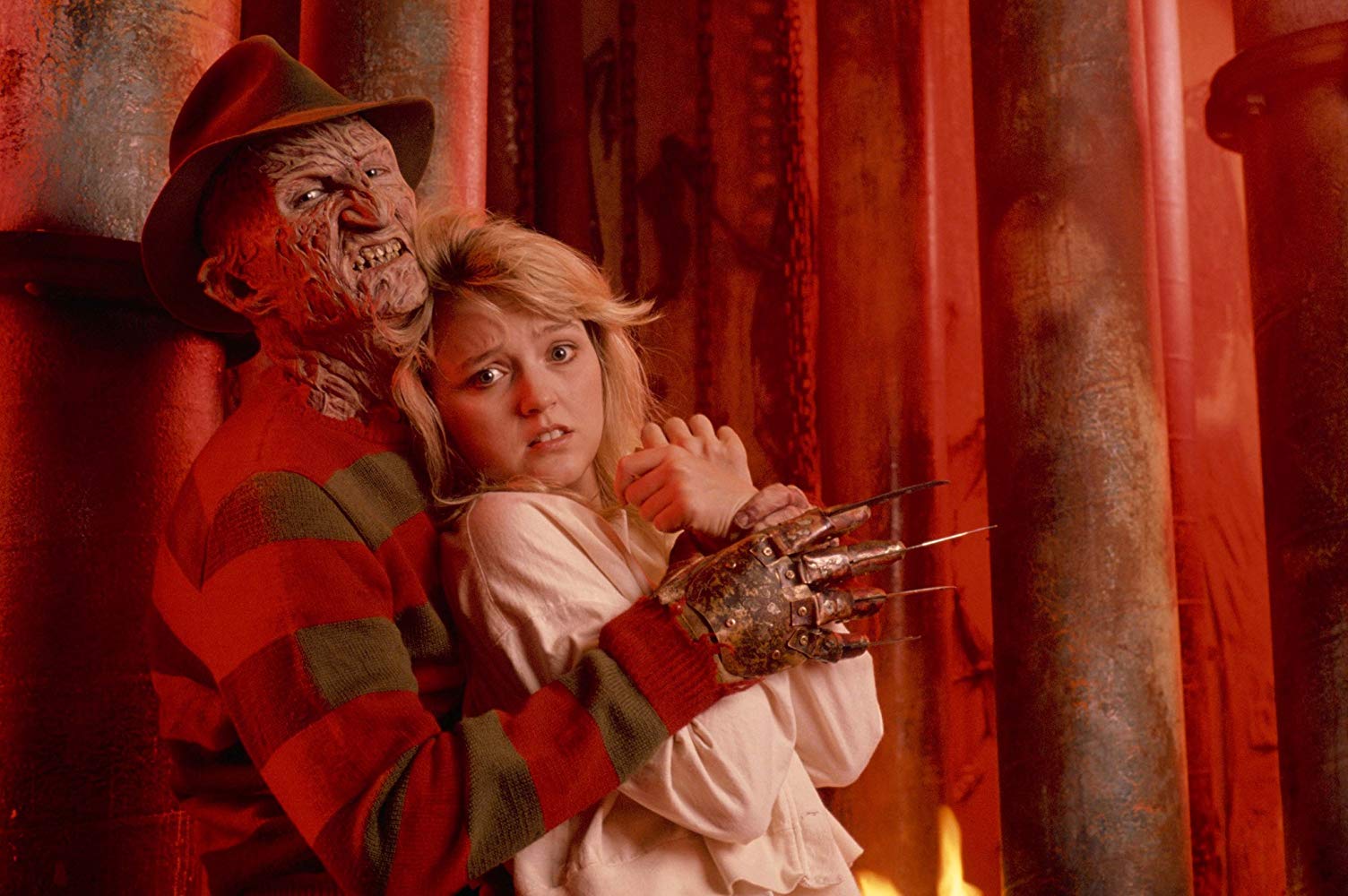 Here, Renny Harlin occasionally demonstrates an instinctive feel for unworldly atmosphere – a face appearing trapped inside Rodney Eastman's water-bed; Lisa Wilcox being blown up off a cinema balcony and into the screen; and several incidents among groups of people with the dreamer freaking out but nobody else noticing anything out of the unusual. It is still a long, long way from anything that Wes Craven created in the original film.
Unfortunately all of this vacillates between some incredibly silly moments – an attack by car bodies; Freddy's claw appearing like a shark fin through the water at the beach; one character pretending to fight an invisible Freddy ninja; and, you will not believe this, Freddy being revived by a dog pissing flammable urine on his grave. We also see Freddy plucking souls out of a pizza on the end of one of his claws, and in another scene turning one girl into an insect, trapping her in a matchbox and then squishing her in one big yellow splat. By this point in the series, Wes Craven's original unworldly atmosphere had dissolved into little more than the equivalent of an Itchy and Scratchy cartoon on The Simpsons (1989– ) – splattery over-the-top silliness that is making no pretence at being serious.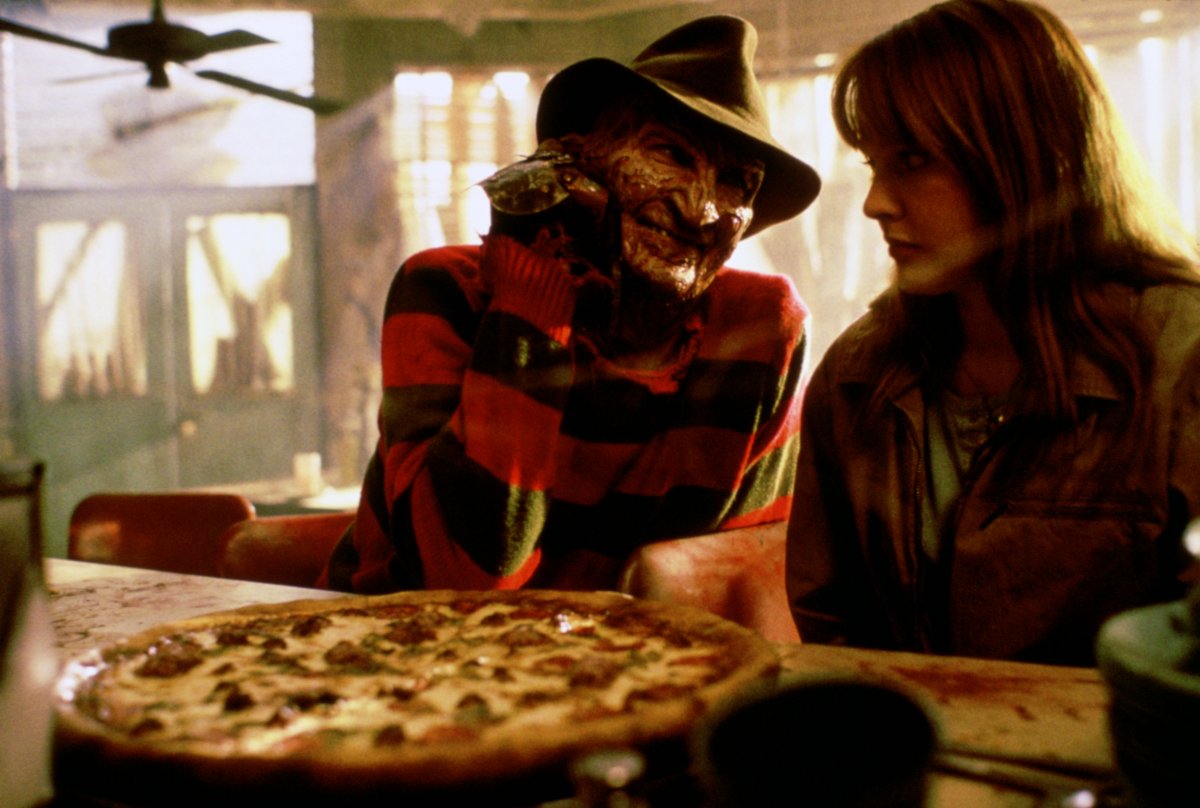 The other A Nightmare on Elm Street films are: A Nightmare on Elm Street (1984), A Nightmare on Elm Street Part II: Freddy's Revenge (1985), A Nightmare on Elm Street III: The Dream Warriors (1987), A Nightmare on Elm Street: The Dream Child (1989), Freddy's Dead: The Final Nightmare (1991), Wes Craven's New Nightmare (1994) and Freddy vs. Jason (2003). The original was remade as A Nightmare on Elm Street (2010). Never Sleep Again: The Elm Street Legacy (2010) was a documentary about the series.
Renny Harlin's other genre films include:- the low-budget haunted penitentiary film Prison (1987); the entertainingly absurd killer shark film Deep Blue Sea (1999); as the replacement director of the much hated Exorcist: The Beginning (2004); the serial killer thriller Mindhunters (2004); the witchcraft film The Covenant (2006); The Legend of Hercules (2014) and the Wu Xia Legend of an Ancient Sword (2018), as well as acting as producer on The Resident (2011).
---
---