---
Crew
Director – Nick Gomez, Teleplay – Stephen Kay, Producer – Michael Mahoney, Photography – Steve Cosens, Music – Tree Adams, Visual Effects Supervisor – Kate Donnelly, Production Design – James McAteer. Production Company – Sony Pictures Television.
Cast
Christina Ricci (Lizzie Borden), Clea DuVall (Emma Borden), Gregg Henry (Hosea Knowlton), Billy Campbell (Andrew Jennings), Stephen McHattie (Andrew Borden), Sara Botsford (Abby Borden), Hannah Anderson (Bridget Sullivan), Andrea Runge (Alice Russell), Shawn Doyle (Marshal Hilliard)
---
Plot
1892 in the town of Fall River, Massachusetts. Lizzie is the younger daughter of wealthy Andrew Borden and dislikes being controlled by her father. Both she and her sister Emma are resentful of their stepmother Abby who they believe is using her father for his money while they are financially kept under his thumb. Lizzie is even forced to steal to obtain things for herself. One afternoon, Lizzie returns home to find her father and Abby beaten to death with an axe. In the subsequent investigation, prosecutor Hosea Knowlton finds suspicious things about Lizzie's account of the events and subsequent actions. She is then placed on trial for murder.
---
Lizzie Borden (1860-1927) is a name that holds an infamy in the annals of American True Crime. To give a brief precis of the case, Lizzie was the younger daughter of Andrew Borden, a wealthy property developer and textile mill owner in Fall River, Massachusetts. Lizzie's mother had died at a young age and Andrew had remarried widow Abby Gray when Lizzie was six. Lizzie and her older sister Emma resented the intrusion of Abby into their lives. They were kept under a tight rein by their father and believed that Abby was using Andrew, having inveigled substantial gifts of money and property for members of her own family while they were kept in a state of penury and forced to financially rely on him. On August 4th of 1892, according to her own account, Lizzie returned home to find Abby murdered with an axe in the upstairs bedroom and her father having been hacked apart while lying on the couch. After investigation, Lizzie was placed on trial for murder. She protested her innocence but many things indicated her guilt – in particular, her burning a dress that may have been stained in blood, while her statements were found to be contradictory or misleading. She was however acquitted for lack of evidence to convict her. She lived out the rest of her life in Fall River, never marrying but having inherited considerable money in her father's will.
The Lizzie Borden story lives on in popular culture. There has been much theorising by true crime writers since then about whether she was guilty or not, although none of these writers have identified any strong alternate suspects. There have been a number of plays, books and songs about her, even a heavy metal band called Lizzy Borden. There have been several films, including the tv movie The Legend of Lizzie Borden (1975) starring Elizabeth Montgomery and the excellent Lizzie (2018) with Chloe Sevigny, while The Curse of Lizzie Borden (2006), Lizzie (2012), Lizzie Borden's Revenge (2013) and American Poltergeist (2015) all feature Lizzie's ghost or spirit being resurrected in the present.
Lizzie Borden Took an Ax was a movie made for the Lifetime Channel, which usually specialises in women's films and true-life inspirational dramas but have in recent years been branching out into genre material, most notably with the series of tv movies adapted from Virginia C. Andrews. Written by Stephen Kay, director of Boogeyman (2005) and Cell 213 (2011), the film is at least reasonably faithful to the facts of the Lizzie Borden case.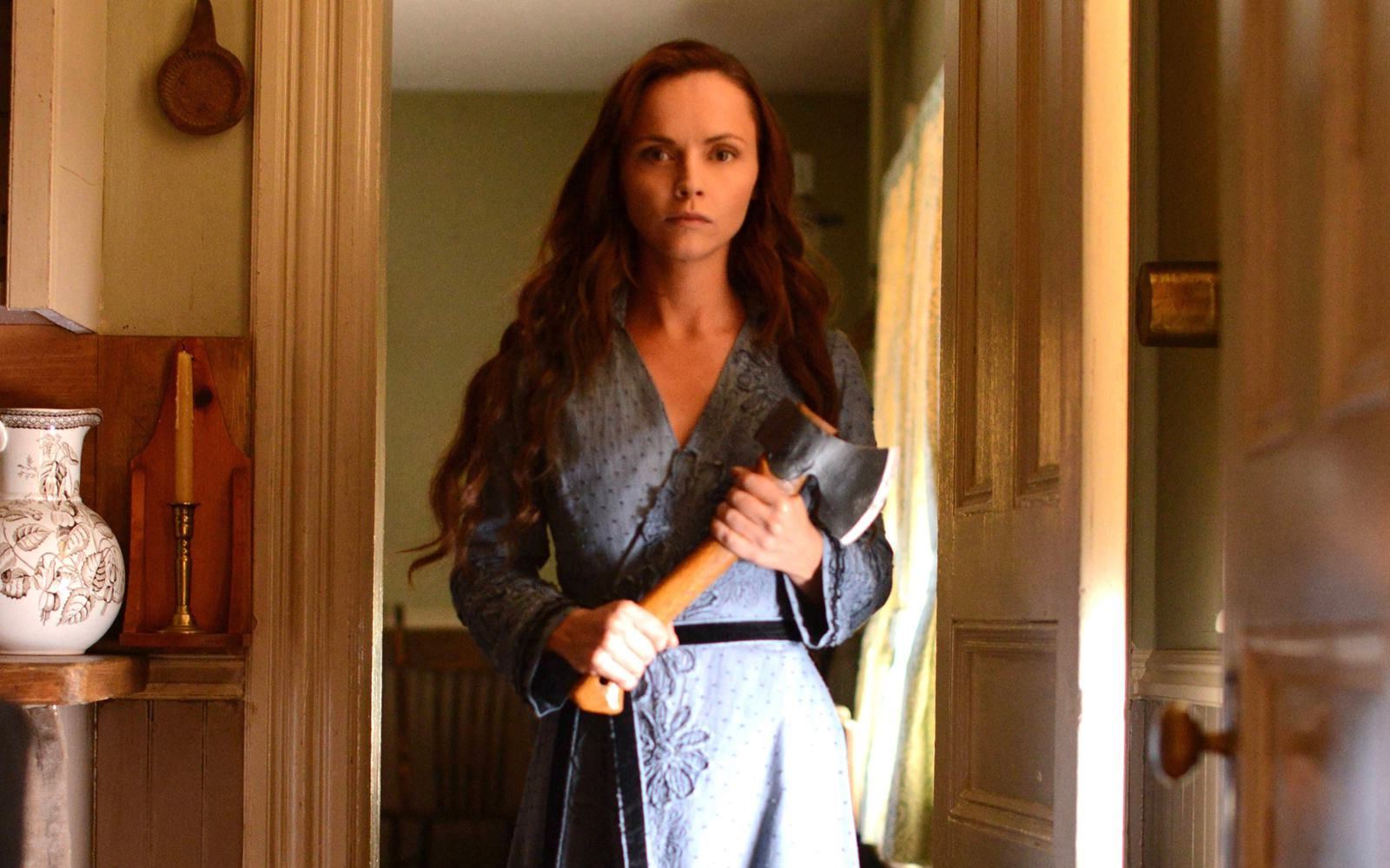 The problem is that the film is not a very interesting treatment of the Lizzie Borden story. The most interesting parts – the axe murders – occur off-screen and fairly soon into the show. This means that the bulk of the film is taken up by the substantially less interesting details of the court case. When it comes to dramatic scenes with prosecutor Gregg Henry casting suspicion on things like Christina Ricci eating pears you can perhaps get an idea of how much the film lets its possibilities slip through its hands. What we have feels for all the world like one of the historical re-enactments that you get in the specials made for the History Channel.
Even then, the film fails to do a convincing job of portraying the 19th Century. Christina Ricci seems an ill fit for Lizzie Borden. She doesn't look much like the Lizzie Borden we see in surviving photos. Ricci also has a history of weird girl roles meaning that she seems naturally suspicious rather than someone you would naturally accept as a dutiful, Sunday School-teaching 19th Century daughter that people initially had difficulty believing guilty of the crime. Added to that is Ricci's playing in the scenes with her father Stephen McHattie, which come with too much in the way of 21st Century attitude to seem convincing for someone of that period. The major thing that kills any suspension of disbelief that what we are in a 19th Century setting though is the insertion of modern rock songs on the soundtrack.
The film had a sequel in the tv mini-series The Lizzie Borden Chronicles (2015), which ran for eight one-hour episodes and featured Christina Ricci and Clea DuVall repeating the roles they play here. This concerns itself with their lives in the aftermath of the trial and is largely fictionalised.
---
---