(Suor Omicidi)
---
Crew
Director – Giulio Berruti, Screenplay – Giulio Berruti & Albert Tarallo, Based on an Idea by Enzo Gallo, Producer – Enzo Gallo, Photography – Tonino Maccoppi, Music – Alessandro Alessandroni, Production Design – Franco Vanorio. Production Company – Cinseud/Gruppo di la Voro Calliope Coop S.r.l..
Cast
Anita Ekberg (Sister Gertrude), Paola Morra (Sister Mathieu), Joe Dallesandro (Dr Patrick Roland), Lou Castel (Peter), Massimo Serato (Dr Poirret), Alida Valli (The Mother Superior), Daniele Dublino (Hospital Director), Laura Nucci (The Baroness), Bruno Chiodetti (Businessman), Ilena Fraja (Florence), Sofia Luey (Janet)
---
Plot
Sister Gertrude is the head nurse at a Catholic hospital in Brussels. Ever since she had a brain operation, Sister Gertrude has been addicted to morphine but her superior Dr Poirret refuses to prescribe any more. Gertrude's roommate Sister Mathiue tells Gertrude she is in love with her. Gertrude steals items from patients and sells them to buy more drugs, while dressing up and going out for sexual liaisons with men. At the same time, the need for drugs make Gertrude unstable and she is shocked to come around and find she has killed patients. When her negligence is criticised by Poirret, she contrives to have him dismissed. However, the growing number of bodies has the other patients turn against Gertrude and her authoritarian ways.
---
The Killer Nun is usually Exhibit No 1 in the mini-genre of films that have been referred to as Nunsploitation. The genre began with Ken Russell's true-life based The Devils (1971), depicting orgies and mass hysteria in a 17th Century convent. Other films jumped on board depicting in lurid detail sexual trysts and hysteria in convents. See the likes of The Demons (1972), Flavia the Heretic (1974), Alucarda (1975), Love Letters of a Portuguese Nun (1976), Sister Emanuelle (1977), Behind Convent Walls (1978), Images in a Convent (1979) and The True Story of the Nun of Monza (1980). Of these, The Killer Nun had the notoriety of being labelled a Video Nasty in the UK.
In the title role, Anita Ekberg has a wonderfully haughty presence. Ekberg was a Swedish actress who came to fame in Federico Fellini's La Dolce Vita (1960) after which she moved to Italy and appeared in various other roles throughout the 1960s. By the end of the decade and into the 1970s, she was appearing in films like this and Fangs of the Living Dead (1968), along with assorted European giallo and krimi films. She is never better than the scene where she shucks her habit, dresses up and goes to a bar where she picks up a businessman and has sex with him in a hallway.
On the other hand, The Killer Nun is a film where its reputation both as a Video Nasty and a key work of the Nunsploitation genre inflates it to something more than it actually delivers. It offers up one nude nun (Paola Morra) – but not Anita Ekberg – a lesbian infatuation (that is never fulfilled), some drug taking and assorted murders. Everything is wound up to a fever pitch but sounds far more interestingly lurid in the above plot description than it is on screen.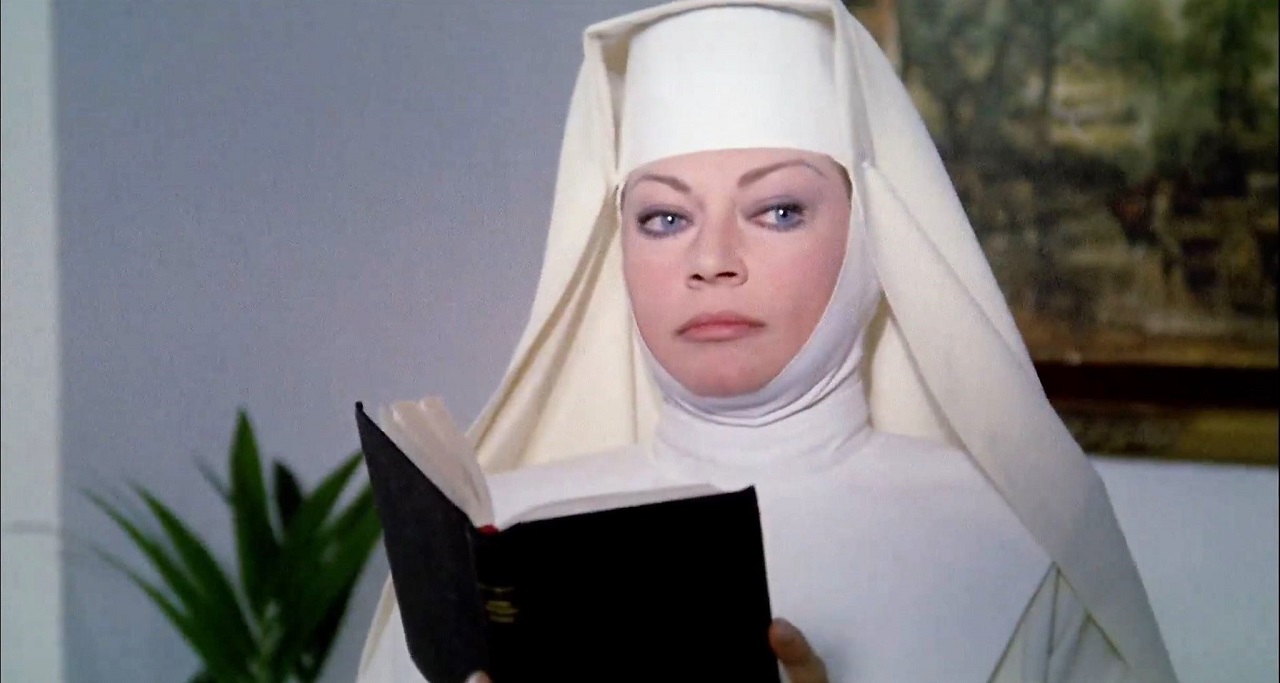 The film gets great presence from Ekberg but never much pulls its punches. The deaths are relatively tame. The one scene where the film finally does get its act together is where we see the character of the elderly Janet (Sofia Luey) have her mouth taped shut and pins poked into her cheeks and eyelids. This is the scene that gave the film its Video Nasty reputation. It was cut in some prints and you suspect without it that The Killer Nun would remain a fairly lacklustre film.
The film is based on a true story of a Belgian nun Sister Godfrida (real name Cecilia Bombeek) who killed three people between 1976-7. As depicted here, following a brain operation, Sister Godfrida's behaviour changed and she became addicted to morphine, took lovers of both sexes and would rob patients to maintain a lavish lifestyle. Amid this, she began to treat patients cruelly, including killing three, possibly more, with insulin overdoses. (Although this is contravened here in an ending that reveals that Anita Ekberg was not the real killer nun after all).
This was the second of only two films directed by Giulio Berruti, the other being We Are Like Fireflies (1976). Elsewhere, Berruti was employed as an editor in the Italian film industry.
---
Trailer here
---