---
Crew
Director/Screenplay – Ruth Platt, Producers – Christine Alderson & Katie Hodgkin, Photography – Mark Gyri, Music – Anne Mller, Visual Effects Supervisor – Uel Hormann, Special Effects – Artem (Supervisors – Matthew Beckwith & Alex Hitchen), Prosthetics – 13 Fingers FX (Supervisor – Dan Martin), Production Design – Gini Godwin. Production Company – Ipso Facto Productions.
Cast
Kiera Thompson (Leah), Denise Gough (Sarah), Sienna Sayer (Rachel), Steven Cree (Thomas), Hannah Rae (Bex), Anastasia Hille (Lillian), Donna Banya (Kyla), Catherine Terris (Edith), Charlie Rix (Brian)
---
Plot
Young Leah grows up in the English countryside, the daughter of the vicar Thomas and his wife Rachel. Leah steals a lock of hair that her mother keeps in a locket only to lose it out the window. While walking in the woods, Leah meets another girl wearing toy angel wings and invites her home. The girl visits Leah at night and they form a friendship. The girl keeps suggesting where Leah look for the missing lock of hair. Instead, Leah finds things that serve to stir up the secrets in the family.
---
Ruth Platt is known as an actress mostly on British tv going back to the late 90s with credits on shows such as Eastenders (1985- ), The Ruth Rendell Mysteries (1987-2000) and Holby City (1999- ), as well as appearing in the film The Pianist (2002). I had been very impressed with her directing/writing debut The Lesson (2015) about a milquetoast schoolteacher who snaps whereupon he imprisons and tortures his pupils.
With Martyrs Lame, Ruth Platt makes a Ghost Story. It is a beautifully subtle and delicate ghost story – Platt directs everything with an extraordinary low-key intimacy. Almost the entire film takes place in the vicarage adjoining a church (in actuality St Mary's Church at Harrow on the Hill, which is a suburb of London although it feels like a location in a country village). Platt's camera is sometimes handheld, with an often casual feel as it wanders around a room, capturing exchanges and small things – the incident with the cake that is given to Leah and then taken away by her mother and later thrown out forms something quite upsetting in the background even though we don't know why. The focus of the film is young Kiera Thompson who gives a great performance as Leah – almost everything that happens is seen through her eyes.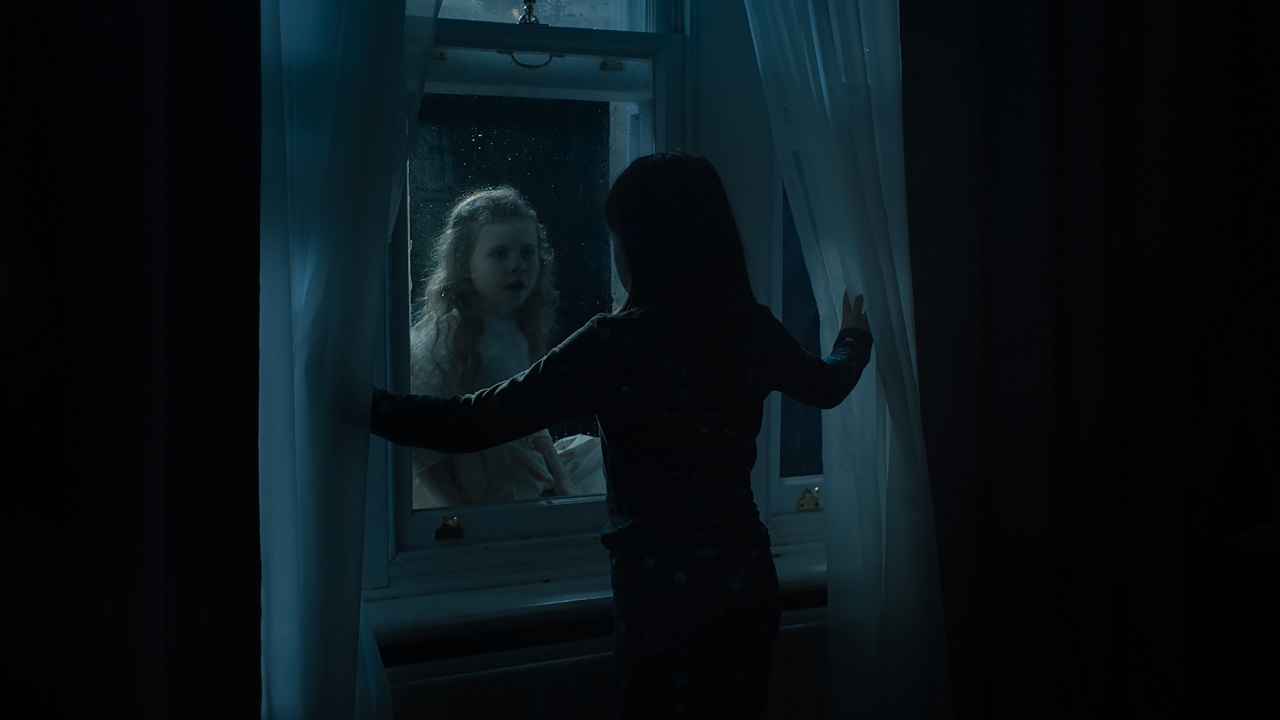 Platt develops a particularly haunted mood with the introduction of the mystery girl (Sienna Sayer) who remains an ambiguous figure. Her lopsided angel wings suggests something supernatural that leans strongly in the direction of the ghost story. Platt creates some fantastic scenes of Sayer, all couched in an ambiguity, or images of her and Kiera Thompson whispering under a sheet lit up by light.
Ruth Platt creates some eerie effects – of figures flitting on the periphery, of unexpected appearances. Much of the film takes place in a hushed silence, of characters seeing things through cracks in the door, outlined in slivers of light or else peeping around corners. All of which seems perfect for a film that is about a house with a hidden secret and unspoken family secrets emerging. The denouement is nothing too startling or ground-breaking – indeed, it is fairly predictable for the genre – but it works rather satisfyingly for the film.
---
Trailer here
---