---
Crew
Director – James Wan, Screenplay – Akela Cooper, Story – Ingrid Bisu, Akela Cooper & James Wan, Producers – Michael Clear & James Wan, Photography – Michael Burgess, Music – Joseph Bishara, Visual Effects Supervisor – Ivan Busquets, Visual Effects – Industrial Light and Magic (Animation Supervisors – Cedric Lo & Adrian Millington) & Rebels LLC, Special Effects Supervisor – Mike Meinardus, Practical Effects – Spectral Motion (Creature Effects Supervisor – Mike Elizalde), Makeup Effects – Fractured FX (Designer – Justin Raleigh), Production Design – Desma Murphy. Production Company – New Line Cinema/Starlight Media Inc./My Entertainment Inc./Atomic Monster.
Cast
Annabelle Wallis (Madison Mitchell), Maddie Hasson (Sydney Lake), George Young (Detective Kekoa Shaw), Michole Briana White (Detective Regina Moss), Jean Louise Kelly (Jane Doe/Serena Mae), Susanna Thompson (Jeanne), Jake Abel (Derek Mitchell), Jacqueline McKenzie (Dr Florence Weaver), Christian Clemenson (Dr Victor Fields), Ingrid Bisu (CST Winnie)
---
Plot
Seattle housewife Madison Mitchell is in an abusive relationship with her husband Derek over the fact that she has miscarried twice. After his latest assault, an intruder appears in the house and Derek is killed and Madison hospitalised, losing her third pregnancy. Madison then begins to experiences waking dreams in which she sees people being killed by a shadowy figure that emerges from the Seattle Underground. When she and her sister Sydney report this to the police, Madison is able to direct detectives to new victims. The victims are all doctors from Simion Research Facility where Madison was a patient as a child before being adopted out. Madison becomes certain that the killer is her dead twin Gabriel, although the detectives cannot be sure if Gabriel is real, a ghostly presence or all in Madison's head.
---
James Wan has become a major directorial force in the horror genre ever since his emergence with Saw (2004). Wan subsequently gained a strong foothold in the horror genre and went on to make the ventriloquist's dummy film Dead Silence (2007), the vigilante film Death Sentence (2007), the haunting/astral projection film Insidious (2010), the true-life haunting/possession film The Conjuring (2013), Insidious Chapter 2 (2013), The Conjuring 2 (2016) and the DC Comics superhero adaptation Aquaman (2018).
Beyond directing, Wan has become prolific as a producer with works like all of the Saw and Insidious sequels, Demonic (2015), Lights Out (2016), the tv series Swamp Thing (2019), Mortal Kombat (2021), the tv series Archive 81 (2022), M3gan (2022), Insidious: The Red Door (2023) and The Nun II (2023). Wan has been workaholic in creating a shared universe out of the Conjuring films with the likes of Annabelle (2014) and sequels The Nun (2018) and The Curse of La Llorona (2019). It is this that IMHO degrades Wan's name as none of these spinoffs and sequels come near approaching the mastery he shows when in the director's seat himself. Malignant would appear to be another of these shared universe films – with there being a background appearance from McKenna Grace from Annabelle Comes Home (2019), although I failed to spot where she appears.
Back in the director's chair, James Wan is more subdued than the eerie suspense he delivered in the Insidious and The Conjuring films. With the exception of one major scene I discuss below, the shocks and jumps are relatively middle-of-the-road – peripheral appearances of figures, unexpected jumps – nothing beyond the grab bag of tricks that you get in the average horror film these days. The film makes use of the Seattle Underground as a location but with nowhere near the atmospheric usage that the great The Night Strangler (1973) did.
One of the pleasures of Malignant is that you spend a great deal of the film trying to get a handle on what is going on. When Annabelle Wallis starts receiving visions of the killer killing people, I was getting flashbacks to Eyes of Laura Mars (1978) and thinking we were in a Clairvoyance Thriller and one of the body of films derived from Laura Mars where a random person gains psychic insight into a killer's mind.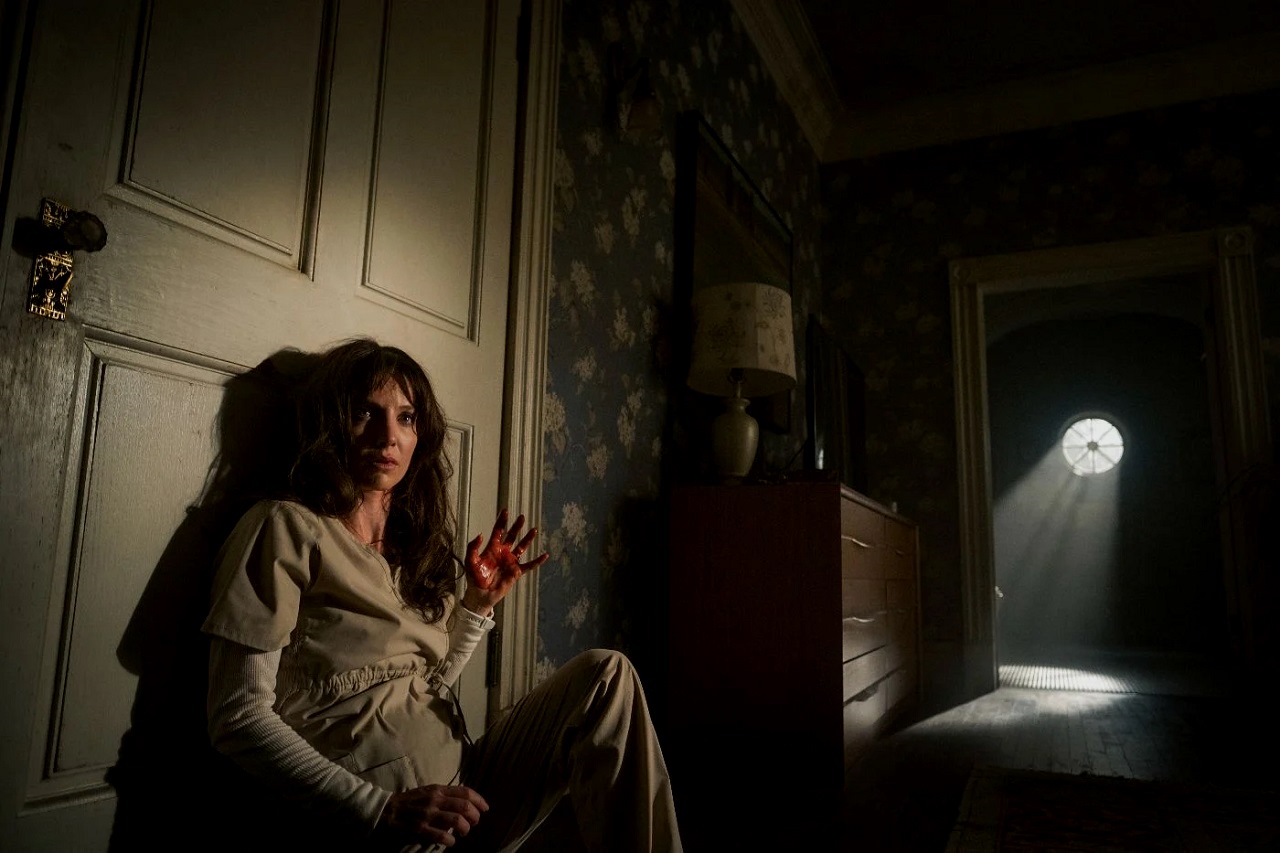 I have to also touch upon here my irritation with Malignant constantly being referred to as a Giallo Film by kneejerk online commentators who give the impression that none of them have ever seen an actual giallo film in their lives. This apparently came from an interview where Wan stated he was trying to reinvent the giallo film, which makes me wonder if Wan has actually seen one too. Certainly, the major plotting twist would have worked fine in a giallo film and you could easily imagine some of the murder set-pieces taking place in a Dario Argento or Lucio Fulci film, albeit with more stylistic flourish. Wan may well have been inspired by classic giallo – the crucial thing though is that there are none of the vivid lighting schemes. the sado-sexual deaths or extravagant directorial set-pieces that you get in giallo. Indeed, there is nothing here that could not have taken place in a standard Slasher Film. If anything, Wan's real source is to the 1960s Psycho-Thriller – I am thinking of in particular Homicidal (1961), while the film's twists feels like they draw much from Brian De Palma's Sisters (1973).
For much of the middle of the film, we are not certain whether we are watching a Jekyll and Hyde Film, whether Gabriel is a Split Personality, an Imaginary Companion, a ghost or a Phantom Twin a la The Other (1972), There is a point in about the 20 minutes of the film where Wan finally resolves this and the entire film goes batshit crazy – something that promptly became a major talking point. Wan does find something freakish here and the scenes with the twin's appearance and going berserk transform the film.
[PLOT SPOILERS] The eventual twist is a variant on the malignant twin theme. This has appeared before on screen. Stephen King hinted at it as an explanation in The Dark Half (1993) and the idea made an appearance in the more supernatural sense in The Unborn (2009). The most pronounced usage was in the Canadian-made Let Her Out (2016), which had a very similar plot about a woman being taken over in a Jekyll/Hyde battle with an absorbed twin.
---
Trailer here
---