(Leak)
---
Indonesia/Australia. 1981.
Crew
Director – H. Tjut Djalil, Screenplay – Jimmy Atmaja, Based on the Novel Leak Ngakak by Putra Mada, Producers – Sri Gunawan, Hendry Katili & Abdul Muis Sofian, Photography – Kasdullah, Music – Garot. S (The Disc), Special Effects/Art Director – El Badrun, Makeup – Harry S. Hadhy. Production Company – Pusat Perusahaan Film Negara/Video Tape Corp. Sydney.
Cast
Ilona Agathe Bastian (Cathy Kean), Yos Santo (Mahendra), Sofia W.D. (Old Leak Queen), W.D. Mochtar (Machesse), Debbie Cinthya Dewi (Young Leak Queen), Itje Trisnawati (Maya)
---
Plot
American Cathy Kean has come to Bali and is interested in writing a book about local magic customs. Her local boyfriend Mahendra shows her how to find the Leak, who is reputed to be a powerful sorceress. Cathy meets the hideous Leak who agrees to instruct her about Balinese magic. Over successive nights, the Leak places Cathy in a trance and causes her head and spinal column to detach from her body to go out and devour blood for her. As he realises that Cathy is in danger of being taken over by the Leak, Mahendra appeals to the local priest Machesse for help.
---
Indonesian exploitation cinema of the 1980s is one major area of psychotronic and weird cinema that has been largely unexplored. Individual items pop up but there has never been a major exploration of the outpouring of action, horror and SF films of this era, which produced a number of efforts that went for the trashy and violent throat. Mystics in Bali is a prime example of the genre. It comes from H. Tjut Djalil, the director who went on to make Lady Terminator (1989), one of the Indonesian exploitation films that has gained a cult following.
It is not long in before Mystics in Bali reveals itself as a work of complete dementia. Like where American girl Ilona Agathe Bastian shakes hands with the witch who leaves her holding a severed hand, followed variously by scenes with the witch's long tongue emerges to lick out the contents of a bottle and inscribe a series of symbols on Ilona's legs.
The most demented parts are when the witch causes Ilona's head to come off her shoulders and fly away with spinal column attached. The severed head then comes across a pregnant woman and flies down between her legs where it is not quite clear what she is doing – devouring the baby or going down on her – amid subsequent talk of drinking blood and the witch demanding Ilona bring fresh blood sacrifices to her every day. In a later scene, Ilona and The Leak lie down beside each other, develop giant-sized lips and then transform into snakes.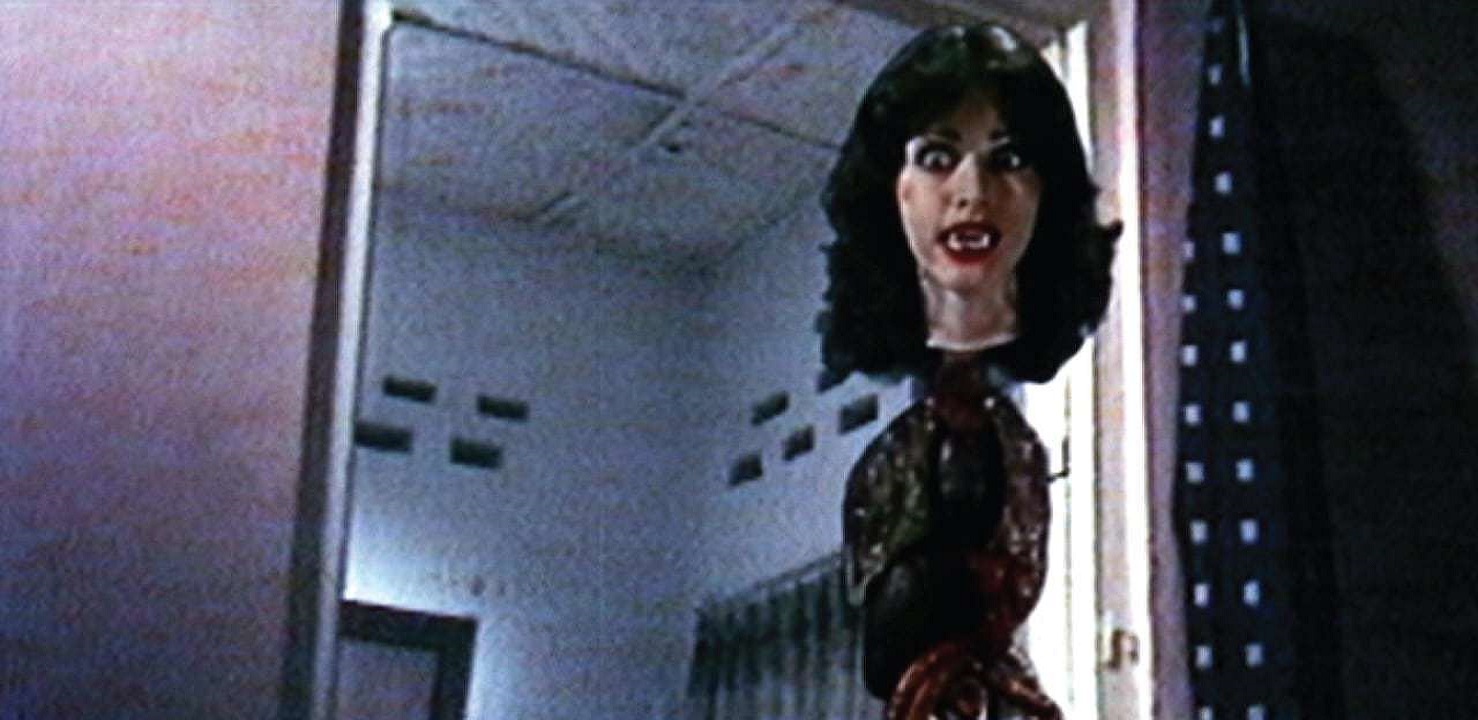 Quite possibly, the Indonesians took some inspiration from the occult horror films being made in Hong Kong around this time, in particular works like Black Magic (1975), which shared the same sort of madcap dementia and over-the-top effects. Certainly, in watching these scenes you have to put up with some extremely substandard optical effects. In particular, there is a climax with the good sorcerer and the witch flying about exchanging some really crappy animated optical blasts.
The one thing that does cripple the film even more that the shoddy optical effects is the bad dubbing. As always with films of this era, it appears to have been quickly conducted by people with no inflection for the material. Your guess is that in most cases they are just offering some general idea of what was being said as the dialogue often becomes repetitive, overstating obvious things or having people repeat back things that have just been said.
---
Trailer here
---