---
USA. 2016.
Crew
Director – M. Shawn Crahan, Screenplay – Joe Casey, Based on the Graphic Novel by Chris Burnham & Joe Casey, Producers – Joe Casey, Mark Neveldine, Cole Payne & Skip Williamson, Photography – Gerardo Madrazo, Music – Psychosis Industries (M. Shawn Crahan & Kyle Sherrod), Metal Music – Gizmachi, Visual Effects – Artificial Light Movement (Senior Supervisor – Josh Jones) & Crafty Apes (Supervisor – Mark LeDoux), Special Effects Supervisor – Chris Bailey, Prosthetic Designer/Makeup Effects – Vincent Van Dyke, Production Design – Jeremy Reed. Production Company – Blackmrkt Incorporated/Man of Action Entertainment/Traverse Media/Diamond Film Productions.
Cast
Kim Coates (Officer Terry Downe), Tyler Ross (Officer Gable), Lauren Luna Velez (Chief Berringer), Sona Eyambe (Zen Master Flash), Reno Wilson (Officer Carter), Bruno Gunn (Officer Fritch), Tracy Vilar (Officer Hanzo), Meadow Williams (Mother Supreme), Sam Witwer (Burnham), Cody Cameron (Naked Woman)
---
Plot
Gable, a rookie officer on the LAPD, is given a special assignment by Chief Berringer. He is tasked with observing Terry Downe, an officer who is capable of being brought back from the dead and takes on the toughest, most violent assignments with an unwavering dedication to duty. As Gable trails along behind Officer Downe, he discovers how he is powered by a battery of comatose psychics hidden in a secret laboratory beneath the men's locker room. Downe's actions have earned the wrath of the criminal conclave known as Fortune 500 and they now pit Zen Master Flash up against Downe.
---
Officer Downe was a graphic novel created by Chris Burnham and Joe Casey in 2010. The original was intended as a one-shot and I am unable to find any reliable information on how many other issues there were after that, although there does appear to be a collected edition in release.
Whatever the case, the graphic novel found its way into the hands of Mark Neveldine, one half of the directing duo Neveldine/Taylor, responsible for the Crank films and Gamer (2009) and on his own as director of The Vatican Tapes (2015). The graphic novel's creator Joe Casey writes the screenplay. The more interesting name is the one in the director's seat – M. Shawn Crahan who is better known by his stage persona Clown in the heavy metal band Slipknot and makes his directorial debut here.
Officer Downe feels like a throwback to a certain breed of 1980s film. You are reminded of Maniac Cop (1988) and sequels and especially Dead Heat (1988), which featured a regular detective paired up with a wisecracking cop who had been raised from the dead, and a more serious treatment in Zombie Cop (1991). These came out of a period when the buddy cop film was big and in the genre we had a series of completely wacky variants on it, including the likes of cop and vampire partner in tv's Forever Knight (1992-6), cop and gnome partner in Upworld/A Gnome Named Gnorm (1991), cop and dinosaur partner in Theodore Rex (1995) and several variants on the cop and alien partner – The Hidden (1987), Alien Nation (1988).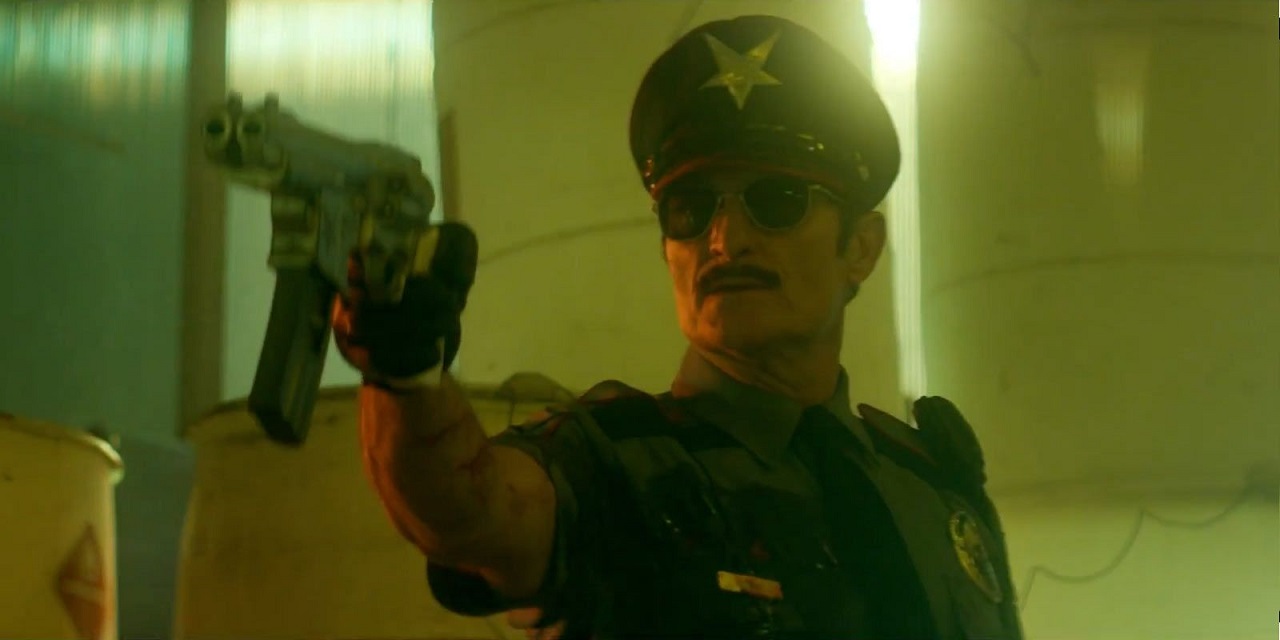 M. Shawn Crahan has chosen to shoot Officer Downe in the faux grindhouse style. Grindhouse was never an actual genre at the time people claim it was; rather it is a stylistic parody that was created by Quentin Tarantino and Robert Rodriguez with Grindhouse (2007) and thereafter assembled out of people's memories of what they think the era represented – the look of 35mm film stock with scratched print and visible film sprockets; a parody of the fashions with characters outfitted in sideburns, huge moustaches, flares and Afros; and everything run over with a trashy cynicism, copious drenchings of blood, pugnacious ultra-violence and plentiful bare boobs. Crahan even indulges overused cliches of the Grindsploitation homage such as images of hyper-sexualised nuns wielding assault weapons and parodies of martial arts masters replete with bad dubbing/subtitling.
As M. Shawn Crahan adopts the same faux grindhouse style with Officer Downe, it feels as though all he is doing is merely parroting the cliches created by other people's mimicking/parody of the style of a bygone era. Indeed, Officer Downe feels like a private in-joke created to amuse people who enjoy a certain style of film but at the same time is so derivative of everything in this genre sub-niche that the overall effect feels tiresome. Take this away and all that is left is a slight B-budget offering that has been run over by the even more tiresome hyper-adrenalised action moves of Mark Neveldine's films.
---
Trailer here
---