---
USA. 1988.
Crew
Director – Mark Goldblatt, Screenplay – Terry Black, Producers – David Helpern & Michael Melzer, Photography – Robert D. Yeoman, Music – Ernest Troost, Visual Effects Supervisor – Patrick Reed Johnson, Special Effects – Sabre Special Effects, Makeup Effects – Steve Johnson, Production Design – Craig Stearns. Production Company – New World Pictures.
Cast
Treat Williams (Detective Roger Mortis), Joe Piscopo (Detective Doug Bigelow), Lindsay Frost (Randi James), Clare Kirkconnell (Dr Rebecca Smythers), Darren McGavin (Dr Ernest McNab), Vincent Price (Arthur P. Loudermilk), Keye Luke (Mr Thule)
---
Plot
Detectives Roger Mortis and Doug Bigelow are baffled by a spate of armed robberies – in each case, it requires massive firepower to bring the hoods down and in each case the hoods have been reported as dead at the morgue prior to their crime spree. Mortis and Bigelow uncover the existence of a crime syndicate that has invented a resurrection machine. Mortis is then killed. Bigelow decides to place Mortis's body in the machine and revives him – Bigelow now has twelve hours before his body starts to decompose in which to solve his own murder.
---
After the success of Lethal Weapon (1987), buddy cop films that became all the in thing. Over the next few years, there were several bizarre fantastical combinations – cop and alien – The Hidden (1987) and Alien Nation (1988); cop and vampire – tv's Forever Knight (1992-6); and the utterly whacked notion of cop and gnome in Upworld/A Gnome Named Gnorm (1990) and cop and dinosaur in Theodore Rex (1995).
Dead Heat offers a unique slant on the spate of buddy cop films – it is construed as a Lethal Weapon in which one of the cops is a zombie. (Indeed, Dead Heat scriptwriter Terry Black is the brother of Lethal Weapon films' scripter Shane Black, who also makes a cameo appearance in the film as a cop). The concept is an amusing one – the entire film seems to have been constructed to lead up to an ending parodying Casablanca (1942) with the two corpses walking off together, saying "This could be the end of a beautiful relationship."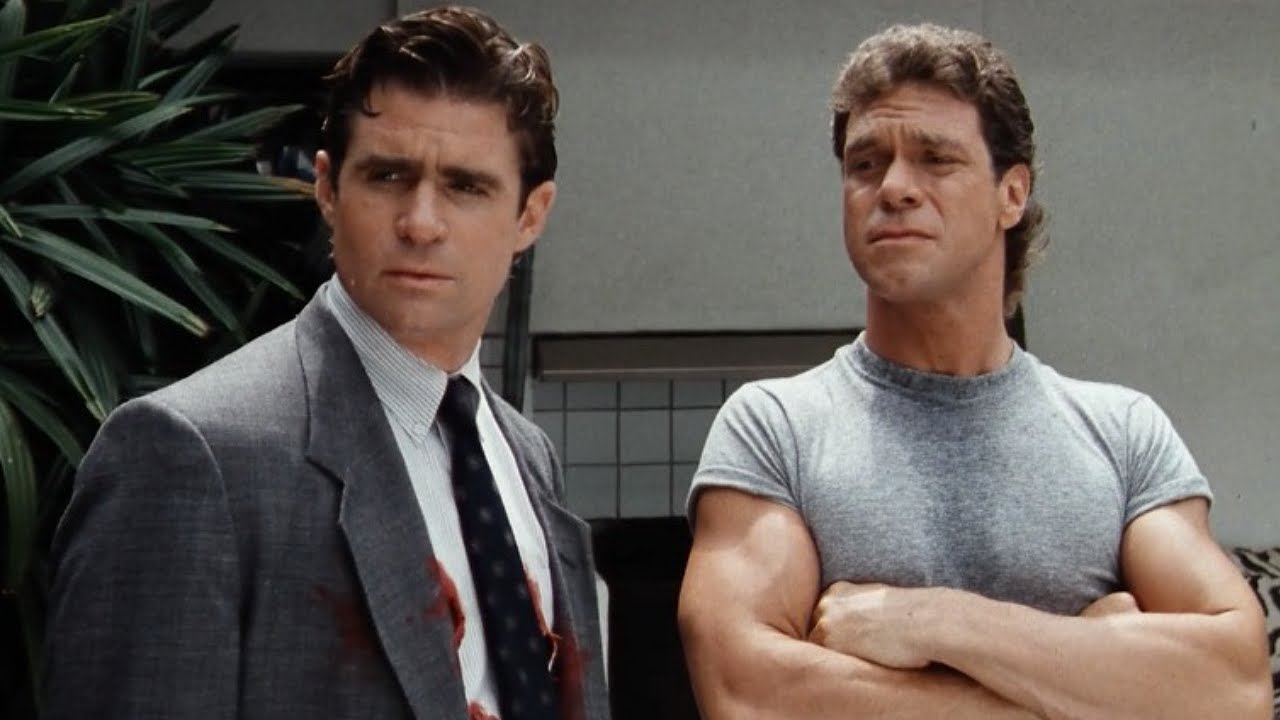 Unfortunately, the film ends up as dead as most of the zombies that appear throughout. The one thing that kills most of the potential humour dead in the water is the unfunny smartass, motormouth performance from stand-up comic Joe Piscopo who had had recent success on Saturday Night Live (1975– ). He never stops cracking one-liners – unfortunately these come as crass and clumsily as Piscopo's entire performance does and leaves the film limping like a wounded dog virtually from the word go.
The film does feature some fairly good effects sequences – best of all is the genuinely grotesque sequence set in the butcher's shop, lit by flickers of electricity, as the characters have to take on headless chickens, gutted bull carcasses and sausages brought back to life. Dead Heat could have been a cult film – and director Mark Goldblatt's one other film The Punisher (1990) is one that certainly shows great style – but instead it fails badly.
---
Trailer here
---