---
Crew
Directors – Justin Benson & Aaron Scott Moorhead, Screenplay – Justin Benson, Producers – Justin Benson & David Lawson, Photography – Aaron Scott Moorhead, Production Design – Melissa Low.
Cast
Peter Cilella (Michael Danube), Vinny Curran (Chris Daniels), Zahn McClarnon (Charles), Bill Oberst Jr. (Byron), Emily Montague (Jennifer Danube), Kurt Anderson (Billy), Skyler Meacham (Micah), Josh Higgins (Ted Tellensworth)
---
Plot
Michael Danube leaves his pregnant wife Jennifer and goes to visit his good friend Chris Daniels in the cabin where he lives. Chris is a heavy crystal meth user. Michael has come to perform an intervention and handcuffs Chris to the wall, intending to keep him there for the five days it will take him to withdraw. Michael endures this through Chris's anger, deranged pleas and sufferings. He must also deal with two drug dealers who come determined to get what is owing, as well as the security from the Indian reservation whose land the cabin is located on who want them out. At the same time, Michael becomes fascinated with a series of photographs, documents, videotapes and pieces of film that are left lying around for him to find that gives clues of the cryptic happenings that occurred in the area and the bizarre fates of others who lived there previously. Michael then becomes aware that someone is watching and filming everything they do.
---
Resolution is an interestingly different film. It is a debut feature for co-directors Justin Benson and Aaron Scott Moorhead who have subsequent confirmed themselves as directors/writers worth following. Resolution played at a bunch of international film festivals including Tribeca and Toronto After Dark.
For a long time – in fact, for over half of its running time – you would not be mistaken in thinking that Resolution was not even a horror film at all. It could easily be a micro-budgeted indie drama about two friends confronting their lives over an enforced intervention at a backwoods cabin. The characterisation between the two men is well written – in particular, the stretches of dialogue where Vinny Curran justifies his enjoyment of his getting high and as to why he should be left to die the way he wants and the often searing, at time wry, self-analysis that the two of them undergo.
For newbie directors, the show is promisingly put together, while the performances from the two leads are very good. If nothing else, Resolution at least does something very different from the usual brand of backwoods cabin horror films as typified by The Evil Dead (1981).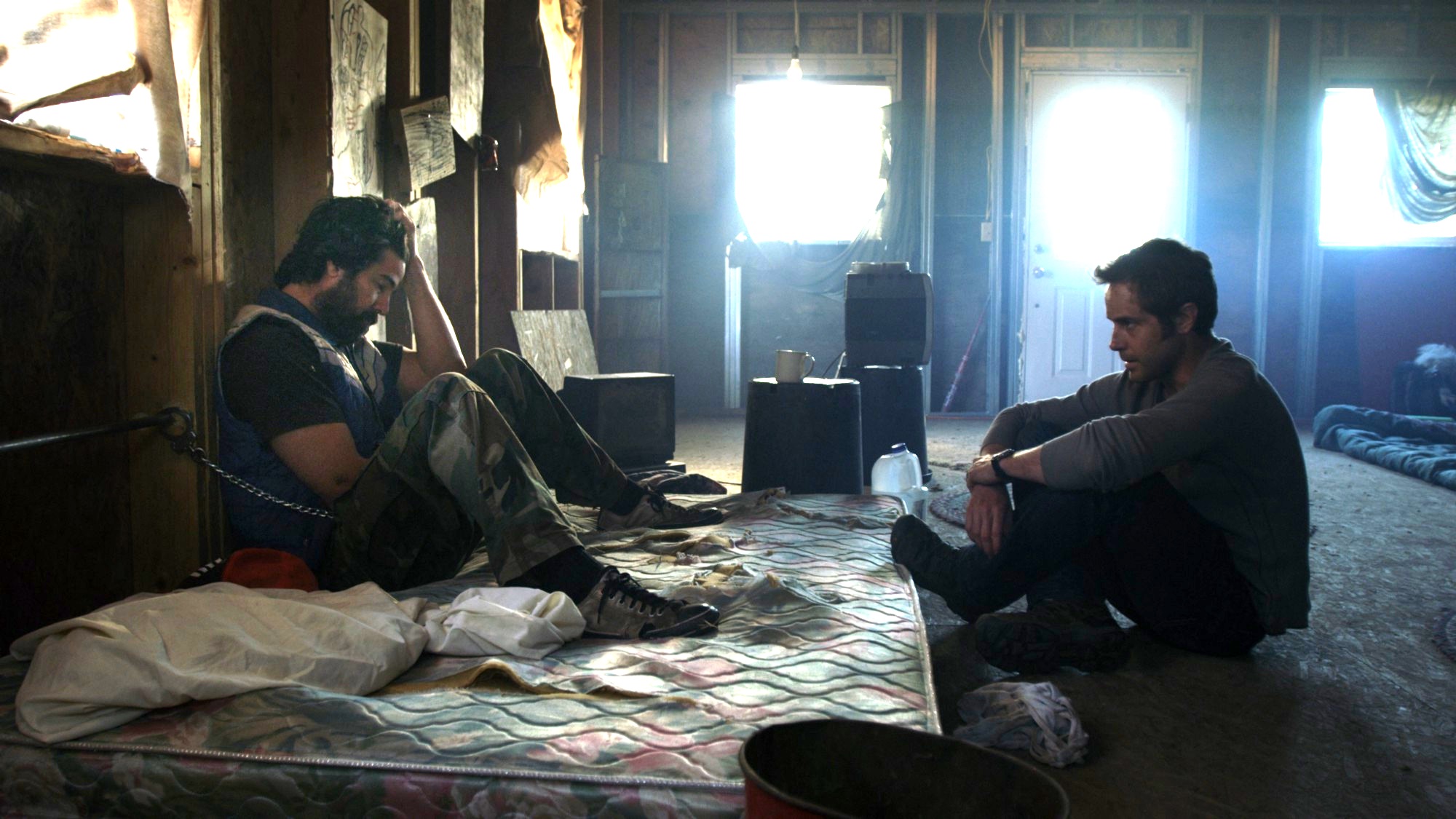 As we watch the intervention drama taking place, weird things start to creep in – the photographs, clippings, film reels and so on that are mysteriously left for Peter Cilella to find that start to hint at disturbed happenings. These initially come so nonchalantly layered in that you don't pay them much attention. The situation starts to become increasingly more mysterious as Cilella talks to people he encounters, uncovering details about who was there previously that start to hint at all manner of wild happenings. The film hits a decidedly creepy note when the two of them start finding that someone is surveilling them and leaving copies of the tapes of them for them to find. In these moments, Resolution suggests a variant on the early sections of David Lynch's Lost Highway (1997).
By the end, Resolution has become a film of cryptic and inexplicable happenings. It sits in the same territory as The Picnic at Hanging Rock (1975) and YellowBrickRoad (2010) or perhaps more closely a better version of the recent Toad Road (2012). [PLOT SPOILERS] Towards the end, this becomes decidedly eerie – especially where the two men receive a webcam broadcast showing them in the cabin live that moment and then video footage and even audio cd's of things that are about to happen (that involves both of them and/or Cilella's wife being killed). There is the creepy moment where they sit back in the car and say "it can't do anything to us here" only for a drum to abruptly fall over in the background. The film reaches a bizarrely abrupt ending where the cabin is set on fire, followed by the camera taking the point-of-view of something unseen that casts a giant shadow as it rises up, towering over the two men's heads as Vinny Curran cries "I'm sorry" to it, just before everything abruptly cuts to black.
Justin Benson and Aaron Moorhead next went on from strength to strength with Spring (2014) about the romance between a guy and an immortal girl, the Bonestorm segment of V/H/S Viral (2014), Synchronic (2019) about a drug that causes the user to time travel episodes of Marvel's Moon Knight (2022) and the reality bending Something in the Dirt (2022), as well as produced After Midnight (2019). They subsequently made The Endless (2017), which is a sequel of sorts to Resolution in that it features return performances from Peter Cilella, Vinny Curran and Emily Montague as the same characters, while the inexplicable happenings are expanded onto a wider scale.
---
---