---
Crew
Directors – Justin Benson & Aaron Moorhead, Screenplay – Justin Benson, Producers – Justin Benson, David Lawson & Aaron Moorhead, Photography – Aaron Moorhead, Music – Jimmy Lavalle, Visual Effects – Frost FX, Aaron Scott Moorhead, Special Effects Supervisor – Mark Viniello, Makeup Effects – Masters FX, Production Design – Fabrizio D'Arpino. Production Company – XYZ Films/Apulia Film Commission.
Cast
Lou Taylor Pucci (Evan), Nadia Hilker (Louise), Francesco Carnelutti (Angelo), Chris Palko (Bancroft Dawson), Jonathan Silvestri (Sam), Jeremy Gardner (Tommy), Vinny Curran (Mike), Holly Hawkins (Nicole Russell)
---
Plot
Evan is upset after the death of his mother. After getting in a fight in a bar, he is dismissed from his job as a sous chef. On impulse, he decides to leave California and head to Italy. Falling in with a group of backpackers, he travels to a tiny town. There he meets the beautiful Louise who wants to sleep with him right then. Bewildered by her directness, he asks that they go on a coffee date instead. This leads to sex and the two fall into each other's company. Evan decides to part ways with his fellow travellers and stay, taking a live-in job at a local fruit orchard. As the relationship with Louise continues, it becomes apparent that there is something wrong with her. After he discovers her having partially mutated into a creature, she tells him that she is immortal and that every twenty years she regenerates her body. This is done by her becoming pregnant and absorbing the cells of the child to become a new person genetically. If she does not do so, her body starts to revert to earlier stages of evolution, becoming all manner of strange creatures, something that can only be temporarily subdued with an injection of stem cells. He pleads with her to not change and find a way to stay with him.
---
Directors Justin Benson and Aaron Moorhead made an impressive debut a couple of years ago with Resolution (2012), a raw and effective intervention drama that opened up into an eerie film about cryptic happenings in the backwoods. Spring was their second film. It arrived with much word of mouth buzz and was one of the standouts from the 2014 Toronto International Film Festival and Austin Fantastic Festival.
Benson and Moorhead subsequently made the equally striking Bonestorm segment of V/H/S Viral (2014) and the full-length The Endless (2017) involving a cult and much in the way of mysterious backwoods happenings, which was a follow-up to Resolution, Synchronic (2019) about a drug that causes the user to time travel episodes of Marvel's Moon Knight (2022) and the reality bending Something in the Dirt (2022), as well as produced After Midnight (2019).
The best way to view Spring is to go in knowing as little about it as possible. Nearly half of the film doesn't even seem like it is going to enter into genre territory at all – it is all about a guy (Lou Taylor Pucci) with problems leaving the US and going on a trip to Italy (in Poligno a Mare, what would have to be one of the most picturesquely chosen towns possible), meeting a girl and becoming entranced with her.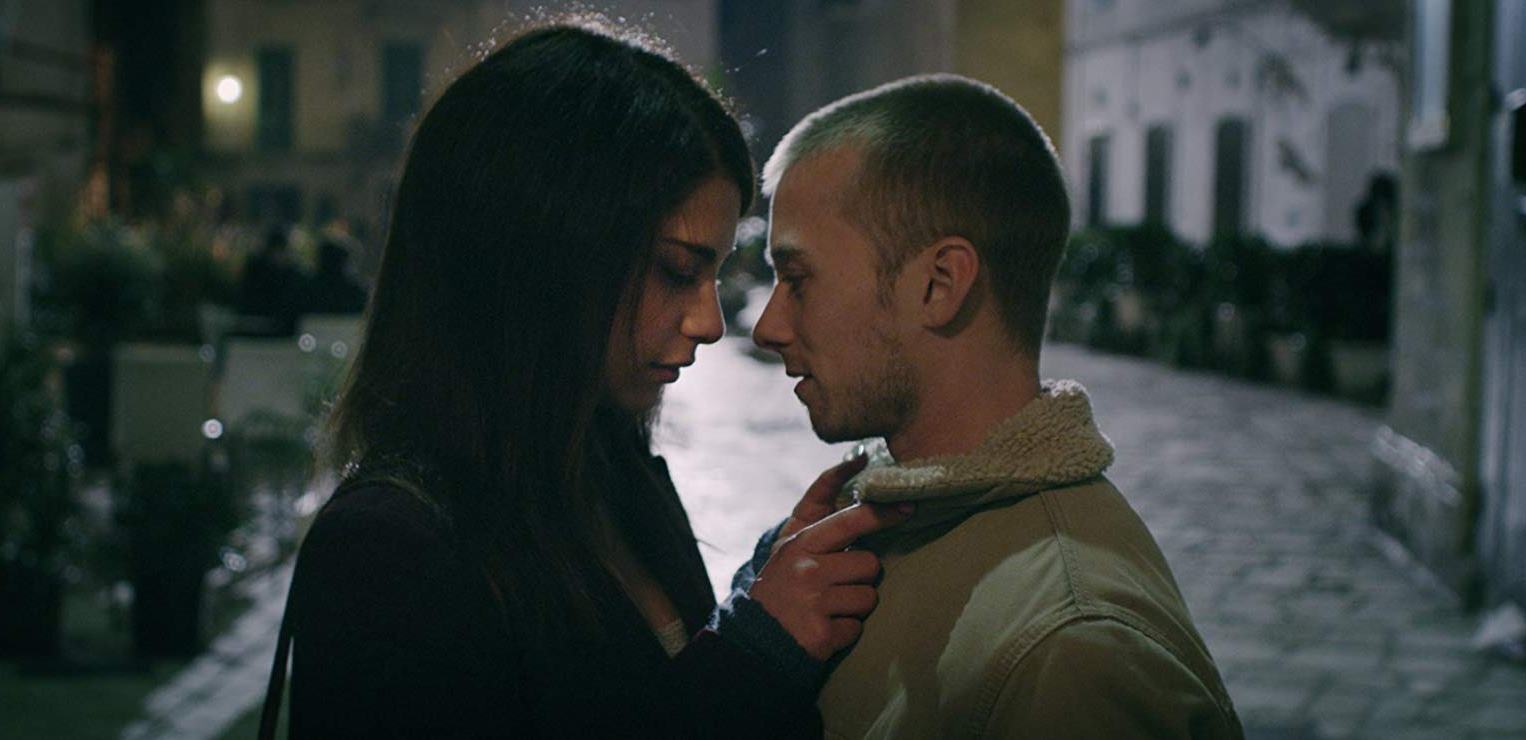 Benson and Moorhead take their time with the lead-in, taking us through the death of Lou Taylor Pucci's mother, his getting in a bar fight, his spur of the moment decision to go to Italy, his joining a group of backpackers, his abrupt decision to stay and take a job, his learning how to do the job, all before he gets involved with Nadia Hilker. This is the sort of lead-in that most formula horror films would have stripped down to the first five minutes, having Lou Taylor Pucci arrive in the town and all of the backstory dismissed in a couple of throwaway lines.
Things start to become strange from the point of his getting together with Nadia Hilker. Like the scene where she wakes up in bed to find something crawling under her skin and staggering out into the alley from which we ominously hear the howl of a cat. Later, while she has invited Pucci for dinner, she has to run away to the bathroom where we get alarming glimpses of what she is undergoing – her face sprouting hair, vertebrae pushing their way out along her back and the final image of her collapsed inside the shower with clumps of hair everywhere. At this point, unless you have read too much about Spring, it feels like a genuinely out there film where you have the pleasurable sense of not knowing where any of it is going.
What we end up with emerges as an utterly fascinating and genuinely original film. It seems one part H.P. Lovecraft – I kept being reminded of the half-tentacle woman in Dagon (2001) – another part The Man From Earth (2007) and its fascinating glimpse in on the human race from the viewpoint of someone who has lived a very long time, and one other part something like the modern indie romance of Before Sunrise (1995). I have some quibbles with the creative uses that the film puts evolutionary theory to but went with the concept  at which you have to admit that the film approaches it with a great deal of cleverness – not to mention an assiduous effort to avoid the supernatural.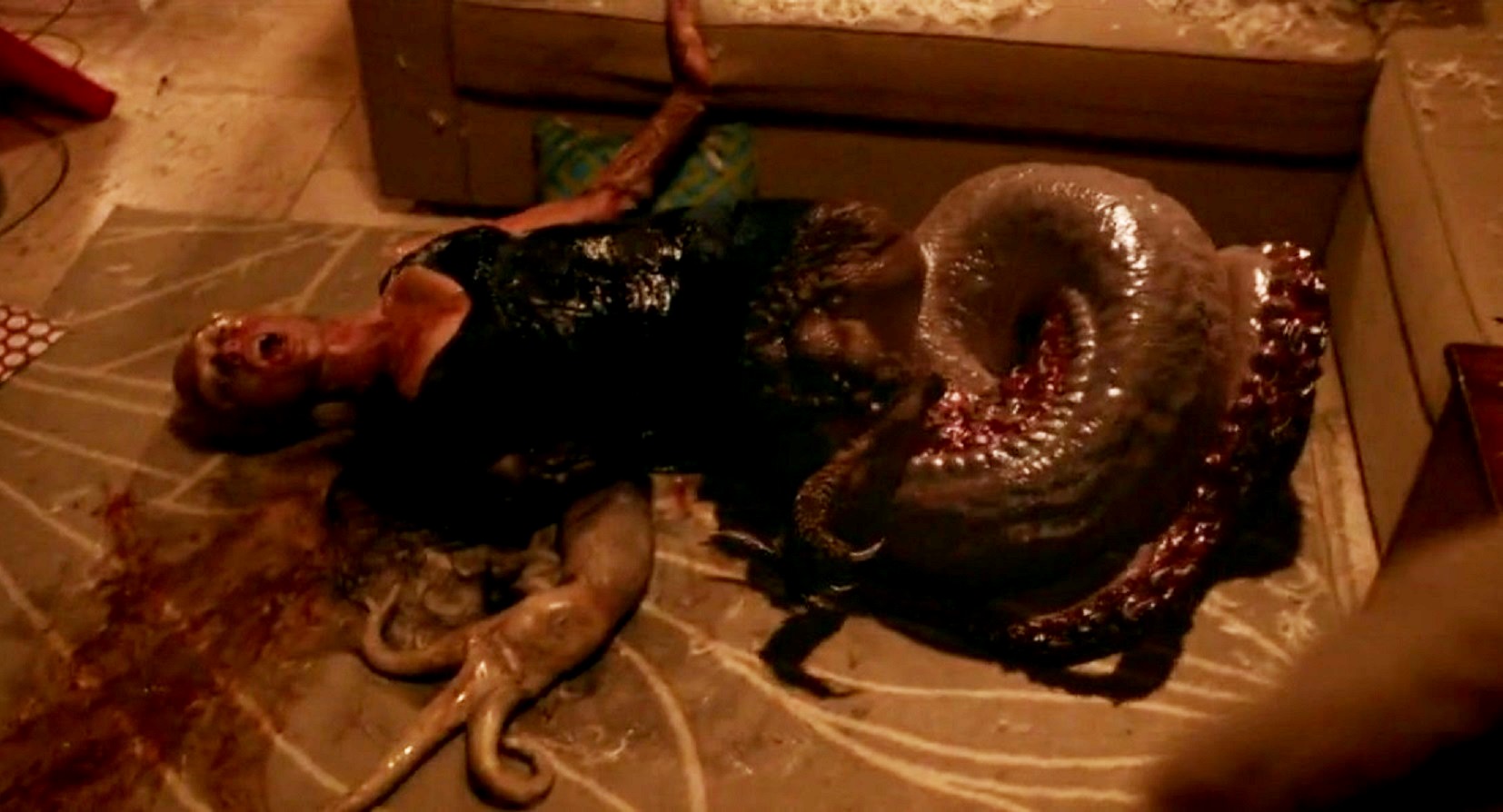 In fact, the best and strongest parts of the film come after the revelation of what is going on. It is here that the relationship finds its full strength and emerges in some nicely written passages – Benson and Moorhead say they wrote it as counterpoint to Anne Rice's The Vampire Chronicles wanting to feature an immortal who actually enjoyed their condition.
Benson and Moorhead are not above delivering it with a dry sense of humour – such as cutting away from tender moments to showing Nadia Hilker with one hand turned into a tentacle or a corpse-like half-face resting on Lou Taylor Pucci's shoulder and a tail wandering up behind his back. The romantic ending of the film comes with beautiful understatement.
(Nominee for Best Makeup Effects at this site's Best of 2014 Awards).
---
---