---
Crew
Directors – Justin Benson & Aaron Moorhead, Screenplay – Justin Benson, Producers – Justin Benson, David Lawson Jr., Michael Mendelsohn & Aaron Moorhead, Photography – Aaron Moorhead, Music – Jimmy Lavalle, Visual Effects – Buf (Supervisor – William Banti), Special Effects Supervisor – David Nami, Production Design – Ariel Vida. Production Company –Patriot Pictures/Rustic Films/Pfaff and Pfaff Productions/Love & Death Productions.
Cast
Anthony Mackie (Steve Denube), Jamie Dornan (Dennis Dannelly), Katie Aselton (Tara Dannelly), Ally Ioannides (Brianna Danelly), Ramiz Monsef (Dr Patrick Kermani), Bill Oberst Jr. (Hunchbck Looter), Carl Palmer (Officer Jacobs), Sophie Howell (Stoner Clerk)
---
Plot
Steve Denube and Dennis Dannelly are two paramedics in New Orleans. Steve is single, while Dennis is married and has a teenage daughter Brianna. In the last two weeks, Steve has been diagnosed with a brain tumour. All of a sudden, the two of them face a series of callouts involving bizarre injuries and deaths relating to a new drug Synchronic. At one of these calls, they discover that Brianna was involved but has vanished. A search is conducted by police but no trace of her can be found. Steve buys up supplies of Synchronic from a store. Scientist Patrick Kenami breaks into Steve's home wanting the supplies, saying he developed Synchronic and it has the ability to open up time. Steve experiments with Synchronic and is startled when it transports him into various eras – ranging from the time of the Conquistadors to the Ice Age and when the KKK ran Louisiana. Throughout these, he attempts to search for Brianna.
---
The directing/writing team of Justin Benson and Aaron Moorhead have gained increasing acclaim in recent years, becoming one of the most promising indie directing/writing talents in genre material. The two first appeared with the reality-bending Resolution (2012) and continued through Spring (2014) about a romance between a human and an immortal, the Bonestorm segment of V/H/S Viral (2014), The Endless (2019), a continuation of Resolution about a cult dealing with more reality bendings, and subsequently episodes of Marvel's Moon Knight (2022) and the reality bending Something in the Dirt (2022), as well as producing Jeremy Gardner's After Midnight (2019).
Synchronic premiered at the Toronto International Film Festival in 2019. It appeared at several other film festivals subsequently but its theatrical release was delayed by the Corona Virus pandemic of 2020. It release eventually went ahead in October of 2020 where Benson and Moorhead took the unusual step of advising viewers not to go and see it in theatres and stay home and be safe. The film was finally released to digital platforms in January 2021.
For a long time, it is not clear where Synchronic is going – unless you have read too much of its plot synopsis beforehand (which I try to avoid doing). The first thirty minutes are taken up with observing paramedics Anthony Mackie and Jamie Dornan on their callouts and dealing with various victims of the drug. These are interspersed with scenes of their private lives – Mackie as a single man and undergoing treatment for a tumour, Dornan and his family life. There is no indication this is a fantastical film until the scene at the 36-minute mark when scientist Ramiz Monsef turns up in Anthony Mackie's closet talking about the drug and holding up a vinyl record as a metaphor for time travel.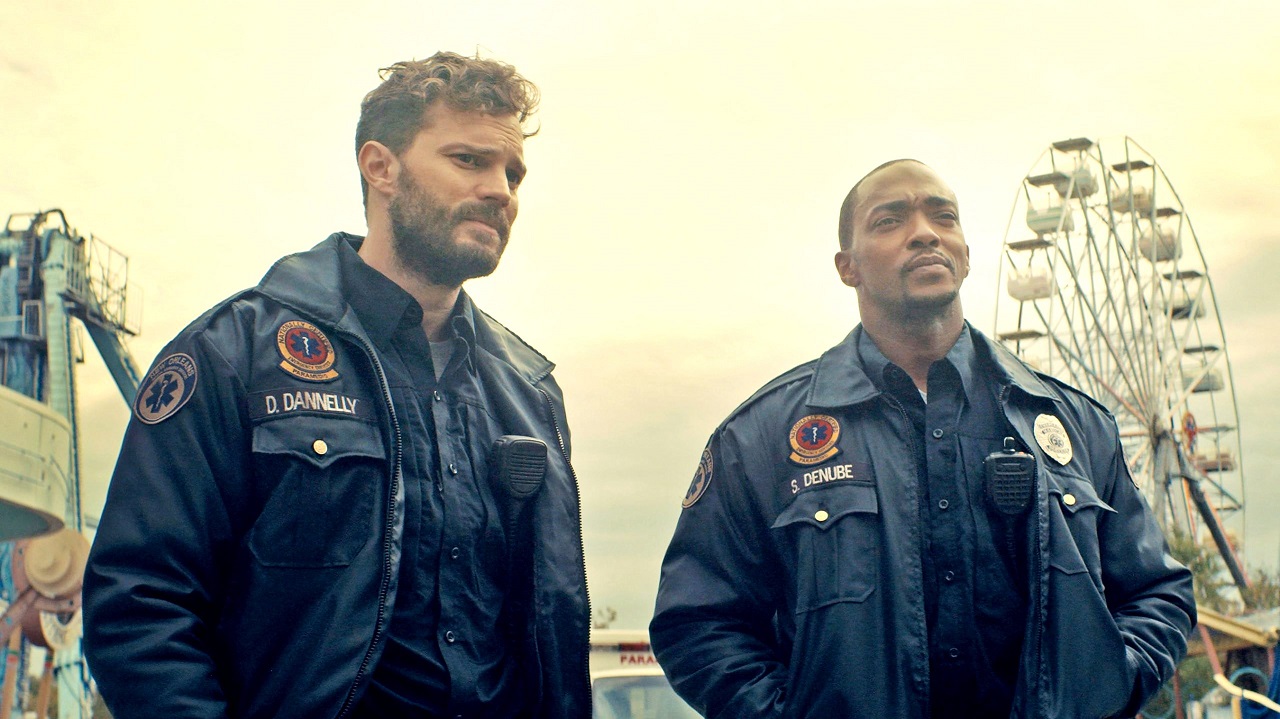 It soon after becomes apparent that Synchronic is a film about reality-bending drugs. This is an idea that goes all the way back to Ken Russell's Altered States (1980) where scientist William Hurt discovers a Mexican mushroom that causes him to genetically revert to being a caveman. In a less serious vein, there was the drug Soy Sauce in the gonzo John Dies at the End (2012), which allowed its protagonist to travel through time and bend reality. The film that comes the closest to this is actually The Wave (2019), which was released two weeks after Synchronic premiered, in which Justin Long takes a drug that causes him to move back and forward in time.
The film gains an undeniable fascination when it gets to the scenes where Anthony Mackie takes the drug and is transported into the past, abruptly finding his couch in the middle of a swamp as a curious Conquistador appears; freezing to death in the Ice Age filled with woolly mammoths and a curious hunter; or surrounded by hostile locals during the pre-Civil Rights era. This becomes all the more fascinating in the scenes where we see Mackie videoing himself taking the drug and trying to piece together the rules it operates by and where he will be taken depending on which areas of his living room he is standing in.
Like all of Benson and Moorhead's films, Synchronic has a strong and well written depth to its characters. Most of Benson and Moorhead's films (with the exception of Spring) are about two guys and the ups and downs of their relationship (perhaps reflected of Benson and Moorhead being two friends in a working partnership). Anthony Mackie and Jamie Dornan are paired as opposites – the single guy and the married family man – and some of the best written sections of the film have the two of them walking about reflecting on their lives, mortality and their place in the universe.
---