---
Crew
Director – Luca Bercovici, Screenplay – Luca Bercovici, Jefery Levy & Christopher Verweil, Producer – Jefery Levy, Photography – John Schwartzman, Music – Hilary Bercovici, Special Effects – Lucinda Strub, Makeup Effects – Tony Gardner & Larry Hamlin, Production Design – Jane Ann Stewart. Production Company – Cannon Films.
Cast
Dean Cameron (Ralph), Tawny Feré (Mona), Toni Basil (Phoebe), Thomas Dolby (Stanley), Susan Trell (Chuck the Bartender), Bo Diddley (Axman), Nancye Ferguson (Robin), Rick Zumwalt (Boom Boom)
---
Plot
Ralph is a vampire living in Los Angeles with his mother Phoebe. For four hundred years, Ralph has been suffering from a curse where every twenty-two years his love Mona is reincarnated only to be killed on Halloween Night by a pirate with a pegleg wielding a hambone. It is nearing Halloween again and Ralph meets the latest reincarnation of Mona, the singer in a band, after she hits him in her car. Despite not wanting to be dragged in again, Ralph starts romancing her. To impress her, he claims that he is in a band too. In order to back up his claim, Ralph is forced to create a band, calling it Rockula. They premiere to some success. However, this inflames the jealousy of Stanley, one of Mona's groupies. After being told by a fortune-teller that Ralph is a vampire, Stanley decides that he must get rid of Ralph.
---
Rockula was one of the films from Cannon Films, the producers of a great deal of product during the 1980s, most notedly their Chuck Norris and Charles Bronson action films, along with a good many other works. Rockula came as part of a spate of films in the mid-1980s/early 90s that spun the vampire out as part of a series of inane, lightweight comedies – see also the likes of Once Bitten (1985), My Best Friend is a Vampire (1987), Vampire's Kiss (1988) and Buffy the Vampire Slayer (1992). (For an overview of the genre see Vampire Films).
Rockula is lumbered with a premise that has no basic plausibility. For one it requires us to accept that Dean Cameron has remained a virginal teenager for the last 400 years! Every twenty-two years, his love Tawny Feré is resurrected but without any knowledge of who she is and he gets to romance her all over again close to Halloween – only to see her killed off by a rival dressed as a pirate with a pegleg and wielding a hambone. This fails on so many levels, least of all any kind of explanation as to why all of this is happening.
That said, one of the most absurd pieces of plausibility in the entire film is nothing to do with vampires but where Dean Cameron tells Tawny Feré he is in a band in order to impress her and then realises he has to pull this off – and manages to not only form a band, rehearse them, obtain a gig at a popular venue but deliver a performance to a sell-out crowd, all within a matter of days.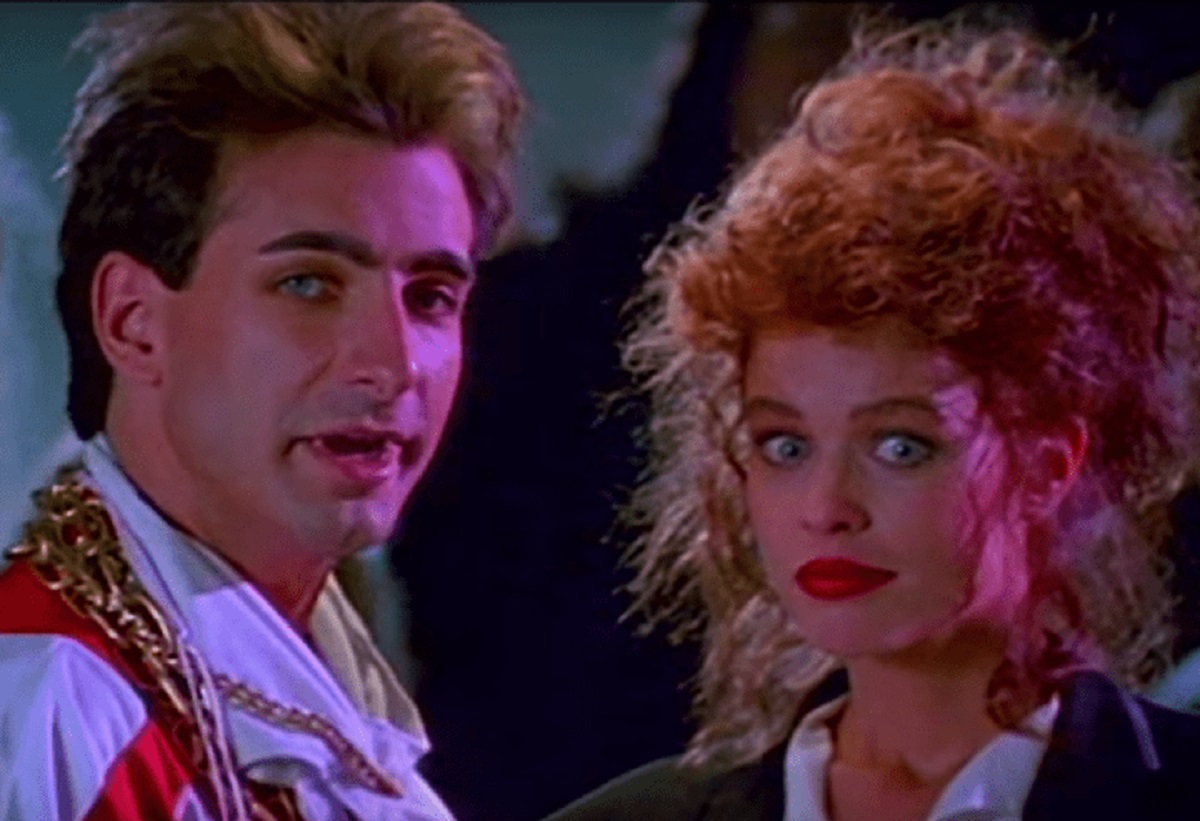 You get the impression that Rockula was sold on the gimmick of bringing a bunch of pop stars of the day together in acting roles. It is an idea that expectedly goes sideways with ghastly results. Synthesizer whiz kid Thomas Dolby is cast as the villain of the piece and gives a badly over-acted performance where he plays cattily and bitchily. There is also one-hit wonder Toni Basil who gives a marginally better performance, vamping it up as Dean Cameron's mother and cavorting around in a dance number. R&B singer Bo Diddley turns up in the background as one of the members of Dean Cameron's band.
Thomas Dolby delivers one fine track Budapest By Blimp, otherwise the music is awful. I hate it every time some band tries to venture into horror themes as all it becomes is Halloween posturing – a few references to popular horror tropes or characters, lots of theatrically overstressed lyrics pretending to be spooky and a generally comic tone – rather than what actual horror should do, which is to create a mood, unsettle people or create unexpected jumps. Although the absolute worst of the musical numbers is not one of the horror ones but where we see Dean Cameron trying to rap wearing giant gold coins on chains around his neck and with an overweight Bo Diddley dressed as a bumblebee accompanying on guitar.
Director Luca Bercovici has maintained a career as an actor since the late 1970s. He first appeared as director/writer of Empire's Ghoulies (1985) and Rockula was his second film. Bercovici has directed eight other films including the genre likes of the horror comedy The Granny (1992), the psycho-sexual thriller Dark Tide (1994) and the SF film Convict 762 (1997), as well as wrote the screenplay for Hotel of the Damned (2016).
---
---