---
Crew
Director – Fran Rubel Kuzui, Screenplay – Joss Whedon, Producers – Kaz Kuzui & Howard Rosenman, Photography – James Hayman, Music – Carter Burwell, Special Effects Supervisor – Joseph Mercurio, Makeup – William Forsche & Mark Maitre, Production Design – Lawrence Miller. Production Company – Sandollar Productions/Kuzui Enterprises.
Cast
Kristy Swanson (Buffy), Luke Perry (Pike), Donald Sutherland (Merrick), Rutger Hauer (Lothos), Paul Reubens (Amilyn)
---
Plot
Buffy, a trendy cheerleader at a Southern California high school, is approached by the mysterious Merrick. He tells her that she is the 'destined one' who emerges every generation with the ability to slay vampires. Buffy is dubious but a series of encounters with vampires soon prove that what Merrick says is correct. Merrick places her through an intensive training program. While having to deal with rejection from her peers because of her odd behaviour, Buffy must also combat the arrival of the vampire king Lothos.
---
The attempt at creating a teen vampire film has usually fared dismally. See the likes of Vamp (1986), The Lost Boys (1987), Teen Vamp (1988), My Best Friend is a Vampire (1987) and Grampire/My Grandfather is a Vampire (1992). As a result, one approached Buffy the Vampire Slayer with little in the way of expectation. The title at least promised an amusingly hip interpolation of the image of the vampire hunter cast as a bimbo cheerleader.
However, the results are utterly inane. The film lets loose in an utterly moronic barrage of California teenspeak – Buffy the Vampire Slayer was probably the ghastliest in the unwelcome mini-trend of Valley Kid films begun with Bill and Ted's Excellent Adventure (1989) (and when Bill and Ted started the trend off it was meant to be parodying it). Some scenes likes those with the bitchy, clothing obsessed girls going shopping and chopping up obviously phallic sausages in front of guys in a mall are awful.
As a vampire film, Buffy the Vampire Slayer is equally pathetic – this must be the first vampire film that shows no blood-drinking, even implied. Rutger Hauer, lisping through a pair of fangs, is a ridiculously cardboard threat as the king vampire. As his sidekick, Paul Reubens (entirely unrecognisable from his Pee-Wee Herman persona) must have what is surely the silliest death sequence on record – it even keeps going after the end credits roll.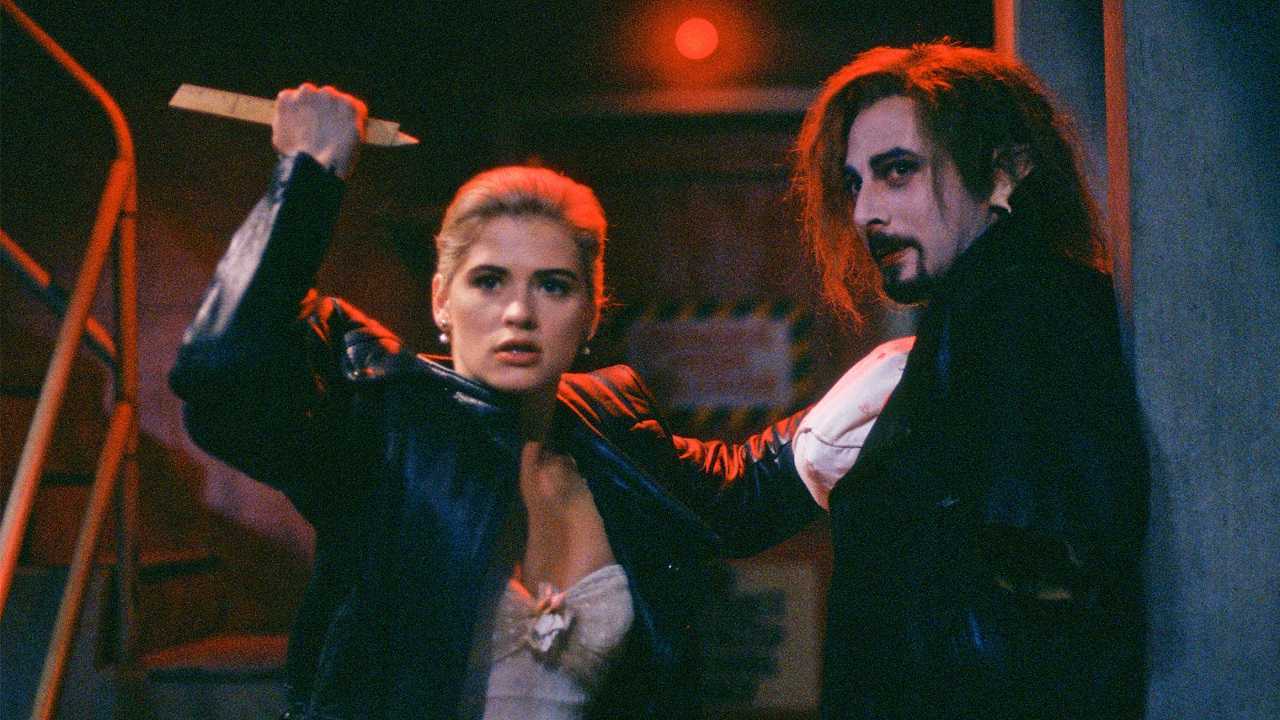 Luke Perry was then a hot teen heart-throb on Beverly Hills 90210 (1990-2000) but the film casts him as a weedy, aimless layabout where he only gets to slick up, put on a leather jacket and look handsome at the end – his basic lack of screen appeal, which the film seemed to be banking on, ended up giving Buffy a surefire death at the box-office.
Despite Buffy the Vampire Slayer's box-office failure, it was subsequently revived as a tv series Buffy the Vampire Slayer (1997-2003), starring Sarah Michelle Gellar in the title role. Realising that a vampire slayer was a limited concept, the series had to expand outward to have Buffy taking on other monsters too. Once it got past the lame initial scripts, the series became likeable and eventually even quite remarkable, striking up the balance of hip humour and genre parody that the film here misses by a mile. The series was an enormous hit. Angel (1999-2004) was also a smart, hip spinoff.
Screenwriter Joss Whedon has also written the screenplays for Toy Story (1995), Alien: Resurrection (1997), Titan A.E. (2000), Atlantis: The Lost Empire (2001), has produced the fandom documentary Comic-Con Episode IV: A Fan's Hope (2011), wrote/produced the horror film The Cabin in the Woods (2012) and wrote/produced In Your Eyes (2014) about a psychic connection and wrote and performed uncredited directing duties on Justice League (2017). Whedon became a cult figure on television, where he has created/written the space opera series Firefly (2002-3) and written/directed its film spinoff Serenity (2005), as well as created the sf series Dollhouse (2009-10), Agents of S.H.I.E.L.D. (2013-20) and the web series Dr Horrible's Sing-a-Long Blog (2008), a musical spoof of mad scientists, and created The Nevers (2021- ). He also directed the big-screen adaptation of Marvel Comics' The Avengers (2012) and its sequel Avengers: Age of Ultron (2015), as well as a modernised film version of Shakespeare's Much Ado About Nothing (2013). Fran Rubel Kuzui has not directed any other films.
---
---