---
Crew
Director/Photography – Jimmy Lee Combs, Screenplay/Producer/Art Director – Kevon Ward, Visual Effects – Cristoffer Adrian, Ryan Carroll & Kevon Ward, Stop Motion Animation – Cassie Lakey, Makeup Effects – Elizabeth Fitter, Scott Grange, Evan Hedges, Stefan Knowles, Cory Knutson, Irene Leonard, Cassandra Valdes, Kevon Ward & Melinda Wolfe. Production Company – Heart and Fire Productions.
Cast
Kevon Ward (Hans Crippleton), Andy Hankins (Barnaby Hunt), Heath Heine (Cousin Bumpkin), Irene Leonard (Mama Crippleton), Katie Bevard (One Legged Sis), Ryan Manley-Rohrer (The Doctor), Brad Wagner (Camera Stan), R.J. Wagner (Agent), Libby Ward (Policewoman)
---
Plot
Former monster hunter Barnaby Hunt goes to interview Hans Crippleton for a documentary. Born to an inbred family, Hans has emerged deformed. Hans was born on October 31st and each time that year the Crippleton farm is overrun by zombies. Hans has managed to parlay his expertise in dealing with zombies into being a specialist in Halloween scares, which has gained him a fame on the Halloween haunted house and horror convention circuit.
---
Watching Hans Crippleton: Talk to the Hans is a bewildering and brain-damaging experience. It takes a little research to grasp what the film actually is and where it originates. Firstly, Hans Crippleton is the alter ego of the film's writer/producer/star Kevon Ward who hails from Boulder, Colorado. Ward has worked as a makeup effects artist on various other low-budget films – none of any particularly high profile – and gained some attention as one of the contestants on the ninth season of the makeup effects reality tv show Face Off (2011– ). Ward created the character of Hans Crippleton as a deformed, imbecilic hillbilly and has played the part at various Colorado Halloween haunted house attractions since around 2011. The apparent popularity of the character then spawned this film.
Given the nature of its origin, Hans Crippleton: Talk to the Hans emerges more as a vanity vehicle for its lead actor/writer and general creative force's alter ego than an organically grown horror film. Much of the show takes place as a mockumentary with Hans and his family being interviewed by a documentary-maker with a very fake British accent. This is designed to highlight Kevon Ward's central character and his comically grotesque family.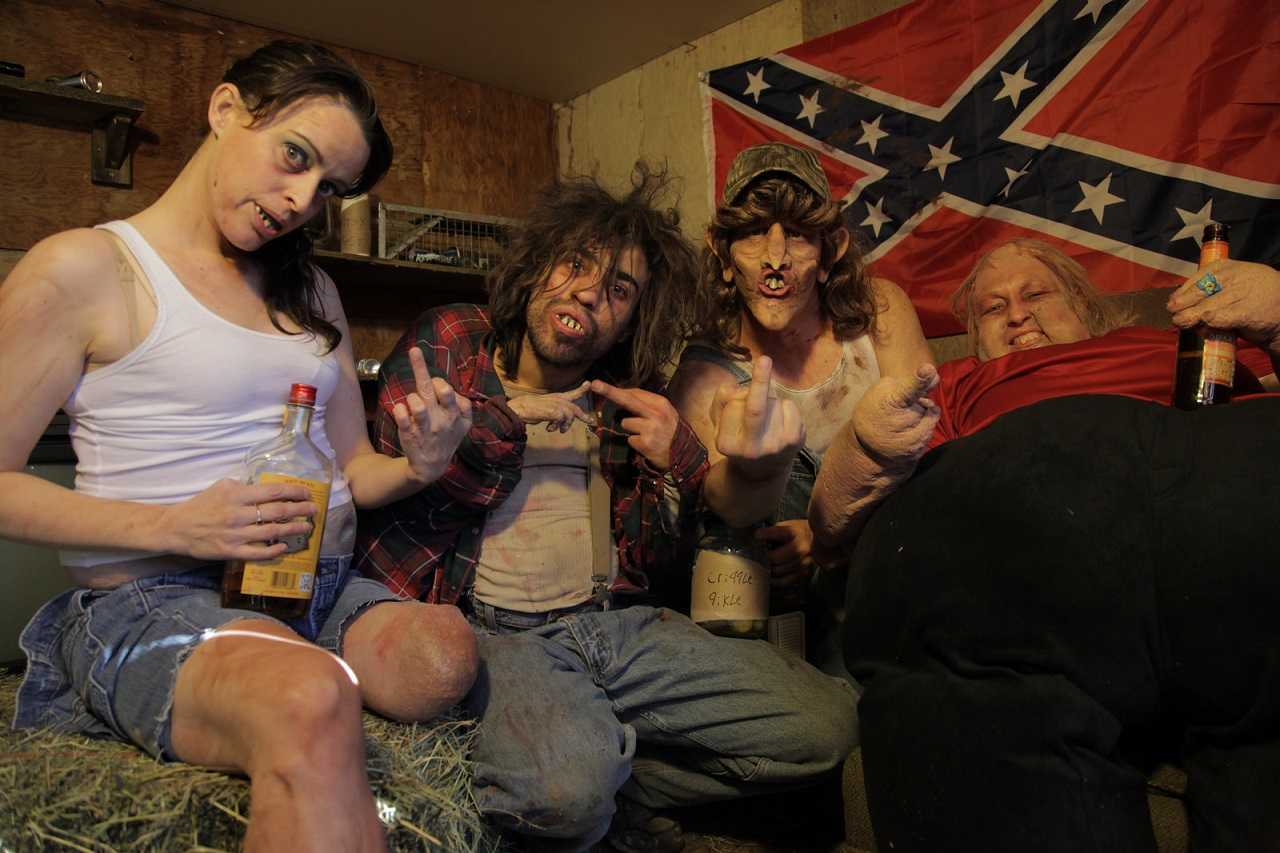 We get a number of scenes, which appear to be taken from the real-life Halloween shows, with Ward in the role of Hans as Halloween performer, and on the convention circuit. There is little that can be described as a plot during any of this. Moreover, these aspects seem awkwardly attached to the later parts where the Crippleton family farm is overrun by zombies, along with the scanty effort to add explanatory rationale involving a family curse.
Undeniably, Ward's Hans Crippleton has some kind of following, although how much could be anybody's guess. The sneaking feeling you get is that the filmmakers' impression of the character's popularity is one that far exceeds any actual fanbase that Hans may have. All of which may have added to an inflated impression that there would be an audience for a film and that it might have been a good idea to inflict the type of pantomime from a Halloween haunt on cinematic audiences.
I have little patience for the type of comedy that requires characters to be played as imbecilic idiots. All of the family are caricatured as inbred, misshapen and with fake bad teeth. Watching 100 minutes of this moronic idiocy play out before you is an excruciatingly unfunny experience. It just goes on and on and on.
---
---