---
USA. 1985.
Crew
Director/Screenplay – Rudy De Luca, Producers – Thomas Brodek & Mace Neufeld, Photography – Tom Pinter, Music – Lee Holdridge, Makeup – Haird Redzebasrc, Production Design – Zeljko Senecic. Production Company – New World/Mace Feufeld/Jardan Film.
Cast
Jeff Goldblum (Jeff Harris), Ed Begley Jr (Gill Turner), Joseph Bologna (Dr Malovaka), Teresa Ganzel (Elizabeth), Jeffrey Jones (Mayor), John Byner (Radu), Carol Kane (Loopy), Geena Davis (Odette), Michael Richards (Fejos), Peter Buntis (Frankenstein Monster), Donald Gibb (Wolfman)
---
Plot
Two reporters from a sensationalistic tabloid paper are sent to Transylvania to write an article after an apparent sighting of a Frankenstein monster by some filmmakers. The weird locals treat their investigation with derision. Pressing on, they meet the sinister Dr Malovaka and discover not only a Frankenstein monster, but also a werewolf, a vampire woman and a mummy too.
---
Transylvania 6-5000 is a wretched would-be genre spoof that succeeds in dredging the bottom of the barrel. It was perhaps seeking to exploit the then success of Ghostbusters (1984) and was one of a number of comic riffs on classic monster movie themes that came out around the time.
It is a monster bash spoof that seeks to go back to the heyday of Abbott and Costello Meet Frankenstein (1948). However, it comes pitched at such a low level that it makes even those two idiots look the height of sophistication. The cast appear to have made every scene up on the spot in a series of inane gibberings, hysterical pantomimes and slapstick eye-rollings. The gag writing is unbelievably lame. The production values just look cheap.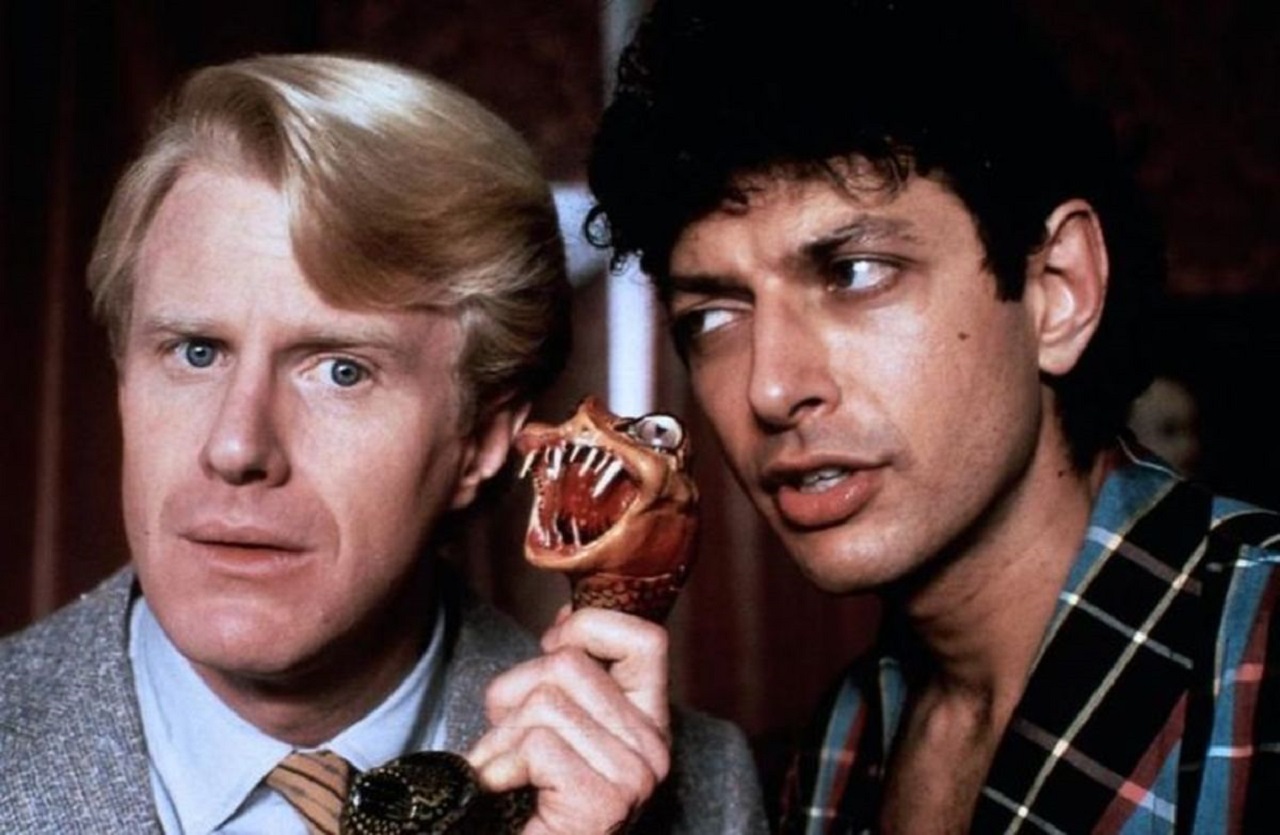 Writer/director Rudy De Luca previously co-wrote the screenplays for the prehistoric spoof Caveman Mel Brooks's Silent Movie (1976), High Anxiety (1977) and the later likes of Life Stinks (1991) and Dracula: Dead and Loving It (1995). Indeed, Mel Brooks' Young Frankenstein (1974) is the absolute peak of this type of monster movie spoof – but Rudy De Luca clearly learned nothing from his mentor. It is hard to see how a production company could have bankrolled such an embarrassment.
There are some interesting names in the cast, including Michael Richards as a weird porter way before Seinfeld (1990-8). Stars Jeff Goldblum and Geena Davis met on the set and briefly married – what a film to remember the occasion by. The title is a pun on Glenn Miller's famous big band number Pennsylvania 6-5000 (1940) and was also used as the title of a 1963 Bugs Bunny cartoon.
---
Trailer here
---