(La Piel Que Habito)
---
Crew
Director – Pedro Almodovar, Screenplay – Agustin Almodovar & Pedro Almodovar, Based on the Novel Tarantula by Thierry Jonquet, Producer – Esther Garcia, Photography – Jose Luis Alcaine, Music – Alberto Iglesias, Special Effects Supervisor – Reyes Abades, Makeup Effects – DDT SFX, Production Design – Antxon Gomez. Production Company – El Deseo S.A..
Cast
Antonio Banderas (Dr Robert Ledgard), Elena Anaya (Vera), Marisa Paredes (Marilia), Blanca Suarez (Norma Ledgard), Jan Cornet (Vicente Piñeiro), Roberto Alamo (Zeca), Susi Sanchez (Vicente's Mother), Barbara Lennie (Cristina), Eduard Fernandez (Fulgencio)
---
Plot
Robert Ledgard is a highly successful surgeon who lives outside Madrid. He has perfected a new transgenesis skin graft technique using an artificial skin that is much tougher than normal skin, which he names Gal in memory of his late wife. Unknown to the outside world, Robert also keeps a woman Vera a prisoner in his house where he has surgically transformed her into an exact duplicate of Gal. This is endangered when his trusted servant Marilia's son Zeca pushes his way into the home on the run from a jewel robbery. He discovers Vera and thinks her Gal, with whom he once had an affair, and forces himself on her – until Robert returns and shoots him. Robert remembers back to when he tried to nurse Gal back after she was badly burned in a car crash, only for her to throw herself out the window upon seeing her reflection. Witnessing this damaged the mind of his young daughter Norma. Six years before the present, Robert took Norma out of the hospital to a party only for a youth Vicente to try and have his way with her, causing her tenuous hold on sanity to snap altogether. It is out of this traumatic incident that Robert came to create Vera into the woman she is now.
---
I used to be a fan of Pedro Almodovar, at least back in the day when he made films such as Dark Habits (1983), Matador (1986), Law of Desire (1987), Woman on the Verge of a Nervous Breakdown (1988), Tie Me Up! Tie Me Down (1990), High Heels (1991) and Kika (1993), especially everything from Woman on the Verge onwards. They are giddy hysterical fantasies filled with wacky characters that include cute and cuddly kidnappers, drug-addicted nuns and lawyers with a penchant for serial killing. After that point, the arthouse and awards crowd discovered Pedro Almodovar. His subsequent films – the likes of The Flower of My Secret (1995), All About My Mother (1999), Talk To Her (2002), Bad Education (2004), Volver (2006) and Broken Embraces (2009) – became pitched far more towards these audiences. Indeed, during this period, Almodovar started to suffer from the same ailment that beset Woody Allen from the late 1970s onwards, a desire to become more psychologically introspective and analyse the meaning of relationships, and as a result these films became less giddy, less comically hysterically and less interesting, technically proficient and polished as they are.
The Skin I Live In becomes a return not exactly to form for Pedro Almodovar but at least to similar territory to his earlier work. In the story of a surgeon who keeps a woman a prisoner inside his house and surgically alters to resemble his dead wife, The Skin I Live In also comes to cross over into overt horror territory – a first also for Pedro Almodovar as well. It also features Antonion Banderas in his first role for Almodovar in 24 years – a point during which Banderas went from a bit player in Almodovar's line-up of cheerful freaks to a major Hollywood star – playing a variant on the role he did in Tie Me Up! Tie Me Down!, a man who keeps a woman his prisoner where in both films Almodovar delights in turning tables on our expectations about such a relationship.
The Skin I Live In is a film that is all about the subversion of expectation. As it opens, we are introduced to Antonio Banderas and his captive, the beautiful Elena Anaya. While we are trying to work out the exact nature of the relationship between the two of them, Almodovar delights us with the luxuriousness of the surroundings. The house that Antonio Banderas lives in is an interior decorator and a gallery owner's dream come true – filled with huge modernist artworks, art nouveau furniture, people outfitted in costumes from Jean-Paul Gaultier, even the stables are a designer laboratory. The score, which sweeps between impassioned classical music and darkly, brooding film noir, adds to the exquisite mix.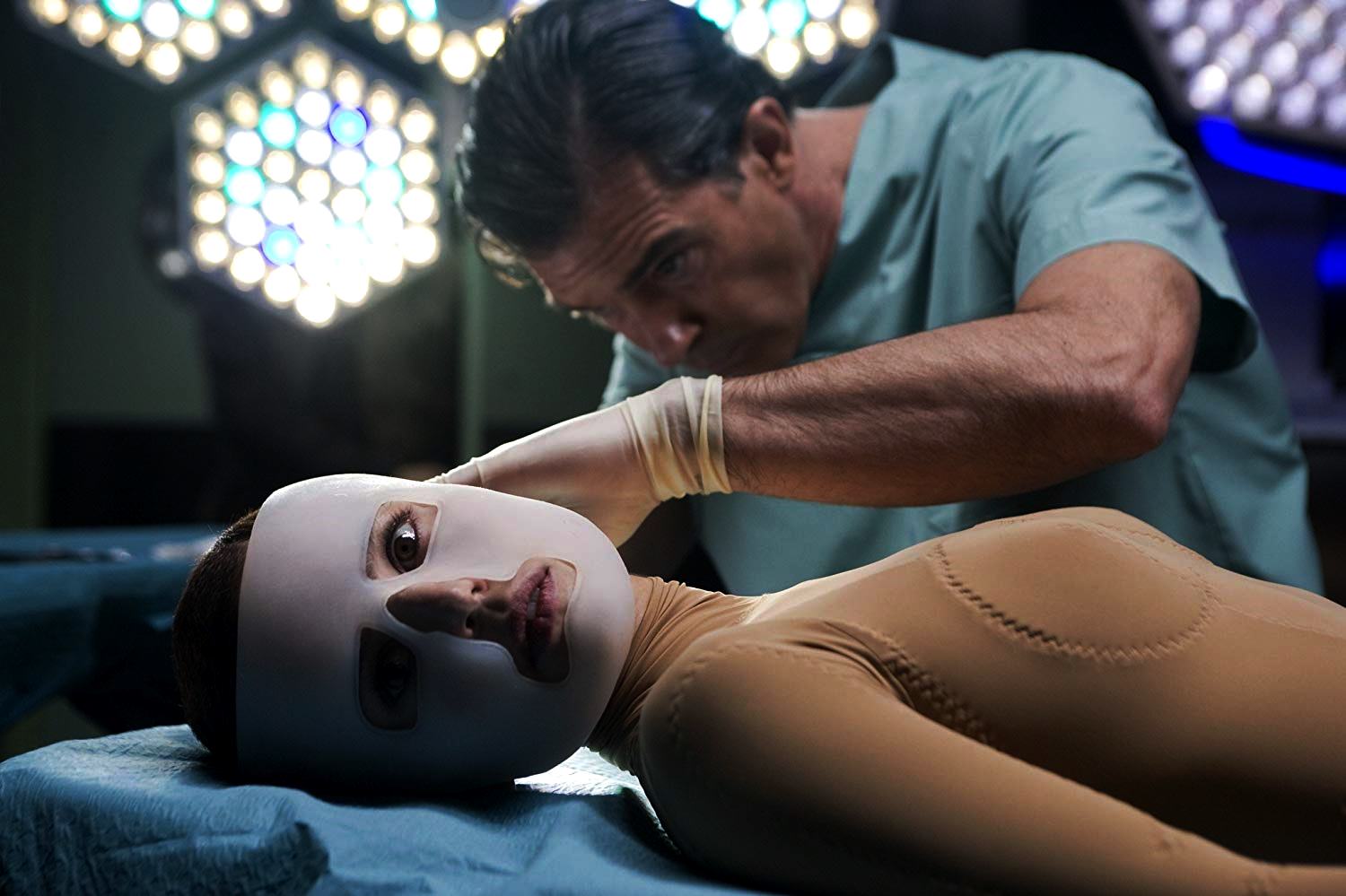 The story appears to be panning out to be a homage to Eyes Without a Face (1959), the French classic about a surgeon who keeps his disfigured daughter a prisoner in his home, abducting other women in successive attempts to graft their faces onto hers – and maybe a few dashes of Boxing Helena (1993) about a surgeon who imprisons a woman and removes her arms and legs in an effort to make her love him.
All of this looks extremely promising but then around the half-hour point, Pedro Almodovar seems to lose it. With the introduction of the tiger-costumed Zeca (Roberto Alamo) on the run from a jewel robbery gone wrong and the complicated back story involving his mother, Antonio Banderas's maid (Marisa Paredes), and Zeca's affair with Banderas's late wife, whom he mistakes Vera for, this seems to be Pedro Almodovar making a beeline for classic territory – all wacky characters and the giddy complications of their intersecting lives. At this point, The Skin I Live In feels like a piece of perfectly sustained mood that takes a turn in tone that leaves you scratching your head and wondering where it is going. Equally, the flashback to the party where Antonio Banderas brings spaced-out daughter Blanca Suerez out of the asylum and with Jan Cornet trying to seduce her feels like classic Almodovar courting taboo again by playing out a quasi-rape scenario as comedy.
Just when The Skin I Live In feels like Pedro Almodovar has lost his way, he pulls it all together in an astonishing mid-film twist of expectation that would make an M. Night Shyamalan green with envy. [PLOT SPOILERS]. This comes at the point when Almodovar reveals the identity of Vera as none other than Norma's would-be rapist Vicente who has been abducted by Antonio Banderas and forced to undergo gender reassignment surgery. It puts the entire film into a spin. It is like an Eyes Without a Face twisted in a way that makes you suddenly question issues of gender – the earlier scenes show Elena Anaya's body with eroticised fascination, she is exquisitely dressed and Almodovar parades her beauty off for us, the male part of the audience, to react to.
[PLOT SPOILERS CONTINUE]. The subsequent post-surgery scenes where we see Elena Anaya naked and her and Antonio Banderas having sex have an uneasiness for male audiences where you are unable to quite reconcile the image of beauty you were reacting to earlier with what you know Vera to be on the inside. That sense of unease is surely a piece of genius manipulation. (Although the nitpicker in me kept wondering – does Almodovar truly think that gender reassignment consists of merely swapping the sex organs, whereas in reality transsexuals need daily doses of hormones to maintain the characteristics of a female body?).
The sense of control and manipulation that comes as the film works towards its unveiling twists and doomed finale is superbly conducted. It feels like Pedro Almodovar successfully having revisited his roots but bringing with him the polished class of a filmmaker operating at the top of his game.
(Winner in this site's Top 10 Films of 2011 list. Nominee for Best Director (Pedro Almodovar) and Best Adapted Screenplay at this site's Best of 2011 Awards).
---
---