aka The Horror Chamber of Dr Faustus
(Les Yeux Sans Visage)
---
Crew
Director – Georges Franju, Screenplay – Pierre Boileau, Thomas Narcejac, Jean Redon & Claude Sautet, Dialogue – Pierre Gascar, Based on the Novel by Redon, Producer – Jules Borkon, Photography (b&w) – Eugen Shuftan, Music – Maurice Jarre, Special Effects – Henri Assola, Art Direction – Auguste Capelier. Production Company – Champs Elysses Productions/Lux Film.
Cast
Pierre Brasseur (Professor Genessier), Edith Scob (Christiane Genessier), Alida Valli (Louise), Francois Guerin (Dr Jacques Vernon), Alexandre Rignault (Inspector Parot), Beatrice Altariba (Paulette Merondon), Juliette Mayniel (Edna Gruberg)
---
Plot
Parisian police puzzle over the murders of several young women who have been found with their faces mutilated. Behind these is the renowned surgeon Professor Genessier. Genessier's daughter Christiane's face was badly mutilated in an accident and he and his assistant Louise have faked her death and burial. However, they keep Christiane alive in his country home, her face hidden behind an inexpressive mask. Genessier and Louise are abducting the woman and slicing their faces off in an attempt to perfect his hetero-graft technique, which will allow him to reattach their faces to Christiane. So far each attempt ends in disaster as Christiane's body rejects the grafts.
---
Eyes Without a Face is one of the genuine genre classics. It was the feature-film debut of Georges Franju who had previously made a number of shorts, most acclaimedly The Blood of the Beasts (1949), a documentary that depicted what happened inside a slaughterhouse. It was also written by Pierre Boileau and Thomas Narcejac, a duo of popular French thriller writers whose work has furnished a number of classic films including Les Diaboliques (1955), Alfred Hitchcock's Vertigo (1958) and the disembodied limbs horror film Body Parts (1991).
Eyes Without a Face also pioneered the theme of the mad surgeon. This was a theme nominally related to the mad scientist film. Where mad science films are usually just monster amok films that tell of devastation on a social level, mad surgeon films are usually firmly and solidly horror films that centre around the shock of facial mutilation and disfigurement and play on people's fear of doctors. (Although, with its insistence that skin grafts are impossible without the use of radiation, Eyes Without a Face certainly traverses into science-fiction territory).
Eyes Without a Face was popular and had a number of imitators such as Atom Age Vampire (1960), Circus of Horrors (1960) and Jesus Franco's The Awful Dr Orloff (1962), which spawned a number of sequels, Corruption (1968) and Mansion of the Doomed (1976), while it also influenced the Japanese arthouse film The Face of Another (1966) and Pedro Almodovar's The Skin I Live In (2011).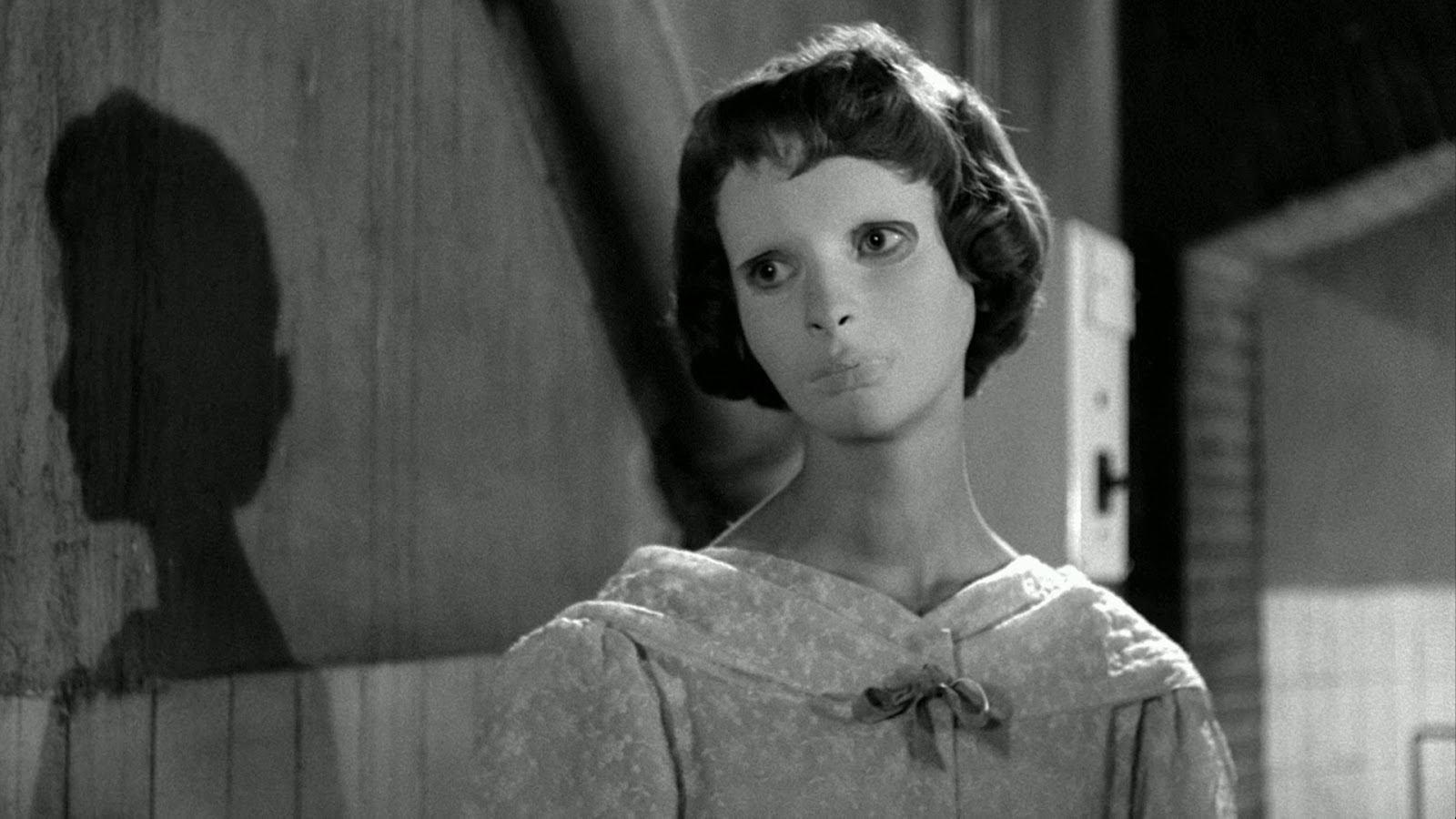 Eyes Without a Face came out the same year as Jean-Luc Godard's Breathless (1959). It was a time when French cinema was aggressively deconstructing Hollywood models. Rather than anything as visually experimental as what Godard was doing, Eyes Without a Face remains solidly grounded within the psycho-thriller. It is certainly a psycho-thriller tempered with the visual poetry of a director like Jean Cocteau.
The title of the film – the literal French translation Eyes Without a Face (not the ridiculous 1962 American release where it was retitled The Horror Chamber of Dr Faustus, despite the fact that the film does not feature any chamber or a Dr Faustus) – has a double-meaning, referring both to the surgical procedure of removing facial features and to the character of the daughter played by Edith Scob who wears an immobile mask through which the only moving part of her face is her eyes.
It is a remarkable performance that Edith Scob gives, drifting through the laboratory sets like a broken bird with her eyes imprisoned inside the immobile facial mask. There is a haunting fragility to the character, that comes beset by the continuing tragedy of her father's failures and with images of her trying to make calls to her old love.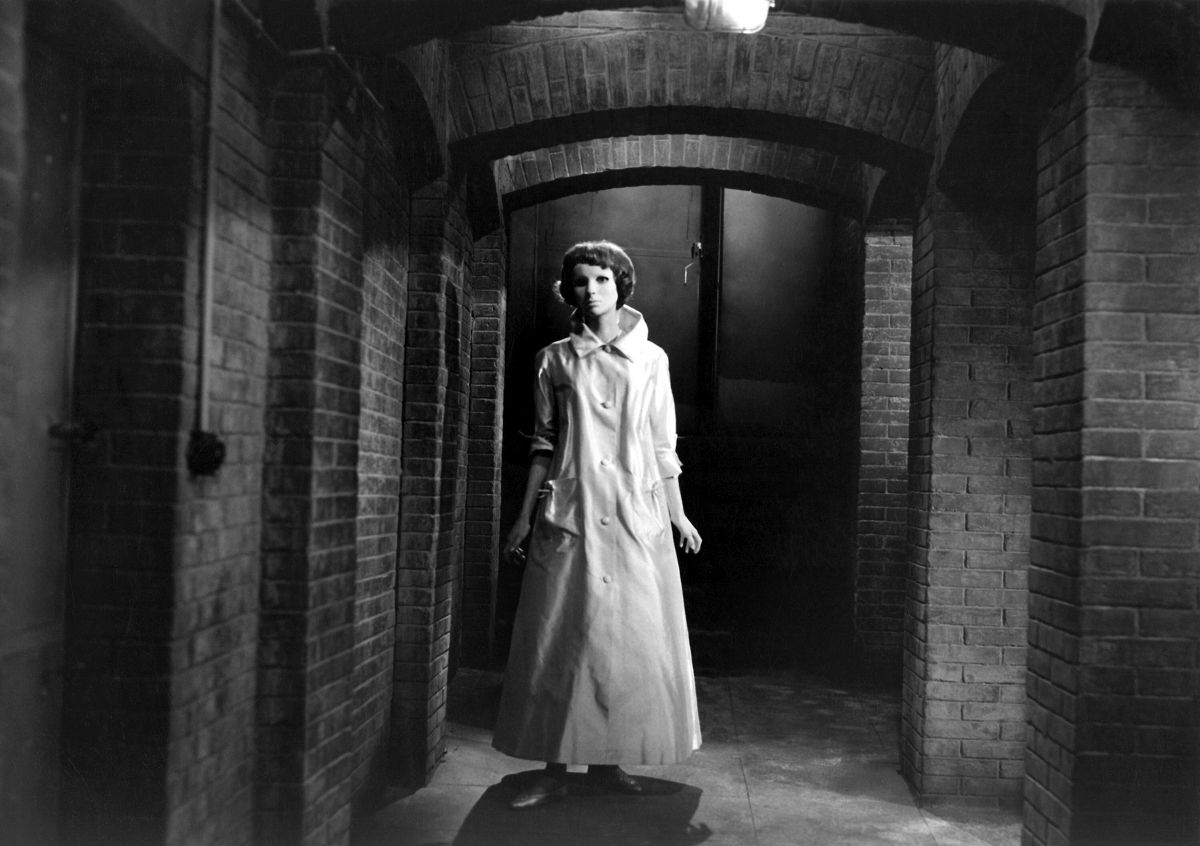 It is Georges Franju's blend of poetry and horror that made Eyes Without a Face a classic. There is a scene every bit as striking and effective as the classical unmasking in The Phantom of the Opera (1925) wherein we see Edith Scob drifting through the lab, touching the dogs and then the face of the girl on the table and the shock of the girl as she comes around and we see a brief glimpse of Scob's disfigured face from her point-of-view.
The most striking sequence is where we see Pierre Brasseur methodically prepare and then slice off a girl's face. It is a scene that still holds impact fifty years later despite such scenes having been made routine by slasher films – it is impossible to imagine what effect it would have had on audiences in 1959. The ending is a marvellous moment of poetry – with Edith Scob freeing the dogs who turn upon her father, while she walks out amid a flutter of freed doves.
In the US, the film had the surgery scene cut down and was released in a dubbed version called The Horror Chamber of Dr Faustus where it went out on a double-bill with The Manster (1959).
Georges Franju has been an unjustly neglected director in French cinema. His only other works to venture into genre material are Judex (1963) and Shadowman (1973), both homages to the fantastical world of Louis Feuillade's silent serials filled with masked thieves and super-criminals.
---
---