---
Crew
Director/Screenplay – Tom Six, Producers – Ilona Six & Tom Six, Photography – Goof De Konning, Music – Holeg Spies & Patrick Savage, Makeup Effects – Rob's Prop Shop (Supervisors – Rob Hillenbrink & Erik Hillenbrink), Production Design – Thomas Stefan. Production Company – Six Entertainment.
Cast
Dieter Laser (Dr Josef Heiter), Ashley C. Williams (Lindsay), Ashlynn Yennie (Jenny), Akihiro Kitamura (Katsuro), Andreas Lupold (Detective Kranz), Peter Blankenstein (Detective Voller), Bernd Kostrau (Dirty Man in Car), Rene De Wit (Truck Driver)
---
Plot
Two girls from New York, Lindsay and Jenny, are in Germany as part of a European holiday. They have been invited to a party. However, while driving there, they become lost and their rental car then breaks down in the woods. They walk to the nearest house and are invited in by the owner, Dr Josef Heiter, one of the country's top surgeons. He pretends to call the rental company but instead drugs the glasses of water he gives the girls. They come around in Heiter's basement surgery, along with a Japanese man that Heiter has abducted. Heiter introduces his plan to join all three of their bodies together, connecting each person's mouths to the other person's anus and creating a coupled body that exists like a human centipede with a single digestive tract.
---
Every few years there comes along a film that defies all good taste, pushes taboo boundaries and invariably creates a censorship kafuffle. You could count examples such as Salo or 120 Days of Sodom (1975), Cannibal Holocaust (1979), NEKRomantik (1987) and Crash (1996). These films invariably outrage those who are obsessed with protecting society's morals but also end up creating a cult coterie of admirers. The Human Centipede (First Sequence) is almost certainly one film that can join this list.
The Human Centipede (First Sequence) is the work of Dutch director Tom Six. The Human Centipede is Tom Six's fourth feature-length film, he having previously made Gay (2004), a controversial and much disliked depiction of gay life, and a couple of other films with Honeyz (2007) and I Love Dries (2008). According to Six, the idea for the film grew out of a joke he and his friends made that they would punish child molesters by stitching their mouths to the anuses of fat overweight truck drivers. The making of The Human Centipede (First Sequence) was controversial the entire way with Tom Six not fully telling investors what the film was about while soliciting funding and with many actresses walking out during casting when they found what the role required of them.
The Human Centipede comes preceded by its reputation such that you are not sure what to expect as you sit down to watch. Tom Six begins by softening his audience up. We meet the two girls (Ashley C. Williams and Ashlynn Yennie) who become stranded in the forest within moments of being introduced. Next, along comes a Mercedes driven by an extremely creepy looking older man (Bernd Kostrau). Here Tom Six makes much play between the girls trying to get help from the man (the film is shot in English) and not understanding what he is saying in German, which is subtitled for our benefit, as he talks about having seen them in a porn film and how well he could fuck both of them. (The characterisation of the girls is so minimal that we never even find out if his claim they are porn actresses is true or just his lunatic babble). The scene acts exactly the same as the appearance of the Hitch-Hiker in The Texas Chain Saw Massacre (1974) does – it is designed to throw us off-centre within the first few scenes and leave us on edge for what is to follow.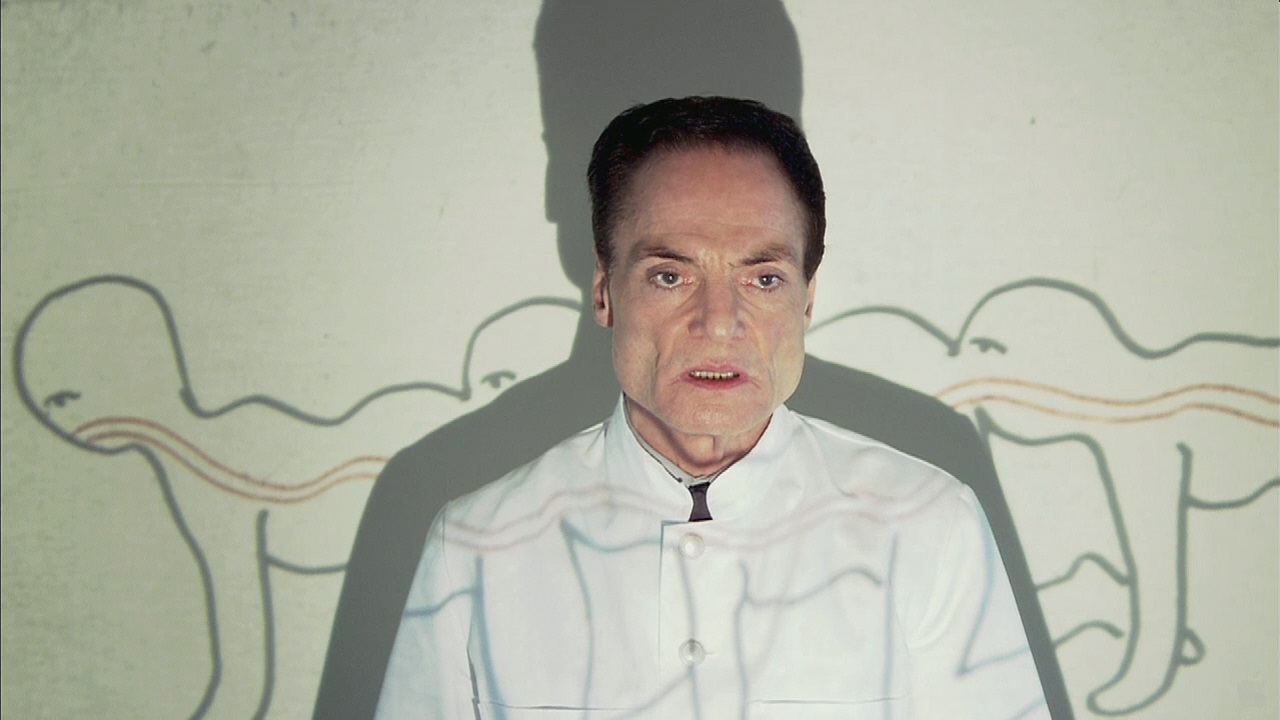 Things become even creepier once we get to the doctor's house. As the mad doctor, Dieter Laser gives one of the most disturbing performances that one has seen on screen in some time. He moves with a sense of languid luxury and bug-eyed lack of normalcy. "Do you live with your wife?" the girls ask him. "No, I don't like human beings," he calmly replies. Later there is a scene where he decides that he does not need the other guy that he has tied up in the surgery – "My friend, you don't match, I'm going to have to kill you," he announces with a cheerfully friendly smile and perfect bedside manner. "Don't take it personally," he assures as he slips in the fatal injection.
The Human Centipede (First Sequence) is a totally deranged film. Any film with a premise where a surgeon attaches human bodies together in a daisy chain from mouth to anus is something that only a completely mad (not to mention entirely perverted) genius could ever come up with. The whole film is essentially built up around the unveiling of the human centipede itself.
The scenes of humiliation and degradation that follow hold something astonishing – with images of Dieter Laser making the conjoined trio crawl around the house, out onto the lawn and then have Akihiro Kitamura pick up the newspaper in his teeth as though he were a dog. The most disturbing scene is when Akihiro Kitamura is unable to stop himself defecating and Ashley C. Williams as the middle body is forced to have to swallow it as Dieter Laser stands over her chanting "Swallow it bitch … Feed her, feed her," with a truly demented gleam in his eye.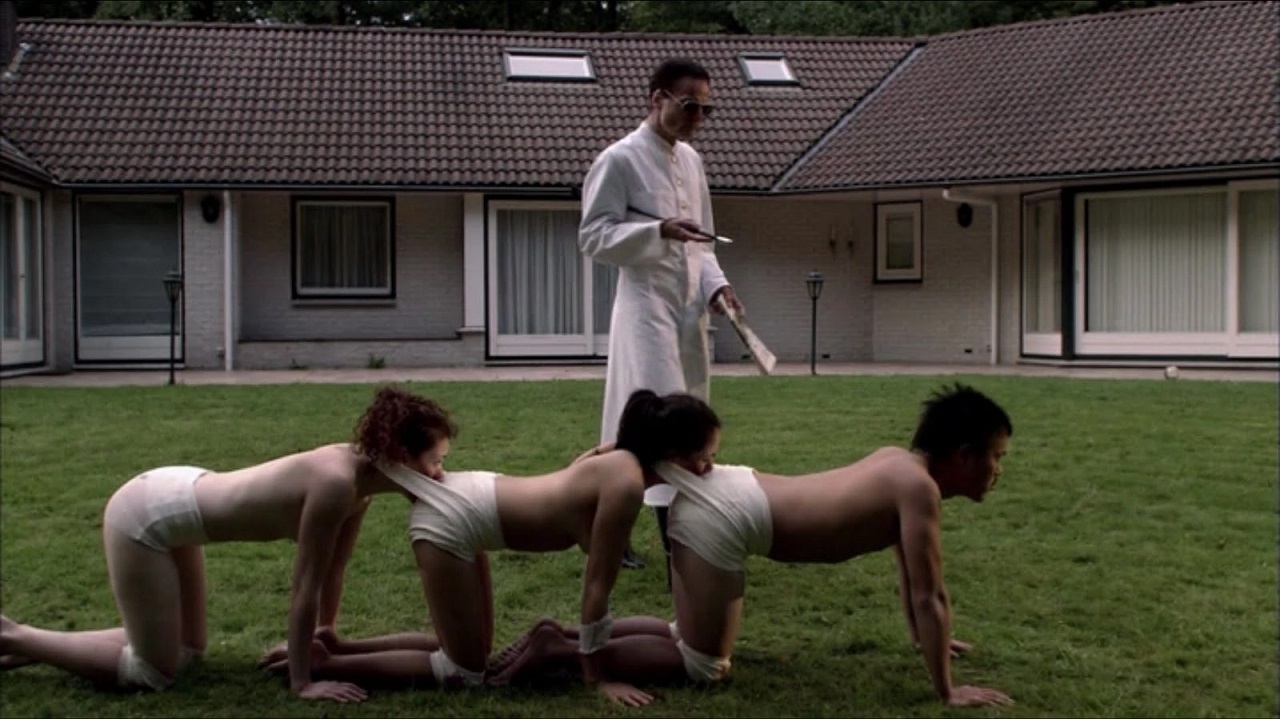 Tom Six generates a fine degree of suspense in the latter scenes where the two policemen come to visit and their questions get a little too close to home, as Dieter Laser attempts to make them drink glasses of drugged water and then to smuggle in a syringe but ends up dropping it, or of the conjoined three trying to crawl up the stairs as the effort starts tearing apart the stitches knitting them together.
The climactic scenes wherein most of the characters are killed are effective – especially potent being when Akihiro Kitamura starts calling Dieter Laser God and says how he is less than an insect for the crimes of disrespect and shame he has conducted against his parents, before slashing his own throat. There is a grim last scene with both Akihiro Kitamura and Ashlynn Yennie dead and Ashley C. Williams left stuck in the middle between the two bodies unable to free herself or move.
Tom Six made two sequels with The Human Centipede II (Full Sequence) (2011) about a madman inspired by this film to create a ten-person centipede and The Human Centipede 3 (Final Sequence) (2015) with Dieter Laser as a mad prison warden who connects the bodies of 250 prisoners together. The Human Centipede was parodied in The Hungover Games (2014).
---
---