(El Callejon)
---
Spain/Colombia. 2011.
Crew
Director/Screenplay – Antonio Trashorras, Producers – Andres Calderon, M.A. Faura, Mercedes Gamero & Enrique Parsus, Photography – Javier Salmones, Music – Alfons Conde, Visual Effects – Onikral Studio, Makeup Effects – Plan 9 FX (Supervisors – Oscar del Monte & Nacho Diaz), Art Direction – Juan Carlos Agevedo & Javier Alvarino. Production Company – Antena 3 Films/Roxbury/Esa Mano Amiga/Dynamo.
Cast
Ana de Armas (Rosa Neri/Laura), Diego Cadavid (Gabriel), Leonor Varela (The Mother), Judith Diakhate (Nyela), Alfonso Rojas (Silence)
---
Plot
Rosa is an aspiring dancer who is working as a cleaning lady. She learns she has a callback for an audition in the morning. Her sister Laura informs her that the washing machine in the apartment is broken and so Rosa heads to the nearby 24-hour laundromat to clean the clothes she needs for the morning. It being late at night, she is spooked by a sinister homeless guy but is saved by the arrival of the charming Gabriel. She finds herself attracted to Gabriel. However, when Gabriel's washing machine stops, she is shocked to find bloodied women's clothing inside. She barricades herself into the laundromat but Gabriel takes the handbag she dropped that has her keys in it and threatens to go to the apartment after Laura if Rosa does not come out.
---
Blind Alley was a Spanish/Colombian co-production. It was the directorial debut of Antonio Trashorras who had previously worked as a screenwriter, most notedly co-writing Guillermo Del Toro's The Devil's Backbone (2001), as well as other horror films like Shiver (2008) and Agnosia (2010). Trashorras subsequently went on to direct the horror film Anabel (2015).
The film starts out well engaging us with heroine Ana de Armas who proves a likeable screen presence – this was several years before the Cuban-born de Armas started to break out in English-language roles in films like Knock Knock (2015) and Blade Runner 2047 (2017). It even takes the time to depict Diego Cadavid as charming and show an initial attraction between Ana and him.
Antonio Trashorras launches into the film with a great deal of style. The opening credits play out against a montage of scenes with Ana de Armas dancing against a variety of psychedelic scenes and patterns like something out of an Austin Powers movie credits sequence. Thereafter Trashorras employs a visually inventive series of split screens, thought balloons and flashbacks to animate the story. The city is shot in eye-catching and unusual ways, while the titular alley where the laundromat is located is lit with vibrant colours. The point that Trashorras's visual experimentation starts to get a little absurd is his diving inside Ana de Armas's veins to watch a charge of adrenalin moving through them.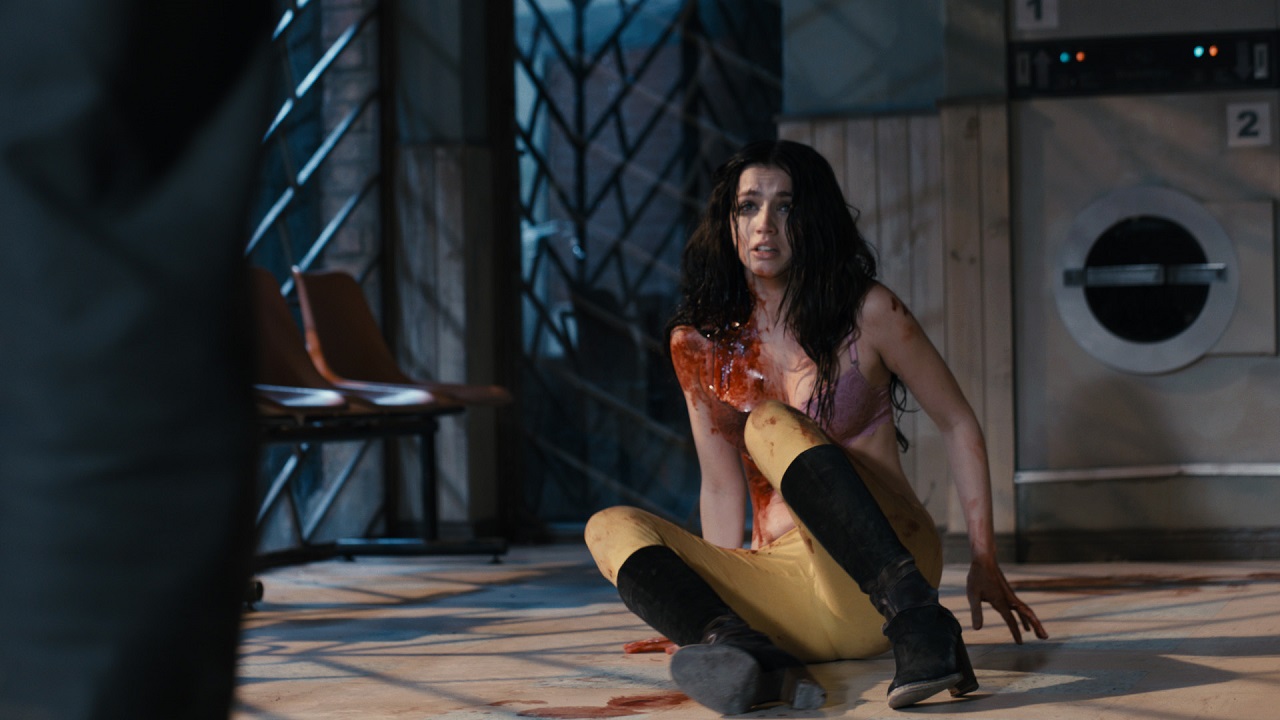 What soon becomes apparent is that Blind Alley is an imprisonment thriller along the lines of films like Phone Booth (2002), Buried (2010) et al (see Imprisonment Thrillers). In fact, the premise we have here comes the closest to ATM (2012), which was released four months after this in which a trio of people are trapped inside an ATM booth by a killer.
Once he sets the basic premise up, Antonio Trashorras rides a reasonable rollercoaster of tensions, hopes and crashing disappointments. This works all and well up to the point where the film introduces a major left field turn in its last act. [PLOT SPOILERS]. This is the point that Leonor Varela turns up and is revealed to be Diego Cadavid's mother and the one who collects the clothing as souvenirs. This starts to stretch credibility. However, then comes the point where the film does a From Dusk Till Dawn (1996) and reveals it is actually a vampire film. This is the point where you give up on Blind Alley – although at least the film goes out on a particularly memorable climactic meltdown effect as the vampire is exposed to sunlight.
---
---