---
Crew
Director – Edgar Wright, Screenplay – Edgar Wright & Simon Pegg, Producer – Nira Park, Photography – David M. Dunlap, Music – Dan Mudford & Pete Woodhead, Music Supervisor – Nick Angel, Visual Effects – Double Negative (Supervisor – Jeremy Hattingh), Makeup Effects – Animated Extras (Supervisor – Stuart Conran), Makeup Effects Supervisor – Jamie Walker, Production Design – Marcus Rowland. Production Company – WT 2/Big Talk Productions.
Cast
Simon Pegg (Shaun), Nick Frost (Ed), Kate Ashfield (Liz), Dylan Moran (David), Lucy Davis (Diane), Penelope Wilton (Barbara), Bill Nighy (Phillip), Peter Serafinowicz (Pete), Rafe Spall (Noel), Jessica Stevenson (Yvonne)
---
Plot
Shaun is aged 28 and lives a dull life in London, working a boring job as a sales clerk in an electronic goods store. His girlfriend Liz is sick of always going to the same pub, The Winchester, with Shaun's best friend Ed when they go out. Shaun's other flatmate Pete is sick of Ed who is an unemployed slob but Shaun regards Ed as his best mate and cannot summon the will to kick him out. Liz walks out on Shaun after he promises to take her out to a restaurant but forgets to book. After a night's heavy drinking in commiseration, Shaun and Ed wake up and become aware that people are behaving strangely. They are attacked by two people in the garden and realise that they have become zombies, hungry for the flesh of the living. After learning that zombies can be dispatched by hitting them in the head, they set out to first rescue Shaun's mum and then Liz and her two flatmates. Together the group takes refuge from the zombie hordes in The Winchester.
---
Shaun of the Dead is an amusing comedic homage to George A. Romero's cult classic zombie splatter film Dawn of the Dead (1978). It emerges as part of an 00s fad for films that show a clear indebtitude to Romero's zombie films. This has included the likes of Resident Evil (2002), 28 Days Later (2002), House of the Dead (2003), the remakes of Dawn of the Dead (2004) and Day of the Dead (2008), and spinoffs like Day of the Dead 2: Contagium (2005) and Night of the Living Dead 3D (2006). The success of these homages led to Romero being granted the financing to return to the Dead franchise with Land of the Dead (2005), Diary of the Dead (2007) and Survival of the Dead (2009). (Romero was so amused by the tribute paid here that he included cameo appearances from star/co-writer Simon Pegg and director Edgar Wright in Land of the Dead).
Simon Pegg and Nick Frost first came together on the British sitcom Spaced (1999-2001), written by Pegg, about the surreal adventures of a couple of roommates (a series where Wright took great delight in homaging science-fiction and horror films). Edgar Wright also served as director of all the episodes of the series. Pegg and Wright then collaborated on Shaun of the Dead, an amusing variant on Romero's Dead films, one where they filter Romero through a comic British kitchen sink realism.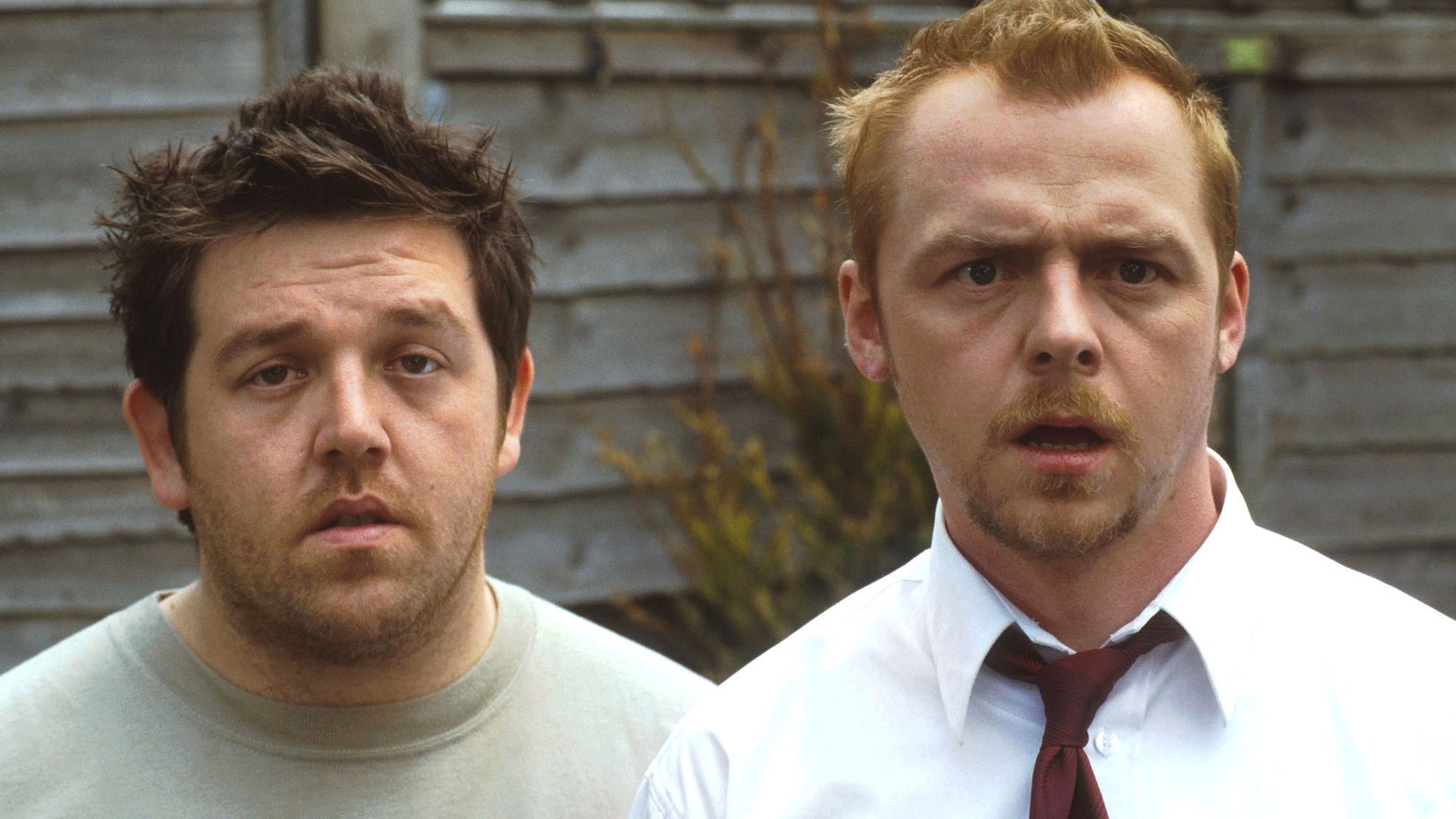 Shaun of the Dead could almost be a collision between a Romero zombie film and Men Behaving Badly (1992-8). Here the hero of the show is not out to save other survivors but to rescue his somewhat bewildered mum and his ex-girlfriend (who insists that the rescue attempt is just a ploy to get back with her); and rather than holing up in a shopping mall mini-Utopia, the hero and his best mate's plan is to hide out in the local pub and have a few drinks until it all blows over.
Edgar Wright says that rather than any Night – or Dawn of the Dead they conceived the film as a sort of "Sunday morning after a heavy night's drinking zombie film." Particularly amusing and very cleverly directed is one sequence where Simon Pegg gets up after a night's drinking and stumbles down to the corner dairy to get a can of Coke while hung over, somehow managing not to notice that everywhere around him are dead bodies and stumbling zombies.
While Shaun of the Dead was billed as a zombie romance in England, what it plays as if anything is a combination of a zombie film and an early 30s lifestyle crisis film. Edgar Wright and Simon Pegg spend a surprising amount of time during the early sections of the film charting out Shaun's life – his problems with his slob of a live-in best friend, his girlfriend who is tired of going to the pub all the time and not being paid enough attention, his dreary nowhere McJob. Shaun of the Dead is, if you like, about the heroic triumphs of an ordinary bloke. Simon Pegg does a very likeable job of playing the part.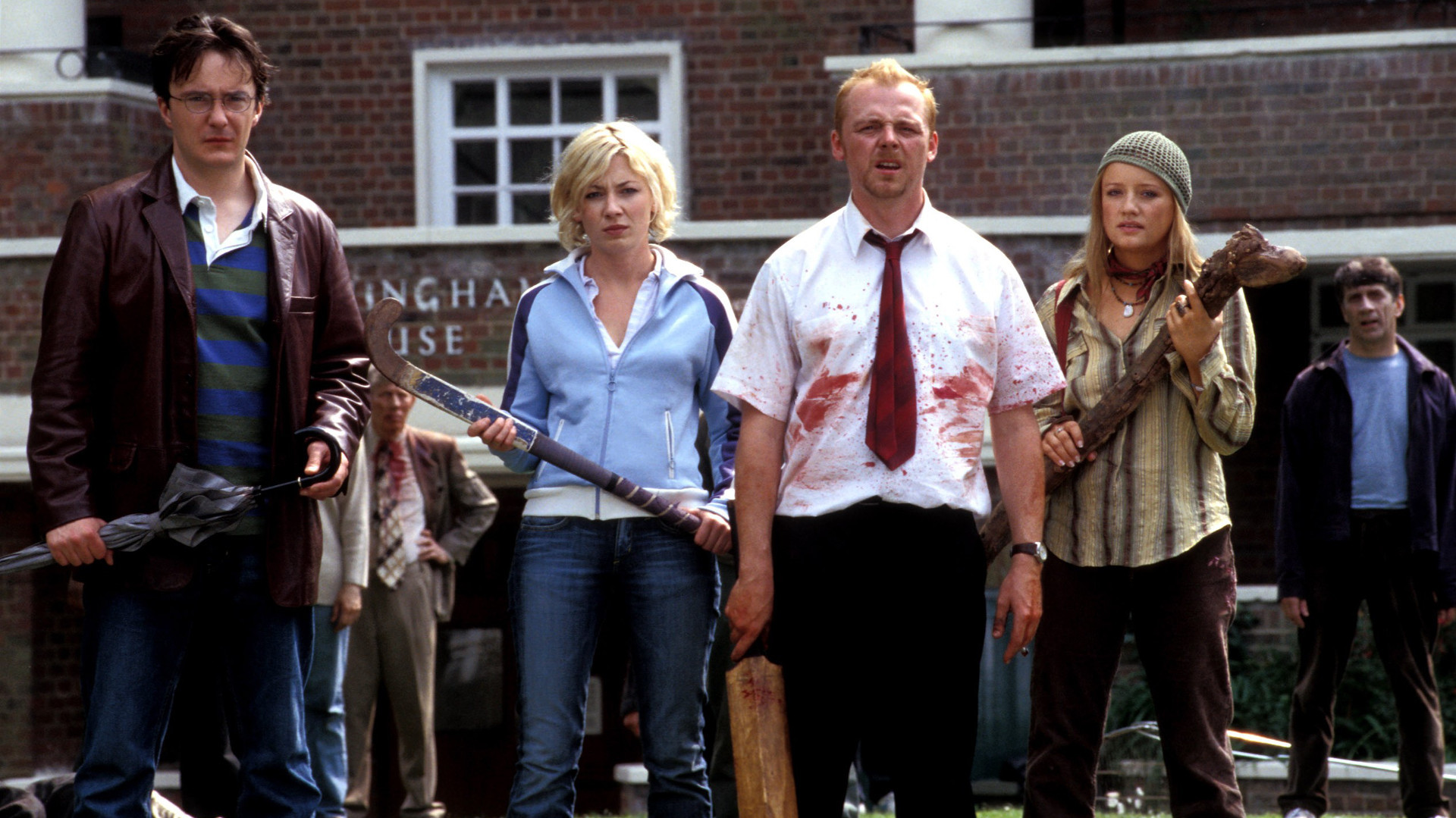 The entire exercise is made with a good deal of good-natured humour. The entire cast play naturalistically and the film comes without the resort to one-liners or obvious gags that any American equivalent might. During the last third, the film mounts to a good gut-crunching and splattery climax with the cast holed up in the pub and surrounded by zombies, which shows that Edgar Wright is equally adept with the horror element as he is with the humour. There is an amusing montage as the film goes out showing life returned to normal, with the zombies being used as gameshow contestants, service industry slaves and wives appearing on talkshows not wanting to be separated from undead husbands.
Edgar Wright and Simon Pegg next went onto make Hot Fuzz (2007), a witty satire of tv cop shows, and the alien body snatchers comedy The World's End (2013). On his own, Edgar Wright went on to direct Scott Pilgrim vs. the World (2010), a strange mix of teenage romance and superheroics, the getaway film Baby Driver (2017) and the ghost story Last Night in Soho (2021). Wright also wrote the screenplay for Steven Spielberg's The Adventures of Tintin (2011), and produced the British alien invasion film Attack the Block (2011) and Ben Wheatley's black comedy Sightseers (2012). He was also the original listed director for the Marvel Comics adaptation Ant-Man (2015) but departed over creaive differences and retains co-screenplay credit on the finished film. Simon Pegg and co-star Nick Frost subsequently went on to co-write and star in Paul (2011), a comedy wherein two fanboys encounter an alien, while Pegg also wrote and Star Trek: Beyond (2016).
---
---