---
Crew
Director – Edgar Wright, Screenplay – Simon Pegg & Edgar Wright, Producers – Tim Bevan, Eric Fellner & Nira Park, Photography – Bill Pope, Music – Steven Price, Visual Effects Supervisor – Frazer Churchill, Visual Effects – Double Negative, Special Effects Supervisor – Chris Reynolds, Prosthetics Designer – Waldo Mason, Production Design – Marcus Rowland. Production Company – Working Title/Big Talk Productions.
Cast
Simon Pegg (Gary King), Nick Frost (Andy Knightley), Paddy Considine (Steven Prince), Martin Freeman (Oliver 'O-Man' Chamberlain), Eddie Marsan (Peter Page), Rosamund Pike (Sam Chamberlain), Pierce Brosnan (Mr Shepard), David Bradley (Basil), Steve Oram (Motorcycle Policeman), James Grantstrom (Adrian Keane), Bill Nighy (Voice of The Network), Thomas Law (Young Gary)
---
Plot
Gary King believes that June 22nd, 1991 was the perfect day of his life – the day when he and his four friends went on the Golden Mile, a crawl of the twelve pubs in their hometown of Newton Haven. However, they ended up becoming so trashed they never completed the journey. Gary believes his life has been all downhill since then. He now decides to reunite his four friends, Andy Knightley, Oliver Chamberlain, Steven Prince and Peter Page, to return to Newton Haven and complete the Golden Mile. This takes some persuasion as the other four have now settled down and have wives and respectable careers, while Andy has even sworn off drinking. Back in Newton Haven, they set out on their tour, finding the pubs have changed and that none of the locals remembers them. In the bathroom, Gary gets into a fight with a youth and is startled when the teen's head comes off and starts spouting blue blood. As they continue the pub-crawl, they realise that the townspeople have been replaced by alien robots. The robots explain to them that they want humanity to join a peaceful galactic congress and have altered some of the locals to be more acceptable. Pursued by the robots, they try to make an escape from town before they too are claimed, with Gary still determined to complete the Golden Mile.
---
Director Edgar Wright and actors Simon Pegg and Nick Frost first came together on the British sitcom Spaced (1999-2001) about the adventures of a couple of roommates (a series where Wright took great delight in homaging science-fiction and horror films). The three of them, with Wright directing/writing, Simon Pegg as his star and co-writer and Nick Frost playing the best friend then had a worldwide hit with Shaun of the Dead (2004), which was construed as an affectionate spoof of the George Romero zombie film. It was a universally liked film and its comedy tone influenced the course of the zombie film throughout the rest of the 00s. Edgar Wright and Simon Pegg both became names as a result of the film, Nick Frost to a lesser extent.
The three reunited to make the cop show parody Hot Fuzz (2007), while Wright went solo to direct Scott Pilgrim vs. the World (2010), Baby Driver (2017) and Last Night in Soho (2021), as well as write the script for Steven Spielberg's The Adventures of Tintin (2011), produce the likes of Attack the Block (2011) and Sightseers (2012), and was long announced as director of a film adaptation of Marvel Comics' Ant-Man (2015) before quitting over creative differences but retaining co-writer credit on the finished film. Simon Pegg has gone onto become a reasonable name in mainstream cinema with recurring roles in both the Mission: Impossible and Star Trek film series.
With The World's End, Wright, Pegg and Frost return to wrap up a trilogy of films that are preceded by Shaun of the Dead and Hot Fuzz. After an interviewer asked about the significance of the reappearance of the British ice cream in each film, these were referred to by Wright as the Three Flavours Cornetto Trilogy. Beyond that, the three films are held together by nothing other than Wright, Pegg and Frost working together. There are a number of similarities between The World's End and Shaun of the Dead – if you could imagine the pub siege scenes from Shaun having been combined not with zombies but a madcap equivalent of a Body Snatchers film. Both films also have a long preamble taking us through Pegg's protagonist's nowhere life.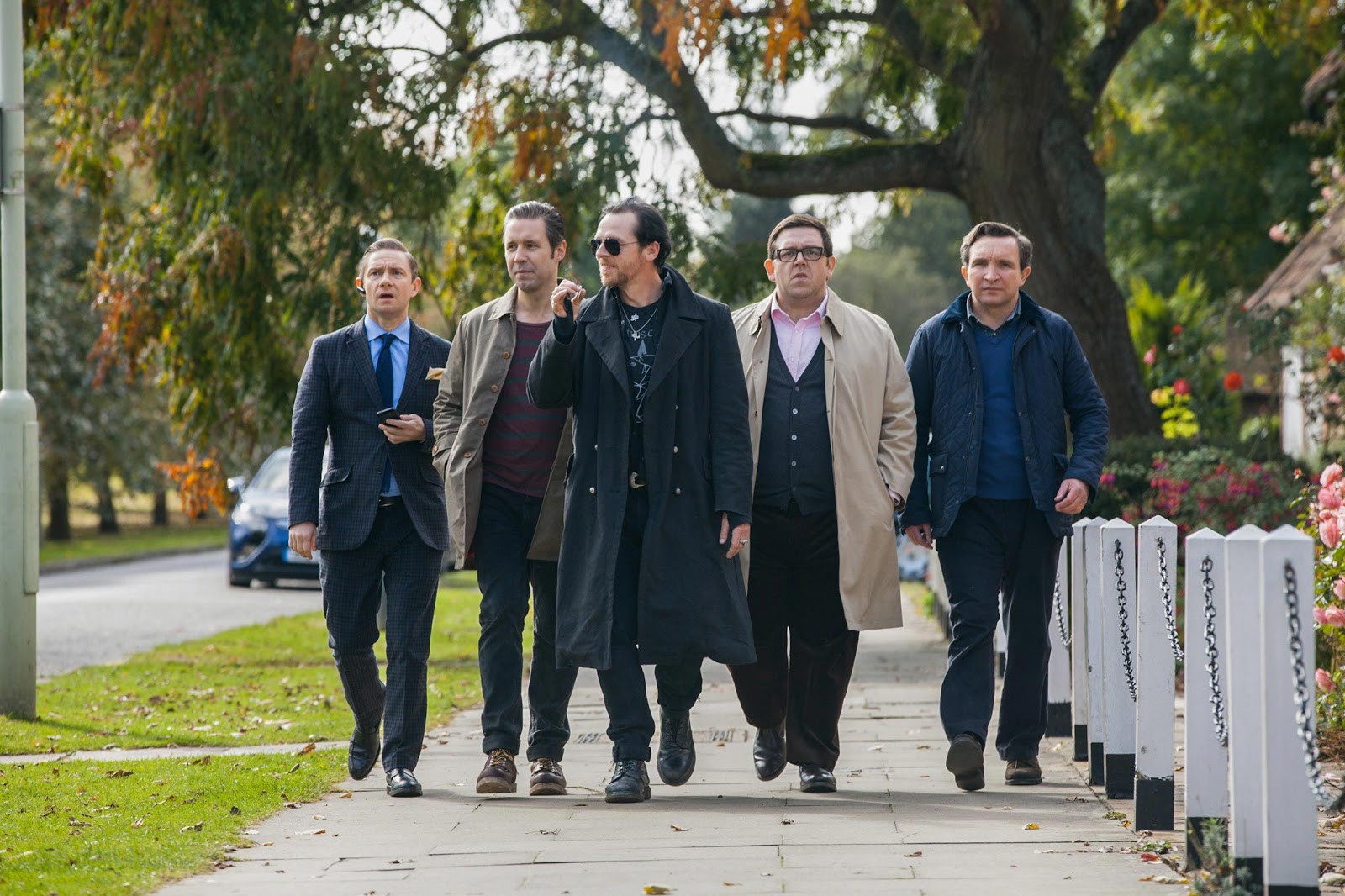 If you know nothing about the plot of The World's End before watching, the first forty minutes are deceptive. (Not that the film has done a huge amount to disguise that things take a turn). The film starts out seeming like a comedy about a group of friends grudgingly being brought together for a reunion by Pegg where all the others have settled into mid-life with careers and families while he still lives on a fading dream of the glory days twenty years ago. These scenes are filled with some amusingly sarcastic lines, a good deal of wry deflation of the characters, a particularly fired up performance from Pegg and an overriding sense (as we had in Shaun of the Dead) of characters having reached mid-life and feeling frustrated with the courses they have taken.
Wright and Pegg's films are less celebrations of British lad culture as they are sometimes pegged than they feel more like comically dissatisfied shrugs from people in their thirties/forties who have spent too much time drinking at the pub, playing videogames etc before waking up to a vague awareness that there should be more to life than that – that they have ended up in nowhere jobs, that their most significant romantic relationships have been drunken tumbles with girls in the disabled bathroom or that their significant others are waiting for them to grow out of an extended adolescence.
While seeming to be a bittersweet nostalgia/reunion comedy at the outset, around about the 40-minute point The World's End takes an abrupt turn that spins everything on its head to become an Alien Invasion film. It is not unakin to From Dusk Till Dawn (1996) where we spent half the film engaged in what appeared to be a getaway thriller before vampires were abruptly thrown into the mix. From this point, The World's End becomes a comedic take on a film like Invasion of the Body Snatchers (1956) and in particular The Stepford Wives (1975) with the group fleeing through the town trying to avoid being replaced by robots. (Although part of me kept wondering throughout about the sanity of Simon Pegg and the others who, instead of doing the most rational thing and fleeing the town, keep insisting on completing the pub crawl and getting increasingly plastered as a response to the menace).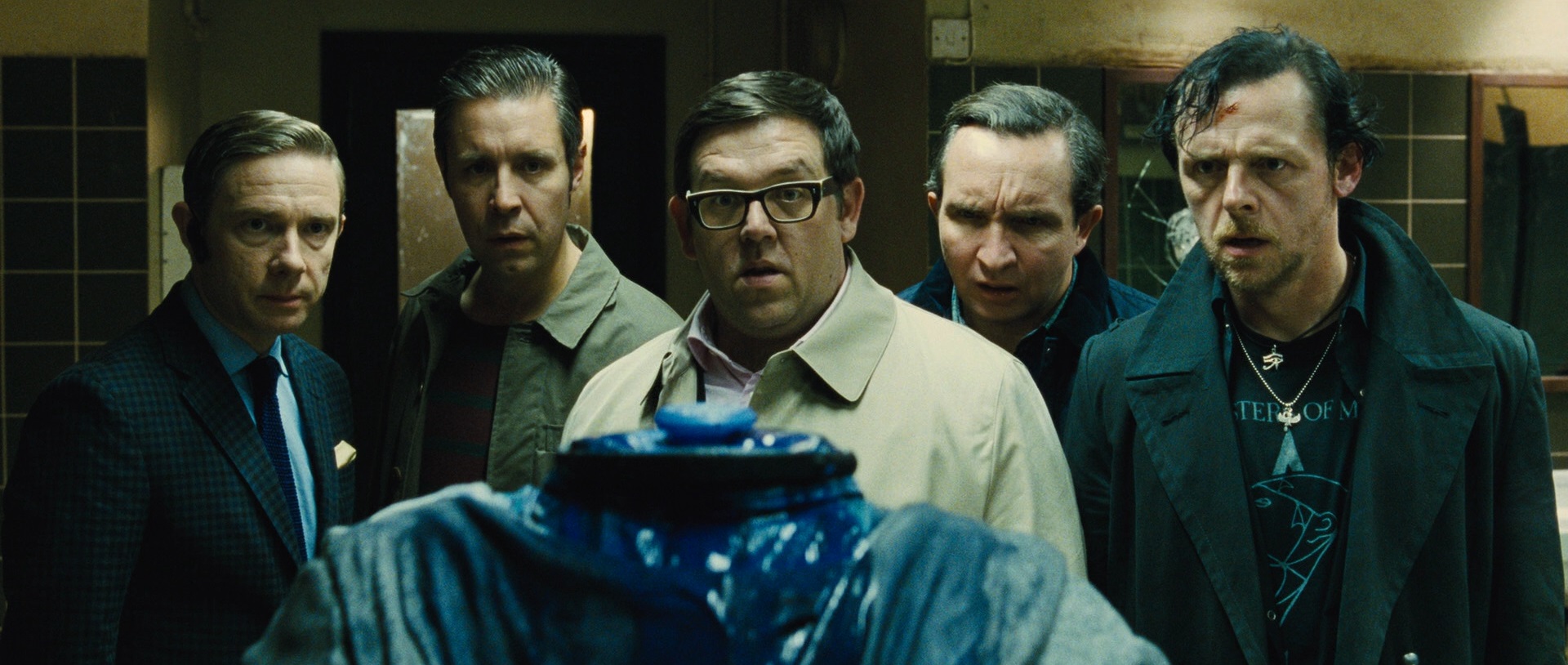 Simon Pegg and Edgar Wright are both genre fans and enjoy making homage to genre films – Pegg after all wrote and starred in the essential science-fiction geek homage Paul (2011). The World's End comes with a few of these jokes packed in – like where they take great delight in explaining the origin of the term robot as coming from the Czech language (not Polish as the film states), as per the play R.U.R. (1921) by Karel Capek.
More than that, in much the same way as Shaun of the Dead was affectionately deflating the George Romero zombie film, so too are they letting the air out of alien/android takeover films like Invasion of the Body Snatchers and The Stepford Wives. Where these films have the alien body snatchers represent a sinister faceless threat that is attempting to take over and replace mankind, the robot body snatchers here are a smiling and friendly threat who only want to make a few improvements to humanity to make them more acceptable to a galactic equivalent of the United Nations.
The film's rather hilarious climax has Simon Pegg and Nick Frost standing up to drunkenly take on the aliens, arguing for humanity's right to have rough edges and be unlikeable fuck-ups. The end of the film is almost identical to the one in Shaun of the Dead, showing vignettes of the aftermath of the catastrophe with the remaining creatures awkwardly trying to slot in and conduct mundane activities.
---
---