---
Crew
Director – Archie Mayo, Screenplay – J. Grubb Alexander, Based on the Novel Trilby George Louis DuMaurier, Photography (b&w) – Barney McGill, Technical Effects – Fred Jackman, Art Direction – Anton Grot. Production Company – Warner Brothers.
Cast
John Barrymore (Svengali), Marian Marsh (Trilby O'Farrell), Bramwell Fletcher (Billee), Donald Crisp (The Laird), Lumsden Hare (Monsieur Taffy), Luis Alberni (Gecko), Carmel Myers (Madame Honori)
---
Plot
Paris in the 19th Century. The Polish expatriate Svengali is a penniless music composer who is regarded as a nuisance by all around him for his constant cadging and filthy appearance. Visiting the studio of The Laird, Svengali encounters the beautiful artist's model Trilby O'Farrell and is enchanted by her voice. At the same time, Trilby is wooed by the artist Billee who seeks to marry her. When Trilby complains of a headache, Svengali offers to help and hypnotises her to take the pain away. However, he also inserts a post-hypnotic command that she will think only of him and later orders her to come to him from a distance. As Billee pressures Trilby to marry him, Svengali contrives to fake her death, letting everyone think that she has thrown herself in the river. Five years later, Svengali has achieved fame in the concert halls of Europe with a hypnotised Trilby as his diva going by the stage name of Madam Svengali. Problems occur when they return to Paris and encounter Billee and Trilby's old acquaintances again.
---
Trilby (1894) was the most famous novel of George du Maurier (1834-96), a French born writer who gained fame as a cartoonist for the British humour magazine Punch. Du Maurier wrote only three novels – Peter Ibbetson (1891), later filmed as Peter Ibbetson (1935), a fantastical work about lovers drawn together through fate and dreams, Trilby and The Martian (1897), which sounds like a work of science-fiction but is actually an autobiography.
Du Maurier also has some fascinating family connections. His daughter Sylvia later married Arthur Llewellyn Davies and gave birth to five children, becoming a friend of J.M. Barrie where her children inspired the creation of Peter Pan (1904) – a considerably fictionalised version of her was played by Kate Winslet in Finding Neverland (2004). Du Maurier's granddaughter Daphne also became a celebrated writer of the 1930s and 40s, including writing the works that became the basis of the Alfred Hitchcock films Rebecca (1940) and The Birds (1963).
There were multiple versions of Trilby made throughout the silent era (see bottom of page). This was the first sound version and was made as a vehicle for John Barrymore, one of the great Barrymore acting clan (and also incidentally the grandfather of Drew). After success on the stage, Barrymore made his way onto film in the 1910s and played a number of classic parts, including the titles roles in versions of Dr. Jekyll and Mr. Hyde (1920), Sherlock Holmes (1922), Beau Brummel (1924), Don Juan (1926) and Captain Ahab in Moby Dick (1930), plus several Bulldog Drummond films, even an eccentric scientist in The Invisible Woman (1940). The success of Svengali proved such that Barrymore was immediately cast in in a copycat film The Mad Genius (1931) with he and Marian Marsh playing almost identical roles to the ones they do here.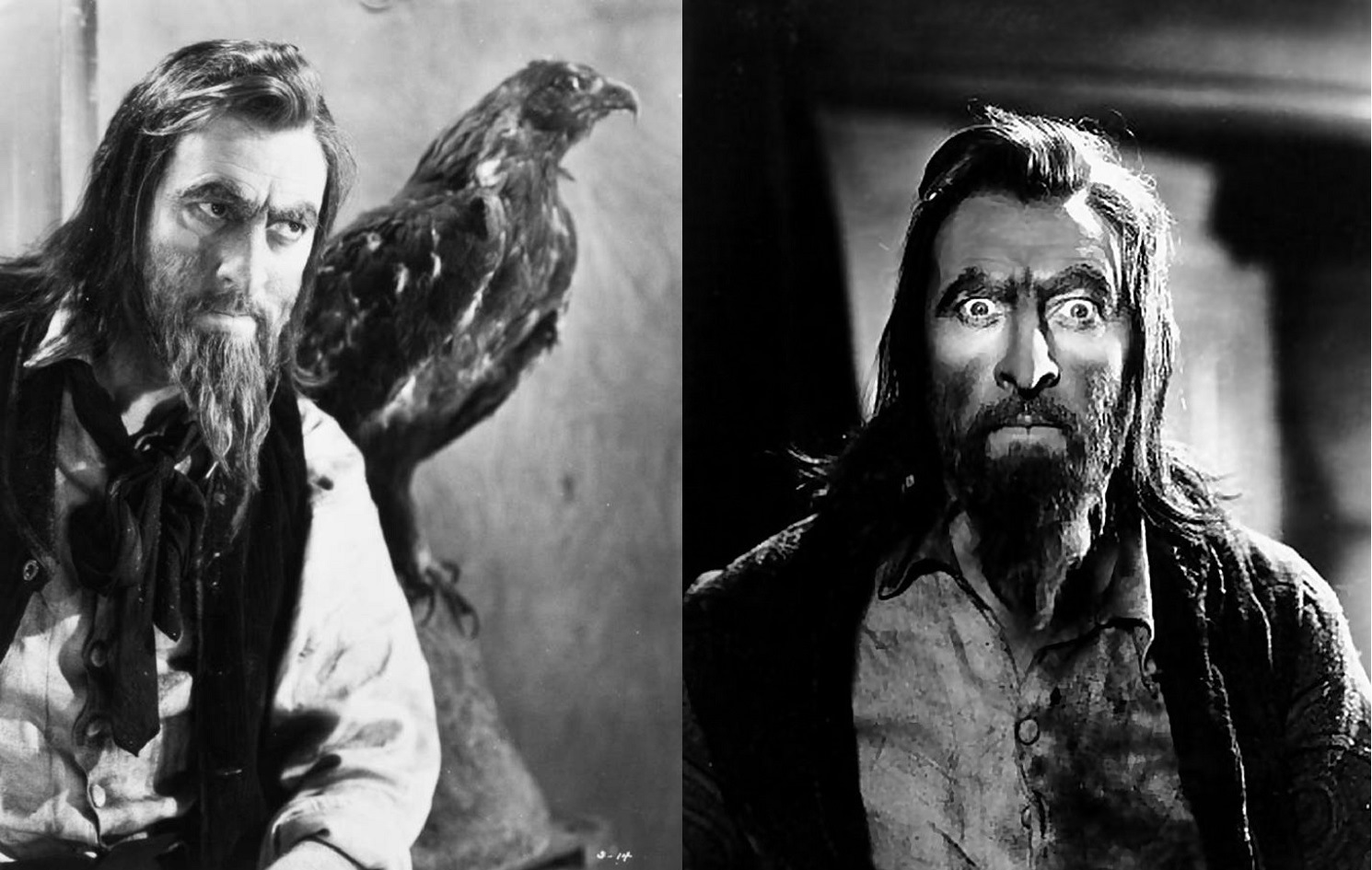 The character of Svengali is a vivid one with long, unruly hair, forked beard, exaggerated eyebrows and outfitted all in black with a stovepipe hat. The filmmakers may have based the look on the true-life figure of Grigori Rasputin – the filthy, long-bearded Russian mystic with reputed hypnotic and healing powers who inveigled his way to the Russian throne – indeed, the whole Barrymore family of the day later appeared as various characters in Rasputin and the Empress (1935). You could maybe also cite depictions of The Devil, while others have called Svengali an anti-Semitic caricature (even though there is no evidence that Svengali is Jewish). Today the performance that Barrymore gives seems a terribly affected one, especially when it comes to his accent, but it has undeniable effect.
Archie Mayo indulges in some striking directorial effects to depict Svengali hypnotising people – showing Barrymore wearing glowing contacts or where the whole screen goes black but for a band of light illuminating his eyes as Barrymore looks directly into the screen. There's a great shot where Marian Marsh and Bramwell Fletcher are canoodling and the camera crosses the room to focus in on John Barrymore staring at them with a glower of pure malevolence. There is a fantastic sequence where the camera pulls back from Barrymore's eyes staring out the window and travels across the model rooftops of the city to another building and in through the balcony window as Marian Marsh wakes up in answer to Barrymore's hypnotic call.
Svengali came out three months after Universal released their hit adaptation of Dracula (1931) with Bela Lugosi and a few months before the double whammy of their adaptation of Frankenstein (1931) with Boris Karloff, which created the Golden Age of Horror between them. There is the tendency of film historians looking back to slot Svengali in with the decade of Universal Famous Monsters but it doesn't quite fit – it was produced by Warner Brothers rather than Universal, for one. If anything, you could see that Warners were seeking to emulate something of the success of Universal's The Phantom of the Opera (1925) with its relationship/romance between a mad composer and a young novice.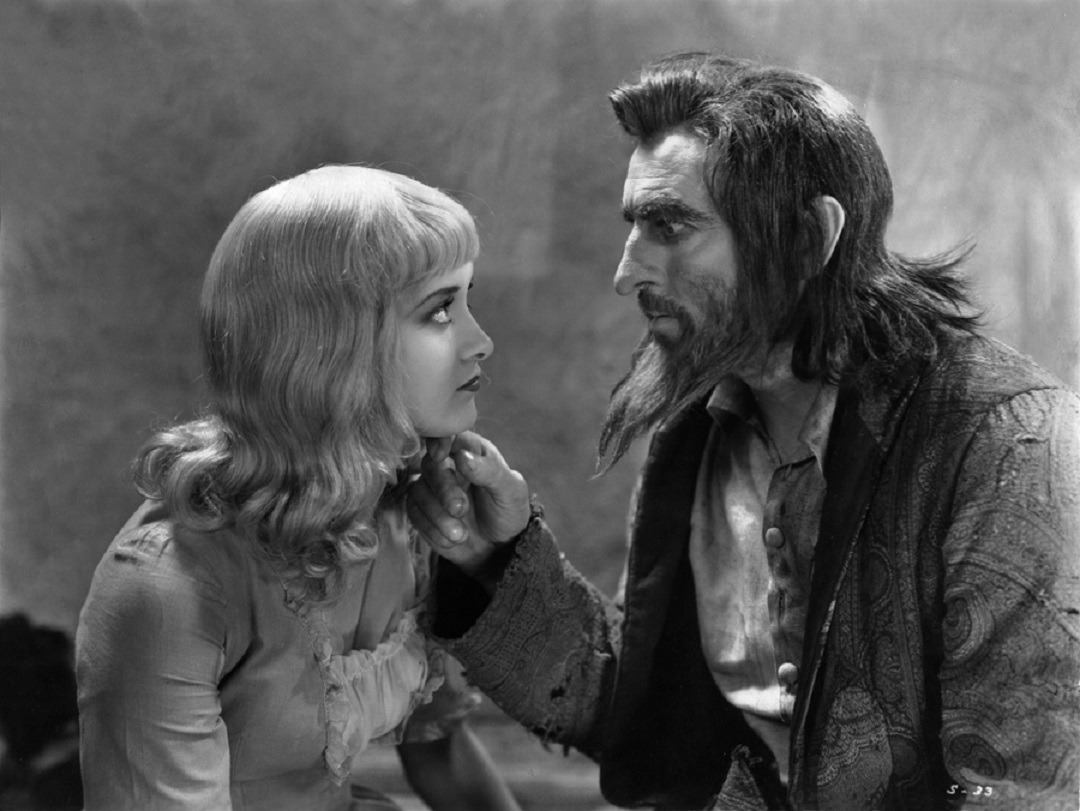 There is also the strong influence of German Expressionism on the film – the image of John Barrymore stalking about all in black and stovepipe hat, outlined against sets that make much use of blank space, could be a conscious incarnation of Werner Krauss from The Cabinet of Dr Caligari (1919), the key work of German Expressionism with its exaggerated sets and heavy use of shadow lighting. The sets of the rooftops are all distorted and much use is made of exaggerated lighting schemes like the shadow of a giant bird on the wall of Barrymore's apartment or else shooting him sitting in a throne-like chair from a low angle.
Other versions of Svengali/Trilby have included seven short versions made during the silent era as well as Trilby (1915); the British Trilby (1922); the US-made Trilby (1923); the German Svengali (1927); Trilby (1947), an early British tv movie; the British Svengali (1954) with Donald Wolfit and Hildegard Knef; Svengali and the Blonde (1955), a US tv movie; Trilby (1976), a BBC tv play starring Alan Badel and Sinead Cusack; and Svengali (1983), a US tv movie with Peter O'Toole and Jodie Foster.
Archie Mayo was a director who had a long career going back to the heyday of the silent era in the 1910s. Mayo made many dramas, although his sole other film of interest on this site is the return from the afterlife fantasy Angel on My Shoulder (1946).
---