---
Crew
Director – Frank Capra, Screenplay – Julius J. Epstein & Philip G. Epstein, Based on the Play by Joseph Kesselring, Photography (b&w) – Sol Polito, Music – Max Steiner, Special Effects – Robert Burks & Byron Haskin, Art Direction – Max Parker. Production Company – Warner Brothers.
Cast
Cary Grant (Mortimer Brewster), Josephine Hull (Abby Brewster), Jean Adair (Martha Brewster), Raymond Massey (Jonathan Brewster), Priscilla Lane (Elaine Harper), Peter Lorre (Dr Einstein), John Alexander (Teddy Brewster), Jack Carson (O'Hara), James Gleason (Lieutenant Rooney), Edward Everett Horton (Witherspoon)
---
Plot
Mortimer Brewster stops off in Brooklyn to visit his two favourite aunts Abby and Martha to tell them that he has just gotten married. However, he discovers the dotty old dears have been feeding their boarders poisoned elderberry wine, desiring only to make them happy in death. They have then convinced their mad brother who imagines he is Teddy Roosevelt to bury the thirteen bodies in the cellar. The situation becomes even crazier when Mortimer's long lost brother Jonathan, who is on the Ten Most Wanted List, also turns up.
---
It is not often that American cinema gets the business of black humour right (at least up until the Coen Brothers came along). This adaptation of the hit 1941 Broadway play conducted by Frank Capra – the director of such sentimental American classics as Lost Horizon (1937), Mr Smith Goes to Washington (1939) and It's a Wonderful Life (1946) – is a good case in point. Instead of black humour, Arsenic and Old Lace achieves more of a raucous farce of dottily absurd escalations.
On these terms, Arsenic and Old Lace is a likeable amusement, contrasting the twittery sweetness of the old ladies with the business of murder – "You just admitted to killing twelve men," "But I wouldn't tell a fib." John Alexander's "Chaaaaarges" up the stairs and the like weary, but on the whole the plot sustains its manic level of energy, skittering along with nonsensical exuberance as proceedings become more and more farcical.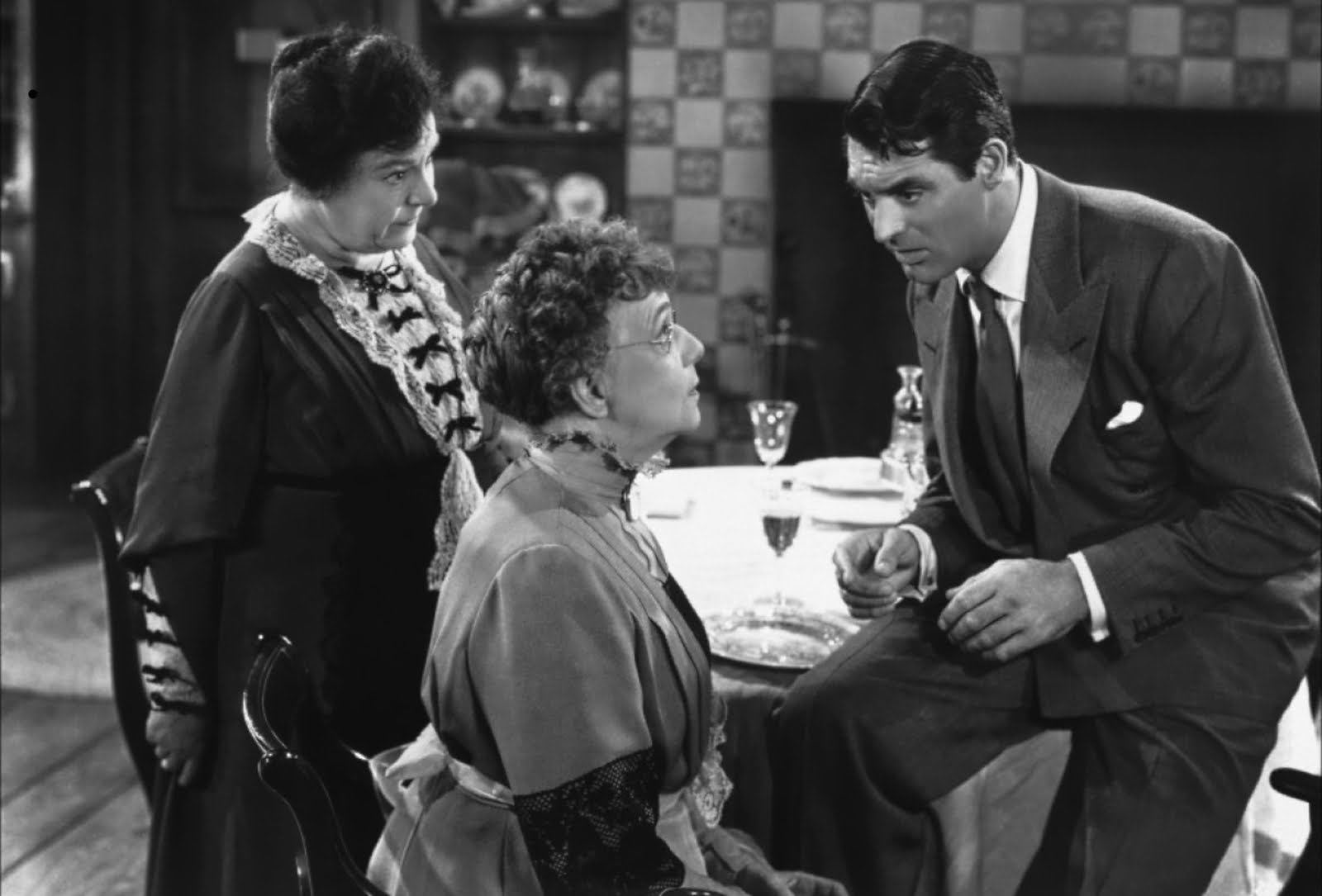 Cary Grant demonstrates an amazing range of double-takes, at points craning his head like a giraffe with a crick in its neck and braying like a wounded elephant. Raymond Massey comes across with a ghoulish thuggishness, constantly being compared to Boris Karloff (an in-joke in that Karloff had essayed the role on Jonathan during the play's Broadway run), and Frank Capra reveals a more than competent hand with horror-styled lighting effect. The film is available in a colourised version, which for once actually enhances the fine studio-bound exterior sets.
Arsenic and Old Lace was later remade as a tv movie in 1969, starring Bob Crane in the Cary Grant role and with Lillian Gish and Helen Hayes as the aunts. This version was little seen and is regarded as a poor shadow of the original.
---
---