(Un Angelo per Satana)
---
Crew
Director – Camillo Mastrocinque, Screenplay – Guiseppe Mangione & Camillo Mastrocinque, Based on the Novel by Luigi Emmanuele, Producer – Liliana Biancini, Photography (b&w) – Guiseppe Aquari, Music – Francesco De Masi, Art Direction – Gerard Cohen & Martine Cohen. Production Company – Discobolo Film.
Cast
Barbara Steele (Harriet Montebruno/Maddalena Montebruno), Anthony Steffen (Roberto Merigi), Claudio Gora (Count Montebruno), Ursula Davis (Rita), Maureen Melrose (Illa), Mario Brega (Carlo Lionesi), Vassili Kans (Dario Morelli), Aldo Berti (Vittorio)
---
Plot
Roberto Merigi arrives in a small lakeside village, having been brought there by Count Montebruno to restore a 200-year-old statue that has been dredged from the bottom of the lake. The villagers react in fear, believing the statue to be cursed. As Roberto sets to work, Harriet, the beautiful heir to the Montebruno estate, returns home after many years. Asking Harriet to model for the statue, which is that of her ancestor Maddalena, Roberto is attracted to her. He falls into a dream where he is contacted by the ghost of Belinda, Maddalena's homely cousin, where he learns how she longed for love and threw herself in the lake with the statue after she found Maddalena in the arms of the sculptor whom she desired. Roberto is witness as Harriet abruptly changes and starts to call herself Belinda. Seemingly possessed by the spirit of Belinda, she goes into the village, using her desirability to seduce and wind men around her little finger and then driving them to acts of murder and mayhem to exact revenge against the village.
---
In the 1960s, Italy produced an extraordinary series of Gothic films. The genre was begun with I Vampiri (1957) but was popularised by the international success of Mario Bava's Black Sunday (1960). These were building on the horror revival begun by Hammer Films and Roger Corman's Edgar Allan Poe adaptations but quickly created their own unique and distinctive style. Most of the Italian Gothic films took place in 19th Century settings in big old houses and castles. Unlike Hammer Films and Corman, the Italians liked to shoot in black-and-white, which offered a distinctive visual trademark with its stark contrasts of shadow and moody atmosphere. Unlike Hammer, the Italian Gothic frequently ventured into ghosts stories. There was also the common recurrent theme of an obsession with beauty and disfigurement.
Following her breakout role as the witch in Black Sunday, British actress Barbara Steele became the undisputed queen of Italian Gothic cinema. Her eerie and wide-eyed beauty had her often cast in these films as a femme fatale, a woman tormented by a mad husband or haunted/possessed by her ancestor. She appeared in several films of the Italian Gothic cycle such as The Terror of Dr Hichcock (1962), The Spectre/The Ghost (1963), Castle of Blood/The Long Night of Terror (1964), The Long Hair of Death (1964), Nightmare Castle/The Faceless Monster (1965), Terror-Creatures from the Grave (1965) and Revenge of the Blood Beast/The She-Beast (1965), as well as ventured to the US to appear in one Roger Corman Poe film with Pit and the Pendulum (1961). Although Steele appeared in twice as many non-genre Italian films during this period, including Federico Fellini's 8½ (1963), it is for her horror roles that she has become a cult figure.
Camillo Mastrocinque is not another Mario Bava but does a perfectly good job in mimicking the same style. The opening is a beautiful piece of scene-setting – a boat crossing an eerily bare and haunted lake (that looks stunning in the black-and-white photography), the arrival at the big house with its foliage-covered stonework and lushly dressed interiors. In short course, An Angel for Satan ticks off all the boxes you associate with the Italian Gothic – romantic obsession; the past resurrected and/or its hold over descendants in the present in a seeming possession plot; the fixation with facial beauty; the atmospheric location shooting in big old castles/houses and exteriors filled with billowing backlit mist.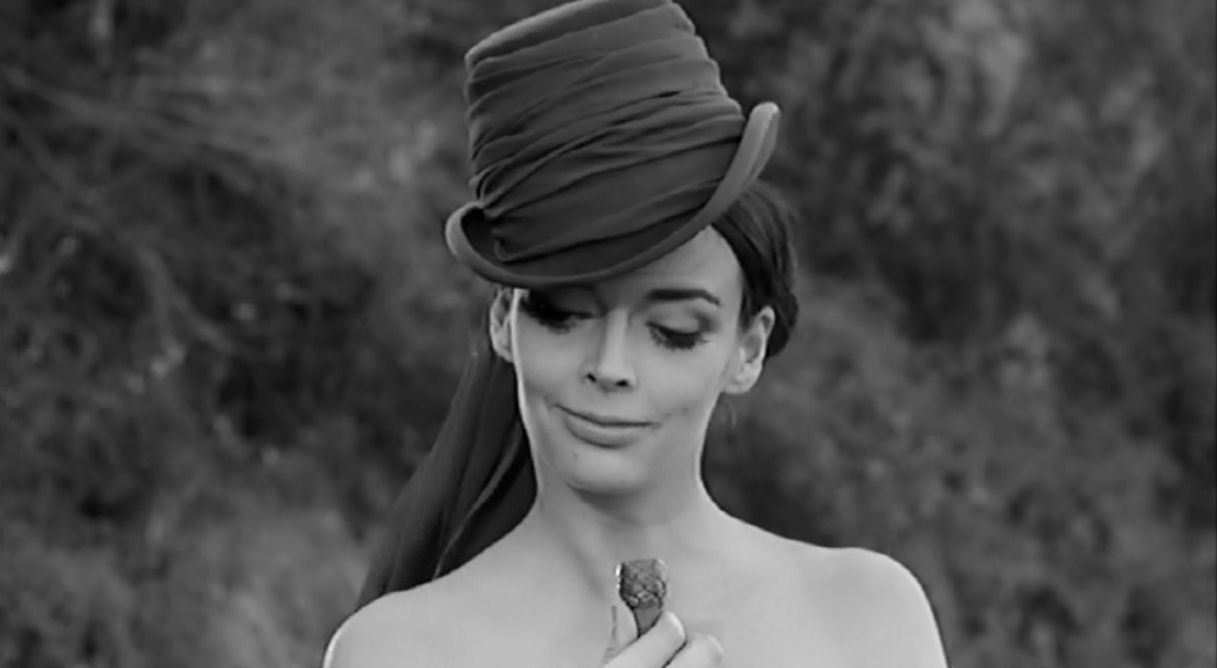 Camillo Mastrocinque places some extraordinary twists on this. The film comes with a remarkable streak of misogyny. In one amazing scene, Barbara Steele comes across gardener Aldo Berti, gets off her horse and comes up to him and asks him to take off her boots, then asks him if he has ever seen a woman nude whereupon she proceeds to strip in front of him and then whacks him in the face with her riding crop for looking at her. There are other such scenes like where she learns that maid Ursula Davis has been seeing schoolteacher Vassili Kans, asks him to come to her in the greenhouse whereupon she appears before him in a wedding dress and seduces him.
Barbara Steele becomes not unlike a femme fatale version of Max Von Sydow's Leland Gaunt in Needful Things (1993), seducing and driving men wild with need and then turning them against their loved ones and each other. In formal dress and hat with long train, riding side-saddle and wielding a mean riding crop, Barbara Steele looks the absolute ideal of a Gothic dominatrix.
Where An Angel for Satan falls down is in its twist revelation about what is going on. [PLOT SPOILERS]. The film does an excellent job in building up the idea of a curse and the suggestion that Barbara Steele is being possessed by the spirit of the homely ancestor who committed suicide and is seeking vengeance. At this, the film works extremely well. However, at the twist revelation, it is revealed that Steele has merely been hypnotised by other people who are seeking revenge against the townspeople. This certainly comes as a surprise but falls into the improbable mundane thriller twists that the horror genre inherited for a few years after Les Diaboliques (1955) and became increasingly implausible in their contrived machinations.
---
Trailer here (in Italian)
---