---
Crew
Director/Producer – Mervyn Le Roy, Screenplay – John Lee Makin, Based on the Play by Maxwell Anderson of the Novel by William March, Photography (b&w) – Hal Rosson, Music – Alex North, Music Supervisor – Maurice de Pakh, Art Direction – John Beckman. Production Company – A Mervyn Le Roy Production/Warner Brothers.
Cast
Nancy Kelly (Christine Penmark), Patty McCormack (Rhoda Penmark), Evelyn Varden (Monica Breedlove), Henry Jones (Le Roy), Eileen Heckart (Hortense Daigle), Paul Fix (Richard Bravo), Gage Clark (Reginald Tasker), William Hopper (Kenneth Penmark)
---
Plot
Christine Penmark comes to believe that her young daughter Rhoda is responsible for the death of Claude Daigle, a boy at school who won the penmanship medal that Rhoda felt she deserved. Christine's suspicions are magnified when she discovers the medal in Rhoda's possession. Next, the handyman Le Roy is 'accidentally' set on fire after taunting Rhoda with accusations about the murder of Claude. Gradually, Christine becomes certain in the belief that she, an orphan, is the daughter of a convicted murderess and has managed to transmit an hereditary 'bad seed' to Rhoda.
---
The Bad Seed was the original evil child film. A host of other films – from The Exorcist (1973) through Mikey (1992), The Good Son (1993), Orphan (2009) and We Need to Talk About Kevin (2011) – stem from here. At the time it came out, The Bad Seed was an unabashed trashing of the winsome virtuousness that girl child stars of the 1930s like Shirley Temple, Judy Garland et al represented.
As opposed to these others, eleven year-old Patty McCormick lets loose in a gleefully malevolent and spiteful performance. It is a wonderful performance that fires the film up. The Bad Seed has dated somewhat today, but it held a considerable minatory charge in its time because it offered something that dug under every expectation of the innocent and adorable golden-curled cherub that a child was meant to be. Patty McCormack, Nancy Kelly and Eileen Heckart all received Oscar nominations for their parts.
The Bad Seed was adapted from a highly successful 1954 Broadway play by the celebrated dramatist Maxwell Anderson, the screenwriter of All Quiet on the Western Front (1930) and Death Takes a Holiday (1934) and plays such as The Private Lives of Elizabeth and Essex/Elizabeth the Queen (1939) and Anne of a Thousand Days (1947). Maxwell Anderson had himself taken the play from a popular novel.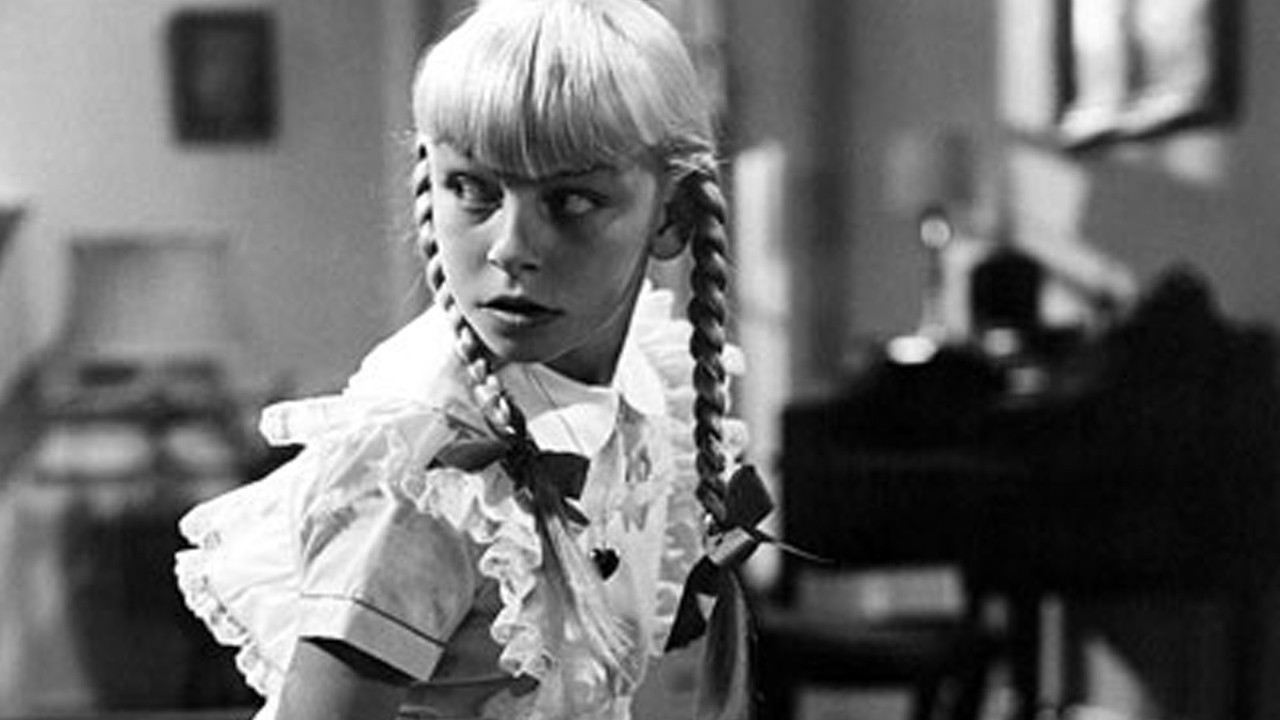 What could easily have turned into a Grand Guignol melodrama unfolds in a series of nicely chill plays of dialogue. On the minus side, the script never entirely hurdles clear of the inherent staginess of the original production and much of the middle is directorially static, only carried by the sharp twists and laced cruelty that one can see going on as Rhoda starts manipulating adults. The story does jump on an even-by-then dated heredity-vs-upbringing debate – and, when introduced, this is a weighty and rather dull issue that drags the film's middle down.
The biggest sin that The Bad Seed conducts is its ending, which has Rhoda walk out to a pier in search of the medal only to be crisped by a seemingly divine lightning bolt – an appallingly tacky ending that was added to yield to the righteous morality demanded by the Hays Code that said that evildoers must be seen to be punished. If the film could have ended on the very bleak note just before that as Christine commits suicide after attempting to poison Rhoda, and where Rhoda, inadvertently saved, asks Monica, who promises her her lovebird if she dies, if they can go out on the roof tomorrow, The Bad Seed would have been truly great. Even as it is, the film created a considerable stir amid the otherwise placid conservatism of the 1950s with its image of a psychopathic child.
The film was remade as The Bad Seed (1985), an okay-to-fair tv movie starring Carrie Wells as Rhoda, Blair Brown as Christine and David Carradine as Leroy the gardener, and The Bad Seed (2018), a Lifetime tv movie with McKenna Grace in the Patty McCormack role and Rob Lowe, who also directed, as the parent. Also of interest is Mommy (1995), a low-budget film featuring Patty McCormack as a psychopathic mother who could easily be Rhoda grown up. That film draws on conscious association of McCormack and her role in The Bad Seed.
---
---