---
Canada. 2012.
Crew
Director/Screenplay/Producer – Eric Falardeau, Photography – Benoit Lemire, Stop Motion Animation – Fauvre Paradis & Pierre M. Trudeau, Special Effects Supervisor/Makeup Effects – David Scherer, Art Direction – Veronique Poirier. Production Company – Thanatofilms.
Cast
Kayden Rose (Girl), Davyd Tousignant (Guy), Emile Beaudry (Other Guy)
---
Plot
A girl living alone in an apartment is unsuccessfully trying to make it as a sculptor. She is involved with a guy who never seems to visit for anything more than sex. She then begins to find bruises on her body. These spread to cover her all over and soon become blackened sores. The infection becomes progressively more extreme, from her hair and nails coming out and then her bones breaking and falling off.
---
This is a Quebecois (French Canadian)-made independent film. It was a debut feature for Eric Falardeau who had previously only made the short film Crepuscule (2011). Thanatomorphose gained a quite reasonable reputation via a number of fantastic film festival screenings. It clearly shows Eric Falardeau as a promising new talent.
Thanatomorphose is very similar to the US-made Contracted (2013) that came out the following year – indeed, you could say that Contracted is the commercial version of Thanatomorphose, while this is the far more raw and unedited version. Contracted also felt like it petered out in its third act whereas this stays with the premise and goes all the way. There was also the subsequent Starry Eyes (2014), which had very similar scenes.
It is a slow, observational film. There is no real drama to it – just a progression of the basic situation. Scenes lap over into each other in a way that erodes any sense of how much time has passed. The film is also a one-person show. Kayden Rose is on screen in almost every scene – and nude for just about every one of them – while other characters only feature very peripherally. Peculiarly, none of the characters are given names and there is very little dialogue in the film.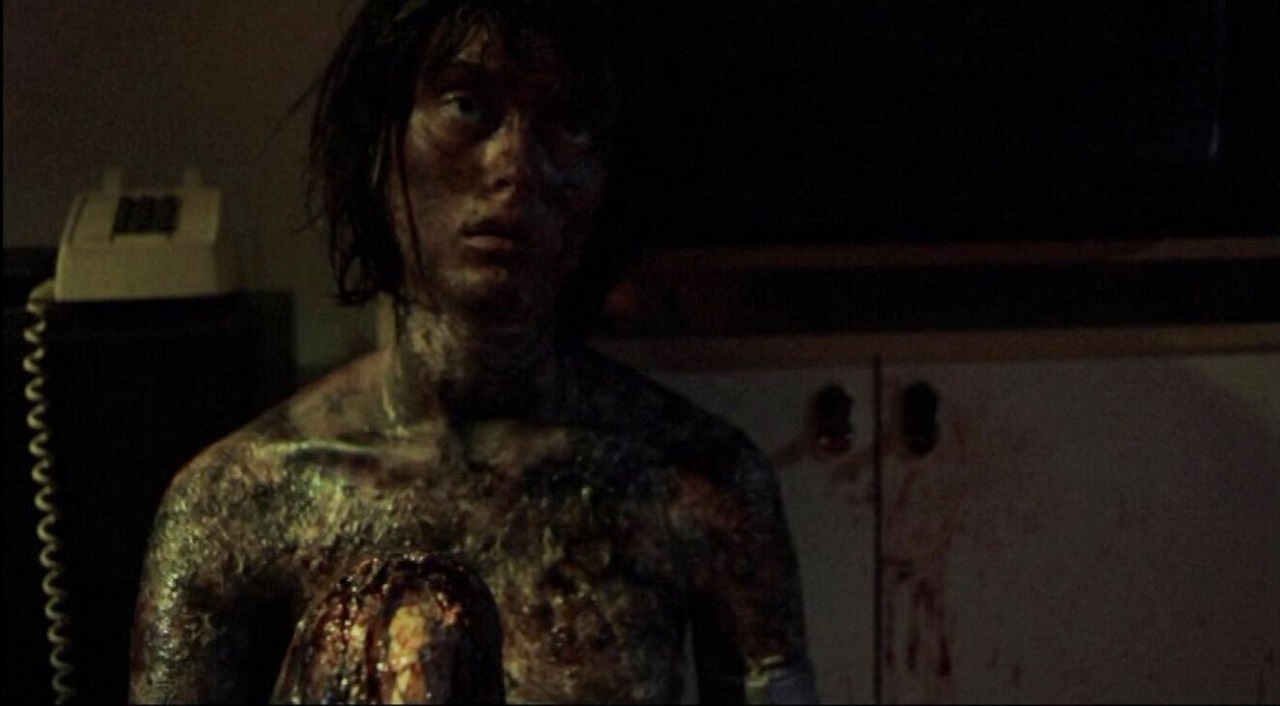 The film is shot with naturalistic light and on a digital camera. Kayden Rose's heroine never looks made up, just a plain, ordinary girl. There is never any explanation for what is afflicting her. The initial scenes are bolstered by a good deal of brooding imagery – blood gurgling down the plughole in the shower, the sink seeming to bleed, a growing vagina-shaped patch of rot in the wall.
Thanatomorphose is a film about the horror of physical decrepitude. From the opening (a sex scene), we watch Kayden Rose get progressively worse. Be it her finding that the bruises that cover her body are not marks that will wash off in the shower, before these become blackened open sores that cover every inch of her body. Variously we see her vomiting up gooey substances; masturbating and soaking the sheets with blood in doing so; losing control of her body functions and poop running down her leg; blood oozing out of a hole in the back of her head; her fingers and teeth coming out, which she labels and preserves in jars; worms crawling out of her sores; to the point she is having to glue on her nails and tape up her bones as they snap.
This is the whole of the film's progression. Eric Falardeau takes everything to the horrible logical extreme where we [PLOT SPOILERS] see the flesh falling off her skin, followed by the denuded skeleton crawling across the floor and then eventually snapping and falling dead. The result makes for an incredibly raw and effective film.
---
Trailer here
---