---
Crew
Directors/Screenplay – Jen and Sylvia Soska, Producers – John Curtis & Evan Tylor, Photography – Brian Pearson, Music – Peter Allen, Visual Effects Supervisor – Tom Raycove, Makeup Effects Design – Todd Masters, Production Design – Tony Devenyi. Production Company – American Mary Productions/Evolution Pictures/430 Productions/Twisted Twins Productions
Cast
Katharine Isabelle (Mary Mason), Antonio Cupo (Billy Barker), Tristan Risk (Beatress Johnson), David Lovgren (Dr Alan Grant), Twan Holliday (Lance Delgreggio), Paula Lindberg (Ruby Realgirl), Clay St. Thomas (Dr Walsh), John Emmet Tracy (Detective Dolor), Jen Soska & Sylvia Soska (Twins)
---
Plot
Mary Mason is a bright Seattle med student who wants to be a surgeon but is currently swamped by bills. Seeking a solution, she applies for a job as a stripper at the club run by Billy Barker. After reading about her ambitions to be a surgeon on her resume, Billy offers her $5000 if she will patch up someone who has just been wounded in a fight. Afterwards, she is approached by Beatress Johnson and offered a good deal of money to surgically alter her friend Ruby Realgirl, which involves removing Ruby's nipples and sewing up her vagina. Invited to a party by her surgical department heads, Mary is drugged and raped by her professor Alan Grant. She goes to Billy and pays him to abduct Grant whereupon she starts to surgically modify his body in revenge. Quitting med school, she starts up an underground practice conducting body modifications. This serves to gain her a cult following but takes her into a dark world.
---
Canada's twin sisters Jen and Sylvia Soska made a striking appearance with Dead Hooker in a Trunk (2010), both of them writing, directing and playing the lead roles. Dead Hooker in a Trunk was a somewhat amateurish film but it showed promise. More to the point, somewhere between its attention-grabbing exploitation title, its genre savvy and the public presence of the two twins who gleefully call their production company Twisted Twins Productions and in person spill over with attitude and sarcasm, Dead Hooker in a Trunk attained a good deal of promotion on the festival circuit such that when American Mary opened it was one of the most anticipated genre films of the year.
American Mary is Jen and Sylvia Soska's follow-up to Dead Hooker in a Trunk and is a quantum leap in terms of finesse. A better budget, the employment of a professional cinematographer, a better editor and a professional cast, including no less than the great Katherine Isabelle, a mainstay of Canada's muchly underrated Ginger Snaps (2000) and sequels, makes the world of difference. It allows them to polish the raggedy home-movie look that Dead Hooker in a Trunk had and darkens the Soska sisters' vision into much more original and unique directions. It is not a perfect film but is a vast leap in quality that shows them as definitely going places.
American Mary could be considered a film version of tv's Nip/Tuck (2003-10) with a Suicide Girls ethos. The Soska sisters delve down into the real world fetish for body modification where they appear to have done their homework and show a fascinating range of split tongues, unusual piercings, implants, people wanting limbs removed and the like, even if one suspects that the film is only scratching the tip of the surface of such an underground.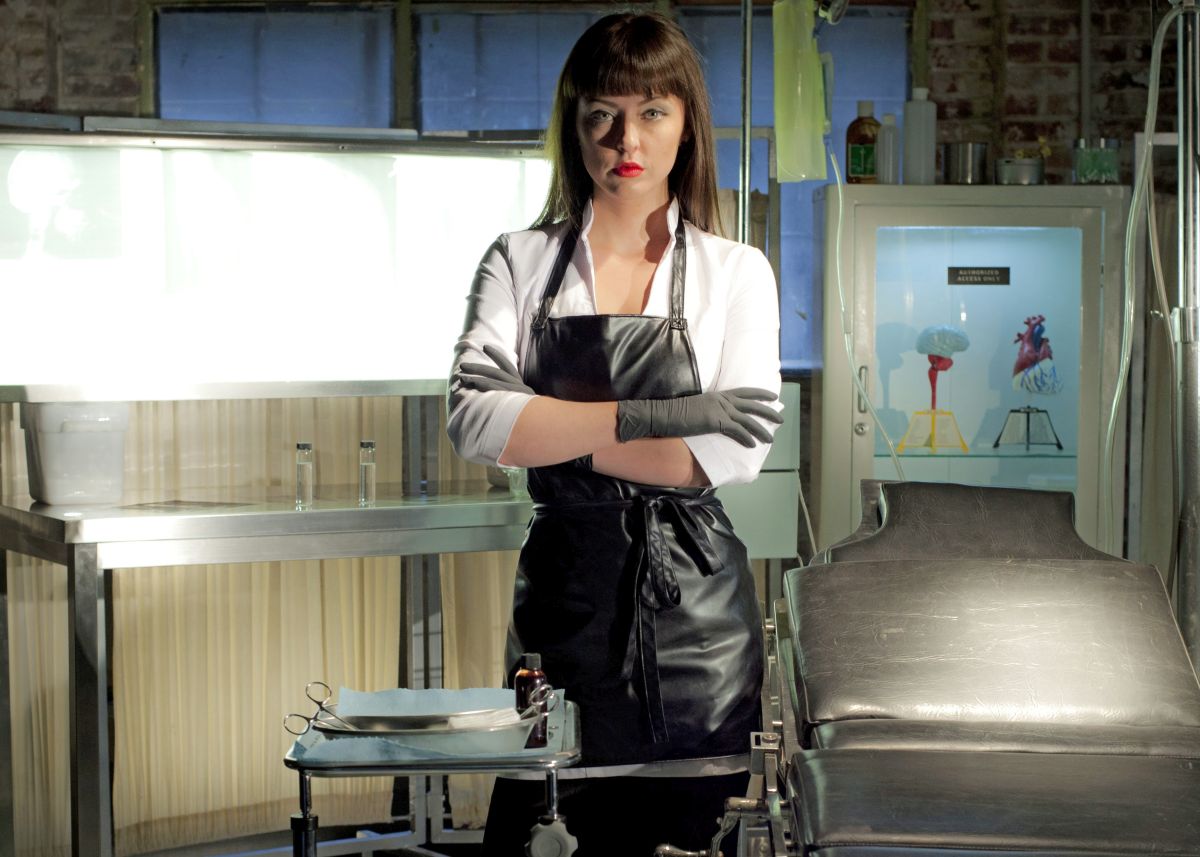 The complaint I suppose I would have is is the best place to depict this world a horror film? If you regard body modification as an alternate form of self or sexual expression, then surely a horror approach is one that is designed to evoke disgust and awe in the vanilla audiences watching. If the film swapped homosexuality, cross-dressing, tattooing, body-piercing or any other form of perfectly normal alternate behaviour for body modification, would not those being portrayed feel that such an approach is one that is designed to aim for sensationalism and moral shock?
Certainly, the Soska sisters delve into what feels like new territory for a film and launch into their subject matter with a perverse fascination. Although the one area in which they prove surprisingly tame is in actually showing Katherine Isabelle conducting any surgery. TV's abovementioned Nip/Tuck did a far more graphic depiction of the various surgeries on a weekly basis – it may simply be that the Soska sisters either didn't have the budget to build mock-ups of the body's being operated on or the knowhow to show what was being depicted in any detail, but it represents a certain tameness of spirit. The film's most stylish moment is a scene where Katharine Isabelle walks into a bathroom and intimidates a new stripper by laying out her medical equipment as the girl cowers in one of the cubicles.
In itself, Katharine Isabelle's venture down into the world of body modification has little narrative momentum and so the Soska sisters provide this by a B plot in which Katharine Isabelle tortures and murders her lecturer (David Lovgren) after he rapes her under the influence of a roofie and the subsequent police investigation of his disappearance. In interviews, the Soska sisters say that much of American Mary was inspired by what they had to go through to get where they are as directors – to which one's mind is immediately spinning off and wondering just what really did go on at film school or in trying to get Dead Hooker in a Trunk promoted, or just what kinds of alternate occupations they were forced to take on to make ends meet.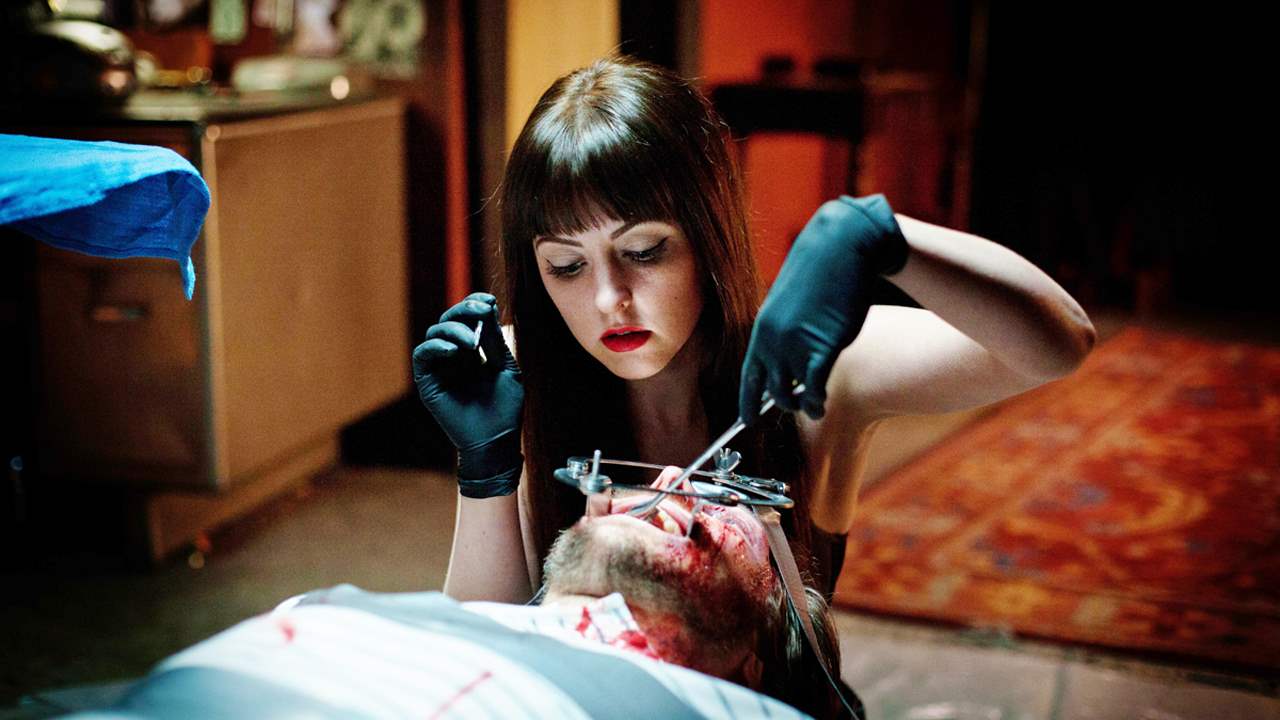 That said, the revenge plot and the body modification plots don't always work that well together. It is part of the writing problems that Dead Hooker in a Trunk had where the film often felt like scenes didn't gel alongside one another or awkwardly progressed into the next. Katharine Isabelle, for instance, makes a jump from med student to experienced surgeon with her own underground practice in next to no time. The abovementioned bathroom scene has enormous style but equally you keep wondering what it has to do with anything else that happens in the film.
Katharine Isabelle does well in the lead, walking through the film with detached cool (not to mention remaining perfectly outfitted), reacting to some of the strangest proposals without even batting an eyelid. She delivers some wonderfully chill lines with perfect nonchalance – asking a bound and sliced up David Lovgren "I keep asking myself why your left ear still exists." The Soska sisters make cameo appearances as the two twin sisters who turn up and request that Katharine Isabelle swap their left arms with one another. Their appearance is designed to sensationalise – they dressed to kill, always holding hands through their scenes together, walking into the club and with one of the sisters kissing a stripper and biting into her lip until it bleeds – even if their performance is delivered through outrageously fake Russian accents.
The Soska sisters subsequently went onto direct the slasher sequel See No Evil 2 (2014), the T is for Torture Porn segment of ABCs of Death 2 (2014), the revenge film Vendetta (2015) and the remake of Rabid (2019).
---
---