---
Crew
Director/Screenplay – Jennifer Lynch, Based on a Screenplay by Damian O'Donnell, Producers – Rhonda Baker, David Buelow & Lee Nelson, Photography – Shane Daly, Music – Climax Golden Twins, Visual Effects – Saints LA (Supervisors – Zachary Kinney & Matt Larranaga), Production Design – Sara McCudden. Production Company – Envision Media Arts.
Cast
Vincent D'Onofrio (Bob), Eamon Farren (Rabbit), Evan Bird (Tim/Young Rabbit), Conor Leslie (Angie), Julia Ormond (Sarah Fittler), Jake Weber (Brad Fittler), Gina Philips (Marie), Amy Matysio (Mary)
---
Plot
Brad Fittler gives his wife Sarah and nine year-old-son Tim money to go to the movies for the afternoon. He is insistent they take a cab home for their safety. However, after they are picked up, the cab driver heads out into the countryside, beats Sarah unconscious and takes them to his home. Sarah is dragged away by their abductor, the driver Bob. Tim is subsequently informed that she is dead. He is told that he is now to remain Bob's prisoner for the rest of his life and will be referred to as Rabbit. He is given a list of orders regarding what he may or may not do, the breaking of which will result in punishment. Bob is a serial killer and frequently drags women he has abducted back home to rape, kill and then bury in the basement. As Rabbit grows up into his teens, Bob wants him to learn more about anatomy but Rabbit's refusal to be a part of the killings causes a rift between the two of them.
---
Jennifer Lynch will always be known as the daughter of David Lynch, the cult director of works like Eraserhead (1977), Blue Velvet (1986), Lost Highway (1997) and Mulholland Dr. (2001). Jennifer worked in various production capacities on her father's films before making her directorial debut with the controversial Boxing Helena (1993), featuring Julian Sands as a surgeon who amputates Sherilyn Fenn's arms so that she can love him. This was critically trashed, although is a film this author would argue as worthy of reconsideration. Jennifer Lynch then disappeared from screens for fourteen years before making a return with the fine and reasonable police interrogation psycho-thriller Surveillance (2007). This seem to spark a renewed directorial career and she subsequently went onto make Hisss (2010), an Indian-financed film about a snake goddess incarnating in the body of a woman that Lynch has disowned, followed by Chained here. More recently, Lynch has worked as a director for hire on various tv shows, including episodes of Dahmer – Monster: The Jeffrey Dahmer Story (2022) and The Watcher (2022).
Jennifer Lynch's previous films have met with very mixed, if downright negative, critical reception. Contrarily, I have consistently liked what she has done. Whatever the case, everything she has done so far has been eclipsed by Chained that comes together in ways that quietly stun and amaze you. It feels like the one work she has made to date where everything else she has been working up to blossoms as something stunning.
One of the things that impresses the most about Chained is Jennifer Lynch's cool understatement – and the way she successfully maintains the sense of detached restraint throughout the entire film. The camera seems to remain at a distance watching and never dramatising, just observing what happens without comment. This is never more than evident in the film's opening – we see young Evan Bird alone in what seems like a perfectly ordinary house before Vincent D'Onofrio abruptly enters the door dragging a screaming woman after him. The abruptness of the contrast between the calm normality of the scene and the images of the screaming woman is startling.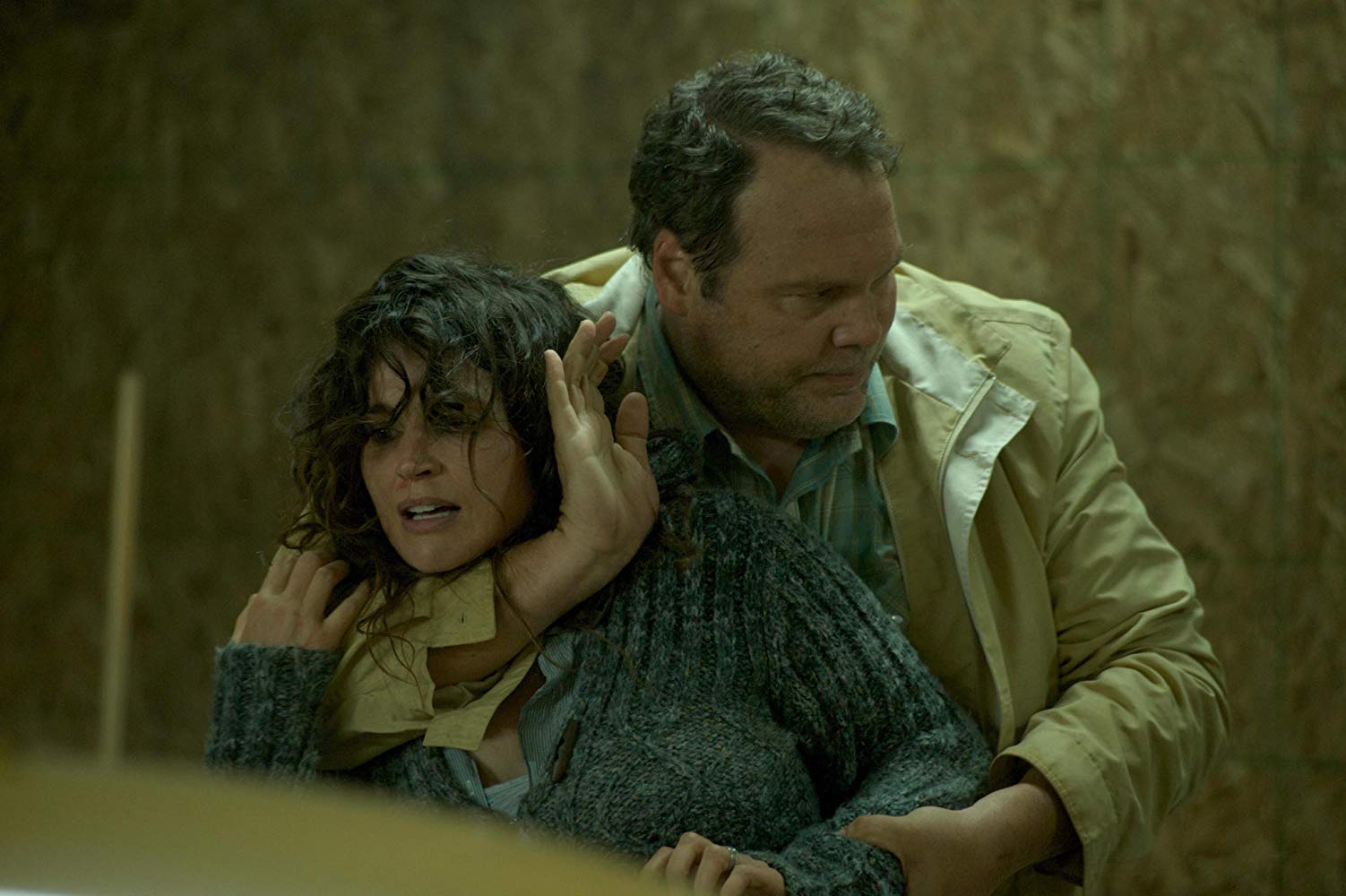 Jennifer Lynch rarely goes for shock effect or big dramatics, although there are some excellent set-pieces. Like the scene where Vincent D'Onofrio brings the drunken Amy Matysio home and asks her to lift her arms and then with an astonishing casualness slits her throat and, moreover, stands over her dying body and gives a disinterested anatomy lesson to Eamon Farren: "Carotid artery." There is also the scene where D'Onofrio brings Conor Leslie back so that Eamon Farren can have a "taste of a woman" and the two are locked together in the room, a scene that swings in tone between her fear and opening up to have sympathy for him where you genuinely do not know what way the scene is going to go at any second.
What one kept being reminded of throughout was the Austrian Michael (2011), a similar film about the relationship between an abductor (in this case, a paedophile) and his young male prisoner and the way the story stays focused on the minutiae of life between captor and captive. Both films take an approach that eschews big dramatics for a cool and detached observation of a disturbing situation. Within this, Jennifer Lynch and Vincent D'Onofrio get the pathology and the detail of the world the two characters live in down to a degree that is stunning.
The only aspect that fails to work is the ending, which abandons the cool slice of life observation for a psycho-thriller plot twist that reveals aspects of what has happened have been set up, which is something that fails to work and jars badly with the tone of the rest of the film.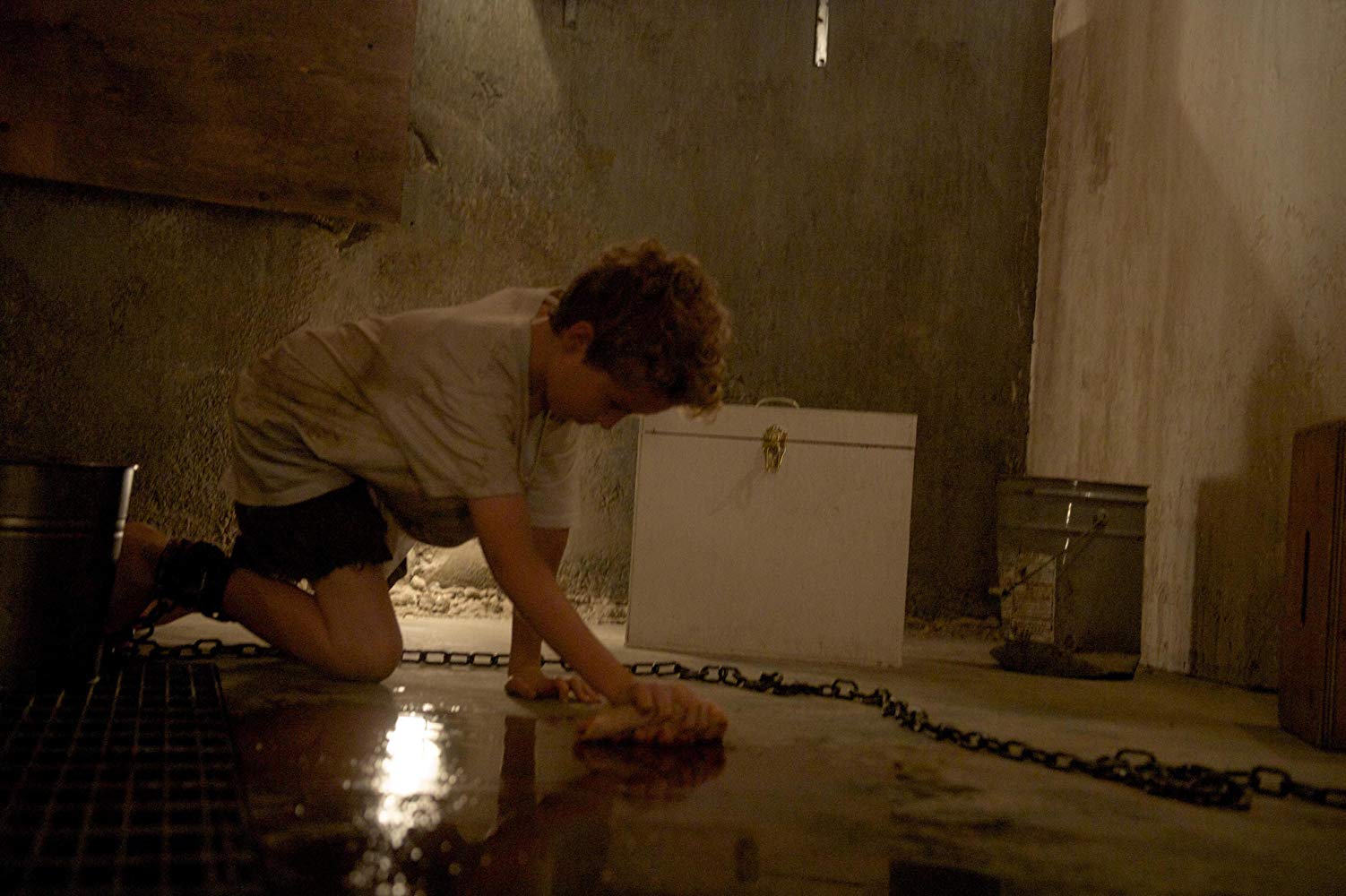 Vincent D'Onofrio gives one of his finest performances, all through a voice that has a weirdly alien detachment to it. There is a chilling coldness to the way he gives Evan Bird a newspaper and tells him "On page twelve, there's a nice piece about you and your mother going missing. Put it in the scrapbook" or gives him a long list of instructions for life in the house with him. The ranges of expression that Jennifer Lynch puts D'Onofrio through are astonishing – from a scene where Evan Bird makes an escape through the rooftop turret and D'Onofrio, rather than enacting any of his threats to punish, stands outside throwing stones at Bird and taunting the uselessness of trying to escape because he will always outthink him, to a scene with the two watching tv, Bird sitting between D'Onofrio's legs and the unexpected tenderness as D'Onofrio taps him on the shoulder and gives him a chocolate bar.
D'Onofrio does the lion's share of the acting but you cannot go without mentioning the performance of the teenage Rabbit given by Eamon Farren. Farren is tall for his age and has bony angular features that seem to echo a haunted and lost feeling with every pore of his being.
Nominee for Best Director (Jennifer Lynch), Nominee for Best Actor (Vincent D"Onofrio) at this site's Best of 2012 Awards).
---
---