---
Crew
Director – Steven C. Miller, Screenplay – Jayson Rothwell, Producers – Shara Kay, Phyllis Laing & Brian Witten, Photography – Joseph White, Music – Kevin Riepl, Visual Effects – Lit Post (Supervisor – Tyler Hawes) & Opus VFX (Supervisor – Mike Shand), Special Effects Supervisor – Paul Noel, Makeup Effects Creator/Designer – Vincent Guastini, Production Design – Kathy McCoy. Production Company – Genre Company/Insidious Pictures/Empire Film & Entertainment Group/Media House Capital/Manitoba Film & Music.
Cast
Jaime King (Deputy Aubrey Bradimore), Malcolm McDowell (Sheriff James Cooper), Brendan Fehr (Deputy Giles Jordan), Donal Logue (Santa Jim), Ellen Wong (Brenda), Lisa Marie (Mrs Morwood), Cortney Palm (Maria), Courtney-Jane White (Tiffany), John B. Lowe (Dad), Mike O'Brien (Stein Karsson), Curtis Moore (Reverend Madeley), Kelly Wolfman (Goldie)
---
Plot
In the small town of Cryer, Wisconsin, Deputy Aubrey Bradimore and Sheriff James Cooper become aware that a hulking killer dressed in a Santa costume is slaughtering people. As Christmas nears and the bodies pile up, the problem is how to tell which among the numerous Santas throughout the town is the killer.
---
The slasher film Silent Night, Deadly Night (1984) became a subject of controversy when it came out. Although it wasn't the first killer Santa film – see Tales from the Crypt (1972) – its digging into Christmas with a gleeful bite upset many family-oriented traditionalists who thought that Santa should represent something more wholesome, not be portrayed as a maniac killer. There were protests for the film to be banned, which only added to the film's success, primarily on video. This notoriety led to a number of sequels – Silent Night, Deadly Night Part 2 (1987), Silent Night, Deadly Night III: You Better Watch Out (1989), Silent Night, Deadly Night 4: The Initiation (1990) and Silent Night, Deadly Night 5: The Toy Maker (1992) – most of which were not even related to the original.
Over the last few years, there have been persistent rumours of a Silent Night, Deadly Night remake. This emerges as Silent Night here, although it is not so much as a remake as the nebulous modern term of 'a reinterpretation'. Certainly, nobody from the original is credited for inspiration anywhere throughout. Moreover, the two films, though they have the same central theme of a killer dressed as Santa Claus conducting a series of Christmas-themed killings, approach the story from a different angle.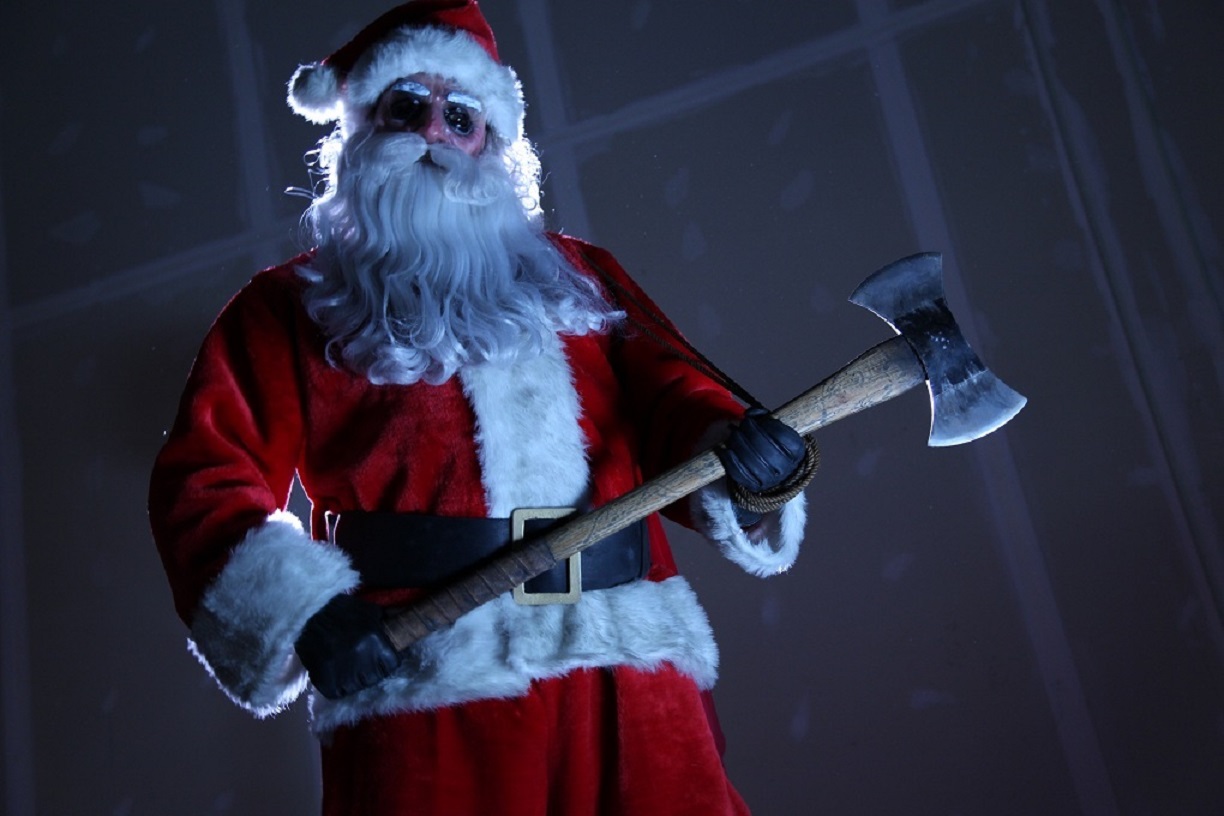 Silent Night, Deadly Night did a reasonable effort at sympathetically portraying a youth from an abusive background snapping and going on a killing spree; by contrast, Silent Night follows a more standard slasher movie path and focuses on the sheriff's department of a small town as they hunt a killer that is preying on the townspeople. Rather than the original's portrait of a disturbed youth, Silent Night dispenses with any of the backstory about what led the killer to be what he is and just features a hulking maniac hidden behind the Santa suit who is now no different from other brutish masked killers like Michael Myers or Jason Voorhees. There is a brief unmasking of the killer at the end and a flashback to what caused him to become a psycho Santa but nothing akin to the long preamble that the original had. In fact, the two films only have a single scene in common – the one where the kid goes to visit his geriatric grandfather in hospital who wakes up to deliver a nasty warning about Christmas, although this is played out here with a character peripheral to the action and someone who is a teenager rather than a child.
Silent Night screened at Vancouver's Rio Theatre with an introduction by Jen and Sylvia Soska of Dead Hooker in a Trunk (2010) and American Mary (2012) fame and a Skype conference with director Steven C. Miller. The way the late night screening was promoted with an exclusive screening, Steven Miller's own description of the film as "balls to the wall" horror, led to the expectation of something outrageously gory that went beyond the bounds of all good taste and social convention. This, alas, ended up being far from the film the audience ended up watching.
In actuality, Silent Night is a fairly ordinary slasher film. It is neither 'balls to the wall' horror that gets a grip on your and never lets go without compromise, nor anything that particularly upsets all good sensibilities (unless you are one of the traditionalists likely to be offended by the idea of a killer Santa). Nor is it a film that seems to be wittily puncturing cliches and conventions of the genre in the way that Steven C. Miller seemed to think it was.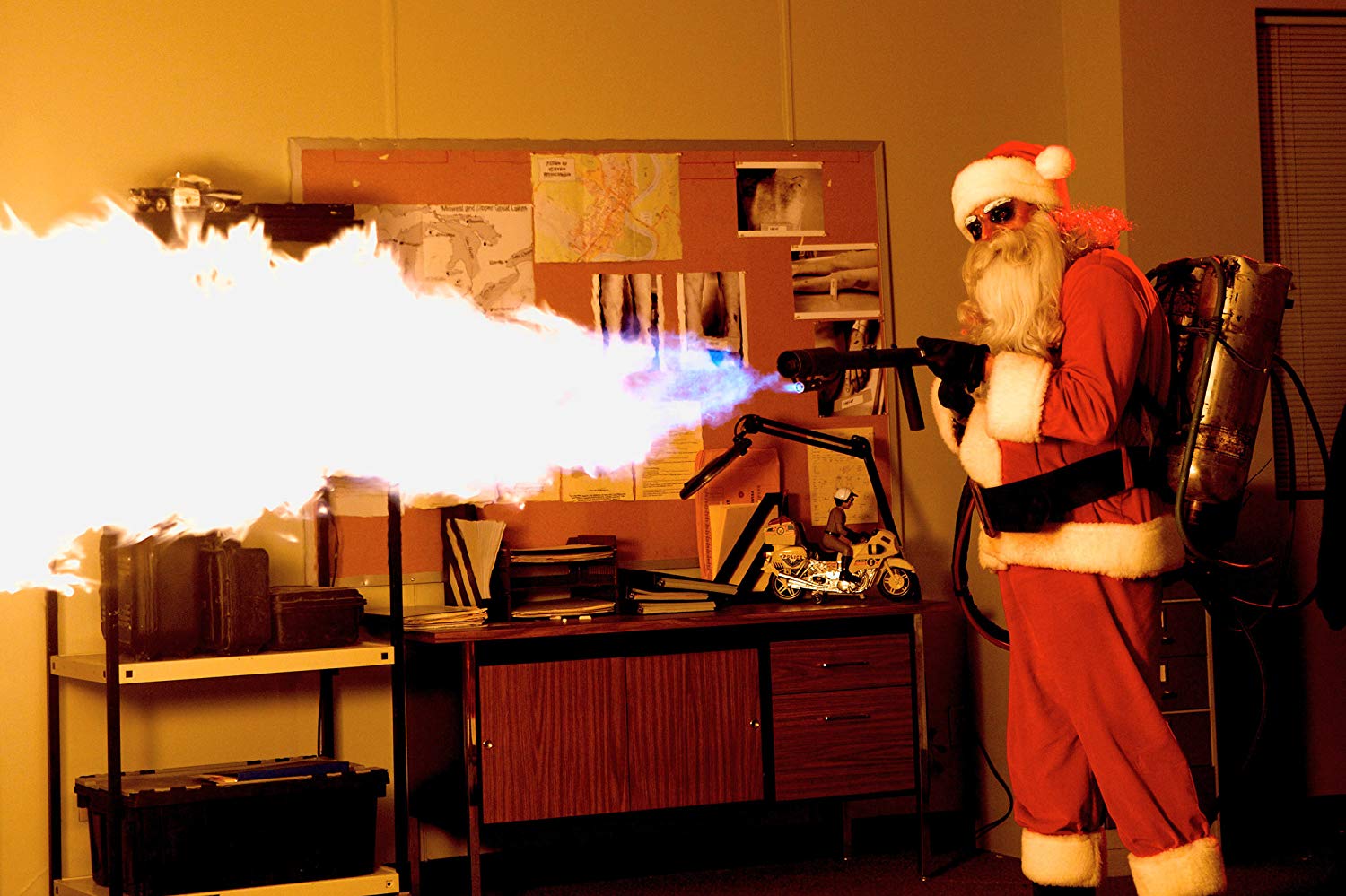 Certainly, the film is reasonably gory but there is nothing remarkable to the staging of any of the despatches – although one sequence where a topless woman (Cortney Palm) is pursued from an X-rated modelling shoot and across various backlots before being fed into a woodchipper holds some glimmerings of the schlocky outrage that Miller suggests and indicates the direction where the film should have gone. Indeed, there are times the film's pace could even be said to be sedate.
I was expecting something with a fast, sarcastic bite and lashings of black humour akin to an EC Comic or the tone of the other Christmas slasher remake Black Christmas (2006). The film is certainly peppered with a number of lines that emerge rather funnily, the lion's share of these – "never bring a flamethrower to a gunfight" – going to Malcolm McDowell. On the other hand, you keep wishing that some of this sarcastic delivery had extended to the other performers in the show, which could well have made all the difference.
Director Steven C. Miller has become a regular genre contributor. He has also made the zombie film Automaton Transfusion (2006); the supernatural monster film Scream of the Banshee (2011); The Aggression Scale (2012) about a troubled kid defending his home against hitmen; and the children's horror film Under the Bed (2012). Subsequent to this, Miller appears to have abandoned the horror genre for thrillers such as Extraction (2015), Marauders (2016), Submerged (2016), Arsenal (2017), First Kill (2017), Escape Plan 2: Hades (2018) and Line of Duty (2019), before a return to genre material with Margaux (2022)
---
---