---
Crew
Director – Sacha Gervasi, Screenplay – John J. McLaughlin, Based on the Book Alfred Hitchcock and the Making of Psycho by Stephen Rebello, Producers – Alan Barnette, Joe Medjuck, Tom Pollock, Ivan Reitman & Tom Thayer, Photography – Jeff Cronenweth, Music – Danny Elfman, Visual Effects – Furious FX & Prana Studios (Supervisor – Jeffrey A. Okun), Special Effects Supervisor – David Waine, Makeup Effects – KNB EFX Group, Inc (Supervisors – Howard Berger & Greg Nicotero), Production Design – Judy Becker. Production Company – Montecito Picture Company/Barnette-Thayer Productions/Dune Entertainment/Ingenious Media/Big Screen Productions.
Cast
Anthony Hopkins (Alfred Hitchcock), Helen Mirren (Alma Reville), Danny Huston (Whitfield 'Wit' Cook), Scarlett Johansson (Janet Leigh), Jessica Biel (Vera Miles), Toni Collette (Peggy Robertson), Richard Portnow (Barney Balaban), Michael Stuhlbarg (Lew Wasserman), Michael Wincott (Ed Gein), James D'Arcy (Anthony Perkins), Kurtwood Smith (Geoffrey Shurlock), Ralph Macchio (Joseph Stefano)
---
Plot
In 1959, after the premiere of his film 'North By Northwest', a sixty year-old Alfred Hitchcock begins to take to heart accusations that he is over the hill. He seeks to find a suitably horrific property for his next film. He then alights on the novel 'Psycho' by Robert Bloch, loosely based on the activities of killer and necrophile Ed Gein, and determines to make it his next film. This is rejected by Paramount and meets opposition from the MPAA so Hitchcock takes the step of financing the film himself. He casts the roles and begins production. As shooting gets underway, he becomes jealous of his wife Alma Reville and her friendship with writer Whitfield Cook. At the same time, Alma is not happy with Hitchcock's fixations on and attempts to control his leading ladies. When Alma and Cook go away to collaborate on a proposed screen adaptation of one of Cook's novels, Hitchcock believes they are having an affair. His jealousy and anger feeds back into the shooting of 'Psycho'.
---
Alfred Hitchcock's Psycho (1960) is an undisputed classic. It is a landmark work of cinema. It is the one film that Hitchcock was always be associated with and which many consider his greatest achievement. The shower murder is perhaps the single most studied scene in film school and has led to dozens of parodies. The film itself led to a great many copies throughout the 1960s and essentially created the psycho-thriller with its focus on Freudian traumas and sexually conflicted killers with split personalities, which in turn spawned other entire genres such as the Italian giallo film and the slasher genre in the 1980s. There have been numerous spinoffs – two sequels and a prequel with Psycho II (1983), Psycho III (1986) and Psycho IV: The Beginning (1990); a bizarre shot-for-shot remake with Gus Van Sant's Psycho (1998); and two attempts to spin it off as a tv series with the disastrous pilot Bates Motel (1987) and the subsequent modernised origin series Bates Motel (2013-7).
Hitchcock is a film based around the making of Psycho. It is taken from the non-fiction book Alfred Hitchcock and the Making of Psycho (1990) by Stephen Rebello, which originally began as an article for Cinefantastique magazine, an exhaustive work wherein Rebello went through Hitchcock's notes and interviewed every remaining person connected to the film.
The film version has been made by Sacha Gervasi, previously a screenwriter with The Big Tease (1999), Henry's Crime (2010) and most famously Steven Spielberg's The Terminal (2004). Gervasi has only directed one other film with the heavy metal documentary Anvil: The Story of Anvil (2008). Gervasi subsequent went on to make November Criminals (2o17) and My Dinner with Herve (2018), a biopic of dwarf actor Herve Villechaize. The screenplay comes from John J. McLaughlin who also wrote Black Swan (2010), Coma (tv mini-series, 2012), Parker (2013) and The Super (2017).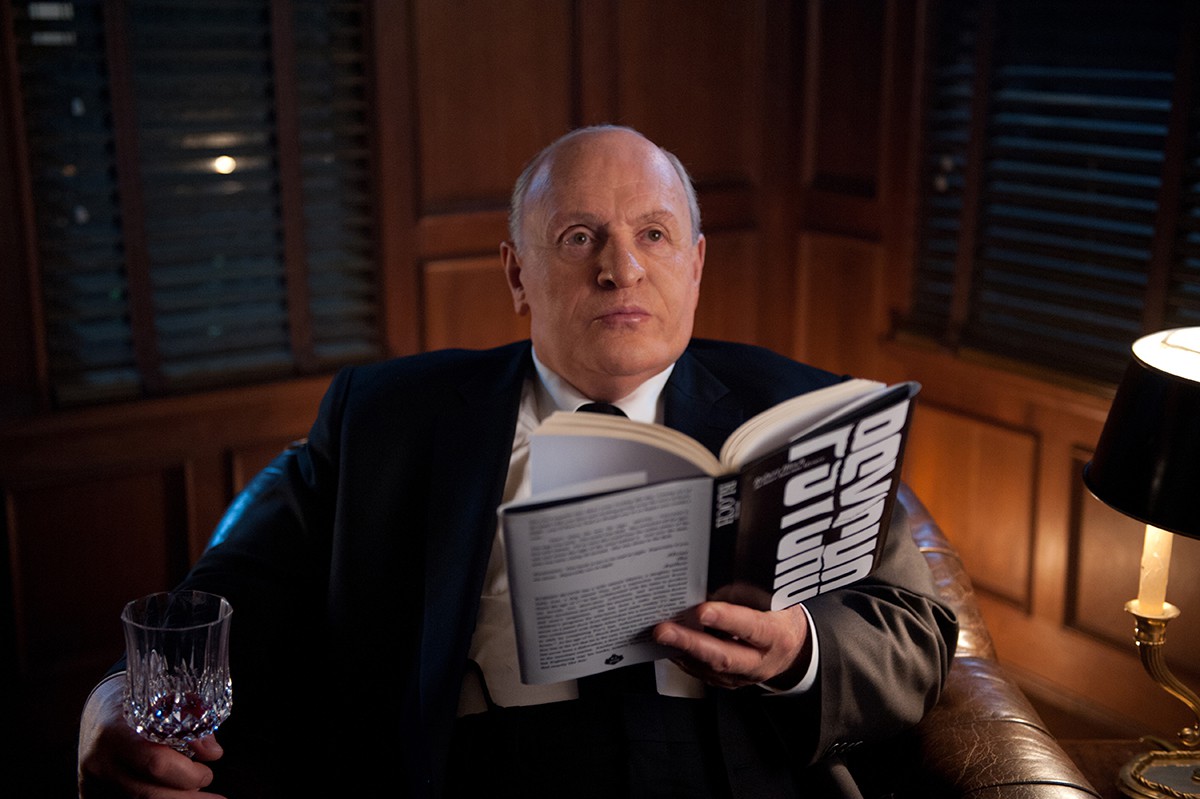 Hitchcock covers the making of Psycho fairly well. There are not, as far as I am able to ascertain, any points where the film departs from the historical record and creates its own version of events – as say was the case with a similar director biopic like Ed Wood (1994). Scarlett Johansson seems maybe a little soon slim and not voluptuous enough for the role of Janet Leigh but everyone else steps into their roles and nails the part just the way you would expect them to.
Certainly, there are a few places where the film not so much rewrites but skips over things. While the deal for financing the film is correct, it was somewhat more involved than Hitchcock simply putting up his house as collateral and signing a cheque. There is also no mention of how Hitchcock cut costs by employing a production crew from his tv series Alfred Hitchcock Presents (1955-62). The film also gives us the impression that Psycho was filmed on the Paramount lot when it was actually shot on the Universal lot (and where the Bates house remains one of the most visited tourist fixtures to this day). The scene where Hitchcock falls ill is blown up far more than is the case – from the film we get the impression that he suffered something like a heart attack, whereas in real-life all that happened was that Hitchcock fell ill with a cold for three days.
Also the end of the film in its feelgood upbeat lift tends to imply that Hitchcock abandoned his control of his actresses and realised his love for Alma, whereas in real-life he went onto reputedly terrorise Tippi Hedren throughout the shooting of The Birds (1963) and Marnie (1964), which was probably the most notorious of his efforts to control his leading ladies. (Hitchcock tends to be forgiving of Hitchcock's obsessiveness in this regard whereas other biographers have seen his fixations in a more sinister light).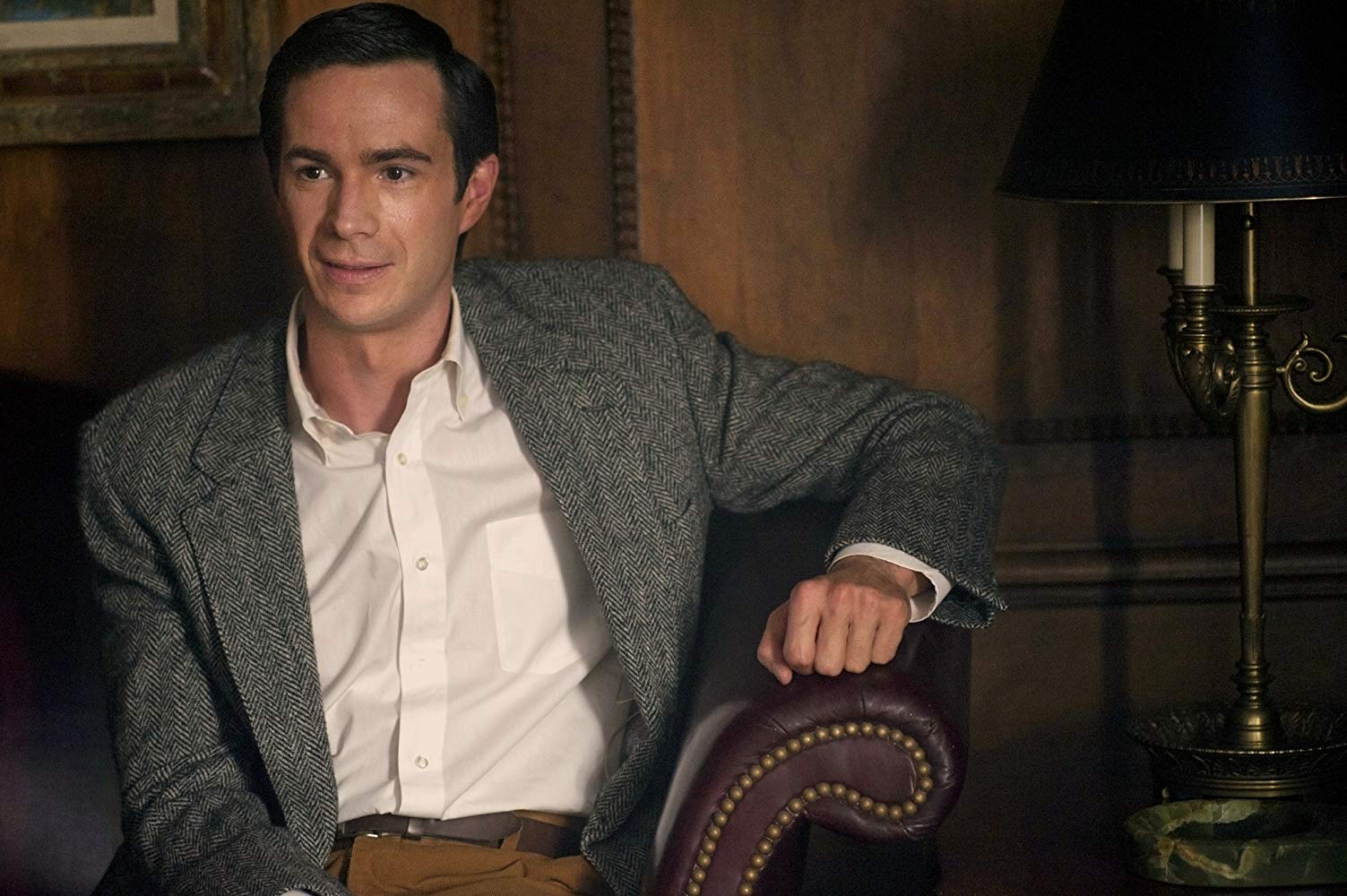 On the other hand, the attention to detail and trivia is magnificent. The script comes with a great many sly throwaway lines to the cinematically aware. The opening and closing of the film have Anthony Hopkins appearing just like in one of Hitchcock's introductory appearances for Alfred Hitchcock Presents and turning to break the fourth wall and address the audience direct. (There is an especially charming throwaway gag in the last shot with Hitchcock wondering what his next film is going to be).
The script certainly makes some charged accusations – that Hitchcock cast Anthony Perkins fully knowing that he led a closeted life as a gay man so that this would play into the role (in a scene that contains a marvellously written level of innuendo), that Josef Stefano obtained the script assignment for the film when he mentioned to Hitchcock that he was visiting a psychologist to deal with mother fixations, or that Hitchcock had a peephole in his room that allowed him to spy in on Vera Miles dressing just like the similar peephole in the Psycho shower scene.
What the script for Hitchcock does do particularly well is delve down into the psychological undercurrents of the various players in the Psycho story and show how each of these fed back into the film. Hitchcock's jealousy over feeling that Alma is having an affair and his eventual anger is played out in scenes where he is directing Scarlett Johansson's Janet Leigh and clearly enacting his own suppressed rage (as well as that against censors and studio heads).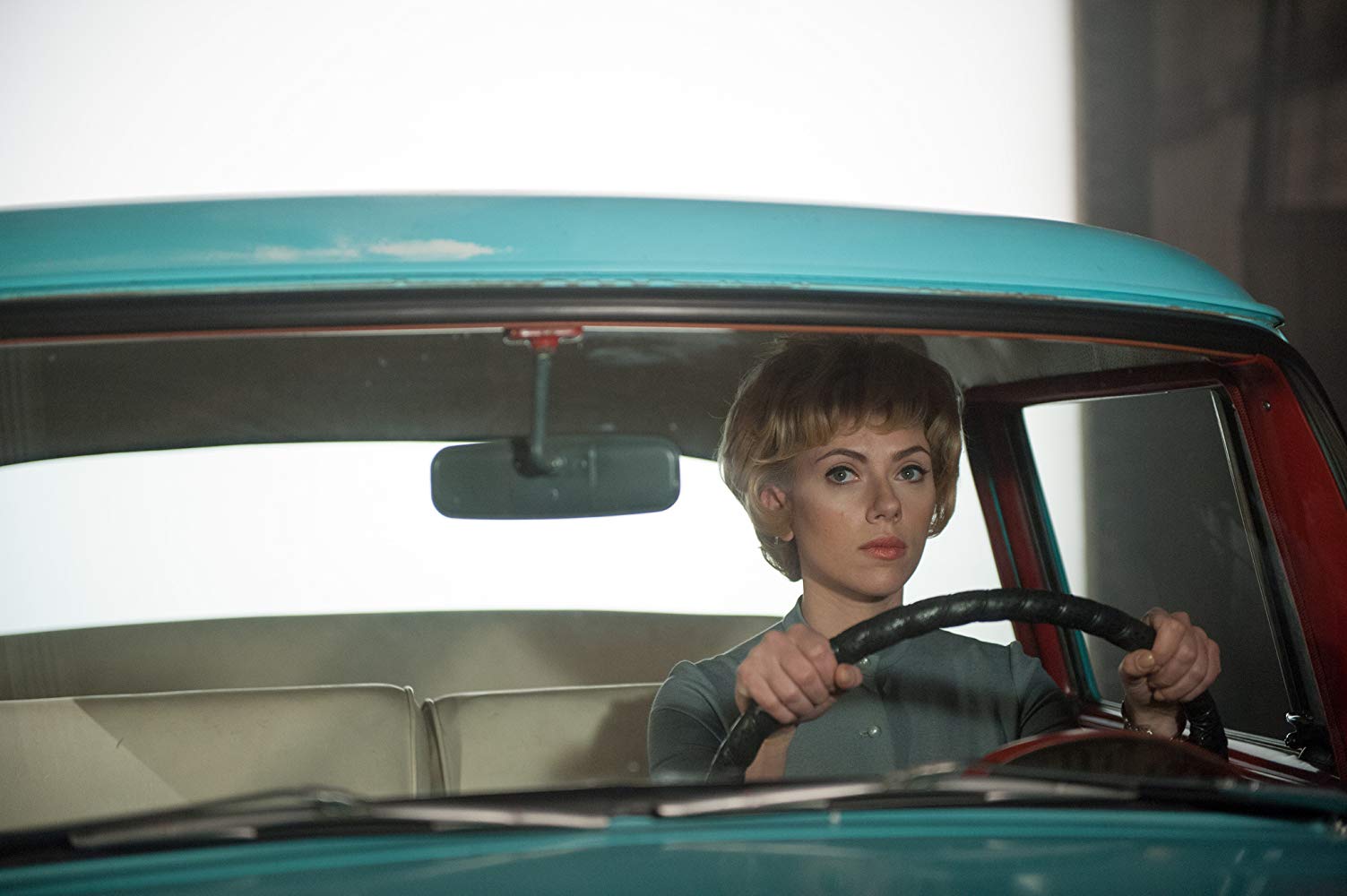 Maybe the only real quibble I would have here is that the film makes the irritating conclusion that a preoccupation with depicting horror and murder comes from a place where people are really wanting to do these things themselves – this is the sort of pop psychology stereotyping of horror creators that is the equivalent of saying that watching acts of violence on a screen is going to inspire people to immediately go out and copy them in real life. (In reality, I would argue that most people who enjoy/create horror are well societally adjusted for the most part – horror is merely a way of indulging the forbidden dark emotions that are habitually repressed by society and offer an alternative to the sanitised PG-rated world that the upholders of moral virtue insist should be the case).
Anthony Hopkins settles into the role of Hitchcock perfectly, nailing the mannerisms, the voice and lofty bearing, and manages to incarnate the character with a considerable range of emotions. Helen Mirren is the force of the nature that is Helen Mirren and more than ably plays alongside him.(The only real quibble is that Helen Mirren comes out as being the better part of a foot taller than Alma Reville Hitchcock who was only five feet tall). The relationship between these two acting legends is the backbone of the film. The film is essentially a recognition of the love between the two them and the end it reaches is a sincere heart-warming conciliation.
The film does perhaps overplay the Ed Gein connection. I have always assumed that this was more a case of people drawing associations after the fact – original author Robert Bloch lived not far from where Ed Gein did and read about the story in newspapers but was not aware of the connection between the two until after the publication of the book. By contrast, the film has Hitchcock not only fully aware of the connection but even using photographs from the crime as part of his initial promotion. Furthermore, the film opens on Gein (Michael Wincott)'s murder of his brother (in a rather funny Alfred Hitchcock Presents-styled intro), while Gein bizarrely continues to turn up throughout as a confessor and even psychologist for Hitchcock's darkest feelings.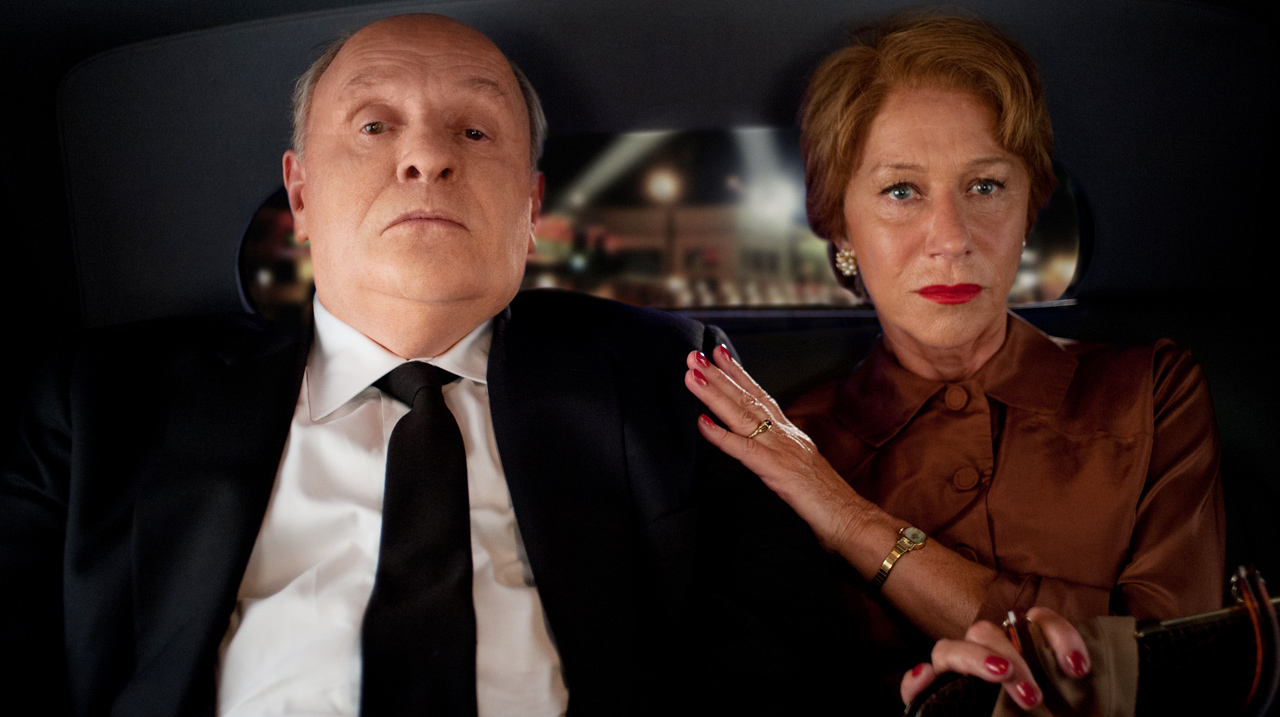 Around the same time, Hitchcock's life was also portrayed in The Girl (2012) where he was played by Toby Jones. Not long after, Hitchcock also made a cameo (played by Roger Ashton-Griffiths) in Grace of Monaco (2014). Not long after, there was also the documentary 78/52 (2017), analysing the shower scene.
Alfred Hitchcock's other films of genre interest are:– The Lodger: A Story of the London Fog (1927), Elstree Calling (1930), Shadow of a Doubt (1943), Rope (1948), Strangers on a Train (1951), Vertigo (1958), The Birds (1963) and Frenzy (1972). Hitchcock also produced, introduced and occasionally directed the anthology tv series Alfred Hitchcock Presents (1955-62).
(Winner in this site's Top 10 Films of 2012 list. Winner for Best Actor (Anthony Hopkins) and Best Actress (Helen Mirren), Nominee for Best Adapted Screenplay at this site's Best of 2012 Awards).
---
---