aka Blood Creek
---
Crew
Director – Joel Schumacher, Screenplay – David Kajganich, Producers – Paul Brooks, Tom Lassally & Robyn Meisinger, Photography – Darko Suvak, Music – David Buckley, Visual Effects Supervisor – David M.V. Jones, Visual Effects – Riot (Supervisor – Jamie Hallett), Special Effects Supervisors – Peter Hutchinson, David Watson & Ian Wingrove, Makeup Effects – Patrick Tatopoulos, Production Design – Cristian Niculescu. Production Company – Lionsgate/Gold Circle Films/3 Arts Entertainment/Madhouse Entertainment
Cast
Henry Cavill (Evan Marshall), Dominic Purcell (Victor Marshall), Emma Booth (Liese Wollner), Michael Fassbender (Richard Wirth), Rainer Winkelvoss (Otto Wollner), Joy McBrinn (Mrs Wollner), Shea Whigham (Luke Benny), Laszlo Matray (Karl Wollner), Lynn Collins (Barb Marshall), Gerald McSorley (Mr Marshall)
---
Plot
In 1936, the Wollner family, German immigrants on a farm in Town Creek, West Virginia receive a letter from the German government offering them money if they will lodge Richard Wirth, a visiting archaeologist who is searching for antiquities. As Worth arrives, he proves to be a Nazi and displays interest in the Nordic runestone buried in their barn. In the present day, paramedic Evan Marshall is startled when his brother Victor reappears after having been missing for two years. Victor demands that Evan grab a shotgun and travel with him by boat to the Wollner farm in Town Creek. There Victor bursts in and holds at gunpoint the Wollners who have remained unaged since the 1930s. Evan discovers that Victor was held a prisoner here for the two years he was missing. The Wollners have been kept alive to service and brings victims to Wirth, who has become a non-human creature that feeds on blood.
---
I have ranted on here before about how bad a director Joel Schumacher is. Schumacher has been directing since the 1980s, making the likes of St Elmo's Fire (1985), The Lost Boys (1987), Falling Down (1993), various John Grisham adaptations, Phone Booth (2002), Veronica Guerin (2003), The Phantom of the Opera (2004) and Twelve (2010), among a great many other titles. (A list of Joel Schumacher's other genre films is at the bottom of the page). Schumacher started as a window dresser and costume designer before becoming a director and his films all play out with an empty-headed fascination with slick visuals and little supporting content beneath that. His single most notorious crime against humanity was as director of the worst A-budget film of the 1990s, maybe ever, Batman & Robin (1997).
Frequently, you get the impression that Schumacher is conducting experiments in different types of genre and style – he has tried his hand at everything from the comic-book superhero, the legal thriller, the war film, the musical, teen realism, the psycho-thriller, 80s angst and so on. Town Creek is clearly Joel Schumacher's experiment in horror. Certainly, Schumacher has made a number of films that fall into the horror genre before – most notably Flatliners (1990) and 8MM (1999). Town Creek makes pointed difference to Schumacher's The Lost Boys with both films sitting at almost 180 degrees remove from each other in terms of style. The Lost Boys is all affected posing by teenage pretty boys, whereas Town Creek plays its horror with an emphasis on realism and does not shy away from bloodletting.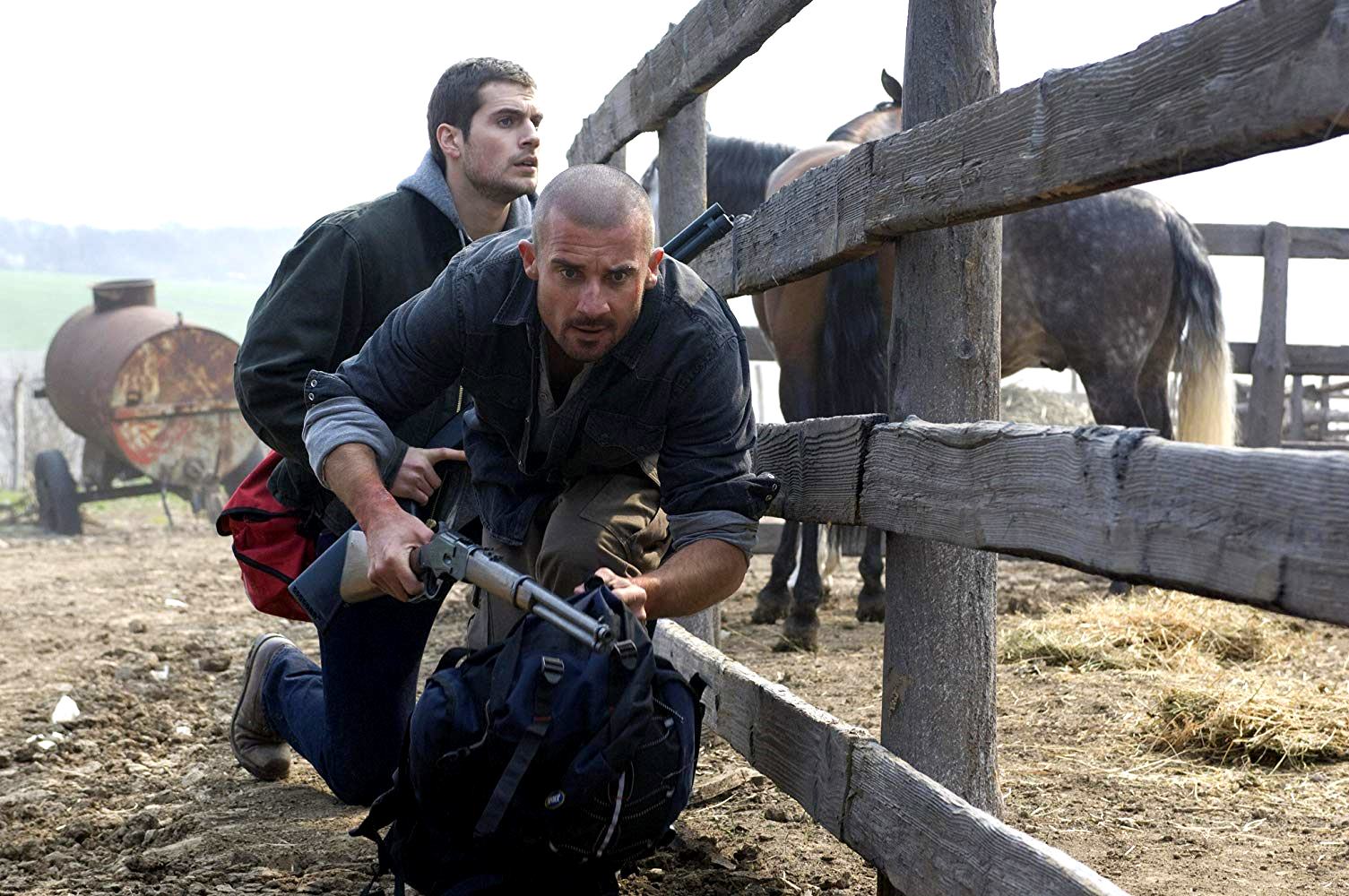 There are times as a critic when people surprise you. More often, it is someone whose talent you have touted falling from grace. Occasionally, it is someone like Joel Schumacher that you have poured ridicule on who actually comes through for once. I expected Town Creek to be another typical Schumacher exercise that was style-heavy and completely empty headed in terms of ideas. Contrarily, Schumacher manages to do a halfway reasonable job of making Town Creek work. So chomp grrr phhht hack – there goes the sound of me eating my own words. Although, with considerable irony, though one of Joel Schumacher's better films, Town Creek was given a sneeze-and-you-miss-it theatrical release in the US after a year in limbo where it dithered around under the titles Town Creek or simply Creek, and then was quickly consigned to dvd, being released as Blood Creek in some territories to make it seem like more of a horror film.
Joel Schumacher takes his time building up. He absorbs us in the texture of the backwoods environment and the farm, while creating a sense of urgency with much in the way of shakycam-shot action. He takes some time – the better part of half-an-hour – before unveiling the monster and only gradually clueing us into what is happening. When they kick in, Schumacher's horror scenes are solidly constructed – Wirth resurrecting a slaughtered horse as a zombie, making it invade and rampage through the house, having to be repeatedly blown away to be stopped. It is good to see that Schumacher has finally obtained a good grasp of the basics of a modern horror film.
Moreover, the film creates an original menace. Town Creek could easily have become a standard vampire film but the script spins the mythology in ways that make for something original and unusual, leaving you not knowing what to expect. It is only after the show ends that you want to ask questions – it never explains how, for example, the Wirth we meet as a human back in 1936 turns into the inhuman monster that we see in the present. Was it proximity to the runestone? Or was already a monster when he turned up and if so what caused him revert to a non-human form?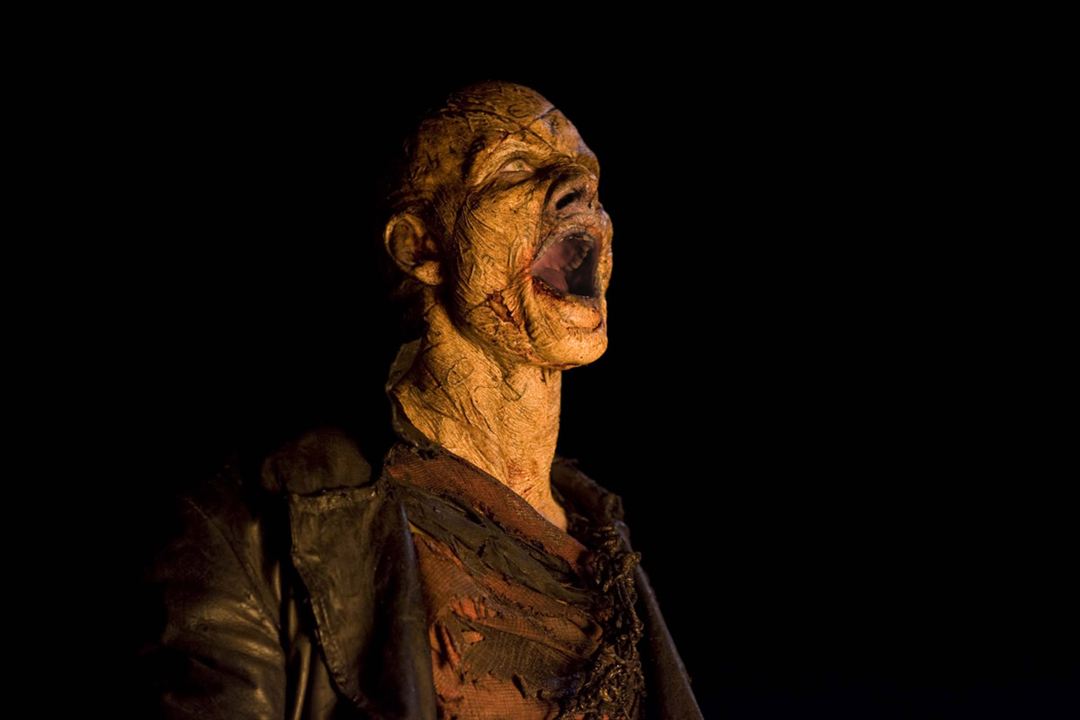 Expectedly, Joel Schumacher places much emphasis on visual style – Town Creek is a beautifully photographed film. In the flashback scenes, Schumacher brings out the period settings with an emphasis on texture. The black-and-white lighting schemes that he uses here are among some of Schumacher's best cinematographic work. Even though the film was shot in Romania, it captures an authentic sense of taking place in backwoods West Virginia. It is to Joel Schumacher's credit that he does not allow his usual preoccupations with style to overrun the show and keeps an emphasis on delivering the horror basics.
The characters have been stripped to a minimum and neither Henry Cavill nor Dominc Purcell does much to stand out in either of the lead roles. The one performer who does is German actor Rainer Winkelvoss who offers sympathy as the head of the Wollner household – he almost seems as though he could be the father or an older brother to Stellan Skarsgård. The film should also be notable for featuring appearances of names like Henry Cavill and Michael Fassbender before either became well-known faces.
Joel Schumacher's other films of genre interest are:– the comedic The Incredible Shrinking Woman (1981), which is probably his best film; the teen vampire film The Lost Boys (1987), the afterlife film Flatliners (1990), the redneck psycho film Falling Down (1993), two excruciating ventures into the Batman movie franchise Batman Forever (1995) and Batman & Robin (1997), the snuff movie thriller 8MM (1999), the sniper thriller Phone Booth (2002), the musical adaptation of the The Phantom of the Opera (2004) and the numerology psycho-thriller The Number 23 (2007). Joel Schumacher also wrote the script for the all-Black musical Wizard of Oz revamping The Wiz (1978).
---
---