---
USA. 2002.
Crew
Director – Joel Schumacher, Screenplay – Larry Cohen, Producers – Gil Netter & David Zucker, Photography – Matthew Libatique, Music – Harry Gregson-Williams, Visual Effects – Asylum (Supervisor – Nathan McGuinness) & Custom Film Effects (Supervisor – Mark Dornfeld), Special Effects Supervisor – Jim Fredburg, Production Design – Andrew Laws. Production Company – Fox 2000 Pictures.
Cast
Colin Farrell (Stu Shepherd), Kiefer Sutherland (The Caller), Forest Whitaker (Captain Ed Ramey), Radha Mitchell (Kelly Shepherd), Katie Holmes (Pam), Richard T. Jones (Jona), Paula Jai Parker (Felicia), John Enos II (Leon), James MacDonald (Negotiator), Keith Nobbs (Adam), Dell Young (Pizza Guy)
---
Plot
Stu Shepherd is an aggressively heartless New York City media publicist and has little time for those for which he has no use. While in a phone booth making a call to Pam, a novice young actress client with whom he is trying to have an affair, the telephone in the booth starts ringing. The mystery caller describes the details of Stu's life then tells Stu that if he puts the phone down he will shoot him with a high-powered rifle. When the caller shoots a man who harasses Stu, police SWAT teams gather, believing Stu to be the shooter. The caller insists that Stu not reveal what is happening. Held between the two sides, the caller tells Stu how he has been observing him and now wants him to make apology for the way he treats other people.
---
One sat down to watch Phone Booth with an equal mixture of dread and anticipation. On one hand, Phone Booth had a script from Larry Cohen whom one has greatly admired as one of the genre's most inventive director-writers, having made such low-budget gems such as It's Alive (1974), God Told Me To/Demon (1976) and Q – The Winged Serpent (1982), as well as written the scripts for Maniac Cop (1988) and sequels and the hilarious psycho sperm donor film Misbegotten (1997).
On the other hand, attached as director was Joel Schumacher, who is without a doubt the single worst director currently at work in Hollywood. Joel Schumacher's films vie between empty-headed exercises in style – The Lost Boys (1987) and Flatliners (1990); to slick adaptations of John Grisham bestsellers – The Client (1994), A Time to Kill (1996); the vilely redneck Falling Down (1993); two utterly ghastly ventures into the Batman franchise – Batman Forever (1995) and Batman & Robin (1997); and the subsequent pretty but empty-headed screen version adaptation of the musical The Phantom of the Opera (2004), the ridiculous The Number 23 (2007) and the ridiculed Twelve (2010). Phone Booth threatens to be torn one way by Larry Cohen's usually wry and intelligent writing and in the opposite direction by Joel Schumacher's pretensions to style. The question that faced one as they sat down to watch the film was which creative influence would come out on top.
Larry Cohen had originally pitched the idea for Phone Booth to Alfred Hitchcock back in the 1960s. Hitchcock had liked the idea but Cohen could never figure how to keep the hero inside the phone booth until three decades later when he came up with the idea of the sniper. Phone Booth rapidly became a high profile script and passed through a number of directors, including Michael Bay and the Hughes Brothers, and had a number of A-list actors assigned to it at various points, including Nicolas Cage, Mel Gibson, Jim Carrey and Will Smith.
Even after being greenlighted and shot, Phone Booth was subject to an inordinate number of delays in release. First filmed in 2000, its release ended up delayed because of 9/11 where the idea of a sniper picking off people in New York City seemed ever so slightly in poor taste. The film finally premiered at the Toronto Film Festival in late 2002 but its US release was further delayed owing to the activities of the Washington Sniper in early 2003. Phone Booth finally went into general release in April 2003 where it went to No. 1 on the box-office list in its first week and did well. The delays in release at least had the fortuitous effect of being able to take advantage of Colin Farrell, who had been a complete unknown when the film was shot and by the time it was eventually released had rocketed to the Hollywood A-list after parts in films such as Hart's War (2002), Minority Report (2002), Daredevil (2003) and The Recruit (2003).
With such a run of bad luck, it is a surprise that Phone Booth does not emerge as a complete shambles – Michael Bay, who would probably have be the second worst director in the world next to Joel Schumacher, is reputed to have picked up the script and said "So how do we get this thing out of the phone booth?" One is happy to report that, despite Joel Schumacher, Phone Booth is moderately watchable. This is largely due to Larry Cohen's adept script and the central performance from Colin Farrell.
The script has a schematic feel to it at times, like something that might have been concocted in a writing class as a gimmicky exercise in economy – how to keep the protagonist in a single location throughout and how to keep suspensefully compounding the basic situation. Larry Cohen writes a fair character-driven story that is eventually about one venal man coming to realize the selfish error of his ways. For once, Joel Schumacher seems well attuned to the script at hand and does an okay job of winding up the tension and allowing the thrust of the story to be Colin Farrell's moral redemption. Ultimately, one suspects that Phone Booth would have worked much better had it had Larry Cohen at the helm instead of Joel Schumacher and been made on one of Cohen's B-budgets, rather than as the big-budget exercise it is, where it tends to look like an over-inflated B-movie.
Joel Schumacher has always been a pillager of other people's styles – John Hughes' teen dramas in St Elmo's Fire (1985), MTV in The Lost Boys, Ridley Scott in Flatliners, David Fincher's look for Se7en (1995) in 8MM (1999), Lars von Trier's Dogme 95 movement in Tigerland (2001). Schumacher's films are usually full of empty-headed, style-conscious affectations. Here Schumacher is relatively restrained and keeps to following the action mostly, although there is a pretentious opening shot that moves from a satellite spinning around the Earth all the way down into closeup to emerge out of a cellphone. In Phone Booth, Joel Schumacher copies the modern trend for washed-out cinematography and sped-up action. The overriding influence seems to have been the tv series 24 (2001-10). Here Schumacher has taken not only the effect of having the action taking place in real time but also the look of the action breaking up into split frame and small cutaway boxes. The connection becomes overt in the casting of Kiefer Sutherland, the hero and producer of 24, as the caller.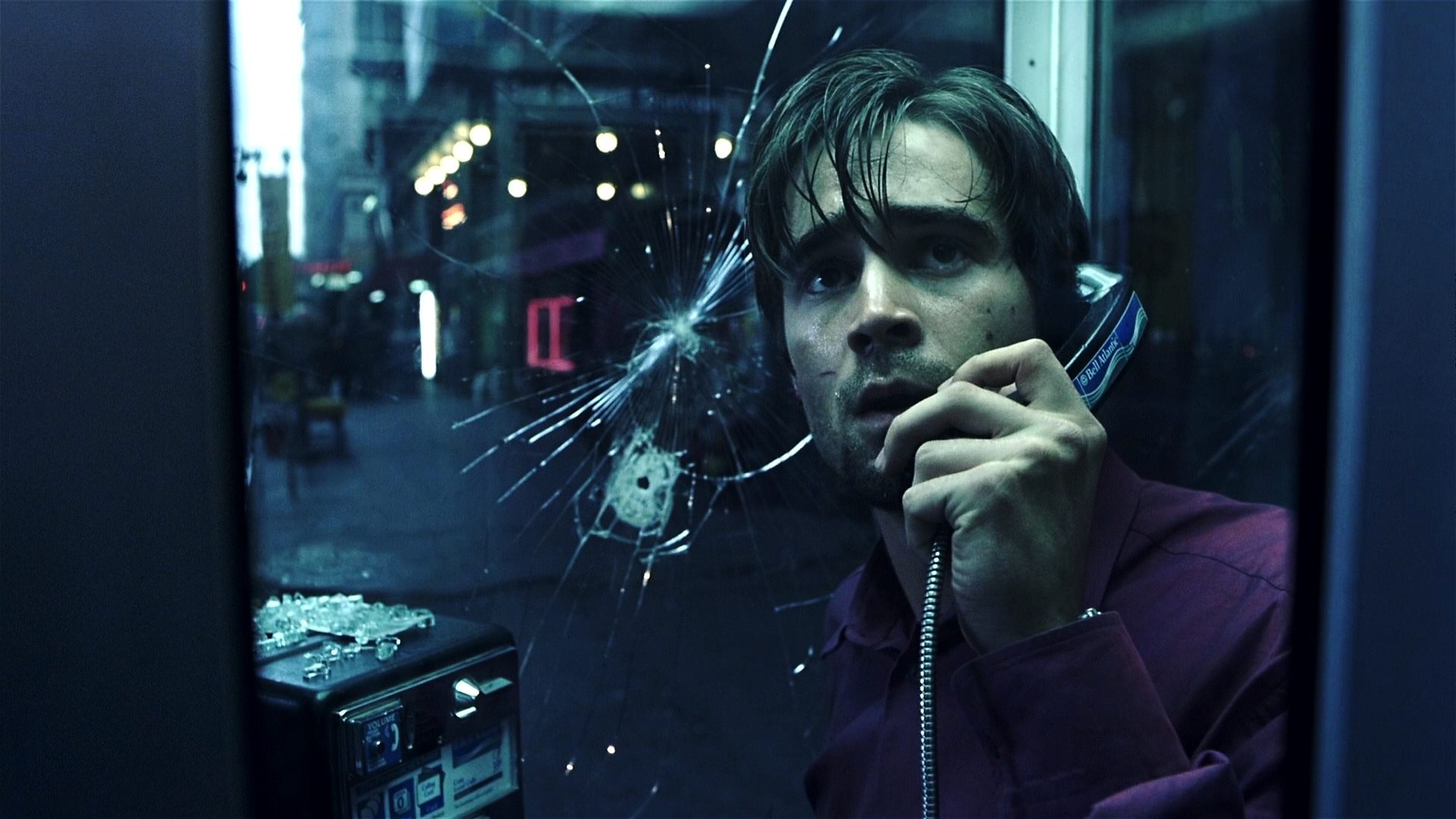 Joel Schumacher's previous ventures into psycho cinema – Falling Down and 8MM – have tended to be reactionary in tone. Falling Down used Michael Douglas as a mouthpiece in a singe-minded rant against the petty minded and racial minorities of L.A., while 8MM delved into a sordid underworld, lumped pornographers in the same basket as snuff filmmakers and poured contempt on the desire to analyse a psychopath in terms of childhood traumas. Interestingly, the psycho of the piece here is given no motivation – he toys with various ones, breaking down and pretending to be driven by a broken childhood or to be an actor who has been ruined by Colin Farrell – but in both cases the explanation is sneered at and we are ultimately left with no explanation other than of someone who likes to employ elaborate methods to stalk amoral people and break them down and redeem them.
In fact, with the eventual realization that the caller has no motivation and that the story has been about the pricking of Colin Farrell's conscience, one comes to the realisation that Joel Schumacher is himself a high-handed moralist. In Falling Down, Joel Schumacher's sympathies lay with the psycho ranting against the petty injustices of life; in Flatliners; the afterlife existed to teach twentysomething med students the errors of their ways; and in Phone Booth, he crafts a morality tale that is about bringing a self-interested person down to his knees.
Alas, Schumacher's moralities are summary judgments with all the depth of a fortune cookie epithet. You might have some sympathy for a tale about a shark-like media publicist being made to pay for his sins but for the fact that Phone Booth has, with equally exploitative regard, sold out and prominently displays huge billboard product placement ads throughout for Verizon and NetZero, even Bell Atlantic labels prominently stuck over the phone in the booth. When there is such a gaping sense of double-standards, it is hard to take the film seriously.
Joel Schumacher's other films of genre interest are:– The Incredible Shrinking Woman (1981); the teen vampire film The Lost Boys (1987); the afterlife film Flatliners (1990); Batman Forever (1995) and Batman & Robin (1997); the offensively redneck psycho film Falling Down (1993); the snuff movie thriller 8MM (1999); the musical adaptation of The Phantom of the Opera (2004); The Number 23 (2007) with a numerologically obsessed Jim Carrey; and Town Creek (2009) about a Nazi vampire. Schumacher also wrote The Wiz (1978), a musical modernization of The Wizard of Oz (1939).
(Nominee for Best Original Screenplay at this site's Best of 2002 Awards).
---
---