---
UK/Germany/Hungary/USA. 2003.
Crew
Director – Len Wiseman, Screenplay – Danny McBride, Story – Danny McBride, Len Wiseman & Kevin Grevioux, Producers – Gary Lucchesi, Tom Rosenberg & Richard S. Wright, Photography – Tony Pierce-Roberts, Music – Paul Haslinger, Visual Effects Supervisor – James McQuaide, Visual Effects – Framestore CFC (Supervisor – Rob Duncan), Miniature Effects – Fantasy II Film Effects (Supervisor – Gene Warren Jr), Special Effects Supervisor – Nick Allder, Creature Effects – Patrick Tatopolous Designs Inc (Supervisor – Patrick Tatopoulos), Production Design – Bruton Jones. Production Company – Subterranean Productions/Underworld Productions/Laurinfilm/Lakeshore Entertainment.
Cast
Kate Beckinsale (Selene), Scott Speedman (Michael Corvin), Shane Brolly (Kraven), Michael Sheen (Lucian), Bill Nighy (Viktor), Erwin Leder (Dr Singe), Sophia Myles (Erika), Robbie Gee (Kahn), Kevin Grevioux (Raze)
---
Plot
For centuries, the vampires and the Lycans (or werewolves) have been at war with one another. Following the death of the Lycan leader Lucian some centuries ago, the vampires believe the Lycan threat is weakened in the modern day. After an encounter with Lycans in a subway, the vampire Selene comes to believe otherwise. The vampire leader Kraven dismisses her claims but Selene defies him to tail the human doctor James Corvin, wanting to know why the Lycans are following him. It becomes increasingly apparent to Selene that Lucian is not dead and that Kraven may even be conspiring with him. In sheltering Corvin and then defying her clan to raise the vampire elder Viktor from his slumber to ask for help, Selene becomes a hunted outlaw among her kind. In so doing, she uncovers a daring plot hatched by Lucian to tap Corvin's blood for a rare genetic strand that will make him a combination of both vampire and Lycan and stronger than either.
---
Underworld feels like a film that has been made as an assemblage of generic elements taken from the late 1990s vampire film. It could be the result that emerges from a big pot where efforts like tv's Kindred: The Embraced (1996) and Ultraviolet (1998), films like Blade (1998) and sequels, Blood: The Last Vampire (2000), Queen of the Damned (2002) and the collected works of Anne Rice have been stirred together.
Underworld shuffles around a handful of elements that have become familiar through these – a secret society of vampires warring in the shadows of the daylight world; vampiric clans and elders seemingly modelled on Renaissance aristocracy; the adaptation of modern technology to traditional vampire-hunting methods, especially the development of medicinal methods of dealing with infection and hunger; the arrival of a new genetically-modified threat to the traditional status quo; immortal decadents who sit around in languid Goth chic regarding the more serious-minded with boredom and amusement.
It is of no particular surprise to learn that the week before Underworld opened, White Wolf Inc, the creators of the role-playing games Vampire: The Masquerade and Werewolf: The Apocalypse, in conjunction with writer Nancy A. Collins, filed lawsuit against the producers claiming that Underworld had stolen its scenario from their game designs and its entire plot from one of Collins' short stories, citing 60 points of similarity between Underworld and their works.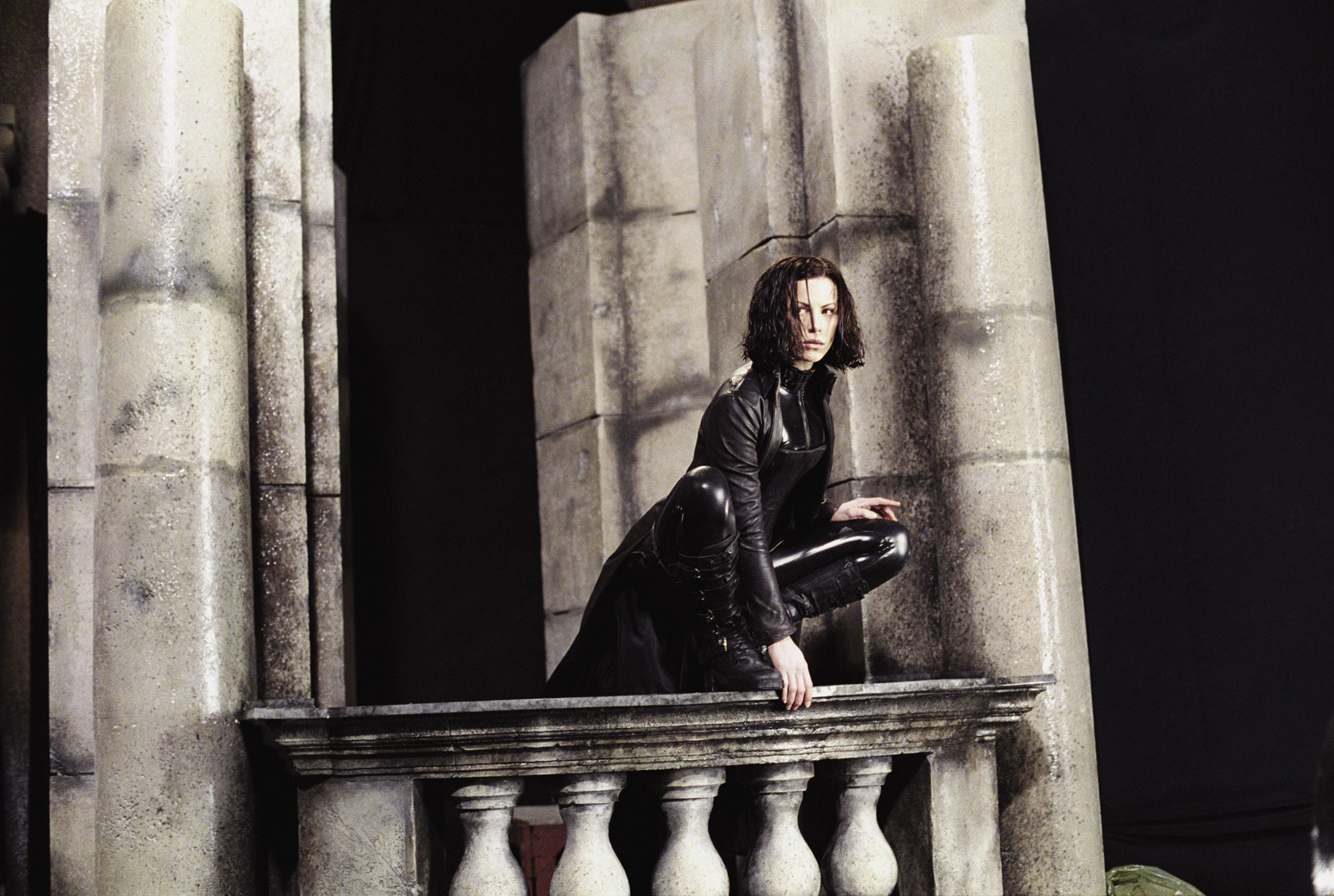 The other body of influence that Underworld draws from is the number of recent films that comes inspired by the modern Gothic graphic novel – films like Batman (1989), The Matrix (1999), Road to Perdition (2002) and in particular The Crow (1994) and sequels, with their glistening black PVC/leather fetishism; moodily Gothic/industrial sets; streets covered in ever-present rain; the stylised slow-motion action moves and grimly unsentimentalised violence. In keeping with the new Goth look, director Len Wiseman has bled virtually all colour out of the frame, focusing on gaunt faces and with everybody dressed in lace, black leather and PVC as though on their way to a Goth nightclub – so much so that Underworld seems to be taking place almost entirely in black-and-white.
Underworld connects all of this up into a slickly packaged and fast-moving vampire/action film. The generic elements fall together into a reasonably absorbing plot, even if it at the end one is left wanting to find out more about the world these characters live in (which is, one supposes, a mark of imagination). On the minus side, the characters are not well rounded and we learn little about them.
The shy personaed British actress Kate Beckinsale is not exactly the first name that comes to mind as a tough action heroine (although Underworld did considerably change her career path in this respect). However, Len Wiseman seems unconcerned and instead turns Kate Beckinsale's performance into a series of poses, with she decked out in bustiers and skintight PVC, always strutting about kicking doors open and with her long black coat flapping up around her in slow motion – indeed, her face is rarely seen not hidden behind an artfully bedraggled forelock of curls.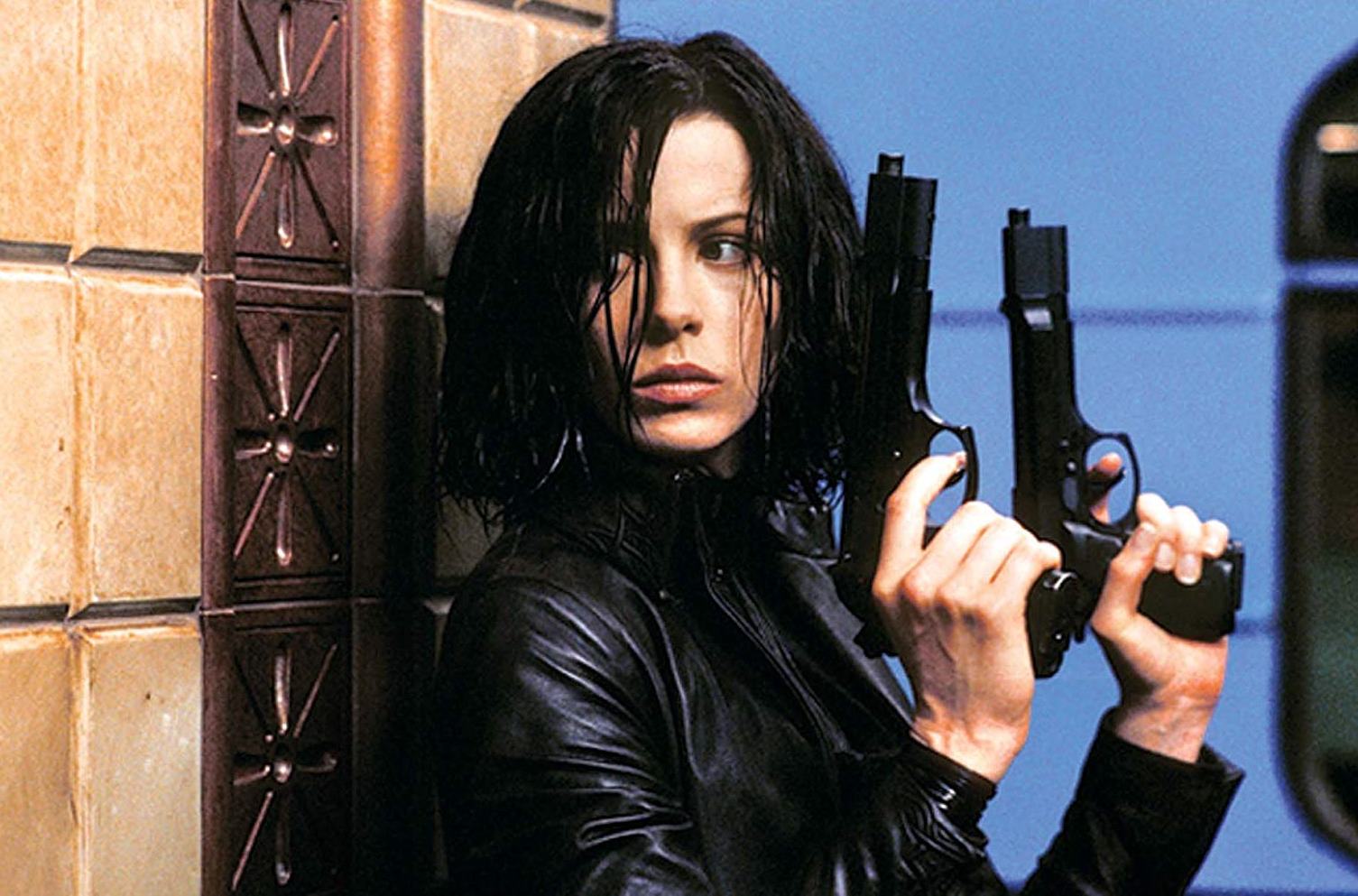 Underworld represented the big-budget feature directorial debut of Len Wiseman. Giving hope to all fannish wannabes out there with a script for their dream project under their arm, Len Wiseman's only previous industry experience was working as a props assistant and general dogsbody for Roland Emmerich's Centropolis Effects on films such as Stargate (1994), Independence Day (1996) and Godzilla (1998). Emmerich took a shine to Wiseman and personally financed Wiseman's initial effort to direct a music video. Wiseman went onto make a handful of videos for artists such as En Vogue, Megadeth and Vega, before being granted the opportunity to direct Underworld.
Operating on only a $20 million budget, Len Wiseman succeeds in making a film that looks much more expensive than that. He does the slick, rain-glistening, cod-Matrix look well, although not quite with the enthralling dynamism that Guillermo Del Toro employed the same look in Blade II (2002). In the end, Underworld is not quite groundbreaking – it is reasonably slick and stylish but not as substantial a bite on the neck as one wishes it would have been.
Underworld: Evolution (2006) was a sequel with most of the personnel here aboard. Underworld: Rise of the Lycans (2009) was a prequel, although Len Wiseman only co-writes the script and co-produces rather than directs, and Underworld: Awakening (2012) and Underworld: Blood Wars (2016) were subsequent sequels.
Len Wiseman subsequently went onto direct the action film Live Free or Die Hard/Die Hard 4.0 (2007) and the remake of Total Recall (2012), as well as created/produced the tv series' Sleepy Hollow (2013-7), Lucifer (2015-8), The Gifted (2017-9) and Swamp Thing (2019).
(Nominee for Best Makeup Effects at this site's Best of 2003 Awards).
---
---