aka The Living Corpse
(Zinda Laash)
---
Crew
Director – Kh. Sarfraz, Dialogue – Naseem Rizwani, Based on the Novel Dracula by Bram Stoker, Producer – Abdul Baqi, Photography (b&w) – Nabi Ahmed, Irshad & Raza Mir, Music – Tassadaque Hussain, Makeup – Nazir & Siddiq, Art Direction – Shahab, Dance Choreography – Ch. Hamid. Production Company – Bari Studios.
Cast
Rehan (Professor Tabani), Habib (Aqil's Brother), Deeba (Shabnam), Asad (Dr Aqil), Ala-Ud-Din (Bhajian Parvez), Sheela (Ghazala Parvez), Yasmeen (Shirin), Nasreen (Vampire Bride), Cham Cham (Nightclub Dancer), Baby Najmi (Baby)
---
Plot
Professor Tabani creates what he believes is the elixir of life that will grant immortality. However, after he takes it, his wife finds him dead. He then rises from the crypt and comes to drink her blood. Some time later, Dr Aqil travels through the countryside and goes to Professor Tabani's house, ignoring warnings from the locals to stay away. He is welcomed, only for Tabani and his vampire wife to prey on him. Aqil's brother comes searching for him. He finds Aqil's body in a coffin and is forced to stake him. Aqil's brother tries to warn Aqil's wife Shabnam and her brother Parvez of what happened but this is dismissed until Professor Tabani comes preying on Shabnam, turning her into a vampire too.
---
Pakistan has never exactly struck me as a metropolis of world cinema – at least in the same way its neighbour India has a massive market. However, it has grown sufficiently that it is even been nicknamed Lollywood (a take on the way Indian cinema is called Bollywood as a catenation of Bombay and Hollywood, Lollywood by extension being so named for the fact that its production base is centred in Lahore). Not much of Pakistani cinema ever appears to make it out to the world stage in terms of festivals and I don't recall a single other film that has ever made it into arthouse release in the West.
Dracula in Pakistan has the distinction of being Pakistan's first horror film. For many years, up until its dvd release recently, it was largely unavailable. Even then the version seen was incomplete due to the fact that Pakistani censors of the day considered elements like the dance scenes too risque and demanded the film be cut (although these have been restored for the dvd release).
The character of Count Dracula has a popularity that has been spun through almost every culture interpretation – ventures to Turkey in Dracula in Istanbul (1953), to the American West in Billy the Kid Versus Dracula (1965), Hong Kong/China in The Legend of the 7 Golden Vampires (1974) and Japan in Lake of Dracula (1971). It is rather fascinating seeing Dracula play out in East Indian terms, where the basics are interpreted in terms of Pakistani culture and the dressings in Dracula's castle are all typical for the region rather than standard Western studio-bound conceptions of a castle.
Dracula in Pakistan has been made not so much as another version of Bram Stoker's Dracula (1897) but as an unofficial remake of Hammer's version Dracula/The Horror of Dracula (1958). (Bollywood films are notorious for shamelessly stealing the entire plots of Hollywood films). The opening copies Horror of Dracula directly with the film's equivalent of Jonathan Harker (Asad) going to Dracula's castle (although he is not a librarian in this version – or even a lawyer as Stoker had him – leaving his reasons for visiting the castle unexplained). There are many other scenes copied from the Hammer film such as having Aqil/Harker write in a diary, which is then found after he is killed by the film's equivalent of Van Helsing, who is now Aqil's brother (Habib). Kh. Sarfaz even copies the staging of entire scenes from Terence Fisher – in particular, Dracula's dramatic entrance and the scene where Dracula interrupts his wife trying to feast on Harker/Aqil (although here the film has the wonderful additional scene where he tosses her a baby and snarls "feast on this").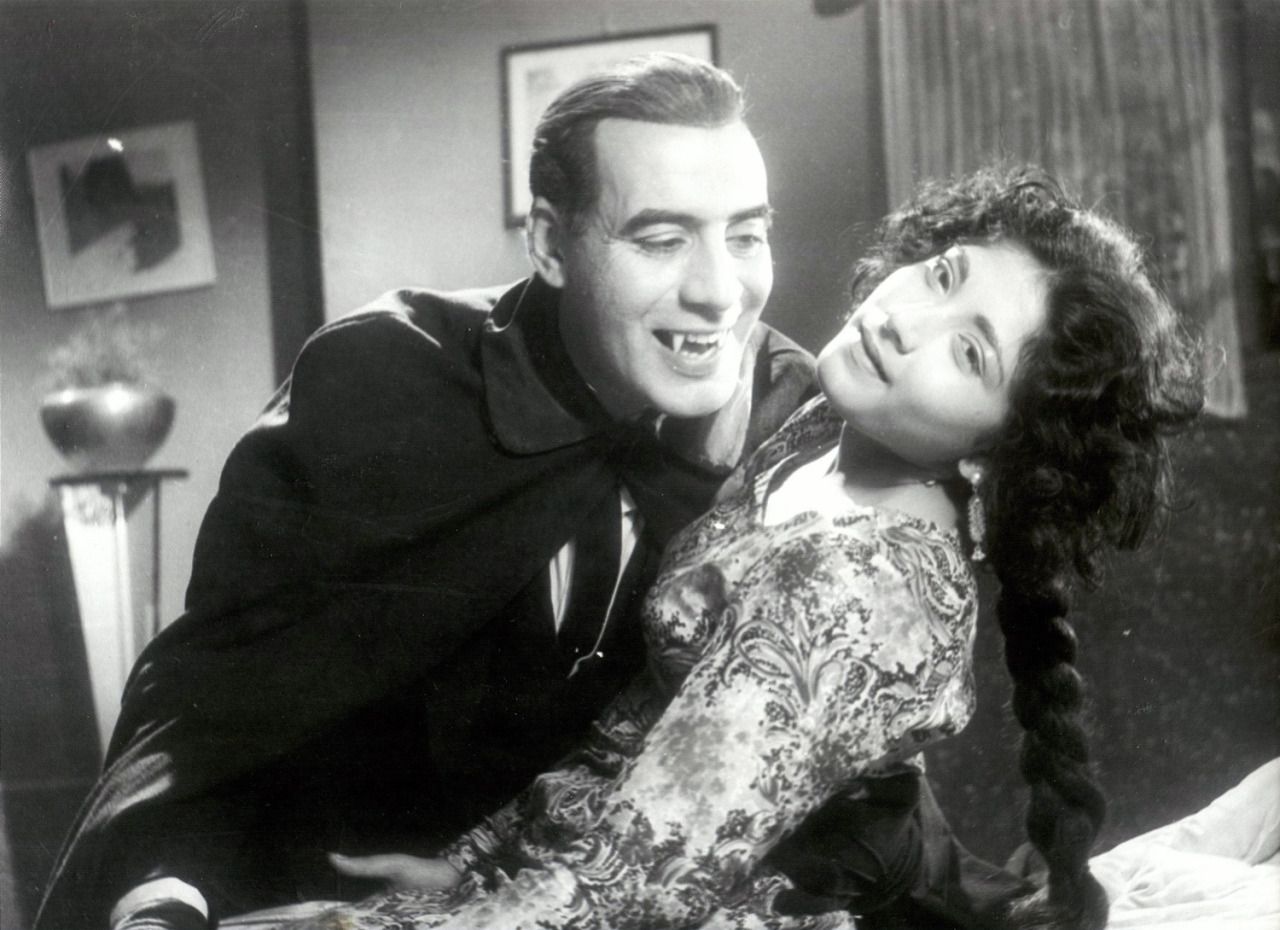 There are some interesting differences. Like Nosferatu (1922), which had to do so for copyright reasons, the film doesn't call its vampire Dracula. There is also a prologue where he is introduced as a scientist who takes a potion of immortality that transforms him, making this the first time we have seen a vampire created by scientific methods. The characters are also not as distinctive. The film's equivalent of Van Helsing is merely Harker's brother, not a vampire hunter steeped in mythological lore, making the character much more mundane than the crusading savant he is in Peter Cushing's incarnation in The Horror of Dracula and most other screen Van Helsings. There are variants on classic lines – Dracula's "children of the night – what music they make", which was immortalised by Bela Lugosi, becomes "Children of the night. But such music will not appeal to city folk like yourself."
Kh. Sarfaz does an okay job directing, even if you feel he has taken all his moves from other classic vampire films. The scene with Deeba waiting in bed for the professor to arrive and he then taking her is quite evocative, as are the scenes with her moving through the graveyard. There is some reasonable climactic running around the castle. Sarfaz also conducts an effective copy of the classic climax from The Horror of Dracula where the vampire is driven back and the drapes whipped open to expose him to sunlight, reducing him to ashes.
The film has an at times completely crazed score, which often uplifts pieces of classical music wholesale, at other times is like experimental jazz and all over the place. The professor's wife (Nasreen) even gets to do a dance routine accompanied by sixties-styled Shadows music. There are various other songs and dance numbers throughout just like a typical Bollywood film.
One thing that the film does retain from The Horror of Dracula is the vampire as a carnal force seducing the women – something that would have been even more alarming transplanted to such a conservative country as Pakistan where even the rather staid dance scenes we have were censored as being too lewd and suggestive.
Other adaptations of Dracula are:– the silent classic Nosferatu (1922); the classic Bela Lugosi version Dracula (1931); the Spanish language version Dracula (1931) shot on the same sets as the Lugosi version starring Carlos Villarias; Hammer's classic Dracula/The Horror of Dracula (1958) with Christopher Lee; Count Dracula (1970) a continental production that also featured Christopher Lee; Dracula (1974), a tv movie starring Jack Palance; Count Dracula (1977), a BBC tv mini-series featuring Louis Jourdan; Dracula (1979), a lush remake starring Frank Langella; Nosferatu the Vampyre (1979) with Klaus Kinski; Francis Ford Coppola's Bram Stoker's Dracula (1992), featuring Gary Oldman; the Italian-German modernised adaptation Dracula (2002) starring Patrick Bergin; Guy Maddin's silent ballet adaptation Dracula: Pages from a Virgin's Diary (2002); Dracula (2006), the BBC tv adaptation starring Marc Warren; the low-budget modernised Dracula (2009); Dario Argento's Dracula (2012) with Thomas Kretschmann as Dracula; the low-budget Canadian Terror of Dracula (2012) with director Anthony D.P. Mann as Dracula; the tv series Dracula (2013-4) with Jonathan Rhys Meyers; the BBC mini-series Dracula (2020) starring Claes Bang; Bram Stoker's Van Helsing (2021), which actually features no Dracula; and The Asylum's Dracula: The Original Living Vampire (2022) with Jake Herbert.
(Review Copy Provided by Prodosh Bhattacharya)
---
---