---
Crew
Director – Gabriel Bologna, Screenplay – Gabriel Bologna & Sean Clark, Story – Gabriel Bologna & Michael Berenson, Producers – Jason Loughridge & Raymond J. Markovich, Photography – Massimo Zeri, Music – Harry Manfredini, Visual Effects – Bent Light Digital (Supervisor – Adam Fanton), Special Effects Supervisor – Matthew Bolton, Makeup Effects – Patrick Magee, Production Design – Michael Fitzgerald & Samson Kellman. Production Company – Parallel Media/Project 8 Films.
Cast
Danielle Harris (Kathy), James Duval (Rick), Robert Patrick (Pete), Mircea Monroe (Veronique), Arcadiy Golubovich (Anton), Electra Avellan (Renee), Elise Avellan (Elise), Walker Howard (Trent), Nick Mennell (Josh), M.D. Walton (Robert), Sean Lawlor (Charles), Richard Tyson (Nicholas), Jason Loughridge (Clint), Adam Palladino (Nigel)
---
Plot
Nine friends travel to Beacon's Island off the coast of Maine for a weekend getaway, renting the home of the island's owner Pete. As they settle in, they discover a boardgame in the cellar. Unknown to them, this is an artefact that was uncovered in Turkey back in 1927 from a tomb to the deity Pan. They settle down to play the game where the players must pick up a card on each turn, read it aloud and then enact its instructions. This serves to bring out the group's guilty secrets and desires for one another. This in turn affects various of the group and make them become possessed and attack the others.
---
The Black Waters of Echo's Pond was the fourth film from director Gabriel Bologna. Bologna had previously made the non-genre likes of the thriller The Theory of the Leisure Class (2001) and comedy Buds for Life (2004) before venturing to The Asylum for their modernised Jules Verne adaptation 30,000 Leagues Under the Sea (2007). Bologna subsequently directed the horror comedy Boston Girls (2010), the South African thriller African Gothic (2014) and the non-genre Tango Shalom (2021). He is the son of actor Joseph Bologna who had a moderate career as an actor and is best known here for The Big Bus (1976), Transylvania 6-5000 (1985) and Alligator II: The Mutation (1991), among other roles.
Gabriel Bologna has a reasonable cast to hand. These include Robert Patrick, a genre veteran ever since Terminator 2: Judgement Day (1991), and Danielle Harris, a genre regular since appearing as Laurie Strode's daughter in Halloween IV: The Return of Michael Myers (1988). There is also Mircea Monoe who subsequently became better known, appearing in mostly comedy roles. The other interesting names are twins Electra and Elise Avellan who are the daughter of director Robert Rodriguez of Spy Kids (2001) and Sin City (2005) fame, and have appeared in a number of his films.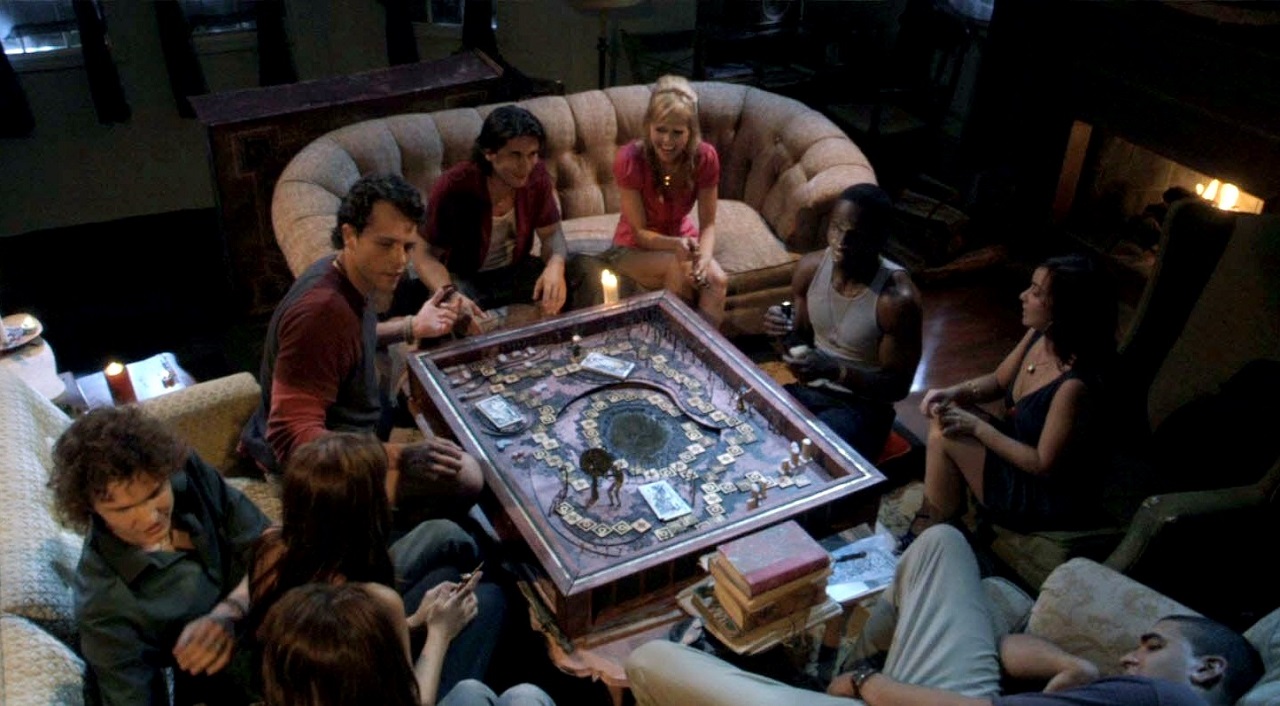 I had difficulty getting a grasp on what The Black Waters of Echo's Pond was about. The title seems suited to some kind of Ghost Story, which was my initial expectation. The opening scenes feature a venture into the tomb of Pan, which seems to create suggestions of Greek Myth, although the disappointment is that Pan remains a figure that is unused throughout. And then there is the central Game that has the intriguing ability to bring out player's deepest secrets and desires and then push the players into situations where they have to act on them.
The downside of the film is that the script has far too loose a grasp on the horror elements. There is the intriguing idea of the game and the way it influences people. On the other hand, you could easily take the game out of the film and just have a regular teen drama about the thwarted desires and secrets amongst a group of friends on a weekend getaway. And then for no particular reason, people develops black eyes and appear to be possessed and start attacking others – quite why and how they are being affected is not made clear.
---
Trailer here
---