---
Crew
Director – David Lynch, Screenplay – Robert Engels & David Lynch, Producer – Gregg Fienberg, Photography – Ron Garcia, Music – Angelo Badalamenti, Special Effects – LA Wizards (Supervisor – Robert F. McCarthy), Production Design – Patricia Norris. Production Company – CIBY Pictures/Spelling Films International/Twin Peaks Productions.
Cast
Sheryl Lee (Laura Palmer), Ray Wise (Leland Palmer), Chris Isaak (Agent Chester Desmond), Moira Kelly (Donna Hayward), Dana Ashbrook (Bobby Briggs), James Marshall (James Hurley), Kiefer Sutherland (Agent Sam Stanley), Kyle MacLachlan (Agent Dale Cooper), Grace Zabriskie (Sarah Palmer), Frank Silva (Bob), Eric Da Re (Leo Johnson), Harry Dean Stanton (Cal Rodd), Michael Anderson (Man from Another Place), Walter Olkewicz (Jacques Renault), Phoebe Augustine (Ronette Pulaski), Al Strobel (One-Armed Man), David Lynch (Gordon Cole), Madchen Amick (Shelly Johnson), Lenny Von Dohlen (Harold Smith), Pamela Gidley (Teresa Banks), Miguel Ferrer (Albert Rosenfeld), Catherine E. Coulson (The Log Lady), David Bowie (Agent Phillip Jeffries)
---
Plot
FBI agent Chester Desmond goes to the town of Deer Meadow to investigate the murder of waitress Teresa Banks whose body was found wrapped in plastic. However, Desmond disappears while searching Teresa's trailer-park home. Investigating Desmond's disappearance, FBI agent Dale Cooper has a prescient dream. Exactly one year later in the town of Twin Peaks, teenager Laura Palmer is leading a double life – on one hand the Homecoming Queen and involved in charity work, on the other forced to resort to prostitution to support a cocaine habit. In the last few hours leading up to her murder, Laura receives visions of the mysterious Black Lodge and discovers that the sinister figure of the man Bob who has been sexually abusing her since the age of twelve is someone who possesses her father.
---
Twin Peaks (1990-1) was perhaps the cult television series of the 1990s. The series was a huge hit but with the network's insistence on the revelation of Laura Palmer's murder in the second season, audience interest plummeted and the series was abruptly cancelled. With Twin Peaks: Fire Walk With Me, the series' creator David Lynch crafted a cinematically released prequel.
Twin Peaks: Fire Walk With Me was controversial from the moment it premiered at Cannes to a booed reception. It seems that no two people alike have the same opinion of Fire Walk With Me except for a unanimous agreement on how confusing it is – the mainstream critics hated it, a few brave souls went out on a limb to call it David Lynch's best film so far and, surprisingly enough, many of the fans of the series disliked it claimedly because it varies considerably from the series (a surprising reaction as it is remarkably faithful to series continuity). One's own reaction is a mixed one that falls somewhere between the three stools.
Twin Peaks: Fire Walk With Me in some ways feels an unnecessary film – the story of the circumstances surrounding Laura Palmer's murder served best when they were part of an unfolding mystery, an investigation uncovering the dark and twisted secrets behind the facade of a small town. The events were best as presented in the series – when mysterious and full of startling revelations, not when presented as here out in the open. In doing so, Fire Walk With Me clarifies little, so much as it merely connects together details raised in the series. (If anything, one wishes that David Lynch would have chosen to do a sequel to the series, which ended on the startling cliffhanger of Agent Cooper returning from the Black Lodge possessed by Bob).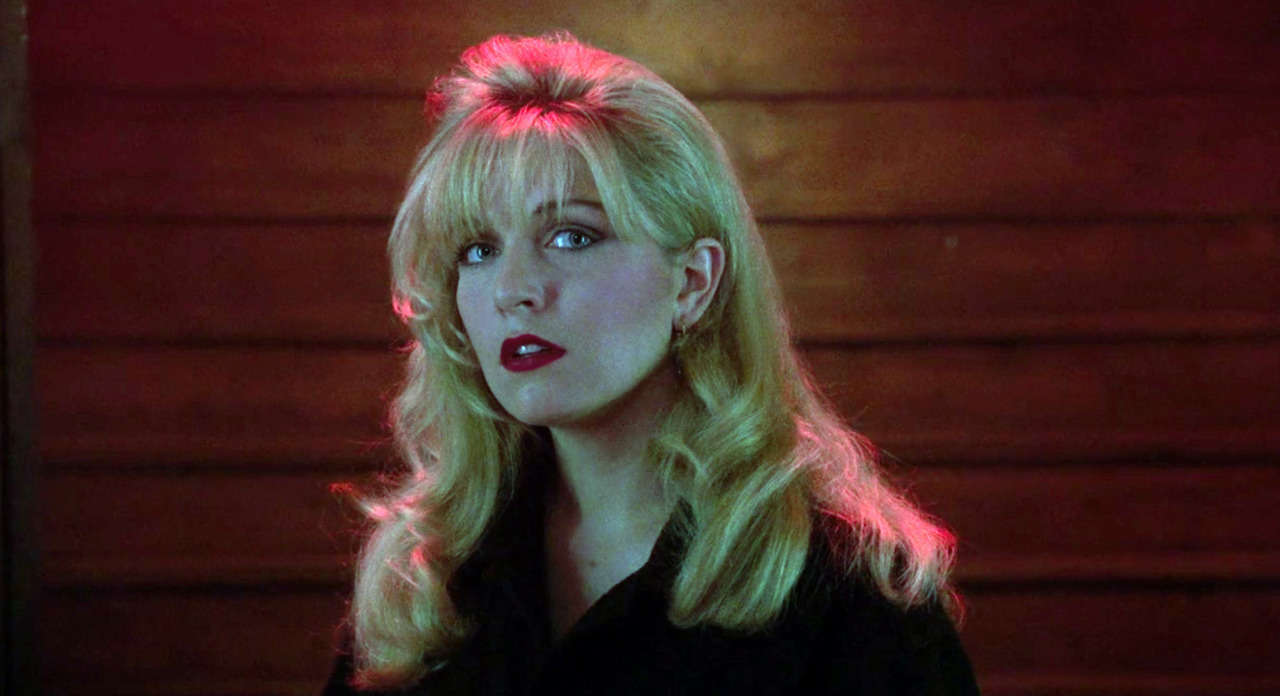 Twin Peaks: Fire Walk With Me is a challenging film to like. It demands a good deal of an audience. At times, it seems like David Lynch is trying to be David Lynch so much that the film becomes far too silly for its own good – like a sequence at the airport with information being imparted to Chris Isaak regarding his assignment via cryptic clues involving a woman in a red dress standing with one hand in her pocket, walking in a circle and wearing a blue rose in her buttonhole.
Far more than the series ever did, the film detaches itself from any connection to reality. The series created a world that was like a thin mask of normalcy hiding the bizarre and inexplicable, while in the film it feels like David Lynch has departed from even the common normality the series paid lip to. The film jumps between past, present and future (Heather Graham's character, even though she was not introduced until the second season and not killed until the very end of the series, turns up dead in Laura's bed trying to warn her), afterlife, metaphor and inexplicable symbolism with a disregard for anything approaching linear, or even coherent, narrative.
One can see that this was the way that David Lynch wanted to take the series, particularly in the final episode's venture into all-out surrealism – and his subsequent films Lost Highway (1997), Mulholland Dr. (2001) and Inland Empire (2006) – take this even further to become pretzels of incomprehensibly wound and unresolved plotting ends. However, the results are baffling to everybody, particularly during the film's extended prologue. At the end of his investigation, Chris Isaak appears to vanish into what might be the telephone wires or as a television transmission – his disappearance is never referred to or explained anywhere else in the film, or for that matter the tv series either; and then in a brief one-line cameo David Bowie appears as an agent who walks into the FBI office and then vanishes into what looks like another tv transmission. None of this has any bearing whatsoever on the rest of the film (although Lynch gives more clues about what happened to Bowie's agent in the 2017 sequel series).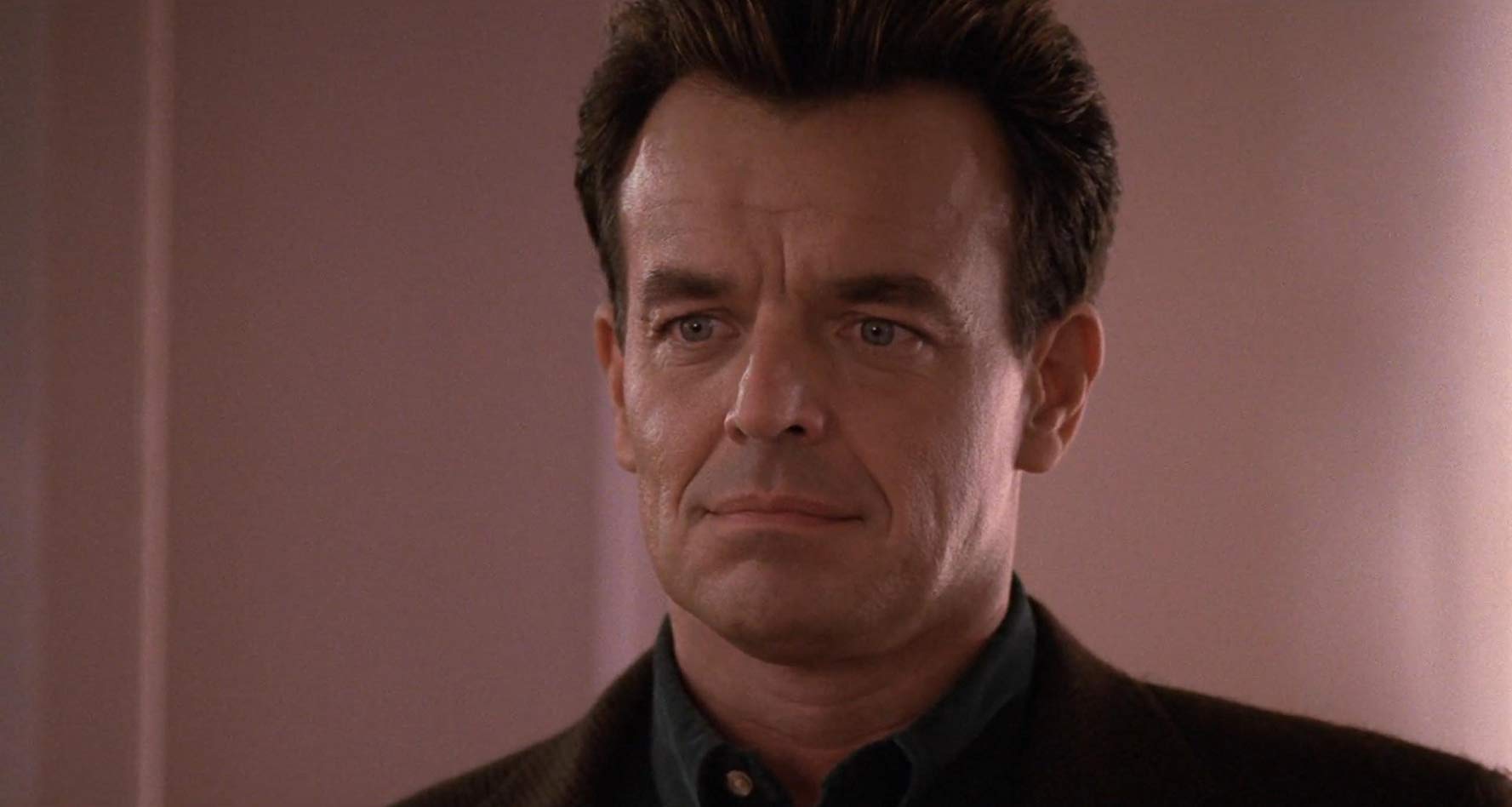 Without the extended (twenty minute) prologue, in just telling the story of Laura Palmer alone, Twin Peaks: Fire Walk With Me could have been far better. Once into the main story about Laura Palmer, David Lynch plunges through the sordid build-up to her death and gradually intensifies the film into an all-out nightmare. The film's gradual intensification – from the surprisingly forceful scene in the Bang Bang club with her being used as a whore, to Bob's raping of her, Leo and Jacques's rape/bondage session in the cottage in the woods (which Lynch surprisingly does shy away from depicting) and her final stabbing and wrapping in plastic by her father – is disturbing and powerful.
In the tv series, Sheryl Lee was given little opportunity to do anything – she obtained brief fame for her single appearance wrapped in plastic at the beginning of the pilot and was thereafter relegated to occasional appearances in the Black Lodge and given the bonus consolation of playing Laura's cousin Maddie in a poor black hair dye job, which revealed little in the way of talent on her part. One expected that Sheryl Lee, in being required to carry the film here, may well have not been up to the task.
To the contrary, she surprises considerably and delivers a tour de force performance. She is all one imagined Laura Palmer to be and more – beautiful yet tragic, innocent yet coolly sophisticated, tough yet vulnerable. The film's story arc is a tragedy – about the final moments in the despoliation of an innocent who has fallen far beyond redemption. In being required to display an acting range that goes from coke-addict become whore – "Who wants to fuck the Homecoming Queen?" she announces herself – to a wholesome innocent broken by secrets she carries, Sheryl Lee does an amazingly good job.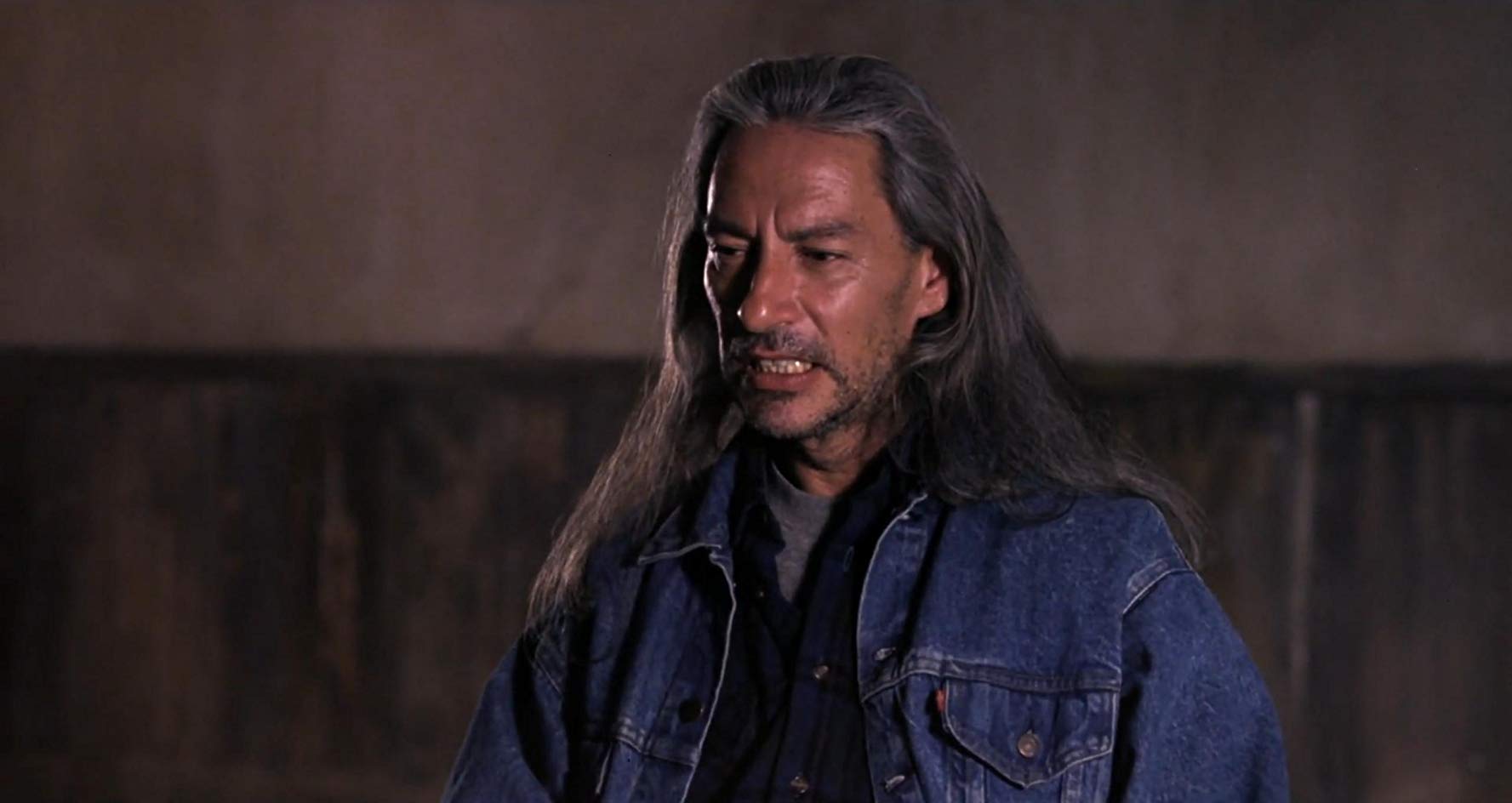 David Lynch later released Twin Peaks: Fire Walk With Me – The Missing Pieces (2014), a 91-minute compliation of deleted and extended scenes that were cut from the theatrical print. These feature many of the appearances from cast regulars who did not appear in the theatrical print, including Joan Chen, Don S. Davis, Warren Frost, Harry Goaz, Michael Horse, Everett McGill, Jack Nance, Michael Ontkean, Kimmy Robertson, Wendy Robie and Russ Tamblyn. I am not sure these scenes make for necessarily a more comprehensible film but they do embellish many details.
We get to see far more of the Palmer homelife and of Laura trying to seek a sense of normalcy with the Haywards and more of her at the Double R diner. We also get tiny pieces of continuity tie-up with the series about Bobby's drug deals, the key hidden in her diary, the money in the safety deposit box. There are a few more scenes of Chris Isaak's investigation, including a long one where he gets into a fist fight with local sheriff Gary Bullock. We do get some more scenes with Pamela Gidley's Teresa Banks but not ones that substantially elaborate her character, although we do get to see her on the phone to Leland and relaxing in a motel room with Laura and Ronette Pulaski.
The most fascinating of these scenes are the embellishment of those involving David Bowie's missing agent who would appear to have teleported to FBI headquarters from somewhere in South America and with cryptic comments about the mysterious Judy, a secret that only he and Cooper know about. We do get to see more scenes with Kyle MacLaclan at FBI headquarters, including a cute one where he is playing a guessing game with the never-seen Diane, and more of him and The Man from Another Place in the Black Lodge.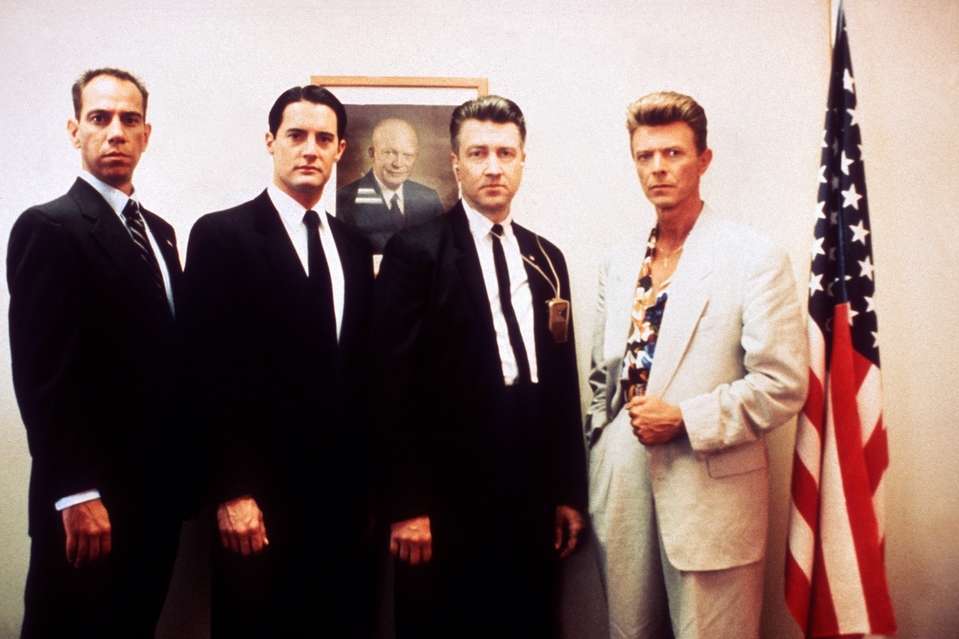 Rather fascinating are the scenes that would presumably have ended the film where a blinded Heather Graham is taken to hospital and a scene set directly after the final shot of the tv series where the Bob-possessed Cooper pretends to have knocked himself out as a concerned Sheriff Truman and Doc Hayward break into the bathroom.
David Lynch conducted an eighteen-episode revival of Twin Peaks in 2017, reuniting most of the original cast.
David Lynch's other films are:– Eraserhead (1977), The Elephant Man (1980), Dune (1984), Blue Velvet (1986), Twin Peaks (1990), Wild at Heart (1990), Lost Highway (1997), The Straight Story (1999), Mulholland Dr. (2001) and Inland Empire (2006). Lynch has also produced other genre films such as The Cabinet of Dr Ramirez (1991), Nadja (1994), Surveillance (2008), My Son, My Son, What Have Ye Done (2009) and Black and White in Colors (2010), as well as two short-lived surrealist tv series with On the Air (1992) and Hotel Room (1993). Lynch (2007), David Lynch: The Art Life (2016) and Lynch/Oz (2022) are documentaries about Lynch.
---
---