---
Crew
Director/Screenplay – David Lynch, Based on the Novel by Barry Gifford, Producers – Steve Golin, Monty Montgomery & Sigurjon Sighvatsson, Photography – Frederick Elmes, Music – Angelo Badalamenti, Special Effects – Don Power, Production Design – Patricia Norris. Production Company – Polygram/Propaganda.
Cast
Nicolas Cage (Sailor Ripley), Laura Dern (Lula Fortune), Willem Dafoe (Bobby Peru), Diane Ladd (Marietta Fortune), Harry Dean Stanton (Johnny Farragut), J.E. Freeman (Marcello Santos), Isabella Rossellini (Perdita Durango), W. Morgan Sheppard (Mr Reindeer), Grace Zabriskie (Juana), Crispin Glover (Dell), Sherilyn Fenn (Julie Day), Jack Nance (Bozie Spool)
---
Plot
Sailor Ripley is released after five years in jail where he was convicted for murdering a man who had been sent by Marietta Fortune to kill him because he was liasing with Marietta's daughter Lula. Lula is waiting for Sailor as soon as he gets out and they head straight back into their heatedly intense sexual relationship. Sailor breaks parole and they drive across country through New Orleans and into Texas. Marietta responds by hiring a host of killers to dispose of Sailor.
---
David Lynch is a man who inhabits a very disturbed headspace. David Lynch makes Mondo movies from the inside looking out. Lynch started out as a filmmaker making Eraserhead (1977), one of the cultiest, most bizarre films ever made. All of David Lynch's subsequent genre films – Dune (1984), Blue Velvet (1986), Twin Peaks (1990), Wild at Heart, the Twin Peaks tv series (1989-1), Twin Peaks: Fire Walk With Me (1992), Lost Highway (1997), Mulholland Dr. (2001) and Inland Empire (2006) – travel through extremely bizarre mental space. Lynch's films seem caught between a cod akilter banality and eruptions of the perverse and dangerous that lurk beneath a patina of normalcy. They seem like visions of 1950s rock'n'roll movies gone to Hell.
Wild at Heart is one of David Lynch's finest movies. Wild at Heart is a 1960s rock'n'roll road movie but it is also like an apocalyptic road movie that charts less physical terrain than it is a journey through deranged places of the mind. It explodes at the edges with a pent-up energy – the dancing scenes erupt into frenetic frenzies that seem to be trying to let something out. The love scenes burn with a sexual heat.
Wild at Heart is the most in control of a film that David Lynch has ever seemed. There is such a breathtaking cool to the things he does – in one roadside scene, Laura Dern and a wildly gyrating Nicolas Cage start dancing impromptu to a heavy metal thrash song on the radio but when the soundtrack fades into classical music so to does their dance.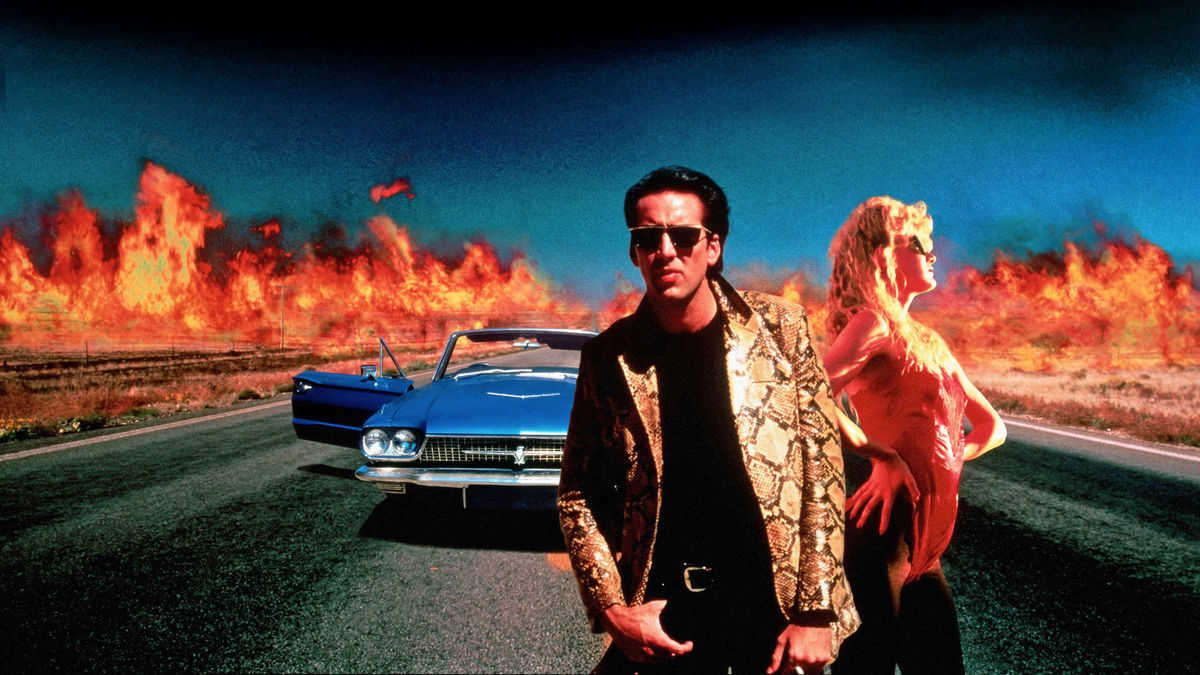 For once, Nicolas Cage is in control of his performance and is infinitely more dangerous than when he is not. He has an hilarious line in deadpan intellectual-speak and does some excellent Elvis impersonations – in leeringly whacked face and jagged cowlick, he looks positively Satanic at times. As the white trash girl missing a few clues, Laura Dern goes for pale, strutting sexiness – and this is one of the best pieces of acting she has done.
Willem Dafoe is downright evil in pencil-thin mustache and rotting teeth as Bobby Peru. His is a performance to make one sit up and watch – none the more so than a disturbing scene where he sexually menaces Laura Dern in a hotel room. Willem Dafoe is almost outshone in the evil department by J.E. Freeman as Marcello Santos who has some incredibly threatening scenes telling what he is going when he catches Nicolas Cage, which Lynch manages to cut in at a perfectly threatening point of nuance. Diane Ladd (Laura Dern's mother in real-life) gives an amazingly OTT performance (for which she was surprisingly nominated for an Academy Award).
There is a menagerie of alarmingly bizarre characters packed in around the edges of the film – such as Eraserhead hero Jack Nance as a man who announces he never goes anywhere without his dog and then starts barking to prove it; or Elephant Man and Dune co-star Freddie Jones as a man with an atrophied voicebox chicken squawking in a bar; and Twin Peaks seductress Sherilyn Fenn as a car accident victim looking for her purse while twisting her nail into a wound in her head.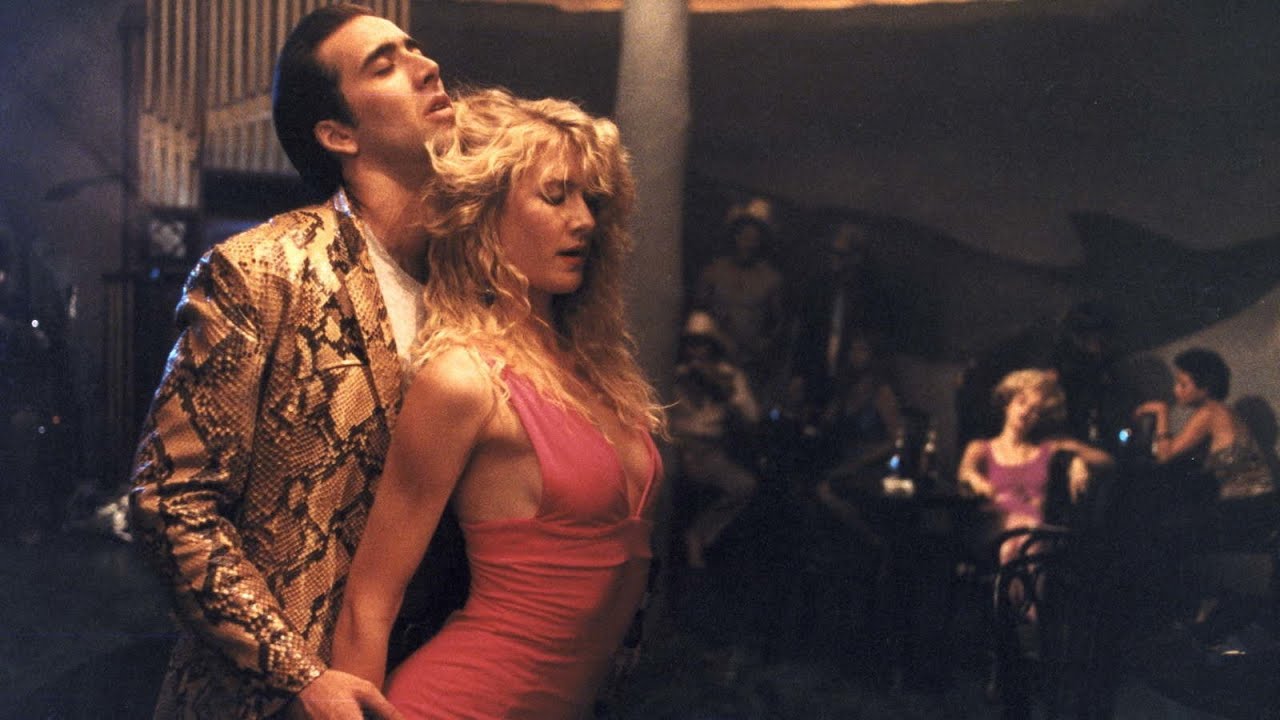 Positively the weirdest scene in the film – indeed, the most mesmerisingly weird scene in any David Lynch film – is the scene where Laura Dern narrates the story of her cousin who believed in the spirit of Christmas and became depressed when he was reminded that Christmas was over six months ago; believed that aliens inhabited rubber gloves (one disturbing image shows him huddled up in a corner away from a rubber glove, another pushing a rubber glove with a stick at arm's length into a weird configuration of string and books); his staying up in the midst of the night to make hundreds of tiny sandwiches for the aliens; his keeping cockroaches in his underwear and one to go on his anus; with the final joke being on everybody when it is revealed that he simply vanished.
Wild at Heart contains the weirdest series of The Wizard of Oz (1939) quotings ever. David Lynch plays everything in a peculiarly deadpan way where one is never entirely sure whether he is kidding or not. Nicolas Cage stands about wondering if they will ever get to the end of the Yellow Brick Road; Laura Dern has visions of her mother as the Wicked Witch of the West following them on a broomstick – and indeed Diane Ladd gets to paint her face in red lipstick and inexplicably develops a pair of curly-tipped slippers. At the end, when Laura Dern throws a drink over a photo of her mother, the photo later dissolves into vapour.
Lynch has created such a mood of consistently akilter weirdness that when he produces an amazingly corny vision of the Good Witch of the West (played by Laura Palmer herself Sheryl Lee) at the end, the audience dissolves into disbelief rather than outright laughter. Wild at Heart is a film where there is so much going on, so many tiny things that each re-viewing of it produces new insights. It is my favourite among David Lynch's films.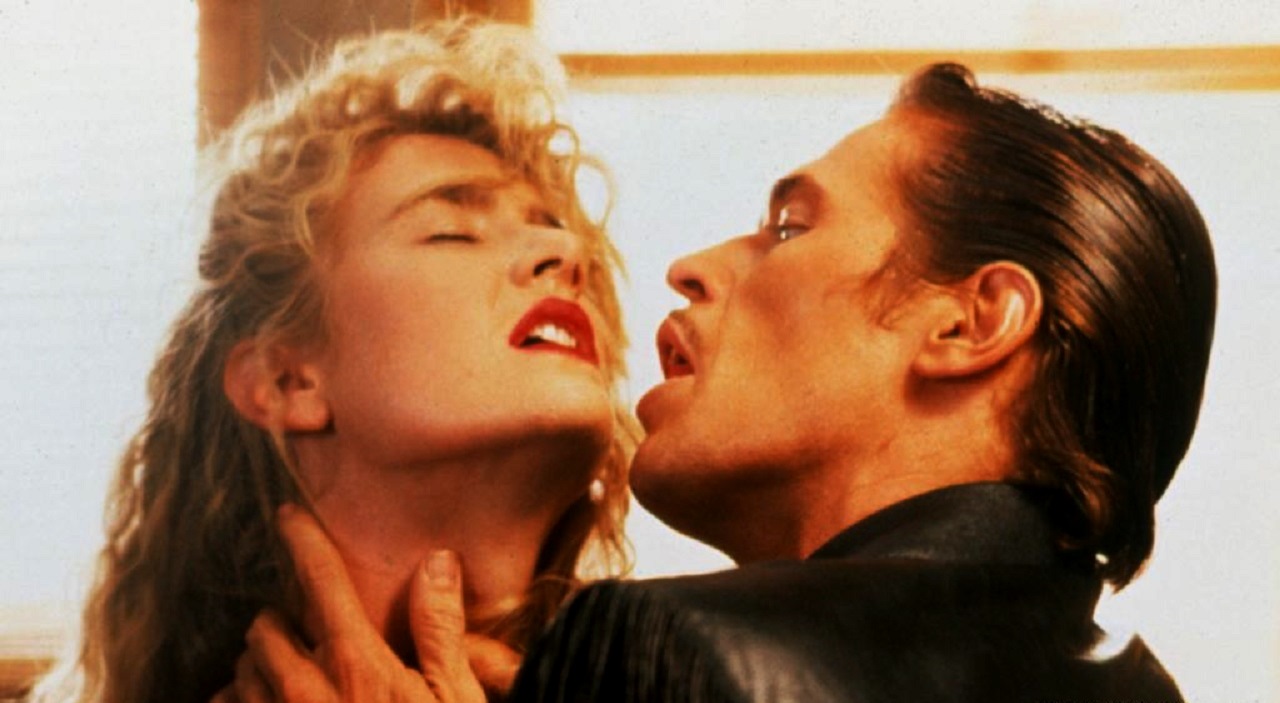 David Lynch and Barry Gifford, the novelist upon whose book the film is based, later collaborated on the screenplay for Lynch's Lost Highway (1997). Barry Gifford expanded the stories of Lulu and Sailor in seven other novels. The character of Sailor's former girlfriend Perdita Durango who joins the bank robbery scheme toward the end of the film (and is played by David Lynch's then wife Isabella Rossellini), later became the central character in the second of Barry Gifford's books, which was filmed by Spanish director Alex de la Iglesia as the also well worthwhile Perdita Durango/Dance with the Devil (1997).
David Lynch also created and directed many episodes of the cult tv series Twin Peaks (1990-1, 2017). Lynch has also produced other genre films such as The Cabinet of Dr Ramirez (1991), Nadja (1994), Surveillance (2008), My Son, My Son, What Have Ye Done (2009) and Black and White in Colors (2010), as well as two short-lived surrealist tv series with On the Air (1992) and Hotel Room (1993). Lynch (2007), David Lynch: The Art Life (2016) and Lynch/Oz (2022) are documentaries about Lynch.
---