---
Crew
Director/Screenplay – David Lynch, Producer – Fred Caruso, Photography – Frederick Elmes, Music – Angelo Badalamenti, Makeup – Dean Jones, Production Design – Patricia Norris. Production Company – De Laurentiis Entertainment Corp.
Cast
Kyle MacLachlan (Jeffrey Beaumont), Isabella Rossellini (Dorothy Vallens), Dennis Hopper (Frank Booth), Laura Dern (Sandy Williams), George Dickerson (Detective Williams), Dean Stockwell (Ben)
---
Plot
Cleancut college kid Jeffrey Beaumont finds a severed human ear in a field. He reports it to the police but becomes so fascinated by the mystery that he decides to investigate himself. In doing so, Jeffrey becomes involved with nightclub singer Dorothy Vallens who is used as the sadistic toy of the psychotic drug dealer Frank Booth.
---
In 1986, David Lynch was about the only American director with the daring to go out on a limb and make a film about S&M. Things have not changed a great deal since – unless one counts the shabby titillation of Body of Evidence (1993) and Blindfold: Acts of Obsession (1993) or the giggly embarrassment of Exit to Eden (1994) – although there is certainly a greater permissibility in the portrayal of such matters in the post-Basic Instinct (1992) era and the topic finally received a positive treatment with Secretary (2005), followed by the mass success of Fifty Shades of Grey (2015). When it came out, Blue Velvet duly attracted critical acclaim and controversy in about equal amounts. The Academy of Motion Pictures, to prove they are not entirely curmudgeons, saw fit to nominate David Lynch for a Best Director Oscar that year.
At the time of Blue Velvet, David Lynch had established himself as an amazing new talent with the midnight cult favourite Eraserhead (1977). He had cemented this reputation by going on to direct The Elephant Man (1980), which had had him nominated for an Academy Award Best Director with only his second film. He agreed to direct Dune (1984) for movie mogul Dino De Laurentiis as long as De Laurentiis would back him a more personal film that he wanted to make, which became Blue Velvet.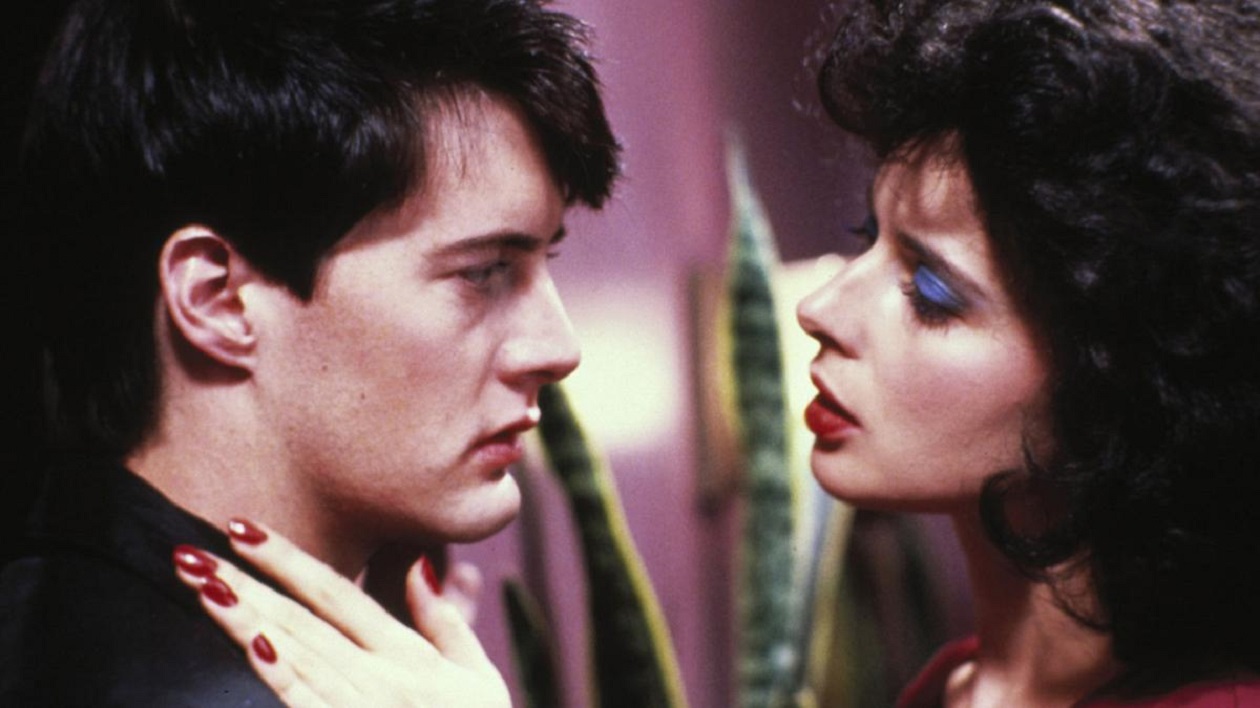 There is a dark obsessiveness to Blue Velvet – one that lingers long after the details of the film's mundane drug and kidnapping plot fade away. One is absorbed in the way that David Lynch draws Ivy League college kid Kyle MacLachlan down into a web of voyeurism, rape, sadomasochism and erotic tension. The film is capped by a genuinely disturbing performance from Dennis Hopper, sucking gas from a portable face-mask and screaming "Don't look at me, you fuck," while ordering Isabella Rossellini to spread her legs and menacing her with a pair of scissors.
Perhaps the most fascinating thing about Blue Velvet is how it literally becomes a journey into darkness – how as Kyle MacLachlan becomes drawn into the web, Lynch allows the film to accompany by lowering the lighting level to shoot almost completely in shadow. And once in the shadows, Lynch stirs some pretty weird shit. One scene where Kyle MacLachlan comforts Isabella Rossellini disturbingly alternates between eroticism and shock as she whisperingly encourages him to stroke her body, her breasts, and then, without any alteration in voice, to beat her.
When the end of the film returns to normalcy, the lighting contrast is almost blinding in its suddenness. David Lynch has always been a lover of a hyper-real normalcy that verges on the archly deadpan and the film's opening and closing moments with tulips against white picket fences, passing fire-trucks with firemen waving at the camera, and a loving family surrounding Kyle MacLachlan seem so normal as to be bizarre. Although this normalcy is a world where darkness always lurks not far beneath – in the opening moments we see a hose creeping through the grass on the lawn like a snake and the final image is of a robin (which had in an earlier dream hauntingly narrated by Laura Dern been established as a symbol of divine love) arriving with a worm in its mouth. The contrast between these two worlds is utterly striking.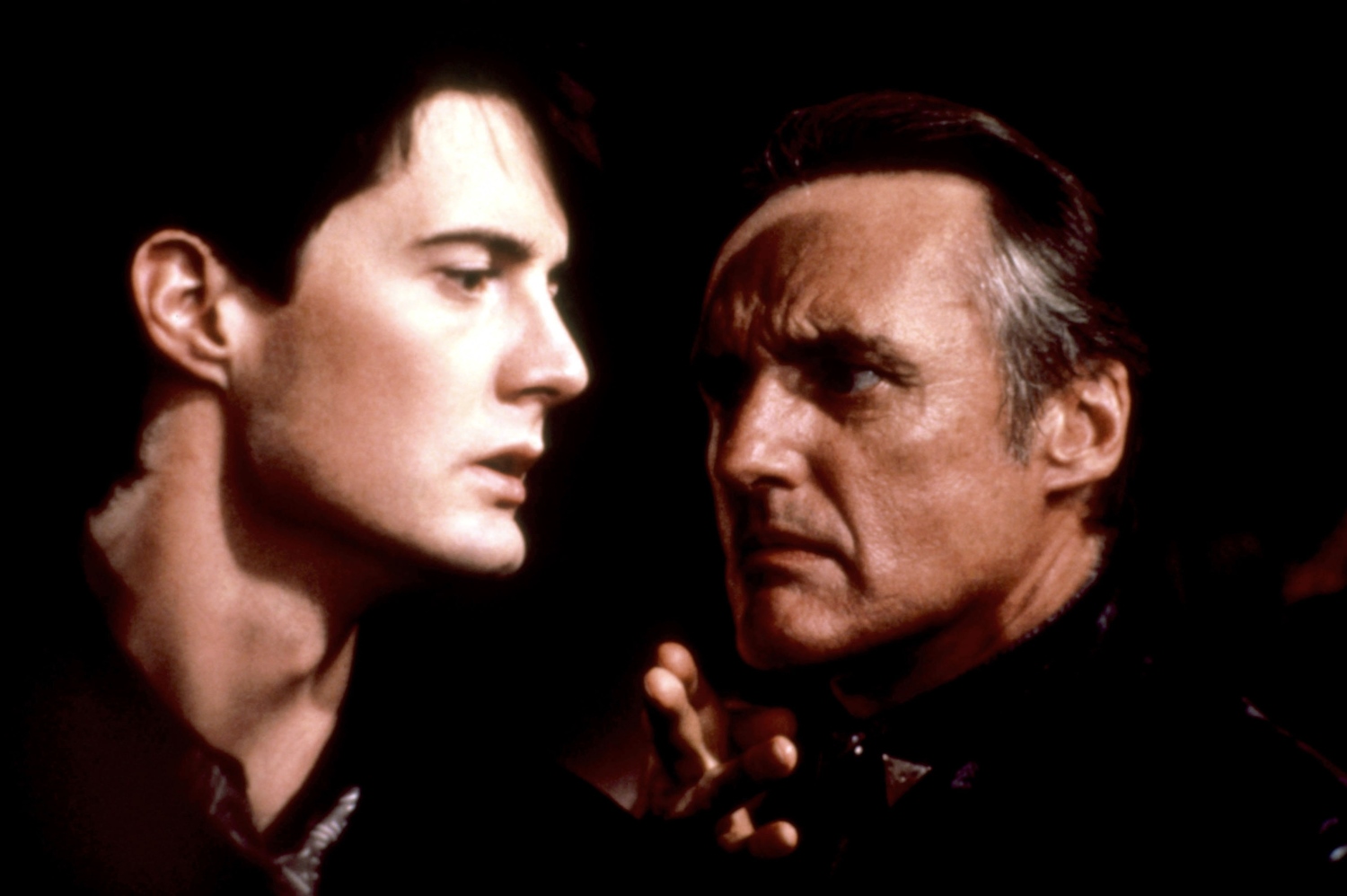 With all the weirdness, Lynch does not quite know what to do with either his villain or his S&M plot and the mundane resolution fails to wind the story to a satisfying conclusion. It is never explained, for example, what the severed ear was doing in the field. Slow-pacing is another problem the film has. But while not a wholly successful film, Blue Velvet is nevertheless one that for its imperfections settles in with a clammy claustrophobia.
Blue Velvet can also be seen as a dry run for many of the themes that David Lynch would air in his cult tv series Twin Peaks (1990-1). Both Blue Velvet and Twin Peaks feature a labyrinthine mystery involving kinky sex, drug running and kidnapping, all centred around a beautiful woman. In Twin Peaks, Lynch also established a similar striking symbolic contrast between the facade of normalcy and the secret underbelly of a small nowhere USA logging town.
David Lynch's other films are Eraserhead (1977), The Elephant Man (1980), Dune (1984), Twin Peaks (1990), Wild at Heart (1990), Twin Peaks: Fire Walk With Me (1992), The Straight Story (1999), Mulholland Dr. (2001) and Inland Empire (2006). Lynch also created and directed many episodes of the cult tv series Twin Peaks (1990-1, 2017). Lynch has also produced other genre films such as The Cabinet of Dr Ramirez (1991), Nadja (1994), Surveillance (2008), My Son, My Son, What Have Ye Done (2009) and Black and White in Colors (2010), as well as two short-lived surrealist tv series with On the Air (1992) and Hotel Room (1993). Lynch (2007) and David Lynch: The Art Life (2016) are documentaries about Lynch.
---
---