---
Crew
Director – David Lynch, Screenplay – Mark Frost & David Lynch, Producer – David J. Latt, Photography – Ron Garcia, Music – Angelo Badalamenti, Special Effects – Greg McMiekle, Production Design – Patricia Norris. Production Company – Twin Peaks Productions/Spelling Entertainment/Propaganda Films/Lynch-Frost Productions.
Cast
Kyle MacLachlan (Agent Dale Cooper), Michael Ontkean (Sheriff Harry S. Truman), Dana Ashbrook (Bobby Briggs), Lara Flynn Boyle (Donna Hayward), James Marshall (James Hurley), Richard Beymer (Benjamin Horne), Madchen Amick (Shelly Johnson), Everett McGill (Ed Hurley), Gary Hershberger (Mike), Sherilyn Fenn (Audrey Horne), Eric Da Re (Leo Johnson), Jack Nance (Pete Martell), Joan Chen (Jocelyn Packard), Ray Wise (Leland Palmer), Grace Zabriskie (Sarah Palmer), Kimmy Robertson (Lucy Moran), Harry Goaz (Deputy Andy Brennan), Michael Horse (Deputy Hawk), Piper Laurie (Catherine Martell), Wendy Robie (Nadine Hurley), Warren Frost (Dr Hayward), Sheryl Lee (Laura Palmer), Al Stroebel (Mike), Frank Silva (Bob), Michael Anderson (The Man from Another Place)
---
Plot
In the small town of Twin Peaks near the Canadian border, the murdered body of high school beauty queen Laura Palmer is found wrapped in a plastic sheet on the lakeside shore. Another girl, Ronette Pulaski, is found on the edge of town, wandering in catatonic shock, appearing to have been multiply raped. FBI agent Dale Cooper arrives in town on the trail of a serial killer who has conducted similar murders and whom the FBI believes resides in Twin Peaks. Cooper's investigation stirs up the dark secrets the town harbours and begins to reveal the secret double life that the seemingly sweet and innocent prom queen Laura Palmer led.
---
Twin Peaks (1990-1) was the cult tv series to have watched in the 1990s. It was the brainchild of director David Lynch, the king of weird and offbeat. Up until that point though Lynch had carved out a promising track record, first premiering with the cult surrealist masterpiece Eraserhead (1977), then going onto the acclaimed period drama The Elephant Man (1980), the flop science-fiction epic Dune (1984) and the dark sadomasochism thriller Blue Velvet (1986) (which was a dry rehearsal for a number of elements in Twin Peaks in many ways).
1990 was the year that the David Lynch cult peaked. First there was the Twin Peaks tv series which, though it did not stay on air long, developed a fanatical cult following for its outré weirdness, while Lynch also made the brilliantly deranged Wild at Heart (1990) and the pilot for Twin Peaks (reviewed here) was released in an altered form to arthouse theatres and film festivals outside the US.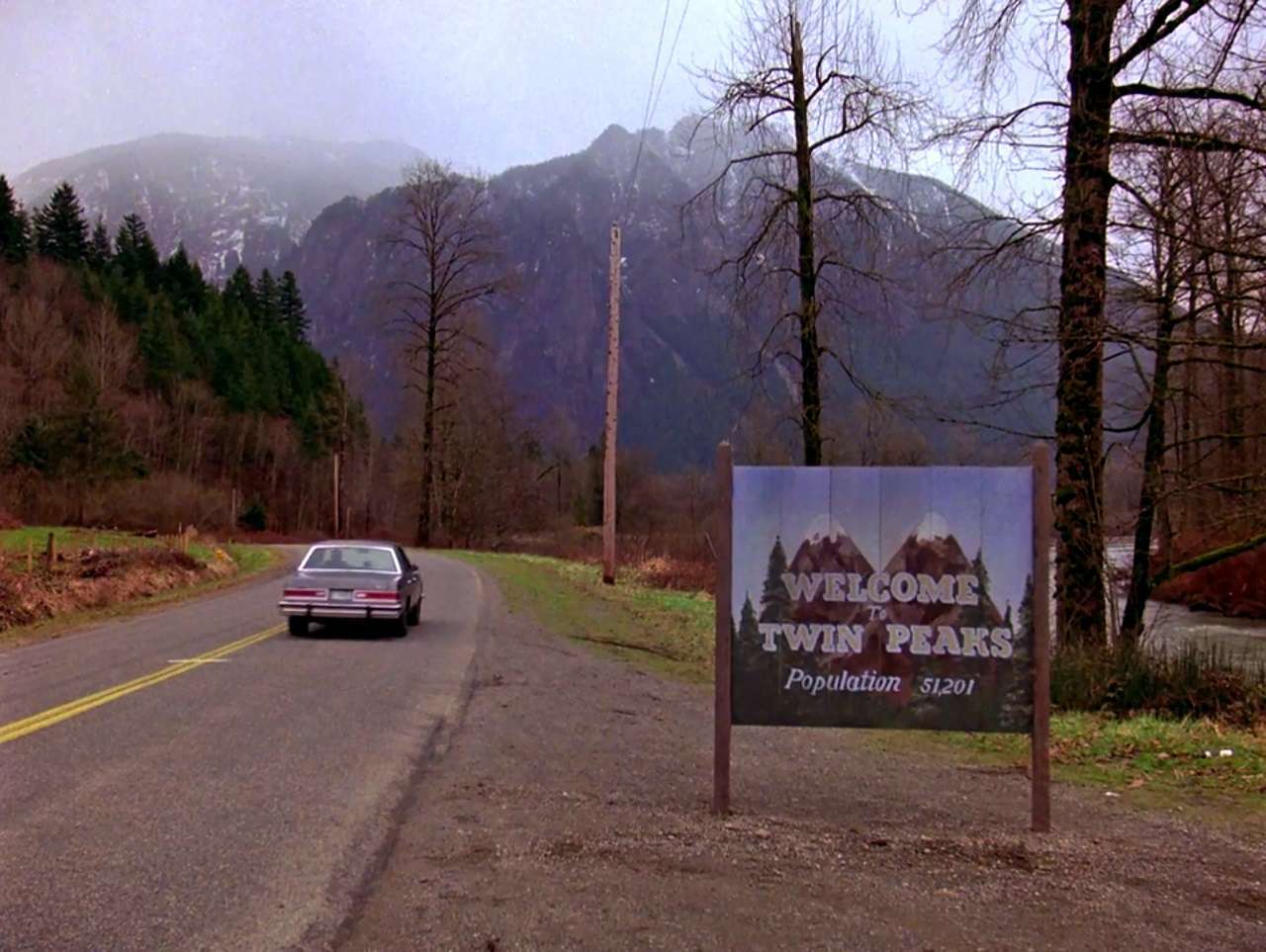 With Twin Peaks, David Lynch created a truly postmodern thriller – here it is not the solution to the mystery but the compulsiveness of the atmosphere Lynch plunges us into that is important. Lynch certainly jolted smallscreen viewing audiences – rape, bondage, sadomasochism, serial killings and occultism were heavy duty material for a tv series to cover. All get their airing here and the subsequent series became a wilfully mind-bending conundrum involving drug smuggling plots, prostitution, murder, incest, kidnapping, buried pasts, cryptic clues and precognitive dreams, ghostly giants and very strange dwarves, mad chess-obsessed FBI agents on the revenge trail, possession and messages from outer space, even a then-unknown David Duchovny as a cross-dressing FBI agent.
Twin Peaks was labelled Blue Velvet meets Peyton Place (1964-9) by some critics, which is a spot on summation – the idea of a soap opera turned on its head to expose a dark underbelly. The opening credits set against beautifully photographed scenes of automated logging operations and picturesque falls, which anywhere else would be a perfectly normal picture of Northern Middle-America, seems offsetting by its very normalcy. David Lynch's weirdness is a weirdness of hyper-emphasized mundanity. In his oblique deadpan way, Lynch observes trivia – twirling fans, dropped telephones and the muted cries of grief from the other end, Sherilyn Fenn's peculiar shoe fetishes – amidst mounting hysteria.
Frequent Lynch collaborator Kyle MacLachlan's performance is one of the most weirdly normal things about the film – the character is cut through with an unnaturally intense Ivy League squareness that is both a parody of sincerity and the most warmly familiar thing in the film. MacLachlan's entrance into the film sweeps everything along behind it, stirring up the twisted labyrinth of secrets behind the town's facade of normalcy and Lynch follows throwing in a string of haunting clues – "she was the one," people enigmatically whisper – and downright irrelevancies – an autopsy scene for no apparent reason is shot in flickering strobe-light; in a later scene, a moose head sits in the midst of a conference table for no ostensible purpose – while keeping the plot squirming and twisting with a mercurial brilliance.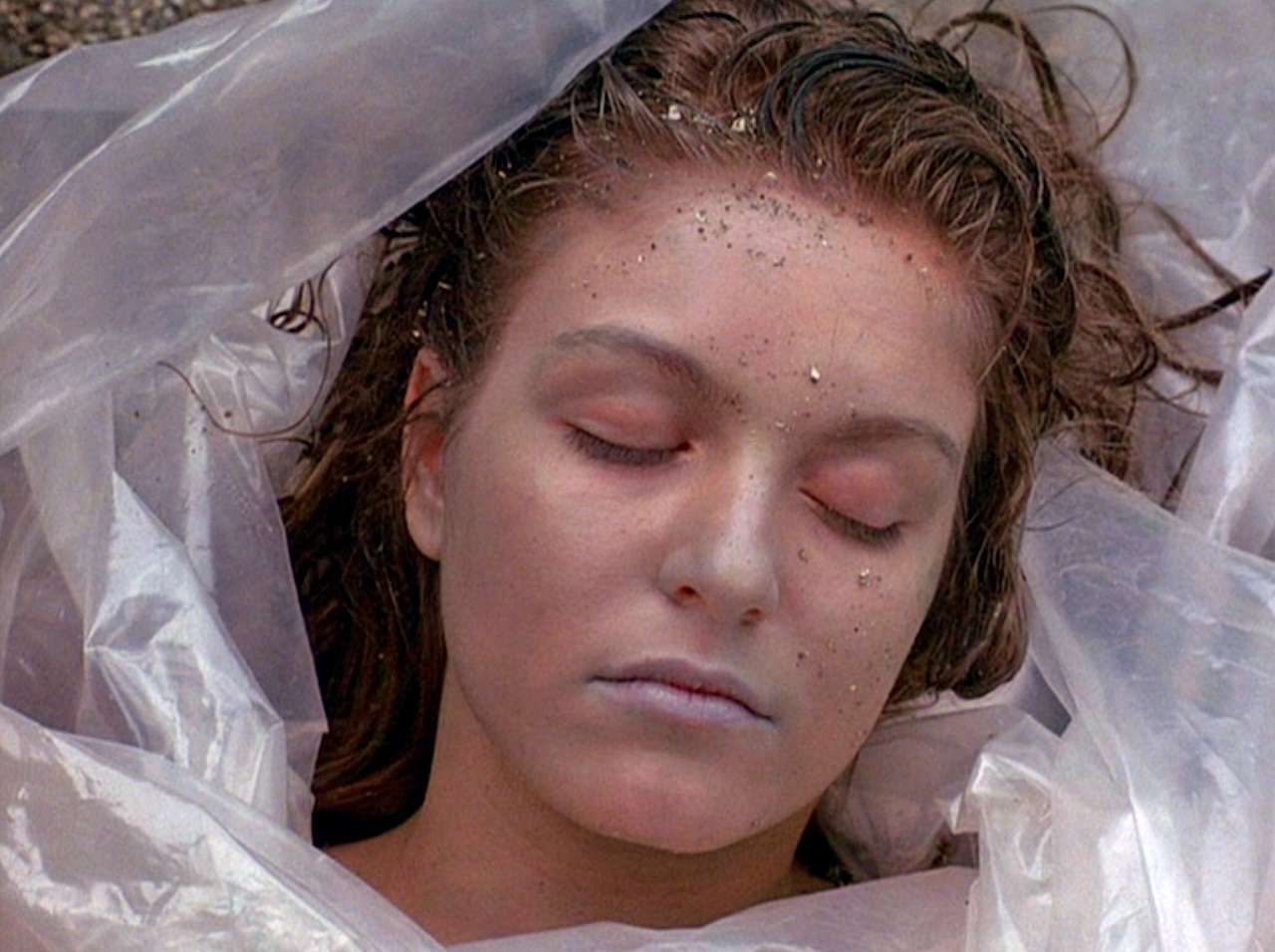 There is a constantly akilter weirdness to the film, like Kyle MacLachlan's narrations into a mini-recorder to his never-seen assistant – "Diane, I'm holding in my hand a small box of chocolate bunnies." Or "Why am I whittling," he answers a question from Michael Ontkean, "Because that's what you do in a town where yellow lights mean slow down instead of speed up." The dark ominousness, the surreal banality and atmosphere of akilter offbeatness results in a film and tv series of utter compulsiveness.
Angelo Badalamenti's opening instrumental with its guttural bass-line is one of the most haunting things about the film/series. The voice of Julee Cruise, singing a number called Falling in Love, which was co-written by Lynch (who later wrote and produced several albums for her), is something so beautiful that it seems to come from another world altogether.
After the series was an unexpected success in the US, the 96-minute pilot (reviewed here) was given a cinematic release internationally. To further add to confusion, there are two different versions of the pilot in release – one the 96-minute pilot that was seen on tv, the other with an extra seventeen minutes added for cinema/video release by David Lynch to explain Laura Palmer's death. The tv version is by far the better of the two – ending as it does on the spookily haunting image of a mysterious hand digging up a necklace buried by Lara Flynn Boyle and James Marshall. The cinematic version came about because Lynch and Mark Frost raised funding to make the pilot by selling the video rights to European companies but were contractually obliged to deliver a film that was not open-ended. The Red Room sequences were shot by Lynch for the film and then later incorporated into the third episode of the series.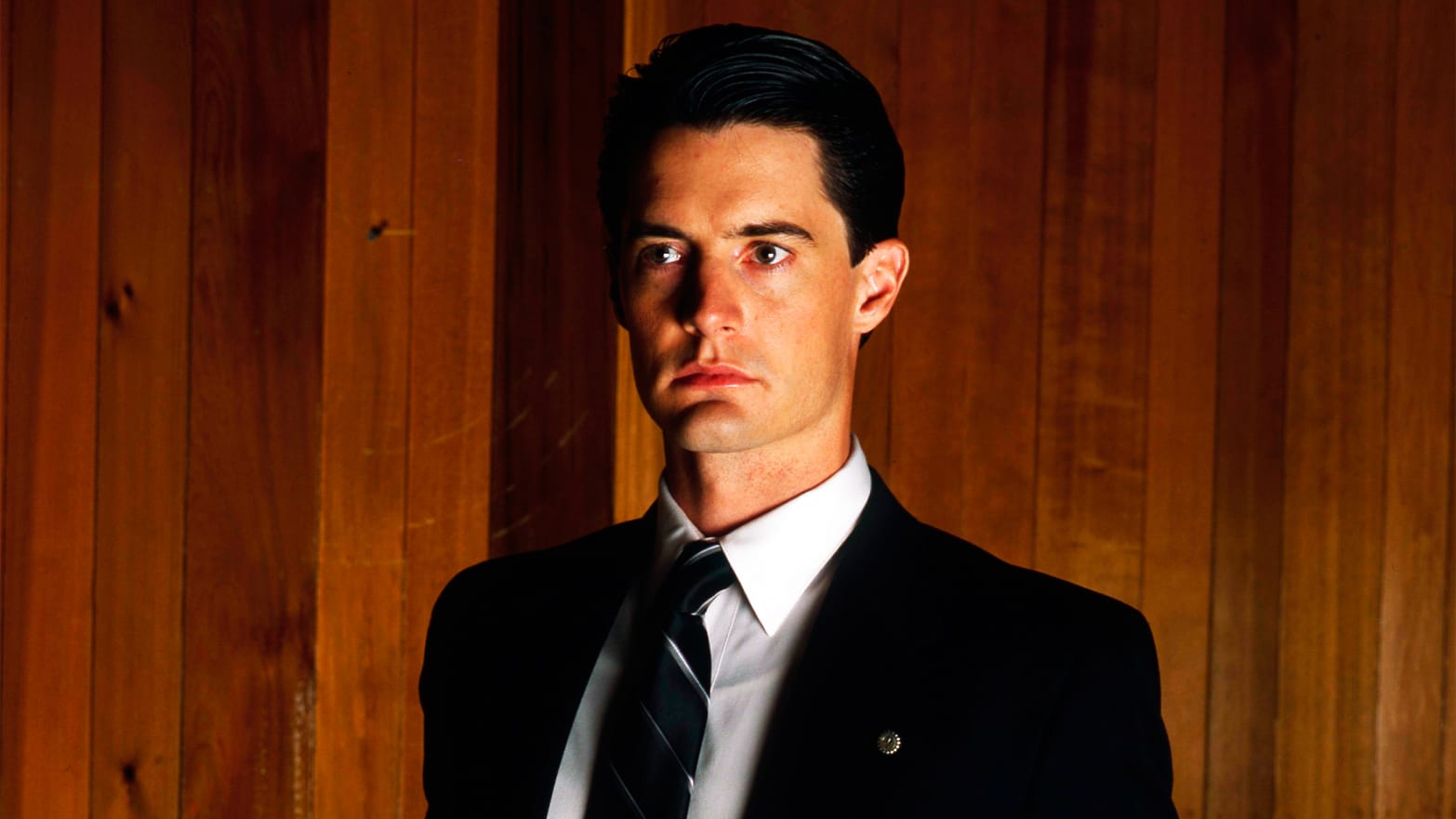 The theatrical/video version follows the pilot right up almost to the end, the point where Sheriff Truman (Michael Ontkean) and Josie Packard (Joan Chen) meet on the porch and are revealed as lovers. (The only new material added before that point is a single shot of the one-armed man entering a lift while Agent Cooper and Sheriff Truman are at the hospital). Things diverge from there on. Essentially what happens is:– Laura's mother (Grace Zabriskie) remembers seeing the killer in Laura's room and calls the sheriff's station. Agent Cooper has a dream from which he awakes with knowledge of the murders. This leads him to the hospital where the one-armed man identifies the killer as Bob (Frank Silva). It is revealed that both the one-armed man and Bob were 'touched by the devilish one' and had the tattoo 'Fire Walk With Me' placed on their arms, but the one-armed man had a vision of God and cut his arm off. Cooper and Truman corner Bob in the hospital basement but the one-armed man bursts in and shoots him.
Coming after watching the series, this plays like a fascinating alternate version of the series' storyline. It follows the series but diverges on a number of essential points – Bob is still the killer, the one-armed man is still his nemesis, however there is no mention of Leland Palmer being possessed by Bob, indeed Bob appears more as a mundane crazed lunatic than the spiritual entity he was in the tv series. While this version is fascinating to watch in retrospect of the series, it is less coherent as a self-contained film. It is obvious that David Lynch has attempted to patch up what was never originally intended as a complete story. This also means that the surrounding mystery is merely superfluous weirdness that does not amount to anything.
Certainly, the scenes in the hospital maintain an atmosphere of genuine eeriness. David Lynch also adds an epilogue using material that he later incorporated into the third episode of the series where Agent Cooper has a dream of meeting Laura Palmer in the Red Room of the White Lodge twenty-five years later. It comes filled with typically non-sequitir Lynchian dialogue: "I've got good news. That gum you like is going to come back in style." Or: "Are you Laura Palmer?" "I feel like I know her but sometimes my arms bend back." For one intensely eerie second, the large silhouetted shadow of some alien bird silently flaps past behind the curtains. Do remember that up until this point the cinema audiences had seen nothing of The White Lodge or The Man From Another Place so the coda must have been completely surreal.
The Twin Peaks tv series only lasted for 30 episodes. Audience interest died off after Laura Palmer's murderer was revealed. Even though the series started to get even better after that point, the weirdness on its own was not enough and the networks killed the show off. David Lynch let the series go out on a real humdinger – a 50 minute surrealist journey through the topsy-turvy world of the Black Lodge all lit in strobe light, arriving at the startling twist ending where Agent Cooper returns possessed by Bob. A couple of years later Lynch returned to Twin Peaks with the cinematically-released film prequel Twin Peaks: Fire Walk With Me (1992), which told of the events that led up to Laura Palmer's murder, although this met with a mixed reception. David Lynch conducted an eighteen-episode revival of Twin Peaks in 2017, reuniting most of the original cast. The success of the series did inspire a number of other smalltown weirdness tv series, including Eerie Indiana (1991-2), Northern Exposure (1991-5) and Picket Fences (1992-6).
David Lynch's subsequent films are:– the surreal identity exchange film Lost Highway (1997), the non-genre The Straight Story (1999), the Hollywood noir Mulholland Dr. (2001) and Inland Empire (2006). Lynch has also produced other genre films such as The Cabinet of Dr Ramirez (1991), Nadja (1994), Surveillance (2008), My Son, My Son, What Have Ye Done (2009) and Black and White in Colors (2010). Lynch has made several attempts to venture back into television but all these have been abject flops – the likes of On the Air (1992), which lasted 7 episodes, and Hotel Room (1993), which lasted only three episodes. Even Mulholland Dr. started out as a tv series before being canned by the network, purchased back by Lynch and expanded out into a film that then had him nominated for that year's Best Director Academy Award. Lynch (2007), David Lynch: The Art Life (2016) and Lynch/Oz (2022) are documentaries about Lynch.
---
---