(Gao Geung Jing Dou Fu)
---
Crew
Directors/Story – Chiu Sin Hang & Yan Pak Wing, Screenplay – Ashley Cheung, Ho Wing Hong & Yan Pik Wing, Producers – Angus Chan & Ha Yu, Photography – Kubbie Tsoi, Music – Chiu Sin Hang, Ho Kwan Wai & Marco Wen, Visual Effects – Vividthree (Director – Jay Hong), Prosthetic Makeup – Ryan Wing Y. Li, Art Direction – Fok Pui Sze. Production Company – Media Asia Film/Entertaining Power Company Limited/Samart Limited/MM2 Entertainment/Maxi Harvest Film/Dalian Fengsheng Asset Management Co., Ltd/Wan Li Entertainment Co., Ltd/Vividthree Productions Pte Ltd
Cast
Babyjohn Choi (Tim Cheung), Lin Min Chen (Summer Yik), Chin Siu Ho (Yip Chi Chau), Ng Yiu Hon (Yeung Chan), Bondy Chiu (M), Yuen Cheng Yan (Ginger), Susan Shaw (Tim's Grandmother), Lee Sheung Ching (Inspector Chu), Eric Tsang (Policeman)
---
Plot
Police arrive to investigate several bodies that have been killed in a parking garage in Kowloon City. The scene is quickly cordoned off by the Vampire Cleanup Department as they eliminate the vampires and remove all evidence. Tim Cheung tries to get into the scene and explains his story to the officer on guard at the entrance. After being attacked in an alleyway and bitten in the buttocks by a vampire, he was taken by his Uncles Chau and Chan and introduced to the Vampire Cleanup Department, the secret government agency they run. However, after signing up, Tim was merely made to sweep floors. One of his duties was to feed the vampire bodies into the incinerator. After being taken out on a mission, he encountered the vampire Summer Yik risen from the bottom of a lake after she swallowed his cellphone. He was overcome by her beauty and decided to take her home instead of incinerating her. There a peculiar relationship developed between the two of them despite her habit of hopping everywhere and not speaking. However, the need to keep her hidden from the rest of the Cleanup Department caused problems.
---
Vampire Cleanup Department is a revival of the hopping vampire film. The hopping vampire or jiangshi is a real figure in Chinese mythology. The hopping vampire emerged on film during the 1980s with Mr Vampire (1985), which was followed by a surprising number of sequels – Mr Vampire II (1986), Mr Vampire III (1987), Mr Vampire 4 (1988) and Mr Vampire V (1990), even an unauthorised rival series with New Mr Vampire (1987) and New Mr Vampire 2 (1989).
Vampire Cleanup Department is clearly intended as a homage to the Mr Vampire films – it doesn't exactly replicate the slapstick silliness of the sequels, nor the whiplash comic contortions of the original but does plays things for comedy mixed with a strong element of romance.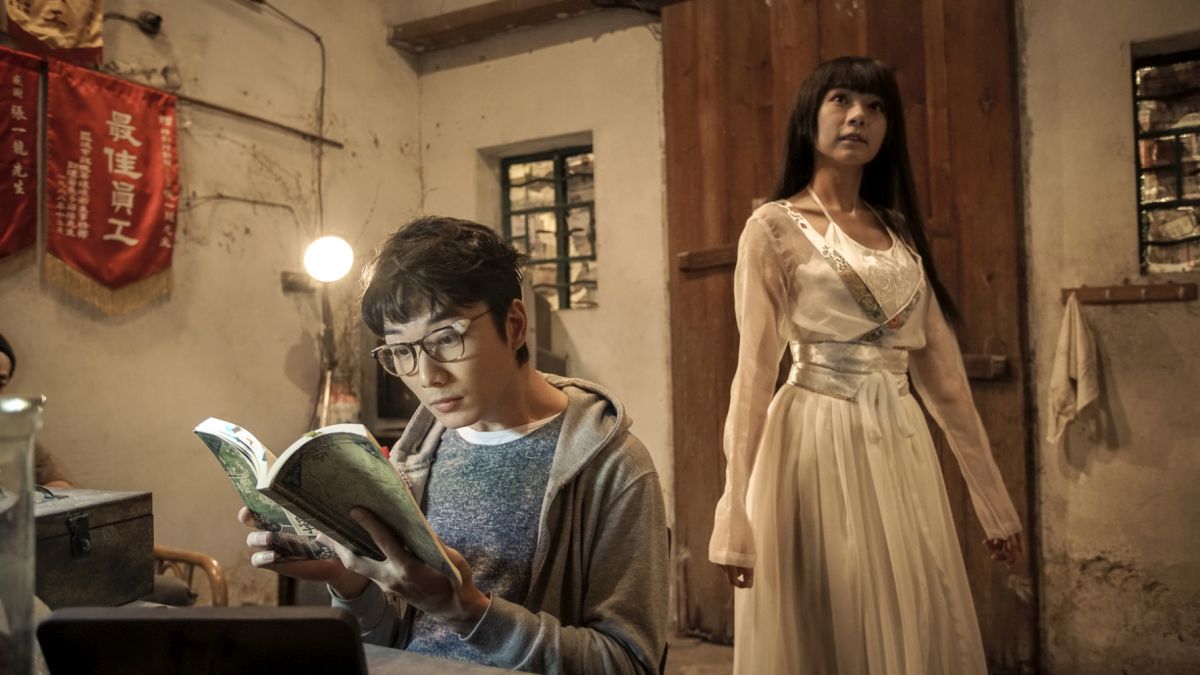 The comedy element is broad and nothing terribly uproarious – in fact, the romantic element ends up being one of the strongest aspects of the film. There is something appealingly goofy and sweet about the wordless relationship between nerdy Babyjohn Choi and vampire girl Lin Min Chen – she hopping around his apartment until he buys a Segway for her to get about on, or the scenes where he takes her to meet his aging grandmother (Susan Shaw) for dinner (a scene in which the swallowed cellphone plays a key role).
The vampire scenes are nothing great and certainly soft-pedal the horror element in favour of comedy and the romance. These are bolstered by some strong and effective effects. As a whole though, the film emerges as amiably slight.
---
---