---
Crew
Director – Jason Flemyng, Screenplay – Danny King, Producers – Jason Flemyng, Neil Jones, Rod Smith & Jonathan Sothcott, Photography – Chas Bain, Music – James Seymour Brett, Visual Effects Supervisor – Konstantinos Koutsoliotas, Visual Effects – Melancholy Star, Special Effects Supervisor – David Payne, Makeup Effects Design – Sangeet Prabhaker, Production Design – Russell De Rozario. Production Company – Evolution Pictures.
Cast
Billy Cook (Sebastian Crockett), Eve Myles (Vanessa), Charlie Cox (Henry), Tony Curran (Peter Boniface), Robert Portal (Colonel Bingham), Machenzie Crook (Father Larousse), Annette Crosbie (Alice), Freema Agyeman (Angel), Vincent Regan (The Duke), Lukaz Leong (Chen), Dexter Fletcher (Mr Thatcher), Ruth Jones (Mrs Thatcher), Johnny Palmiero (18), Jordan Long (Thomas)
---
Plot
Eight vampires gather at a remote farmhouse in the English countryside. It is their annual meeting where they discuss the way they manage the territories they have divided the country into and the quotas they have agreed to for preying on locals. Vanessa picks up Sebastian Crockett from the local train station and brings him to the meeting to introduce to the others. She tells the others that he is purebred Romany stock and puts him up as a potential eighth member but this is vetoed by one of the group. Sebastian is baffled about what is going on, especially when the group kill one of their number who has been breaking the agreements. Just then they are surrounded by a unit of soldiers being directed by Father Larousse who is determined to eliminate all of the vampires. This results in a shootout as the vampires make siege in the farmhouse. However, the military commander Colonel Bingham countermands Larousse's orders and decides he wants to capture one of the vampires.
---
Jason Flemyng has become a popular actor since the 1990s, moving from his initial appearances on British tv to international film successes like Lock, Stock and Two Smoking Barrels (1998). He has appeared in a number of genre works including From Hell (2001), Below (2002), Stardust (2007), The Curious Case of Benjamin Button (2008), Clash of the Titans (2010), X: First Class (2011), plus playing iconic genre roles like Dr Jekyll in The League of Extraordinary Gentlemen (2003) and Professor Quatermass in The Quatermass Experiment (2005). Flemyng made his directorial debut with Eat Locals. It should also be noted that Jason's father Gordon Flemyng was also a director mostly in television but he did make the two 1960s Doctor Who films Dr Who and the Daleks (1965) and Daleks Invasion Earth 2150 A.D. (1966).
The one noticeable thing about Eat Locals is that Jason Flemyng manages to rope in is a very impressive cast, no doubt due to being able to call on his friends and colleagues in the industry. You suspect that another director without the same background as Flemyng would have not been able to pull off the same feat. Those present include Tony Curran, a Scottish actor mostly known for bad guy roles; Mackenzie Crook from the original version of tv's The Office (2001-3); Annette Crosbie from countless British arts tv shows and theatre work; Freema Agyeman, former assistant on Doctor Who (2015– ) and a regular on The Wachowskis' Sense8 (2015-8); Eve Myles, an actress who should have a much bigger profile than she does, known in the genre material for tv's Torchwood (2008-11); and Charlie Cox, a British actor later to find fame in the US as the title role in tv's Daredevil (2015-8).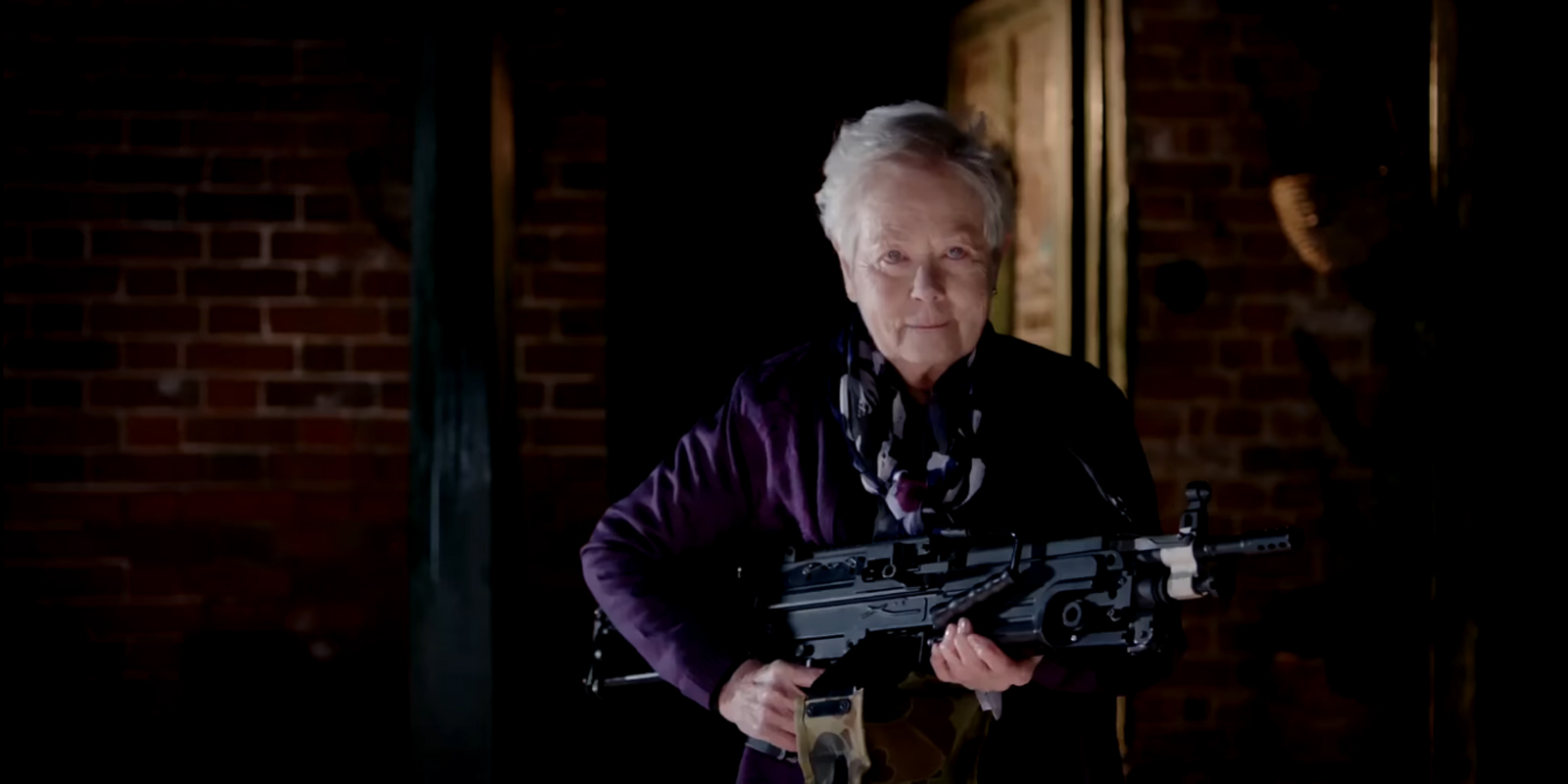 Eat Locals is a vampire film, a genre that seems a little anaemic and past its sell-by date these days following Twilight (2008) and sequels. Certainly, there have been a number of worthwhile attempts to reinvigorate the genre since then with the likes of Stake Land (2010), A Girl Walks Home Alone at Night (2014), Aaron's Blood (2016), The Transfiguration (2016), My Heart Can't Beat Unless You Tell It To (2020) and Midnight Mass (2021), although none of these have been major box-office successes. Alas, Eat Locals does nothing to reverse the trend.
Jason Flemyng creates an interesting initial situation in the farmhouse with a secret society of vampires and rules about how territories are divided up, followed by the arrival of a military unit of vampire hunters outside the farmhouse. This works okay and Flemyng has a snide sense of humour, at one point even suggesting the film is going to be a satiric vampire version of Brexit with Annette Crosbie making comments about preying on immigrants and others dismissing her "You've been reading the Daily Mail again." Annette Crosbie certainly own the scenes she is in – opening the door with a semi-automatic machine gun or pretending to be a frail old lady on her walking frame and then turning to stab soldiers.
However, as soon as the siege situation begins, the film slips into a repetitiveness that never seems to consist of much more than various sides shooting at one another and assorted backbiting behind the scenes on either side. There are no real twists and turns, nothing that seems to go out of its way to do anything new and original with the vampire film. I wanted to see more of the situation with the vampires, more of the initially droll sense of humour. Not even the action perks up until the single scene where enigmatic Lukaz Leong singlehandedly eliminates a troupe of soldiers in a barn.
---
---