---
USA. 2019.
Crew
Director/Screenplay – Dan Gilroy, Producer – Jennifer Fox, Photography – Robert Elswit, Music – Marco Beltrami & Buck Sanders, Visual Effects/Animation – Atomic Fiction (Supervisor – Aidan Fraser), Special Effects Supervisor – Joe Pancake, Hoboman Makeup Effects – Spectral Motion (Supervisor – Mike Elizalde), Production Design – James D. Bissell. Production Company – Netflix.
Cast
Jake Gyllenhaal (Morf Vanderwalt), Rene Russo (Rhodora Haze), Zawe Ashton (Josephina), Tom Sturridge (Jon Dondon), Toni Collette (Gretchen), John Malkovich (Piers), Natalia Dyer (Coco), Billy Magnussen (Bryson), Daveed Diggs (Damrish), Sedale Thrett Jr. (Ed), Marco Rodriguez (Ray Ruskinspear), Alan Mandel (Vetril Dease)
---
Plot
Morf Vanderwalt is a L.A. art critic with a respected reputation. He woos Josephina, an assistant to prominent gallery owner Rhodora Haze, and abandons his boyfriend Ed for her. Josephina then finds neighbour Vetril Dease dead in the hallway of her apartment building. Afterwards she discovers masses of artwork in Dease's apartment. The manager is going to throw everything out on Dease's orders that it be destroyed but instead she takes the paintings. Everyone she shows them to is amazed. Rhodora persuades Josephina to give her exclusive right to display them at the gallery. Dease quickly becomes a sensation in the art world and people are eager to acquire the paintings. Morf digs into Dease's troubled past, planning to write a book. At the same time, something supernatural begins to emerge from the paintings and kill those seeking to obtain them.
---
I must admit my attention was caught by the title Velvet Buzzsaw. It suggests a gonzo variant on something like The Texas Chain Saw Massacre (1974), while the idea of a horror film set inside the art world is an intriguing one. Of course, the title is cheat – Velvet Buzzsaw turns out to be nothing more than the punk band that Rene Russo's gallery director used to be the lead singer for – this is something that is mentioned once, while we also see she has a tattoo of a buzzsaw on the back of her neck and that is. It is a letdown on an otherwise provocative and catchy title.
Velvet Buzzsaw comes from Dan Gilroy who has a reputation as a screenwriter with titles under his belt that include Freejack (1992), The Fall (2006), Real Steel (2011), The Bourne Legacy (2012) and Kong: Skull Island (2017), as well as the script for Tim Burton's ill-fated Superman Lives project. Gilroy made his writing/directing debut with Nightcrawler (2014), which featured Jake Gyllenhaal as a tabloid photographer, which was a film I enjoyed a good deal, and followed this with Roman J. Israel, Esq (2017).
Dan Gilroy apparently has a personal interest in the art world. Clearly what he is depicting on screen is a crosscut of how the world of dealership, exhibitions, art critics and such matters work. The first few scenes throw us into this world with characters voicing its jargon with a casual familiarity, although it is hard to tell from this if Gilroy is satirising familiar types or just depicting how things operate. Although from the overall theme of an artist's works exacting vengeance from beyond the grave against people for exploiting his work, you get the impression that Gilroy is highly critical of the way the art world operates.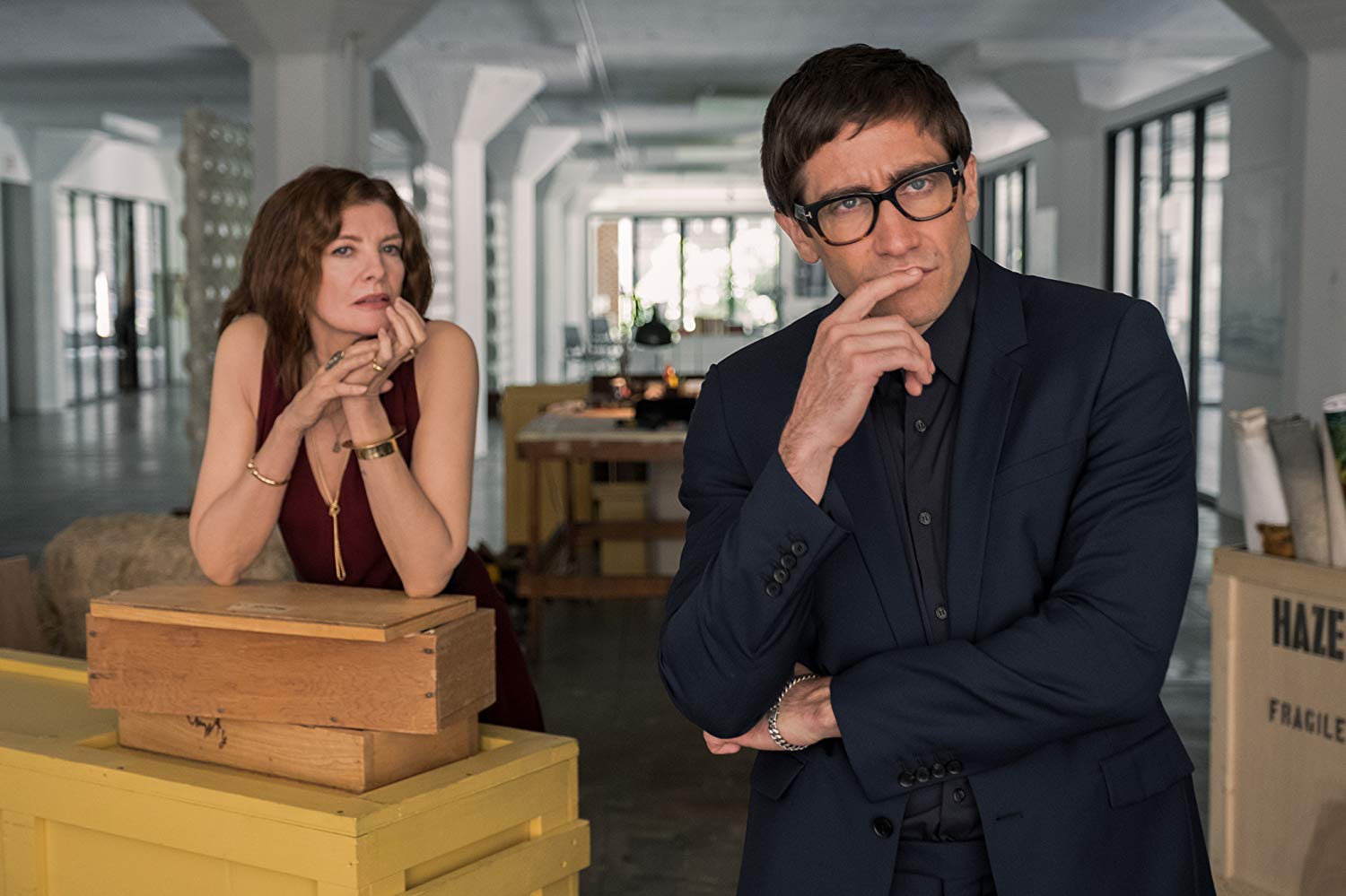 The film is well serviced by its cast. Jake Gyllenhaal plays behind a pair of nerd glasses and rather interestingly chooses to play a central character who is bisexual – it is never something that is central to the plot, just part of the character's colouration. Among a very strong cast, the one who has a field day is Rene Russo (who has been married to Dan Gilroy since 1992) who plays with a precision bitchiness and equal degree of smooth professional confidence.
On the other hand, when you start to view Velvet Buzzsaw as a horror film, it feels less satisfying. The agency behind the spate of deaths is vague – at most, we get the impression either that Dease regarded the artworks as cursed or that a curse was enacted on those who are involved in dealing with the paintings after failing to heed his wishes to have them destroyed. The set-pieces are okay, nothing exceptional – there is a very unconvincing digital gore sequence where Toni Collette is chewed up inside a chromium sculpture.
When it comes down to it though, the film feels little more than a variant on Japanese horrors like Ring (1998) with its cursed videotape or Ju-on: The Grudge (2003) with people being affected by proximity to a curse. Actually when you think about it, if Velvet Buzzsaw were pitched as a Japanese horror film, it might have worked as a much more uncanny and effective horror film than it does.
(Nominee for Best Actress (Rene Russo) at this site's Best of 2019 Awards).
---
---